What is the prize money for Olympic gold medal?
The U.S., for instance, is awarding $37,500 for each gold medal an athlete earns in Tokyo, plus $22,500 for silver and $15,000 for bronze, on top of the grants and benefits like health insurance that it makes more widely available. Those figures are up from $25,000, $15,000 and $10,000 at the 2016 Rio Olympics. ForbesThese 10 Countries Offer Six-Figure Payouts To Their Olympic Medalists
Everyone at Tokyo Olympics must follow strict COVID-19 protocols, including not sightseeing or using public transportation for first 14 days in Japan.
A link has been sent to your friend's email address.
A link has been posted to your Facebook feed.
Russian Olympic Committee responded to critics about their athletes not being "clean." Simone Biles continues to struggle with the "twisties." USA TODAY
TOKYO — An unauthorized sightseeing trip has cost two Georgian judo athletes their credentials, according to a Kyodo News report.
Tokyo 2020 spokesman Masa Takaya had announced at the daily briefing Saturday that a resident of the Olympic Village had been stripped of their credential for violating COVID-19 protocols by going sightseeing. He would not provide more details, including whether it was an athlete, what country he or she was from or when the incident occurred.
He also refused to say whether the "accreditation deprivation," which occurred Friday, was temporary or permanent.
Tokyo 2020 CEO Toshiro Muto will have more information at Sunday's daily briefing, Takaya said.
"All I can say is (the person) left the Olympic Village for sightseeing and accreditation was deprived. I can't give you any more than that," he said.
But Kyodo, citing a spokesperson for the Georgian Olympic committee, reported Saturday night that it was two judo athletes, and that they had been ejected from the Games. Kyodo did not provide any further details, and the Georgian Olympic committee did not immediately return an email from USA TODAY Sports.
Earlier, Takaya would only say that if someone's credential is revoked "they are not allowed to access Tokyo 2020 venues."
Everyone – athletes, coaches, media members, volunteers – at the Tokyo Olympics must follow a series of strict protocols to keep the Games from becoming a COVID-19 super-spreader event. That includes not venturing outside of Tokyo 2020 venues or using public transportation for the first 14 days they're in the country.
This is the first breach of the whereabouts protocol since the Olympics began. A Ugandan weightlifter went missing from a training camp July 16, a week before the Opening Ceremony, but was found five days later.
"Leaving the Village for the purpose of sightseeing, that is something not to be tolerated," Masa said. "Therefore, we went through the appropriate process for deprivation."
A link has been posted to your Facebook feed.
© 2021 USA TODAY, a division of Gannett Satellite Information Network, LLC.
We use cookies to personalize content and ads, provide social media features, improve our site and analyze our traffic. We may share information about your use of our site with our advertising, social and analytics providers. By clicking "Accept All Cookies" you agree to the use of these cookies as further described in our Privacy Policy
Read full article at USA TODAY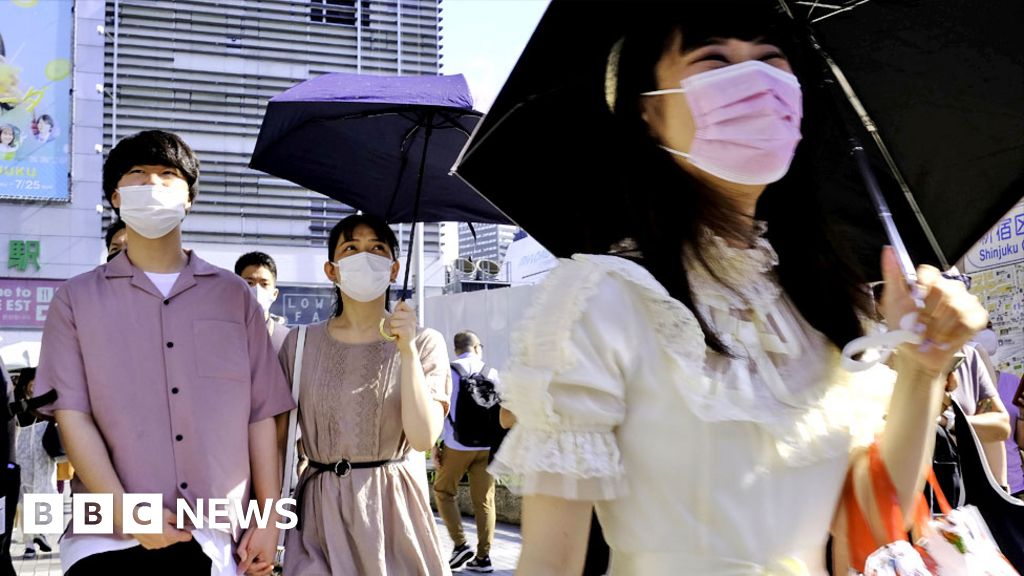 BBC News 31 July, 2021 - 07:40am
The restrictions are being imposed in areas surrounding the capital as well as in the city of Osaka.
Japan's Prime Minister Yoshihide Suga warned infections were spreading at an unprecedented rate, urging the country to watch the Games from home.
New cases are being fuelled by the more infectious Delta variant.
"If the increase of infection does not stop, the severe symptoms cases will increase and the medical system may possibly be further under strain," Mr Suga said.
Earlier, Health Minister Norihisa Tamura warned that the country had entered a new, "extremely frightening", stage of the pandemic.
"I think that people cannot see ahead and, worrying how long this situation will last, they find it unbearable that they cannot return to normal daily life," Reuters quoted him as saying.
Japan has had some success fighting Covid-19, keeping cases and deaths low for months, but is now seeing record cases.
Daily cases nationwide topped 10,000 for the first time on Thursday, more than a third of them in the capital.
Tokyo - where the Olympics are mainly taking place - has seen three straight days of record cases, even though it is already under a state of emergency. Hospitals are under increasing pressure in the city.
Olympic organisers reported 27 new infections at the Games on Friday, bringing the total since the start of July to more than 200. But with strict rules in place, including a ban on spectators, organisers deny the event is driving the rise in cases.
Despite this, some experts worry that holding the Olympics in such circumstances sends a confusing message to the public about the need to limit daily life.
Under the state of emergency, bars and restaurants must stop serving alcohol and close early.
Three regions, known in Japan as prefectures, along with Osaka, will go under the restrictions from 2-31 August, with the measures in place in Tokyo extended to the end of the month.
While other countries have imposed legal restrictions on residents, in Japan people are only advised to work from home, so questions have been raised as to how effective the new measures will be.
Tokyo's Governor Yuriko Koike has said the key to controlling the outbreak is young people, urging them to get vaccinated, but the BBC's Mariko Oi says this is a little unfair given the low availability of doses.
Less than 30% of the population has been fully vaccinated, with officials aiming to jab all those who want a dose by October or November.
Speaking to the BBC, some young Japanese people were sceptical about whether the new measures would work.
"I can sense that we are getting too used to the state of emergency, so it's not stopping people from going out," said one.
"If the government really wants to stop the spread of the virus, they have to lock us down and offer financial support," said another.
Other countries in the region have also tightened rules to halt the spread of the more transmissible Delta variant, with China halting flights in Nanjing and Australia deploying troops in Sydney.
The Olympics host is facing record Covid case numbers, fuelled by the virulent Delta strain.
15 sayings from around the world
KiniTV 31 July, 2021 - 07:40am
TMJ4 News 31 July, 2021 - 07:40am
CCX Media Community News 31 July, 2021 - 07:40am