Sven Henrich
NorthmanTrader
Jobs up, unemployment rate up. Goldilocks take: Higher jobs means the economy keeps improving beyond expectations. Higher unemployment rate gives the Fed the excuse to keep printing.
Greg Abbott
GregAbbott_TX
Texas jobless claims fall to near a pandemic low as our economy continues to grow. The Texas Workforce Commission says they show about 800,000 job openings. Texans are getting back to work. www.statesman.com/story/business/2021/07/01/texas-unemployment-jobless-claims-fall-just-above-pre-covid-levels/7828909002/
(((Howard Forman)))
thehowie
"Among the unemployed, the number of job leavers--that is, unemployed persons who quit or voluntarily left their previous job and began looking for new employment-- increased by 164,000 to 942,000 in June." We see this in a strong economy. www.bls.gov/news.release/empsit.nr0.htm
Julia Chatterley
jchatterleyCNN
Jobs jamboree! US economy adds 850,000 #jobs as unemployment ticks up to 5.9% "This is about a reassessment," says @clarecnn breaking down the June numbers 👇 pic.twitter.com/C2ZBRQCHOp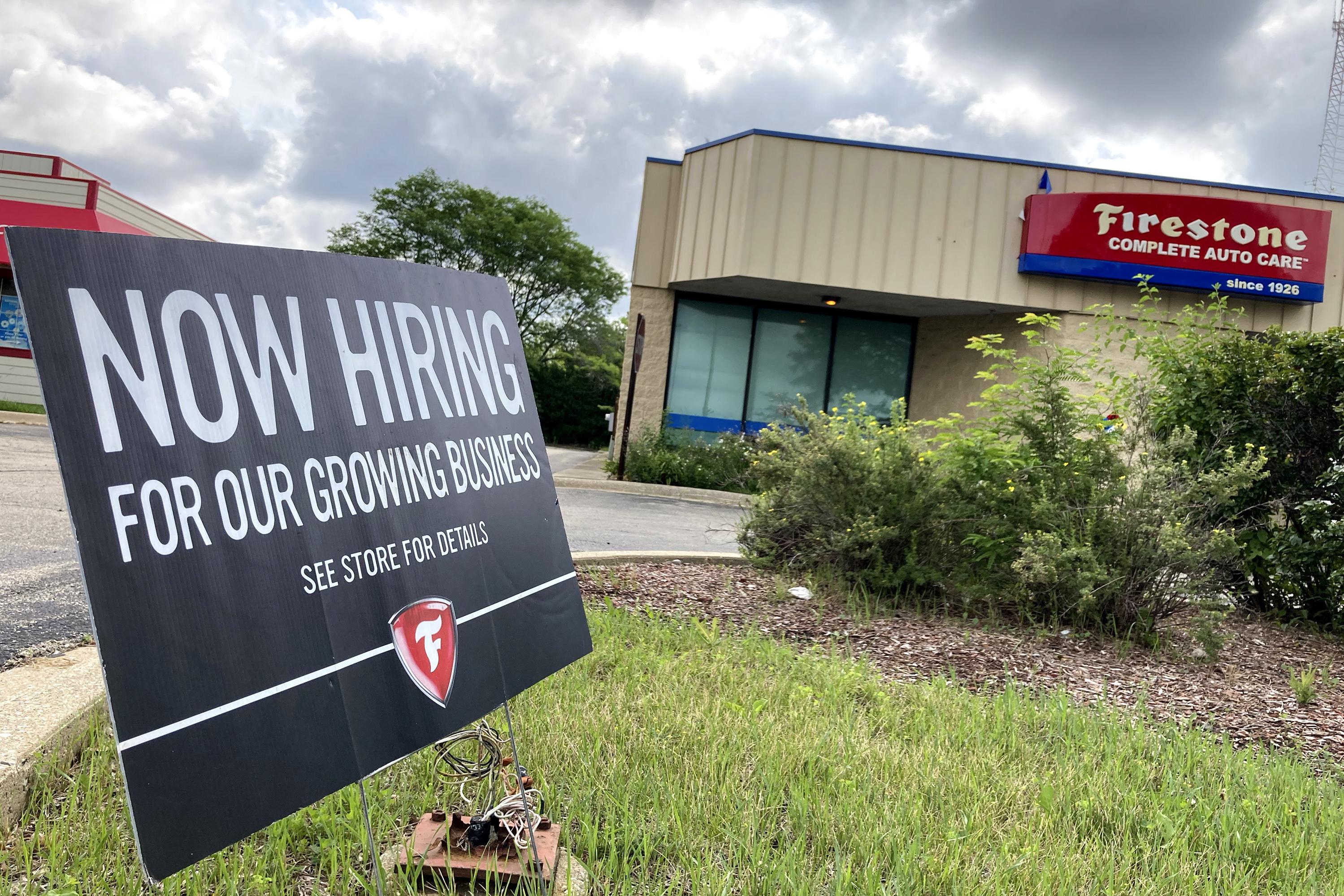 WASHINGTON (AP) — The number of Americans applying for unemployment aid fell again last week to the lowest level since the pandemic struck last year, further evidence that the job market and the broader economy are rebounding rapidly from the coronavirus recession.
The Labor Department reported Thursday that jobless claims dropped by 51,000 to 364,000. Applications for unemployment benefits have fallen more or less steadily since the year began. The rollout of vaccines has sharply reduced new COVID-19 cases, giving consumers the confidence to shop, travel, eat out and attend public events as the economy recovers.
Last week's drop in jobless claims was steeper than economists had expected. Applications for unemployment benefits have now fallen in 10 of the past 12 weeks.
"As life normalizes and the service sector continues to gain momentum, we expect initial jobless claims to remain in a downtrend,″ said Joshua Shapiro, chief U.S. economist at the consulting firm Maria Fiorini Ramirez.
All that pent-up spending has generated such demand for workers, notably at restaurants and tourism businesses, that many employers have been struggling to fill jobs just as the number of posted openings has reached a record high. But many economists expect hiring to catch up with demand in the coming months, especially as federal unemployment aid programs end and more people pursue jobs.
On Friday, according to the data provider FactSet, the government is expected to report that employers added 675,000 jobs in June. That would be a substantial number but still not at a pace that would allow the economy to quickly regain its pre-pandemic level of employment. The job market remains nearly 7 million jobs short of that level.
Some businesses have complained that expanded federal aid to the unemployed — especially a $300-a-week supplemental benefit, intended to cushion the economic blow from the pandemic — has discouraged some people from looking for a job.
But other factors, too, are believed to have contributed to the shortage of people seeking work again: Difficulty arranging or affording child care, lingering fears of COVID-19, early retirements by older workers, a slowdown in immigration and a decision by some people to seek new careers rather than return to their old jobs.
Responding to the criticism about the duration of expanded jobless benefits, dozens of states began dropping the expanded federal aid starting last month: Roughly half the states will end the $300 payments. Most of those will also cut off unemployment assistance to the self-employed, gig workers and people who have been out of work for more than six months. Nationally, the $300-a-week federal benefit will end Sept. 6.
The data firm Homebase reported that employment has actually grown more slowly in the states that had dropped the federal benefits than in those that kept it.
The job market's improvement comes against the backdrop of a fast-rebounding economy. Growth for the just-ended April-June quarter is believed to have reached an annual pace of roughly 10%. And according to an index produced by the Conference Board, a private research group, consumer confidence nearly regained its pre-pandemic level in May.
With consumers feeling more confident about spending, the rate of jobless claims, which generally reflects the pace of layoffs, has dwindled over the past several months. The weekly figure had topped 900,000 back in January, when the economy was still struggling to emerge from the recession and employers were retrenching.
Despite the significant improvement since then, claims remain high by historic standards. Before the pandemic flattened the economy in March 2020, the weekly figure typically numbered around 220,000.
All told, 3.47 million people were receiving traditional state unemployment benefits in the week of June 19, up from 3.41 million a week earlier. If you include the federal benefits, 14.7 million were receiving some type of unemployment assistance during the week of June 12, down from 32.1 million a year earlier.
AP Economics Writer Christopher Rugaber contributed to this report.
Read full article at POLITICO
Bloomberg Markets and Finance 02 July, 2021 - 11:56am
CNBC 02 July, 2021 - 11:56am
Job growth leaped higher in June as businesses looked to keep up with a rapidly recovering U.S. economy, the Labor Department reported Friday.
Nonfarm payrolls increased 850,000 for the month, compared with the Dow Jones estimate of 706,000 and better than the upwardly revised 583,000 in May. The unemployment rate, however, rose to 5.9% against the 5.6% expectation.
The jobless rate increase came even though the labor force participation rate was unchanged at 61.6%. A separate figure that accounts for discouraged workers and those holding part-time jobs for economic reasons fell sharply to 9.8%, with the 0.4 percentage point decline putting the so-called real unemployment rate below 10% for the first time since March 2020.
Markets rose on the news, with futures on the major indexes indicating modest gains at the open before the holiday weekend.
"From a market perspective, this was an all-out positive jobs report," said Seema Shah, chief strategist at Principal Global Investors. "The improvement today likely reflects a slight easing of the labor supply constraints that have been holding back the jobs market in recent months, as well as continued momentum from the economic reopening."
Hiring accelerated as the second quarter morphed into a summer that will see a closer to return to normal for Americans held captive for the past year due to the pandemic-related restrictions.
As the data continues to point higher, economists are looking for GDP growth in the second quarter to approach 10%, a stunning continuation of a rebound helped by vaccines that have sharply reduced Covid-19 case rates along with hospitalizations and deaths.
The latest numbers bring the total job recovery from the pandemic losses to 15.6 million. More than 22.3 million Americans were laid off in March and April of 2020 amid government-imposed business restrictions, and the total employment level remains 7.13 million below where it was in February 2020.
Hospitality continued to be the prime beneficiary of the reopening as workers returned to jobs at bars, restaurants, hotels and the like.
The industry notched a gain of 343,000 amid easing restrictions across the country. That total included 194,000 in bars and restaurants, but still left the sector 2.2 million shy of where it was in February 2020 before the pandemic began. Despite the big increase in jobs, the sector's unemployment rate jumped to 10.9%.
Other notable gains came in education, which totaled 269,000 across state, local and private hiring, while professional and business services increased by 72,000 and retail added 67,000.
The other services industry added 56,000 jobs, including a gain of 29,000 in personal and laundry services, a subsector that has been seen as a proxy for the resumption of normal business activity. Social assistance added 32,000, while wholesale trade contributed 21,000 to the total and mining grew by 10,000.
Manufacturing edged up 15,000 for the month, though construction lost 7,000 positions despite a sizzling housing industry where new building has been held back by supply shortages and what had been soaring lumber prices before the recent plunge.
Amid the rise in total employment, wage gains also accelerated.
Average hourly earnings increased 0.33% for the month and 3.6% year over year, both matching Dow Jones estimates.
Aggregate wage growth had been distorted through much of the pandemic as lower-earnings workers in high-contact industries like hospitality remained sidelined. The June gain puts the jobs market ahead of its previous pace; average hourly earnings rose 3% in February 2020 year over year at a time when lower-earning workers finally had been seeing gains after a generation of stagnant paychecks.
Revisions to previous months pushed the job totals up a bit – May rose 24,000 to 583,000 thought that was mitigated by a reduction of 9,000 in April to 269,000.
The average work week declined by 0.1 hours to 34.7 hours.
Got a confidential news tip? We want to hear from you.
Sign up for free newsletters and get more CNBC delivered to your inbox
Get this delivered to your inbox, and more info about our products and services. 
Data is a real-time snapshot *Data is delayed at least 15 minutes. Global Business and Financial News, Stock Quotes, and Market Data and Analysis.
KING 5 02 July, 2021 - 11:56am
CBS Chicago 02 July, 2021 - 11:56am
The Washington Post 02 July, 2021 - 11:56am
The unemployment rate changed little, ticking up to 5.9 percent from 5.8 percent.
"It's a pretty strong report," said Kate Bahn, an economist at the Washington Center for Equitable Growth. "This overshot expectations. And the job growth was in the industries that had been so hard hit. This is pointing to signs that we're growing back exactly where we need to be growing back."
Employment jumped in the leisure and hospitality sector, with 343,000 jobs added, more than half of that in restaurants and bars. Hotels and other accommodations, as well as arts, entertainment and recreation entities, both added about 75,000 jobs.
In local and state government education, employment increased by 230,000.
Retail added 67,000 jobs, with strong growth in clothing and merchandise stores.
Average earnings too, continued to increase, climbing 10 cents for all employees to $30.40 an hour, following larger increases in May and April. The Bureau of Labor Statistics said the wage increases reflect increased demand for labor at this stage of the recovery.
In the leisure and hospitality sector, an often low-wage industry that has been a focal point of the debate about a labor shortage, wages for nonsupervisory workers have risen markedly for the quarter, according to Diane Swonk, chief economist at Grant Thornton — up 87 cents an hour since April, the largest increase in a quarter in the history of the data. Since January, those wages are up about $1.55, she said.
Job growth in April, revised down to 269,000, and May, revised up to 583,000, while not anemic, fell well below the hopes that more than one million jobs could be added per month in the spring. Republicans had tried to seize on those reports to suggest that Biden's economic agenda was falling short.
But June's report blew through projections, surpassing analysts' estimates that around 700,000 jobs would be added in the month. Still, the economy is still down 6.8 million jobs from where it was in February 2020.
Drew Matus, chief market strategist for MetLife Investment Management, said that he was concerned about the increase in unemployment, which comes from a separate survey than the figure for jobs added.
"A lot of the employment gain, let's call it a quarter, was in state and local government education hiring," he said. "Could be seasonal, that pushed the headline number higher."
The labor force participation rate ticked up nominally for men and women over the age of 20, but declined for teenagers, and overall remains significantly lower than it was before the pandemic.
Modest job declines in motor vehicle manufacturing of about 12,000, and construction, of about 7,000, could be a sign of material shortages continuing to plague some sectors of the economy, Matus said.
Supply chain issues have been effecting those industries — microchips for vehicle makers, lumber for builders — helping to drive up prices and complicate the recovery as consumer demand and activity rebounds. And inflation remains a concern of top policymakers in Washington, after more than a year of low interest rates and stimulus measures have helped fire up the economy.
Economists have looked to the leisure and hospitality sector — still down more than two million jobs from before the pandemic — for signs of a reawakening jobs market, as caseloads remain low and vaccination rates continue to crawl upwards.
Air travel has climbed significantly in recent months and the Fourth of July weekend is expected to continue the trend. According to an estimate by AAA, travel for the holiday is expected to increase by 40 percent compared to last year and nearly reach pre-pandemic levels, with an estimated 47.7 million people traveling.
Consumer spending, on services like restaurants, entertainment and transportation has been increasing in recent months.
Concerns of a labor shortage — and the role that the extra unemployment benefits may play in discouraging people from returning to work — have consumed the political debate in recent months, but economists have pointed to another factor they say likely plays a larger role: the fact that many schools had not fully reopened by the end of the academic calendar this year.
But many are forecasting even stronger months of growth in the fall after schools fully reopen, allowing many parents who have dropped out of the labor force to care for children to return to work.
Though they have slowed, the vaccination rate has continued to improve and economists said that the continued return to what were once quotidian pastimes — shopping at a mall, going to a concert, eating at a restaurant — should continue to stoke growth in the labor market.
"You have excess savings and pent-up demand, which will result in higher demand for labor, as we utilize more in person services," said Odeta Kushi, an economist at First American Financial Corporation.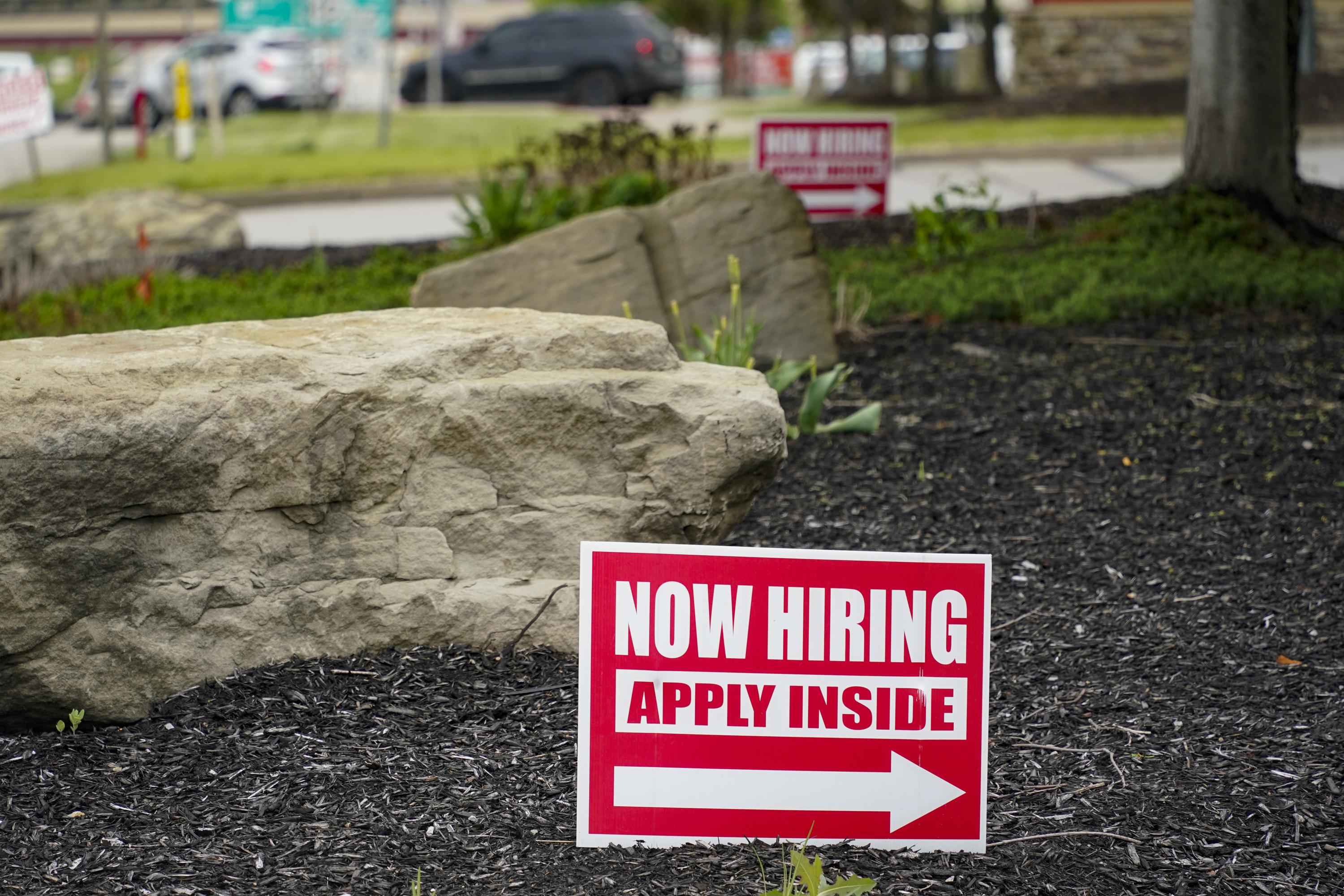 The Associated Press 02 July, 2021 - 11:56am
WASHINGTON (AP) — With the economy growing rapidly as it reopens from the pandemic, many employers are increasingly desperate to hire. Yet evidence suggests that as a group, the unemployed aren't feeling the same urgency to take jobs.
Many people who are out of work are either seeking higher pay than they had before or are still reluctant to take jobs in public-facing service companies for fear of contracting COVID-19. How those two trends balance themselves out will likely set the pace for how many open positions employers can fill in the coming months.
On Friday, analysts expect the government to report that the economy added 675,000 jobs in June. That would be a substantial gain but nowhere near the gains that could be expected given the record-high number of job openings.
In fact, some economists have estimated that monthly job growth would be at least twice what the three-month average gain was for March, April and May — 540,000 — if there were no constraints on the number of workers available to fill jobs.
For June, the unemployment rate is projected to have dipped from 5.8% in May to a still-elevated 5.7%.
The supply of potential hires is being held back by a variety of factors. Many Americans still have health concerns about working around large numbers of people. About 1.5 million people, mostly women, are no longer working or looking for work because they had to care for children when schools and day care centers shut down. And roughly 2.6 million older workers took advantage of enlarged stock portfolios and home values to retire early.
A temporary $300-a-​week federal unemployment benefit, on top of regular state jobless aid, may be enabling some people to be more selective in looking for and taking jobs. Roughly half the states plan to stop paying the supplement by the end of July in what proponents say is an effort to nudge more of the unemployed to seek jobs.
Economists at Goldman Sachs have calculated that in states that are cutting off the federal jobless payment early, the number of people who are receiving state jobless aid is declining faster than in states that plan to pay the $300-a-week benefit until it officially ends Sept. 6. That trend, which suggests could help boost hiring in June and in the subsequent months.
On Thursday, the government reported that the number of people who applied for jobless aid last week fell to 364,000, the lowest level since the pandemic began.
There are also signs that people are re-evaluating their work and personal lives and aren't necessarily interested in returning to their old jobs, particularly those that offer modest wages. The proportion of Americans who quit their jobs in April reached its highest level in more than 20 years.
Nearly 6% of workers who are in an industry category that includes restaurants, hotels, casinos, and amusement parks quit their jobs in April — twice the proportion of workers in all sectors who did so.
Rising numbers of people quitting jobs, often for higher-paying positions, mean that even employers that have been hiring may be struggling to maintain sufficient staffing levels.
Karen Fichuk, chief executive of Randstad North America, a recruiting and staffing firm, said that the Monster job board, which Randstad owns, found that job postings jumped 40% from May to June. Job searches, by contrast, rose just 4%.
"There is a significant gap between supply and demand," Fichuk said.
The struggle to fill jobs coincides with a swiftly growing economy. In the first three months of the year, the government estimated that the economy expanded at a strong 6.4% annual rate. In the just-ended April-June quarter, the annual rate is thought to have reached a sizzling 10%.
And for all of 2021, the Congressional Budget Office estimated Thursday that growth will amount to 6.7%. That would be the fastest calendar-year expansion since 1984.
In the meantime, consumer confidence rose in June, according to the Conference Board, and is nearly back to its pre-pandemic level. Americans also seem undeterred by recent price increases, with the percentage of consumers who plan to buy a home, car or major appliance all rising. Home prices shot up in April by the most in 15 years.
Yahoo Finance 02 July, 2021 - 11:56am