Jack Posobiec 🇺🇸
JackPosobiec
'It should be a choice': Tulsa union opposes American Airlines' COVID-19 vaccination mandate #FreedomFlu tulsaworld.com/business/local/it-should-be-a-choice-local-union-opposes-american-airlines-covid-19-vaccination-mandate/article_2773342c-283f-11ec-b139-cf384fb8c3a4.html
Bethany S. Mandel
bethanyshondark
Me for @newsweek: The Risk to Kids From COVID Is Miniscule. Do Not Let Them Mandate Vaccines www.newsweek.com/risk-kids-covid-miniscule-do-not-let-them-mandate-vaccines-opinion-1638576
Dave Matter
Dave_Matter
The University of Missouri is not extending its indoor mask mandate after Oct 15. From MU: "We now ask that everyone, regardless of whether they are vaccinated, wear masks in all indoor spaces, especially when social distancing is not possible."

Leah Libresco Sargeant
LeahLibresco
I'll be a chair tonight for @braverangels's debate on R: COVID vaccines should be mandated for all eligible Americans. Register here to attend, speak, and/or ask questions :) braverangels.org/event/community-debate-national-debate-covid-vaccine-mandates/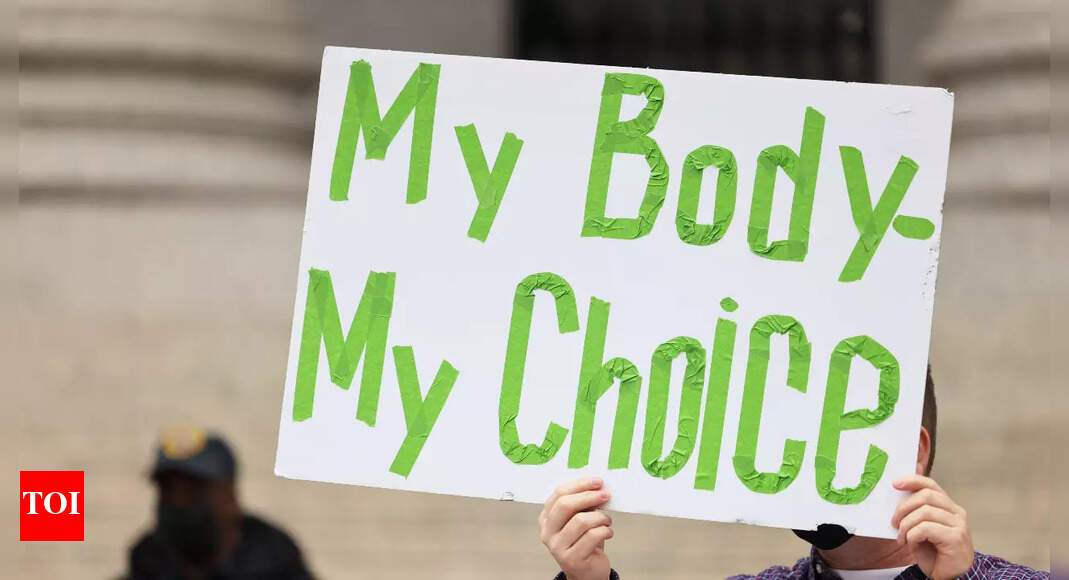 Times of India 14 October, 2021 - 05:35am
We use cookies and other tracking technologies to provide services while browsing the Website to show personalise content and targeted ads, analyse site traffic and understand where our audience is coming from in order to improve your browsing experience on our Website. By continuing to use our Website, you consent to the use of these cookies and accept our Privacy terms. If you wish to see more information about how we process your personal data, please read our Cookie Policy and Privacy Policy
TimesLIVE 13 October, 2021 - 11:15pm
From the outside, First Harvest Ministries in Waveland, Mississippi, could almost be mistaken for a storage shed were it not for the steeple.
From the modest building however, Shane Vaughn, the Pentecostal church's pastor, has helped spearhead an online movement promoting personal faith as a way around workplace Covid-19 vaccine mandates.
He posts form letters for US workers seeking religious exemptions that have been downloaded from his website around 40,000 times, according to a screen shot of web traffic he shared with Reuters."
This is the only way out," said Vaughn, 48, of the letters, which he makes available for free, that mix Biblical scripture with warnings to employers of legal fallout if they are disregarded.
As the Biden administration prepares a federal vaccine mandate and more states and companies impose them to help accelerate the pandemic's end, letter-writing efforts by religious leaders are being reinforced by legal advocacy groups such as Liberty Counsel.
The organization said it has sent more than 100 letters to companies including United Airlines Holdings Inc and Tyson Foods Inc vowing litigation if they improperly reject religious exemption requests.
United spokeswoman Leslie Scott said the airline received the letter but it had no impact on the company's actions. Tyson did not comment on the letter.
United said about 2,000 of its 67,000 US employees have requested religious or medical exemptions.
Hungary will receive technology this year to produce Russia's Sputnik V Covid-19 vaccine at a Hungarian plant currently under construction, Foreign Minister Peter Szijjarto said in Moscow on Thursday.
Besides Russia's Sputnik, Hungary plans to produce China's Sinopharm's vaccine in the planned $193 million vaccine plant.
The SA Security Agency (Sassa) has shared some tips on how to change your cellphone number on its database to make sure you get your R350 grant.
The agency has urged those wanting to collect their R350 grant through cardless banking at an ATM to Rica their cellphone number.
"If they choose to be paid through their bank accounts they must ensure the bank account provided is registered in their name. This will assist the client to withdraw their grant with ease from merchants as till pins are sent to cellphone numbers provided when applying," it added.
Consumer spending is recovering better than expected in most categories, as Covid-19 lockdown regulations have eased.
This is according to data from FNB, which says spending by individuals who hold debit, credit, and fusion cards with it has increased 19.2% year on year (y/y).
Consumer spending is showing strong recovery particularly in:
Entertainment saw a 52.5% y/y increase, while grocery spend rose by a further 5.6% y/y in addition to the 12.7% jump in 2020.
Co-operative governance and traditional affairs (Cogta) minister Nkosazana Dlamini-Zuma has extended the Covid-19 national state of disaster by a month.
Dlamini-Zuma gazetted the extension until November 15, 2021, in terms of section 27(5)(c) of the Disaster Management Act, 2002 (Act No. 57 of 2002).
Sore throat, cough, fever? These are classic symptoms of a COVID-19 infection. If you develop these, or any other COVID-19 related symptoms whilst at school, tell your teacher. Click here if you think you've been exposed: https://t.co/tvIKEc4C2y #SchoolHealthAwarenessWeek pic.twitter.com/jYDMxI1rnL
Read more at the SA government's online coronavirus portal or use the 24-hour public hotline: 0800 029 999