McGregor (22-6) lost to Poirier at UFC 264 on Saturday in Las Vegas. The official result was a TKO defeat at the end of the first round due to a doctor's stoppage. McGregor's lower left leg snapped as he stepped backward after throwing a punch at the very end of the round.
On Thursday, McGregor posted a video on social media in which he claimed the leg was already compromised going into the bout.
"I was injured going into the fight," McGregor said via Instagram. "People are asking me, 'When was the leg broke? At what point did the leg break?' Ask Dana White. Ask the UFC. Ask Dr. [Jeff] Davidson, the head doctor of the UFC. They knew I had stress fractures in my leg going into that cage. It was debated about pulling the thing out."
The UFC did not immediately respond to a request for comment. The Nevada State Athletic Commission, which oversaw the contest, also hasn't yet commented on the matter.
In recent days, many have speculated about when the injury occurred. Poirier, who improved his record to 2-1 against McGregor, said he thought McGregor injured the leg when he threw a kick earlier in the fight. Poirier even pointed at the leg as soon as McGregor landed the kick. Earlier this week, McGregor's coach, John Kavanagh, claimed McGregor went into the fight with an injured ankle.
McGregor, 33, and his team said he underwent successful surgery on his leg on Sunday, repairing fractures of his tibia and fibula. McGregor added via social media, "six weeks on crutch and we build back."
The UFC star expanded on the details of the surgery in his most recent post.
"I'm essentially getting exactly what I needed to get there," McGregor said. "I needed to get treatment on my leg. I needed to get treatment on my ankle. I needed to get treatment on my shin bone. And I would have never committed to going under the knife unless something like this happened.
"So, something like this happened, [I am] getting exactly what I needed, and what I needed was a titanium shin bone. Now, I have a titanium rod from my knee to the ankle, and the doctor says it's unbreakable."
Former UFC middleweight champion Anderson Silva underwent the same procedure in 2013, after he broke his leg during a title fight against Chris Weidman. Silva returned from the injury a little more than one year later and went on to fight seven more times in the UFC. He was 38 when he suffered the injury.
McGregor has sworn his rivalry with Poirier is not finished, and White did immediately express interest in eventually setting up a fourth fight between the two.
Read full article at Fox News
Bloody Elbow 16 July, 2021 - 05:01pm
...And for Conor McGregor too, but for much more negative reasons.
In fact, let's go all the way back to 2016.
On November 12th, a little less than three months after he avenged his upset loss to Nate Diaz in thrilling fashion, Conor McGregor made history as the first ever simultaneous two-division UFC champion when he emphatically dethroned Eddie Alvarez at UFC 205. It was the promotion's maiden show at Madison Square Garden after New York finally legalized MMA. 'Mystic Mac' envisioned holding two UFC belts and knocked two legends out to turn that vision into reality.
One week prior to McGregor's win over Alvarez, Charles Oliveira not only tapped to a second straight guillotine choke, he comically weighed in at 155 lbs for his featherweight matchup with Ricardo Lamas. It was his third loss in four fights, the fourth time he'd missed weight, and the last time the UFC has booked him at 145 lbs.
Meanwhile, almost exactly two years removed from his TKO defeat to McGregor, Dustin Poirier had entered his September main event vs. Michael Johnson on an impressive four-fight winning streak over Diego Ferreira, Yancy Medeiros, Joseph Duffy, and Bobby Green. Poirier was favored over Johnson, who had lost two straight (and also inadvertently sprung the McGregor vs. Diaz rivalry to life by losing to Nate), yet it was Johnson who pulled off the shocking 95-second KO of the 'Diamond' in Texas to abruptly halt Poirier's rise up the lightweight ranks.
McGregor was on top of the MMA world both as a fighter and commercial superstar, Oliveira had to hit the reset button and leave featherweight, and Poirier closed out 2016 with a four spot tumble to #10 in the UFC's official lightweight rankings.
Okay, now let's fast forward to present day.
Oliveira and Poirier are a combined 18-2 (1 NC) over the past four years and are on a collision course to fight for the undisputed title in just a matter of months. McGregor made a ridiculous amount of money boxing Floyd Mayweather, but in terms of actual combat success, his lone win during that time span is a TKO of a demonstrably faded version of Donald Cerrone. He defended neither of his two belts and when he tried to win back the lightweight crown, Khabib Nurmagomedov choked him out—and then all hell broke loose.
While McGregor spent his post-Alvarez years loudly proclaiming, official slapping and referee confronting, bus window smashing, phone stomping, bar punching, fake retiring, and fake retiring again*, Poirier and Oliveira were separately – but relentlessly – working their way towards the zenith of one of the deepest divisions in MMA.
Poirier established himself as top-shelf lightweight with his main event stoppages of Anthony Pettis, Justin Gaethje, and (in a rematch of their 'no contest' first fight) Eddie Alvarez. The suspension of Khabib for his UFC 229 post-fight brawl prompted an interim title Poirier would contest against then-featherweight king Max Holloway in 2019. What transpired was an all-time classic between two seemingly indefatigable athletes, with Poirier becoming the man to end Max's 13-fight winning streak. That win netted the ATT talent a crack at true UFC gold, upon Khabib's return from suspension—but for absolutely zero want of a better word, he got Khabib'd just like everyone else.
It was a considerably different story for Oliveira. The Brazilian choked out Will Brooks before getting elbowed to smithereens by Paul Felder, then rattled off six consecutive victories, all via stoppage. Unfortunately those wins came entirely over unranked opposition, including a pointless trilogy meeting with Nik Lentz. Which meant 'Do Bronx' ended 2019 ranked a modest #13 at 155 lbs. Not exactly in the immediate running for a shot at the belt.
Oliveira finally broke through as a legitimate title threat by submitting Kevin Lee just before the UFC's schedule was put on ice due to the coronavirus pandemic. He then capped off his year by turning Tony Ferguson into his personal grappling dummy, solidifying his position as a top contender in the process.
We saw Poirier just once in 2020, rallying from a 2-0 deficit versus Dan Hooker to win a grueling five-round decision. A few weeks later, he outlined his intentions for the rest of his career.
"I'm not sure what the options will be when the UFC comes back and starts sitting at the table to make these matches," Poirier said. "It needs to be a really big name or a title fight. I've been doing this for 10 years in the UFC, and I still love fighting, but I want these fights to mean more than just a fight. I don't want it to just be about a show and win purse. I want it to really mean something, and I know I'm in the back nine of my career."
Was last weekend's fight an unfortunate ending? Yes. But, Poirier also clearly won the round. And if history is a guide, then McGregor was in for more punishment and head trauma if not for the leg break.
One of the most dangerous opening round fighters the sport has ever seen experienced the singular worst round one of his career, and only the most fervent McGregor defenders (his coaches included) could convince themselves Conor was positioned for better things to come.
Through this five-year journey, Poirier and Oliveira have persevered, prospered, improved and sharpened their respective skill sets to become an unlikely – and yet fully deserving – pairing of championship competitors. We know where they stand as elites because they had to keep fighting to earn that respect. If the Khabib vs. McGregor rivalry had a level of genuine animosity and ugliness to it that may not be everyone's cup of tea, Poirier and Oliveira are a breath of fresh air as golden representatives of what makes this sport great when you strip away the circus surrounding it.
On the flip side, McGregor may not yet be experiencing a financial downfall as a pay-per-view draw, but everything else continues to dip precipitously. We've already been through his boorish behavior, but his trash talk and general command of the microphone has devolved into a stream of mean-spirited threats and juvenile insults. He's become something of a caricature of his former self.
The 'Mystic Mac' aura is dissipating and his retelling of his losses are more consistently divorced from reality than ever. None of his act, contrived or not, works as well when the wins aren't being posted on the board. And yes, his inactivity has been an issue. He has fought two lightweights a combined three times in four years and lost them all. His broken leg will all but guarantee he's not back until 2022. At this point, would anyone bet on Conor ever fighting more than one name on a list like Justin Gaethje, Michael Chandler, Dan Hooker, Beneil Dariush, or Rafael dos Anjos? I wouldn't.
It's hard enough already to predict this sport in the short term. I'd like to see the work of any fan or pundit that envisioned a Charles Oliveira vs. Dustin Poirier title bout even two years ago, let alone five. I can't wait to see how it unfolds, and the only bad thing out of this is that they both can't walk away with the UFC belt around their waist.
New York Post 16 July, 2021 - 05:01pm
By Lee Brown
July 15, 2021 | 12:39pm | Updated July 15, 2021 | 12:46pm
UFC boss Dana White has denied conspiracies that former President Donald Trump's star appearance at the Conor McGregor fight was deliberately cut from the TV feed — instead blaming a "massive f–k up" by his production team.
"We were getting ready to show him right between the co-main and main events," White, 51, told TMZ of Trump, whose wild standing ovation from fight fans even included a salute from Mel Gibson.
The plan was to teasingly show Trump's presence by scanning over other celebrity guests, from ex-Giants receiver Odell Beckham Jr. to David Spade and then 2 Chainz, White said.
"We had some kind of glitch in the truck. Then the Conor fight ended up ending in the second round so we never got a chance," he said.
"Let me tell you — massive f–k up by my production team," White said. "But it's live TV and these things happen."
The MMA mogul said it also "sucks" because the tech issues also prevented the fight special from catching Trump's rapturous welcome.
"When he walked into the arena … there's nothing like it. The entire arena gets up on their feet — the whole place stands up and everybody's got their phones," he said.
"It's one of the craziest things you'll ever witness," he said of the "extremely positive" response from fans.
White — who endorsed Trump before the 2020 election — dismissed rumors that Trump's presence was only kept off the show on the say-so of progressive leftists in Hollywood.
"Listen, politics aside, when a former president shows up — whether it was Obama, Trump or Jimmy Carter … we would respect a former president of the United States," White insisted.
The UFC boss laughed when asked if the former president has expressed anger at not being featured.
"He was so pumped up about the fight, he hasn't said a word to me about that," White insisted of the Octagon clash that ended with a win for Dustin Poirier after a brutal ankle injury for Irishman McGregor.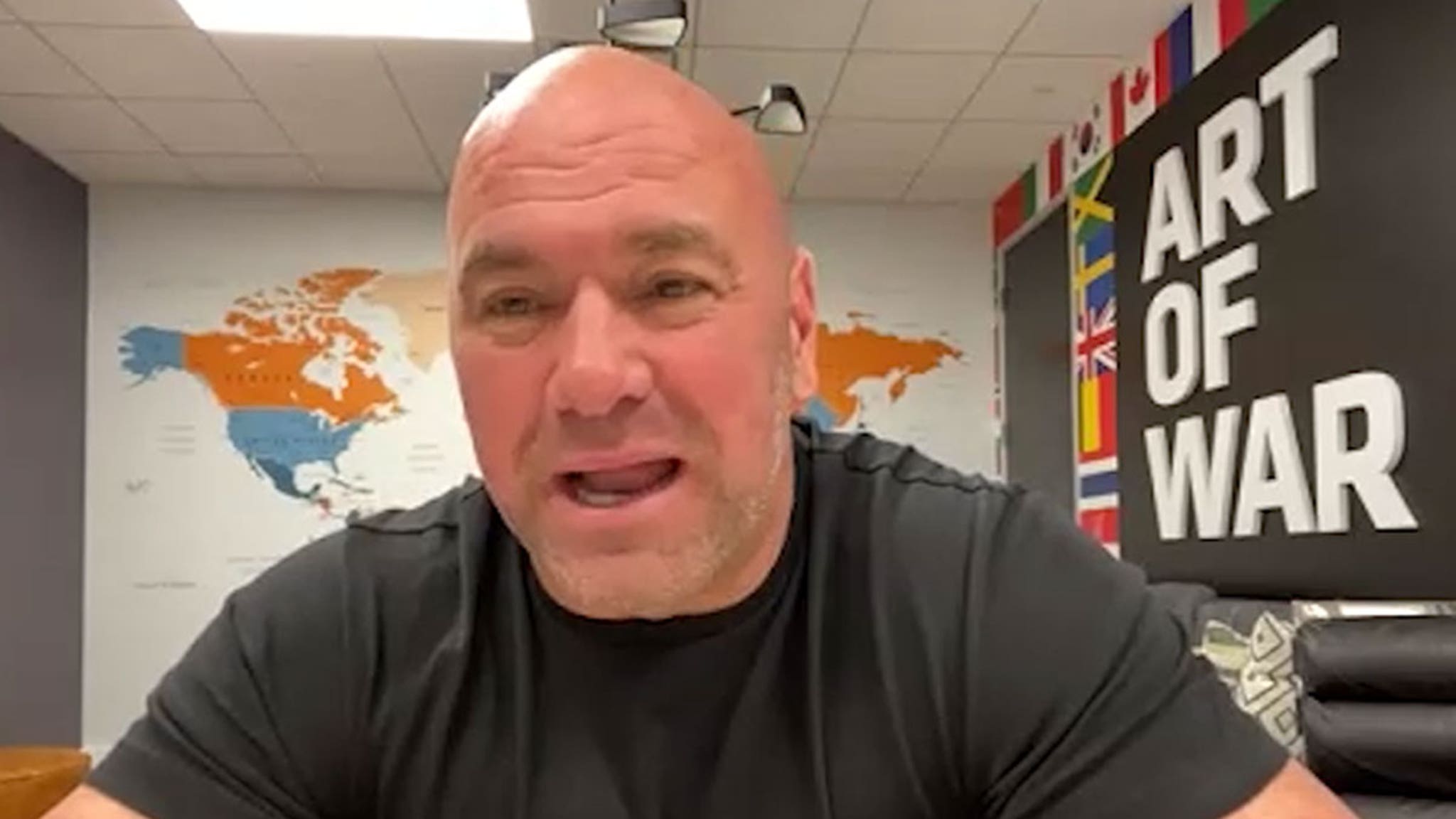 TMZ 16 July, 2021 - 05:01pm
The UFC prez tells TMZ Sports the flub was a mix of his production team dropping the ball, a technical issue, and the unpredictability of live television.
The way Dana explains it ... there was a plan in place to show Trump sitting near the Octagon. Cameras were supposed to pan from some big-name celebrities to the former Prez ... but things didn't go according to script.
"We were getting ready to show him right between the co-main and main events, I think you remember that we showed OBJ. We showed OBJ, then it was supposed to go to David Spade, 2 Chainz, and then the president, and we had some kinda glitch in the truck. Then the Conor fight ended up ending in the 2nd round so we never got a chance."
White continued ... "Let me tell you what, massive f*** up by my production team, but ya know, it's live TV and these things happen."
We obtained video of DT arriving at T-Mobile Arena in Las Vegas midway through the main card ... and you see Trump being greeted by Dana and getting a nice ovation from the packed crowd.
But, Trump was never seen on the broadcast ... leading some to speculate there was something nefarious going on with the ESPN broadcast.
Dana says that's NOT the case ... telling us any former president deserves to be shown on TV, regardless of political affiliation.
While Dana's obviously upset at his production team ... Trump isn't bothered by his lack of TV face time.