When the opening ceremony of the Tokyo 2020 Olympics kicks off next Friday night, 89 athletes will proudly march under the Israeli flag.
It's the largest Israeli delegation to the Olympic Games in history, nearly double the previous high of 47 athletes at the 2016 Games in Rio. That jump is fueled largely by the 24 members of Israel's first-ever Olympic baseball team. But the 2020 Games — held in 2021 after a year-long COVID delay, but not renamed — also mark Israel's debut in surfing, archery and equestrian sports.
The most experienced member of the delegation is gymnast Alexander Shatilov, who will be representing Israel for the fourth time. Artistic gymnast Lihie Raz and swimmer Anastasia Gorbenko are both just 17 years old, although Gorbenko will celebrate her 18th birthday a day before the closing ceremony.
With no spectators and little freedom of movement for the competing athletes, these games will be an Olympics like no other as Tokyo battles a fresh outbreak of COVID-19. Many of Israel's contenders have been waiting five years for their chance to prove their worth, and they are raring to go.
Israel has won just nine Olympic medals, and only one gold — in sailing at the 2004 Athens Games. Will 2021 be the year Israel scores another top prize at the world's largest sporting event?
The Times of Israel checked in with Israeli sports experts on Israel's best medal chances at the Games and which athletes to look out for with just days left until the Games begin.
Perhaps the best chance of hearing "Hatikvah" play in a stadium in Tokyo this summer is Linoy Ashram, a 22-year-old rhythmic gymnast who has consistently been picking up medals at international competitions over the past few months.
Ashram, one of two rhythmic gymnasts representing Israel at this year's games, won two gold medals at the Rhythmic Gymnastics World Cup in Sofia, Bulgaria, in March, and took home a gold and two silvers at the European Championships in Rhythmic Gymnastics in Varna, Bulgaria, last month.
"She is the number one ranked around the world right now. She's the best of the best," said Joshua Halickman aka "The Sports Rabbi," an Israeli sports blogger and writer. "She's definitely a heavy medal favorite. As long as she can keep to her great form, she'll be fine."
Maya Ronen, a reporter for Israel's Sports Channel who will be accompanying the delegation to Tokyo next week, said all eyes will be on Ashram.
"It's clear that Linoy Ashram is perhaps the most prominent [Israeli] candidate for a medal," said Ronen. "I really believe in her ability to rise to the top at the climactic moment," she added. "I think at the Olympics, Linoy will give it her all, and her all will be worth a medal."
Israel's Olympic hopes often rest on its formidable judo lineup, and with good reason. Five of the country's nine total Olympic medals have been won in the sport. This year, Israel is sending 12 competitors — six men and six women — to compete in the martial art, including some familiar names.
Sagi Muki, who competed at the 2016 Rio Olympics and finished in fifth place, won the gold medal at the 2019 World Judo Championships in Tokyo and the bronze at the World Masters in Doha, Qatar, earlier this year. Ori Sasson, who took home a bronze from Rio, is also returning to the Games this year and is considered one to watch in the men's heavyweight category.
"We have a pretty good chance for medals and achievements in judo," said Ronen. "Sagi Muki, the previous world champion, is the biggest standout… Sagi is one of those people who, on any given day, he's an incredible fighter."
Halickman agreed that Muki is one of the strongest contenders: "He's going to be a threat."
Judoka Peter Paltchik is another likely hope, who has "been excellent since the corona break," said Halickman. Ronen also put him at the top of her list: "He's in incredible shape, he took the 2020 European Judo Championships — he can get the medal."
But Halickman noted that the judo competitions can be unpredictable. "What's interesting in a sport like judo is you can be eliminated within 10 seconds and that can be the end of your tournament… so it's dangerous to get your hopes up," he said.
"On a good day, Israel could rake in three medals in judo," Halickman summed up. "On a bad day, they could walk away with nothing."
Israel is sending 15 swimmers to the Games in Tokyo. Two are a synchronized swimming duo and the other 13 are competitive racers.
The strongest swimming medal hopes appear to be resting on 17-year-old Gorbenko, who won gold at the 2018 Summer Youth Olympics in Buenos Aires in the 200m medley, and another gold a year later at the Barcelona Open in the same event. She'll also be competing in the 100m freestyle, 100m backstroke and 100m breaststroke.
"She is arriving in incredible shape," said Ronen. "She could notch some incredible achievements," she added, even if that is simply qualifying for the swimming finals, where only the top eight compete. "For me, the final is as exciting as a medal."
Israel's other top swimming medal contender is 29-year-old Yakov Toumarkin, who represented Israel at two previous Olympics — Rio in 2016 and London in 2012.
And while Israel has a long history of Olympic swimmers, Matan Roditi will become the first Israeli to compete in the 10 km open water marathon, which first appeared at the Games in 2008.
Baseball is returning to the Summer Olympics this year for the first time since 2008, and with it comes Israel's first-ever Olympic baseball team, which has made a Cinderella-like journey to the Games.
Made up largely of naturalized American Jews — and several former Major League Baseball players — the team has garnered a good deal of international media attention and been likened to Jamaica's unlikely 1988 Olympic bobsled team.
Just six countries have qualified to compete in baseball at the Olympics, giving Israel — in theory — 50/50 odds at taking home a medal.
"I think the baseball team has shown a lot of resilience through their qualifying rounds," said Halickman. "The fact that they were able to qualify for the Olympic tournament is no short of a modern-day miracle."
Over a series of games, Israel will battle Japan, South Korea, Mexico, the Dominican Republic and the United States for a shot at a medal. "Israel has some former major league players and some minor league players. There are some good, solid players on this team," Halickman said. "You have to remember, the US isn't sending their best baseball players," since those athletes are playing in the MLB this summer.
Ronen admitted that, like most Israelis, she's not particularly familiar with the sport, which has little local representation. But she thinks the team's Olympic run could change that.
"Nobody here can say they grew up on baseball," she said. "But I think that there's an incredible opportunity for exposure… if there's a major success for the team, imagine what that will do for baseball in Israel. It could bring a revolution."
In addition to baseball, Israel is making its Olympic debut this year in archery, surfing and equestrian sports.
In archery, Itay Shanny, 22, qualified as the first Israeli to compete in the sport at the Olympics. Shanny told The Times of Israel after his qualification last month that it was a dream come true. "This is something I've worked on for years and reaching this point is unreal," he said. "It's a great feeling. I managed to shake off the nerves and was focused and precise, like in another world."
Anat Lelior, 19, will be Israel's first and sole surfer at this year's Games. Her qualification for the games, her dad told JTA, was the pinnacle of years of challenging and often lonely work. "In a way, making the Olympics says yes, your work, your achievement, is visible. Yes, you are a woman. You are a surfer. You are an Israeli. You are Jewish. You're a lot of things," said Yochai Lelior. "But the Olympics, it's confirmation."
Israel's four-person and four-horse team, whose humans consist exclusively of naturalized Israelis, will take on show jumping at the Olympics this year. US-born riders Ashlee Bond and Teddy Vlock and Mexico native Alberto Michan will compete alongside New York native Dani G. Waldman, the team's traveling alternate, who has been fighting to get Israel a place on the international equestrian scene since she became an Israeli citizen in 2010.
"Since I got my Israeli citizenship more than 10 years ago, this has been my whole goal: to build this team for Israel," Waldman told The Times of Israel several weeks ago. "I'm thrilled that Israel will have representation in equestrian sports in the Olympics when they never have before. It's an amazing feeling."
Among Israel's 89 athletes this year are no small number of inspiring stories — as well as some family connections.
Husband and wife runners Marhu Teferi, 28, and Selamawit Teferi, 27, will be competing together — though not against each other — in Tokyo. Marhu will take part in the men's marathon, while Selamawit is slated to race in both the women's 5,000m and 10,000m races. The pair, who were both born in Ethiopia, met in 2012 at a training camp and got married in 2017. They are the first husband-and-wife team to represent Israel at the Olympics.
Brothers Ran and Shachar Sagiv are the only competitors representing Israel in the triathlon this year — and the second and third in history. Shachar, 26, and Ran, 24, are natives of Zichron Yaakov, and the sons of Shemi Sagiv (at the time known as Sabag), who represented Israel as a marathon runner at the 1984 Summer Olympics in Los Angeles.
"We're always encouraging each other — and also fighting — like all brothers," Shachar told Ynet. Ran added: "The stronger our connection is, the stronger we are. It will also be the first time that a father who was at the Olympics will accompany his two sons. It's a dream come true."
Ronen suggested that Lonah Chemtai Salpeter, a woman's marathon runner, is a potential medal contender who has been flying somewhat under the radar.
"She's an incredible athlete," she said, "but she hasn't received that much focus lately."
Halickman echoed that sentiment. "She has been very good; her times have been excellent," he said. "She's competed very, very consistently. I think she's a dark horse to win a medal."
Salpeter, a native of Kenya, moved to Israel as a nanny for a Kenyan diplomat, where she met her now-husband, fell in love and got married. At the 2016 Olympics in Rio, Salpeter could not complete the marathon after experiencing pain due in part to complications from nursing her son. But five years later, Salpeter is back in roaring form — she took home gold at the Tokyo marathon last year — and ready to race to the finish.
Ronen also pointed to artistic gymnast Artem Dolgopyat — who won a gold medal at the 2020 European Championships — as one to watch out for.
"It's hard for me to call him a dark horse. He won a series of medals in international competitions and he's incredible," she said. "But I think he's received less media focus than Linoy Ashram and others. He's an incredible athlete."
The site Olympic Medals Predictions, which gathers data from world championships and other international competitions in an attempt to guess the outcome of the games, suggests Israel will take home five medals this year: a gold for Muki in judo, a silver in gymnastics for Dolgopyat and for windsurfer Katy Spychakov, and bronzes for Ashram in gymnastics and Tohar Butbul in judo.
But Ronen — and the rest of the team covering the Olympics for the Sports Channel — will have their eyes on every sport, even as their movements are limited by the COVID restrictions.
"It's incredibly exciting," she said. "These athletes really show the power of the human body."
Do you rely on The Times of Israel for accurate and insightful news on Israel and the Jewish world? If so, please join The Times of Israel Community. For as little as $6/month, you will:
That's why we come to work every day - to provide discerning readers like you with must-read coverage of Israel and the Jewish world.
So now we have a request. Unlike other news outlets, we haven't put up a paywall. But as the journalism we do is costly, we invite readers for whom The Times of Israel has become important to help support our work by joining The Times of Israel Community.
For as little as $6 a month you can help support our quality journalism while enjoying The Times of Israel AD-FREE, as well as accessing exclusive content available only to Times of Israel Community members.
Read full article at CBS News
The Economist 16 July, 2021 - 05:01pm
Your browser does not support the <audio> element.
Mr Honma longingly recalled a brighter day in the same park eight years earlier, when he joined thousands of others to celebrate as Tokyo won the right to host the games. Abe Shinzo, Japan's prime minister at the time, said he was happier than he had been when he became prime minister. Mr Abe saw the Olympics as a chance to lend credence to his bullish catchphrase: "Japan is back". He hoped the games would help the country snap out of its gloom after decades of economic stagnation, demographic decline and devastating natural disasters. The games, says Taniguchi Tomohiko, a special adviser to Mr Abe, were seen as a source of "a commodity that was in scarce supply: hope for the future".
The grand designs had a powerful precedent in the previous Tokyo Olympics, in 1964. Just two decades after defeat in the second world war, those games came to encapsulate both Japan's rise from the ashes and its re-entry into the global community. Tokyo, which had been reduced to cinders by American firebombing, was smartened up. New roads and rail lines, including the first shinkansen, or bullet train, were built. "There was a feeling in the 1960s that everyday life was becoming richer: today is better than yesterday, and tomorrow will be better than today—and the Olympics became a symbol of this," says Togo Kazuhiko, a former ambassador who was a student at the time. The excitement left a lasting impression on a generation, including Mr Abe, who invoked his childhood memories of 1964 when Tokyo won the bid for this year's games.
If not for the pandemic, excitement may well have materialised again. The current Tokyo Olympics has had its share of controversies, from an over-budget stadium to rank sexism from the (now departed) head of the organising committee. Nor would a sporting event alone be enough to resolve Japan's problems. But the games were shaping up to be a source of pride. Tens of thousands of young Japanese had signed up to volunteer. Japan planned to welcome 40m foreigners in 2020, when the games were originally scheduled. Tourists would have found an impeccably clean, safe, well-run metropolis. Akita Hiroyuki, a commentator for Nikkei, a Japanese daily, reckons that the Olympics could have been a "white ship" that catalysed the country to "wake up and open up". (The Americans who forced Japan to open to the world in the 19th century arrived in "Black Ships".)
Instead, the games will be held without fans, foreign or domestic, in a city under a state of emergency. Ito Yuko, one of the fans gathered outside Komazawa stadium, lamented that the mood is "200% different" from 1964, when she first fell in love with the Olympics. Rather than coming together for the games, Japan has been riven by them. Recent polls show that as many as 80% of Japanese did not want them to go ahead this year.
The sense that national leaders are pulling an unwilling population into a disaster has led to comparisons not with the previous Tokyo Olympics, but with the war that preceded them. Even Emperor Naruhito, who almost never speaks about politically sensitive matters, has made his concerns about pressing on with the games known.
Opposition to the Olympics stems only in part from fears of covid-19. Japan has managed the pandemic well by global standards, with just 15,000 deaths; Tokyo has seen just eight covid-19 deaths so far this month. But many Japanese feel that the success has been thanks to ordinary people who behaved responsibly and made sacrifices in their personal lives, whereas the government is stubbornly persisting with a risky undertaking. "It's not just the health crisis, but the democratic crisis—it's the lack of accountability," says Nakano Koichi of Sophia University.
Things could go badly wrong. A covid-19 outbreak in the Olympic Village could prevent events from being held and leave competitions with asterisks in the history books. A careless member of the press or an official delegation could sneak off and seed a larger outbreak among the Japanese public. Athletes from the developing world could bring a more infectious strain of the virus home, turning the games into a global superspreader event. Such a fiasco would reinforce a sense of Japan's decline and leave the public more wary of engagement with the outside world.
Japan might also manage to keep the virus mostly under control and the sport on schedule. Executing the games in such difficult circumstances could instead serve as a reminder of Japan's ability to overcome adversity. Either way, the legacy of these Olympics will be contested. "If this was a picture, we could say that the frame itself has become rotten," says Sakaue Yasuhiro, a sports historian at Hitotsubashi University in Tokyo. "The picture might turn out to be beautiful, but it is still surrounded by this rotten frame." ■
This article appeared in the Asia section of the print edition under the headline "Rings on the ropes"
Yahoo Sports 16 July, 2021 - 12:57pm
Dan Wetzel, Pat Forde, Pete Thamel
Well, COVID-19 cases in the Japanese capital on Friday were up 55 percent from the week before, which is the 27th consecutive day of week-over-week increases as the Delta variant becomes more common.
"The speed [of increase] is very rapid," Tokyo Gov. Yuriko Koike said at a news conference, according to Japanese media reports.
Oh, and logistical bottlenecks at airports — all incoming passengers (even Olympic athletes) must go through a maze of testing and protocols — has caused five- and six-hour backups. That headache has prompted the government to ask airlines to halt new bookings in an effort to ease the crush. The limit of non-Olympic passengers who may arrive could reach as low as 2,000 nationwide, according to Japanese media.
Meanwhile, as the government orders bars to shutter, limits the hours of restaurants and encourages locals to remain home from work or play, approval ratings in Tokyo for Prime Minister Yoshihide Suga's cabinet plummeted to 28 percent (with a 63 percent disapproval rating).
"Having made it through 2020, retailers will now have to rely on further government support to account for continuing lockdown restrictions to account for lost income and salaries," said Patrick Kinch, an analyst for GlobalData, a London-based data and analytics firm.
GlobalData estimates the lack of fans at events will constitute an $800 million loss for the Tokyo organizing committee alone. Ancillary businesses will miss out on billions more.
So, that's not great. And the Japanese are aware of it.
A full 50 percent of Tokyo residents said the Olympics should still be canceled, according to the Japan News. A recent poll by Ipsos found opposition nationwide hitting 78 percent. Some 73 percent in Tokyo said the current state of emergency won't be effective with many citing the fact that local businesses have been crushed, all so a big international event can continue.
Lockdown fatigue is real … yet continuing.
"I want people to consider again the option of working remotely, in view of a large number of infections at workplaces," Tokyo Gov. Yuriko Koike said.
As for the competition itself, who the heck knows?
Tracing. Testing. Everything is at peril. Just this week positive tests or close contact classifications have hit groups as diverse as the Kenyan women's rugby team and workers at a hotel housing the Brazilian judo team.
The U.S. men's basketball team, which remains incredibly popular around the world and especially in hoops-mad Asia, is already reshuffling its roster due to COVID and, perhaps, a prolonged NBA Finals, which, of course, occurred because of COVID.
Each of the 11,000 athletes will be required to live a comparatively spartan existence — lots of isolation, meals in rooms and other precautions — just so they might be able to compete.
Other than that, everything is great.
There are plenty of reasons to sympathize with the Japanese. The 2020 Olympics were shaping up to go off without a hitch — a rarity for an event that is routinely rife with mismanagement, cost overruns, corruption and incompetence.
The country kept new construction to a minimum. When necessary, it built temporary facilities or ones that could be repurposed after the Games. Due to the wealth and technological savvy of Tokyo, and the considerable planning of the local organizing committee, this was expected to go smoothly.
IOC President Thomas Bach repeatedly labeled Tokyo as "the best-ever prepared city for the Olympic Games."
This was a point of pride for the country, which has long been obsessed with the Olympics. Japan's per-capita television ratings for the Games almost always rank near the top of all countries. Its hosting of the 1964 Summer Games was seen as a watershed moment that rebranded the country after World War II as a modern, friendly, business-minded nation.
Besides, this was a chance for Japan to grab the global spotlight in between the hosting of the 2018 and 2022 Winter Olympics by neighbors and, in different ways, rival countries South Korea and China, respectively. Television footage of everything from Mt. Fuji, to historical sites, to lively entertainment districts in Central Tokyo would have been beamed around the globe.
Team Japan, which numbers a national record 582 athletes, was expected to thrill local fans.
Then COVID hit and the two main reasons to host the Olympics — goodwill and good money — are either going or gone.
First, the 2020 Olympics became the 2021 Olympics. Then slow vaccine approval and rollout caused the virus to be an even bigger deal than it would have been in the West (disapproval for the government on that issue is particularly high on this issue).
Now the country is scrambling to somehow make this work under extreme pressure. While new cases are still relatively low in raw numbers (1,271 on Friday in Tokyo), they are exploding as a percentage (822 the week before).
And that's before the Games have even begun. The influx of Olympics visitors at the nation's five major airports isn't expected to peak until Sunday and will remain high deep into next week. Various predictions have cases topping 2,000 or even 3,000 daily in Tokyo during the Olympics, a reason for fear among parts of the largely un-vaccinated populace.
At this point, though, there is no turning back. One week from now, the cauldron will be lit — during a scaled-back Opening Ceremony inside a near-empty $1.3 billion stadium. Perhaps, then, the mood will change.
"When the athletes finally compete, this will be well-appreciated here by the Japanese people," Bach said.
The USA men and women are now 1-4 in their pre-Tokyo exhibitions.
Bryson DeChambeau talked himself into trouble on Thursday, and on Friday Brooks Koepka happily piled on.
Team USA is continuing to have issues.
Tyrrell Hatton had some frustrating moments on the course at the Open Championship on Friday, and he took out his anger on his club.
Louis Oosthuizen once again is atop the leaderboard at a major. Can he sustain it this time?
The Saints will lose a key defender due to a banned-substance suspension.
For the first time in 15 years, the Saints are going to have a new quarterback.
Team USA is reportedly back at full strength.
Sherman, 33, was arrested Wednesday following an incident at his in-laws' home.
Team USA had five exhibition games scheduled before the Olympics. It can now win two at most.
Justin Fields has yet to take his first NFL snap, but the Bears rookie QB is already making a strong impression with his unique recall ability.
Andy Fordham, who has died aged 59, was the British Darts Organisation Embassy world darts champion in 2004; a familiar figure on the international darts circuit from the mid-1990s, he enjoyed a devoted following wherever he played. He was as well-known for his physical appearance as his achievements at the oche, which were arguably modest by professional standards. But in a game inhabited by extroverts, his shyness and relaxed approach to life ensured that he was one of the most popular winners
Paramount+ has given a formal green light to Grease: Rise of the Pink Ladies, a prequel series to the classic 1978 film, which comes from Paramount Television Studios. The 10-episode pickup, which had been in the works for weeks, marks the first official scripted series order since PTVS President Nicole Clemens added a senior role […]
Aaron Judge, Gio Urshela, and Kyle Higashioka all tested positive for COVID-19.
If Damian Lillard ends up being traded, the Warriors are among the five most likely teams to land the superstar guard.
Matej Mohoric registers second stage win thanks to gutsy breakaway Bahrain Victorious rider says he was made to fell 'like a criminal' after police raid on team hotel Mark Cavendish forced to wait until finish on Champs-Elysees in his bid to break Eddy Merckx's stage-win record Mark Cavendish will have to wait until Saturday's finale in Paris to go for a record 35th Tour de France stage win after Slovenia's Matej Mohoric won stage 19 in controversial fashion. On Wednesday night, Mohoric's Bahrai
India has ordered a crackdown on the religious sacrifice of animals in Kashmir, appearing to invite spiking tensions in the majority-Muslim region just days before one of the Islamic world's largest holidays. Animal welfare officials released an order calling for the stopping of the "illegal killing/sacrifice of cows/calves, camels and other animals". The directive to the Indian-administered part of the disputed territory came less than a week before Muslims mark Eid ul-Adha by offering prayers
Team USA has a difficult task ahead of them in replacing Bradley Beal on the Olympic roster.
The 2021 Open Championship takes place on Monday, July 12 through Sunday, July 18 at Royal St. George's Golf Club in Sandwich, England. This will be the 149th edition of the event and the year's final major due to the PGA Championship's move to May and the Masters (April) and U.S. Open (June) keeping their
The Mets have interest in trading for Chicago Cubs star Kris Bryant.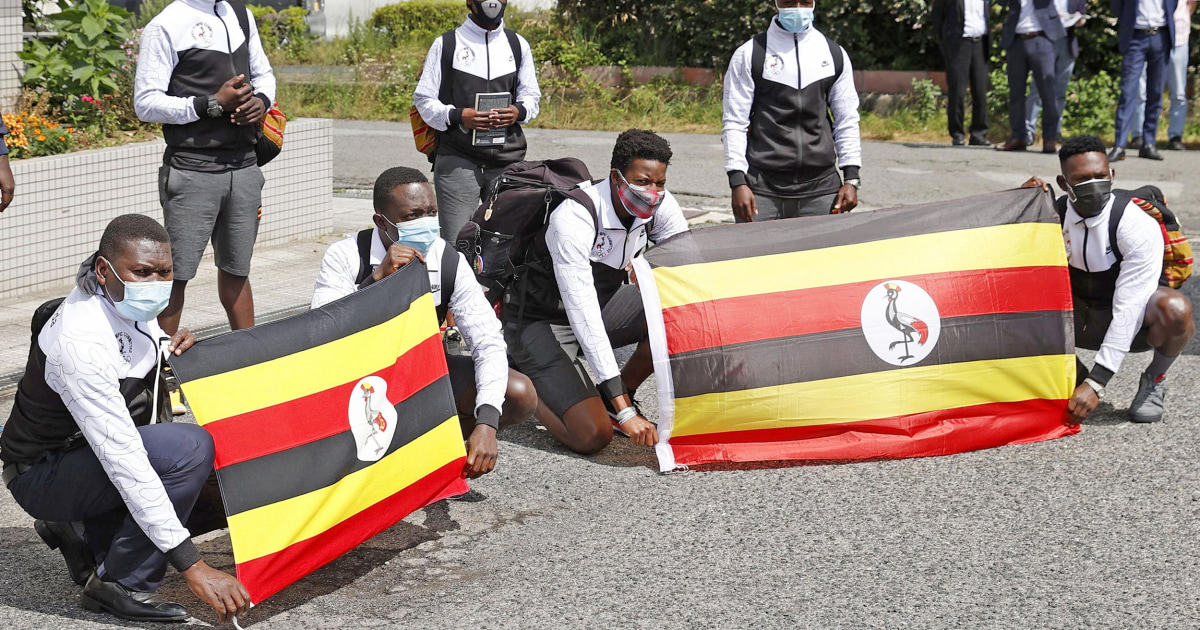 NBC News 16 July, 2021 - 06:34am
BREAKING: Federal judge declares DACA program illegal, orders DHS to stop approving new applications
The missing 20-year-old man was training as part of the nine-member Ugandan team in Izumisano, Osaka prefecture, city officials said. A Izumisano municipal government official identified the missing athlete as Julius Ssekitoleko.
Teammates realized the athlete was absent around noon Friday when his saliva test sample was not delivered and they found his hotel room empty, city officials said. There was no training Friday morning and he was last seen in his room in the early hours of Friday.
After failing to find him inside the hotel, officials notified police for a broader search. There was no 24-hour monitoring at the hotel, and exactly when or how he got out of the hotel was unknown, officials said.
The pandemic-delayed Olympics begin on July 23 despite mounting concern about Tokyo's upsurge of infections. The host city on Friday reported 1,271 cases, after hitting a six-month high at 1,308 the day before.
On their arrival on June 19 at Narita International Airport, a member of the team tested positive and was quarantined there, while the remaining eight members were allowed to travel more than 300 miles on a chartered bus to Izumisano, their pre-Olympics camp in the western prefecture of Osaka.
Days later, a second member of the team from East Africa tested positive for the virus, forcing seven town officials and drivers who had close contact with the team to self-isolate. Health officials said both infected Ugandans had the delta variant.
Both team members have since ended their quarantine requirement and the team has been training since July 7.
The case prompted the Japanese authorities to step up border controls and change isolation policy to require entire groups to quarantine in airport areas when any member tests positive.
While Japanese officials have required the use of health and location apps, and restricted activity in a "bubble" to fully isolate athletes from the Japanese public, violations have been reported.
Monitors pledged earlier by Olympic Minister Tamayo Marukawa have not been seen operating at a number of hotels. Marukawa told reporters Friday that she is asking organizers to strengthen measures and increase surveillance staff at hotels to make sure rules are followed.
The New York Times 16 July, 2021 - 04:29am
Julius Ssekitoleko, 20, an Olympic hopeful, failed to show up Friday for a required coronavirus test. Games organizers have ordered all participants to remain in a "bubble" to prevent the spread of the virus.
TOKYO — A Ugandan weight lifter who traveled to Japan in the hopes of competing in the Tokyo Olympics was missing from his hotel near an athletic training camp, officials said on Friday.
Julius Ssekitoleko, 20, one of nine Ugandans who had been staying in Izumisano — a city in Osaka Prefecture in western Japan — since mid-June was discovered to be missing around noon Friday when he failed to show up for a coronavirus test.
Olympic organizers have tried to keep all participants in the Games in a "bubble" and in compliance with strict rules to prevent the spread of the coronavirus while they are in the country. Athletes training outside Japan have been restricted to hotels and training venues.
Organizers recently announced that all spectators would be barred from venues in Tokyo, which declared a state of emergency amid a rise in coronavirus cases.
Last month, one coach and one athlete with the Ugandan Olympic delegation tested positive for the coronavirus after arriving in Japan. It is not clear if Mr. Ssekitoleko was one of them.
The police are conducting a search, said Katsunobu Kato, the chief cabinet secretary to Prime Minister Yoshihide Suga. Mr. Kato said the police and city officials were making an "all-out effort" to find Mr. Ssekitoleko.
According to Salim Musoke, the president of the Uganda Weightlifting Federation, Mr. Ssekitoleko did not qualify to compete in the Olympics and was scheduled to fly back to Uganda on July 20 before the official opening of the Games.
Mr. Musoke said on Friday that he last spoke with Mr. Ssekitoleko three days ago and was surprised to hear he had disappeared, given that the athletes, coaches and officials had handed over their passports and that the hotel where they were staying was "well guarded."
"When I got the message, I wondered, what happened if they were well guarded," Mr. Musoke said. "What happened to the security they have been talking about?"
He was disappointed by the news. "Athletes disappearing is not good for the country," Mr. Musoke said of Japan, which has faced criticism for insisting that the Games would go ahead.
"I am praying that they should get this boy," Mr. Musoke said. "The government of Japan should get this boy, and then we expel him from the sport."
According to Yuji Fukuoka, a spokesman for the city of Izumisano, an official who had traveled with the Ugandan delegation checked Mr. Ssekitoleko's hotel room on Friday, and he was not there.
"All we want is that he's found as soon as possible," Mr. Fukuoka said. "He might be having a tough time."
A spokesman for the Tokyo organizing committee said it was aware of the case. "We understand that Izumisano City has been searching for the person who has gone missing," the committee said in a statement. "We hope the person will be found very soon."
Musinguzi Blanshe contributed reporting from Kampala, Uganda.