247Sports.com 19 July, 2021 - 10:01am
50% off Annual VIP Pass first year
There aren't many significant changes to speak of, at least not yet, he told reporters during SEC Media Days. Luke Doty, who entered and exited spring practice as the starter, remains in place as QB1. The competition, Beamer added, is far from over.
"(Doty's) No. 1 going into (preseason camp)," Beamer said. "Like we've told him and all those quarterbacks and all those positions, we're about competition in this program and he's got to continue to compete, to be that guy. He's done nothing over the summer to change our mind, with what he's done and the way he's gone about his business.
"But Jason Brown and Colten (Gauthier), those guys, Connor (Jordan), they've worked really hard. Jason's working his rear end off."
Doty is the most experienced returning quarterback in the group. In eight games (two starts) as a freshman, he completed 43 of 71 passes (60.6 percent) for 405 yards with two touchdowns and three interceptions. He also rushed 41 times for 91 yards.
Brown transferred from Saint Francis earlier this spring. In 2019, his only season as the Red Flash starter, he connected on 253 of 411 passes (61.6 percent) for 3,124 yards with 28 touchdowns and six interceptions.
"Every time I look out my office window, Jason Brown is out there running extra on his own, trying to lose weight, get in shape," Beamer said. "He's very passionate, very driven and focused. I'm really, really excited about the start of practice, to see how we've improved over the summer and get out there, to have a month to work with guys before we start."
Brown certainly isn't the only player who's impressed Beamer with his work ethic this summer.
"Aaron Sterling is a guy that Luke Day has mentioned to me that really, since the end of spring practice to now has taken a huge step, with his body, physically, strength in the weight room, the way that he's kind of leading the guys on the field," Beamer said. "Part of the reason Nick (Muse) and Kingsley (Enagbare) are over here today is because of the way they've worked in the weight room and the fact that they've been the kind of leaders that they've been since the day I got here.
"It carries a lot of weight with me and part of the reason they're here today. Those are some guys (and) Luke Doty - like it or not, if he's your quarterback, he better be a leader for you. We've tried to spend a lot of time with our players, from a leadership standpoint and knowing whose voice carries weight on our team and making sure they're using that the right way and then who needs to be a leader and bringing those guys along and helping them with that as well.
"Those are some guys that have had a great summer or doing a great job of leading this summer for us, just a couple."
50% off Annual VIP Pass first year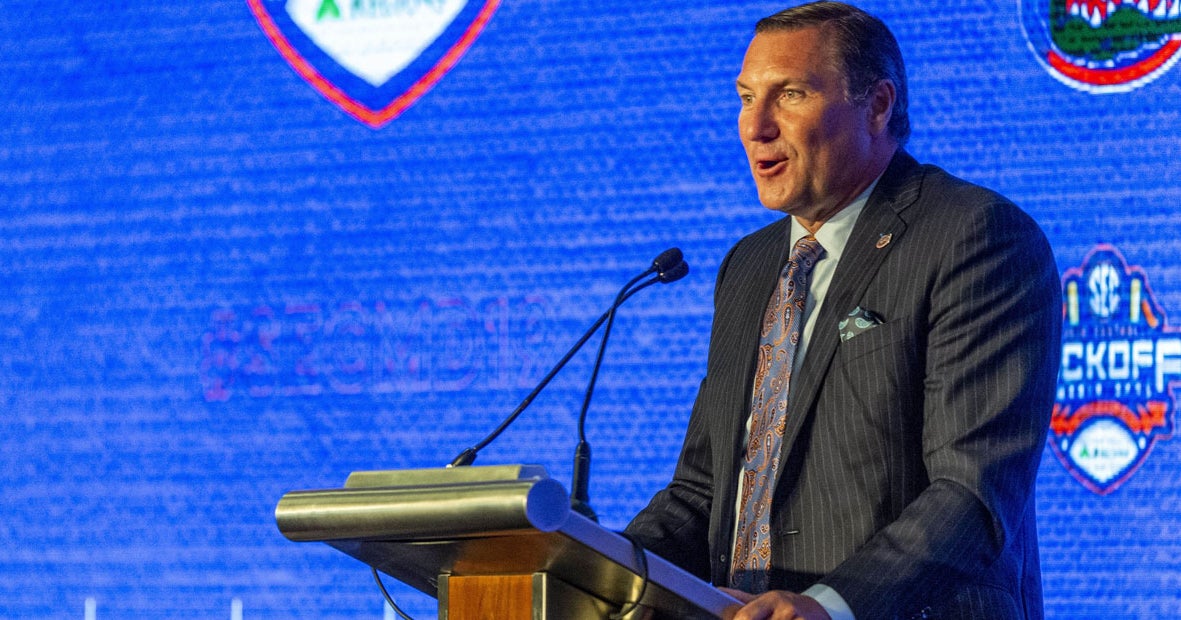 247Sports.com 19 July, 2021 - 09:30am
50% off Annual VIP Pass first year
HOOVER, Ala. – South Carolina is sharing the first day of 2021 SEC Media Days with LSU and Florida. When Tigers head coach Ed Orgeron and Gators head coach Dan Mullen were in front of the microphone they were asked about Gamecocks first-year head coach Shane Beamer.
"I know him a little bit," Orgeron said. "I saw him at the airport. Coach said South Carolina was here early. Yes, it's his first job. I'm excited for him. I think he's going to do a great job. When I was in Knoxville, I thought that in the Knoxville area you go to South Carolina, there's a tremendous amount of talent in South Carolina and North Carolina. I think that he's going to do a tremendous job. He's a great coach. I wish him the very best."
Other than a SEC Championship matchup, Orgeron and Beamer's programs will not meet anytime soon in the regular season as LSU is a revolving SEC West opponent.
However, Florida is on the schedule every year. Beamer hired away defensive backs coach Torrian Gray from Mullen's program and the two programs are in constant recruiting battles. Before the Gamecocks and Gators meet on Nov. 6, Mullen had good things to say about his new SEC East foe.
"I know Shane really well," Mullen said. "I've known him for a long time. We both have a place over at Reynolds at Lake Oconee. He was over at the swimming pool the other day at my house. I'm really excited for him, really happy for him. Great football coach.
"Obviously, comes from a football family. I don't know if there's a guy more respected in college football than Frank Beamer. To have that as a dad, to rely on and learn from it and to be raised by - I'm excited for (Shane) and his family. He's got a great family, his wife, Emily, and their kids. I'm excited for the opportunity that he's going to have, to go build his own program now and put his stamp on it. I'm sure he's going to do a fantastic job."
Orgeron enters his eighth season as the full-time head coach of a division one football program (Ole Miss and LSU). He was the interim head coach at Southern California in 2013 and at LSU in 2016. Orgeron's career head coaching record is 37-34, a 28-12 record at LSU, 6-1 at Southern California (one season), and 3-21 at Ole Miss (thee seasons).
Mullen enters his 13th season as a head coach in the SEC and his fourth at Florida. He owns a 3-0 record coaching the Gators against the Gamecocks. Mullen's career head coaching records is 52-46, a 19-7 record at Florida and a 33-39 record over nine seasons at Mississippi State.
50% off Annual VIP Pass first year