But the $500 phone looks to be a much marked-up handset from a budget Chinese brand.
See more stories on Insider's business page.
The launch of an "uncensorable" smartphone aimed at US conservatives is being hyped by Trumpworld figures such as Candace Owens and Jack Posobiec - but it may not be all it's cracked up to be.
The $500 Freedom Phone targets users concerned about big tech censorship and freedom of speech. It comes pre-loaded with apps like Parler, Rumble and Newsxmax's app, as well as a privacy guard.
Despite the price tag, the phone appears to be a reworking of Chinese handsets available for as little as $119, per several reports.
Candace Owens tweeted that she is a "proud partner" of the product, adding a promotional code.
Matthew Hickey, co-founder of the cybersecurity firm Hacker House, told the Daily Dot that the phone is most likely a rebranded version of Umidigi's A9 Pro, an Android-based phone that retails for $133, and can be found for as little as $119.
Umidigi's most expensive model, the Bison Pro - normally priced at $299 on the company's website, and as little as $190 elsewhere - does not resemble the Freedom Phone's promotional images, suggesting that the model is from the lower end.
The phone "can be bought and shipped in bulk from Asia with custom logos and branding so as to give the appearance of a phone that has been designed for a unique purpose," Hickey said.
Asked what justifies the markup to $500, Finman told the Beast that the phone had customized hardware and improved memory, but gave no specifics.
As of Friday, no detailed specifications for the phone appear on the Freedom Phone's website.
Hickey also told the Daily Dot that Umidgi phones have poor security - exactly the opposite of what the Freedom Phone touts - because of its use of chips made by the Taiwanese firm MediaTek.
In response, a Freedom Phone spokesperson told Insider: "the chip exploit does not apply to us because we do not use that chip." They did not immediately address other claims about the phone.
"The Freedom Phone makes a lot of promises and it remains to be seen if it can deliver on them," wrote tech review site ScreenRant, which has not yet got hold of the phone itself. The product is due to ship later this year.
The might of big technology corporations is a major preoccupation of conservative politicians and media figures, most notably after former President Donald Trump was permanently banned from Twitter following the January 6 Capitol riots.
Conservative figures frequently complain that rightwing users are more often targeted by big tech companies like Facebook, Twitter and Google - despite the fact that Facebook's most popular pages are often rightwing, as Insider's Ben Gilbert reported.
Read the original article on Business Insider
Hosts Dana Perino and Jesse Watters sat down with Insider to discuss the show's "family dinner" vibe, outlier ratings, and occasional controversies.
Tucker Carlson still won't say if he is vaccinated against COVID-19, calls it a 'supervulgar personal' question
Ian Rogers, who was found with more than 40 firearms in his home, and Jarrod Copeland hoped that attacks beginning with the Democratic headquarters in Sacramento would inspire others to overthrow the US government, according to an indictment.View Entire Post ›
Photo Illustration by The Daily Beast / Photos GettyThe pro-Trump internet went wild on Wednesday for the Freedom Phone, a $500 smartphone that comes stocked with conservative apps and promises to liberate anyone else who buys it from Silicon Valley censorship. The American flag-branded phone was immediately promoted by a wide range of right-wing figures, including former Trump adviser Roger Stone, Jan. 6 rally organizer Ali Alexander, and pundit Dinesh D'Souza."I'm holding a freaking phone that
President Joe Biden and Vice President Kamala Harris celebrated the disbursement of the first round of expanded child tax credit payments Thursday as the "day the American family got stronger."
The New York Times filed a Freedom of Information Act lawsuit seeking access to the "Alternative Mueller Report" allegedly compiled by former special counsel team leader Andrew Weissmann, who publicly battled with special counsel Robert Mueller last year after Mueller's report "did not establish" any Trump-Russia conspiracy in 2016.
This unbelievable deal gets you a top-notch smartphone and tons of extras for nearly 85 percent off.
MGM Resorts International's recent deal to sell CityCenter is the latest in a wave of moves gambling companies are making to capitalize on their real estate and focus on operations and growth projects
American diplomats are escalating a charm offensive with Central Asian leaders this week as they work to secure a close-by spot to respond to any resurgence of outside militants in Afghanistan after the U.S. military withdraws.
Amazon's Alexa digital assistant can now impersonate the voices of Shaquille O'Neal and Melissa McCarthy.
The FAA told airlines to check 2 cabin altitude pressure switches over concerns their failure could ultimately lead to flight crew 'incapacitation.'
Kraft has partnered with Van Leeuwen to release a limited-edition mac and cheese flavored ice cream.
Travis Kelce says that for years his name has been incorrectly pronounced as "Kel-see" instead of "Kells," but his mom says their name is "Kel-see."
A federal grand jury indicted two men on multiple charges in connection to an alleged plot to attack the Democratic Party's headquarters in Sacramento.
"The Chinese government is not keeping its commitment that it made, how it would deal with Hong Kong," President Joe Biden said on Thursday.
Most observers see the lawsuits have little to no chance at success.
Read full article at CNET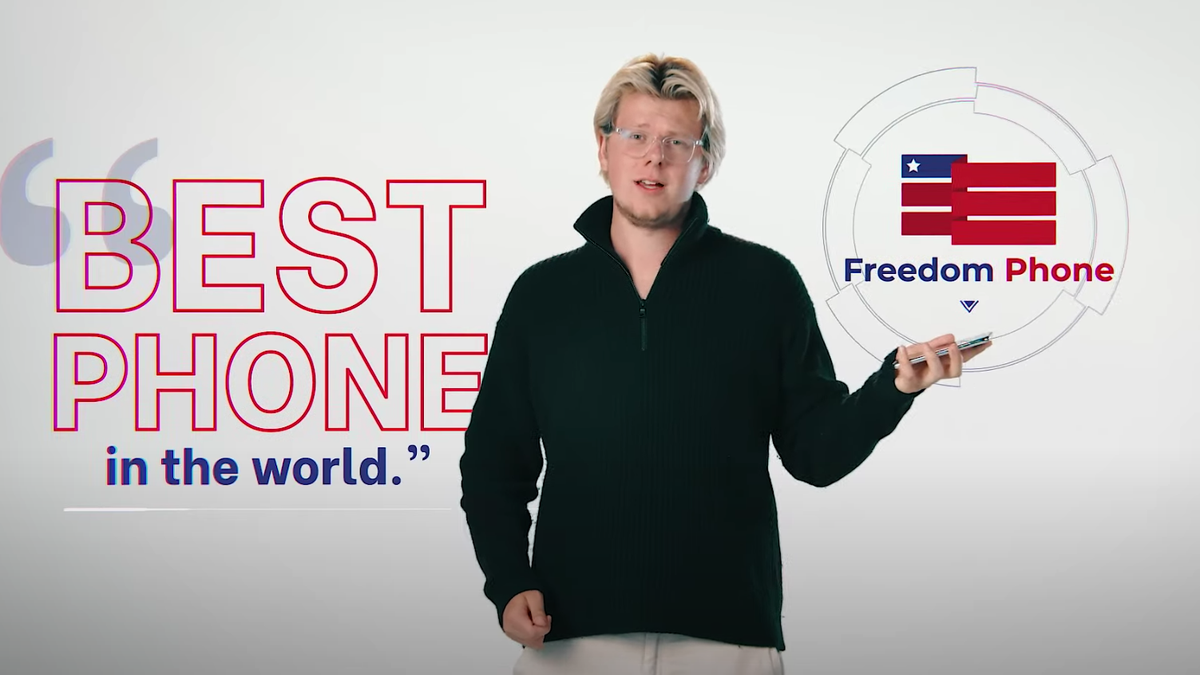 Gizmodo 17 July, 2021 - 09:00pm
The device also comes pre-loaded with a host of privacy features (Signal, DuckDuckGo, Brave), as well as a suite of apps that seem tailor-made for Trump voters: Parler, One America News Network, Newsmax, and Rumble are all included.
"This is the first major pushback on the Big Tech companies that attacked us - for just thinking different," Finman tweeted Thursday morning. "We're finally taking back control." Other right-wing influencers and commentators could also be seen promoting the product on their channels.
Yet while the product is being sold as an escape from Big Tech's nefarious oversight, in reality, it appears to be a budget phone from Asia that may end up compromising buyers' autonomy rather than protecting it.
Before we get into the specifics of why this device probably sucks, let me just say that the desire to have a phone that is dedicated to protecting your autonomy and privacy is a reasonable one—and should be encouraged. That said, I don't think the Freedom Phone provides that. Actually, aside from its overt partisan bent, it's impossible to tell what kind of device this is because Finman and his acolytes haven't provided any information about it.
Let's start with the website (freedomphone.com). Hilariously, it provides literally zero specs about the actual device. There is no information about the phone's operating system, storage, camera, CPU, or RAM capabilities. It has a list of features, but there are no actual details about them. Instead, under each feature, there's merely a "Buy it now" button which redirects you to the site's shopping cart. The phone's hefty price, combined with the company's total lack of transparency, is ridiculous—essentially asking the buyer to cough up half a grand in exchange for, uh, something! We sent an email to Freedom Phone to ask for further information and will update this story if they ever respond.
The fact that the device is essentially a black box also makes it a potential security (and thus also privacy) nightmare—and once again, it should be treated that way until proven otherwise. In fact, based on the assessment of some security professionals who have scoped it out, the Freedom Phone should be avoided at all costs.
Matthew Hickey, the co-founder of Hacker House and longtime cyber professional, said that, while it hasn't been confirmed, the Freedom Phone would appear to be a cheap Android device sourced from Asia—the likes of which could be vulnerable to all assortment of supply chain risks and other issues.
"Based on photographs from the company website a number of Internet sleuths identified that the device has the same form-factor, shape, and appearance of a Umidigi A9 Pro," said Hickey, via email. "This device is a drop-shipped customizable Android-based phone that can be ordered from ASIAPAC region and customized to a project's requirements," he said, clarifying that such devices can be "bought and shipped in bulk with custom logos and branding so as to give the appearance of a phone that has been designed for a unique purpose but is actually just a common cheap Android-based smartphone with core components produced in Taiwan and the surrounding areas." It's also very cheap: the A9 Pro is currently available for about $120, much less than the Freedom Phone's $500.
According to The Daily Beast, Finman confirmed that the device he was selling was made by Umidigi but couldn't say what specific model it was.
On top of everything, "Freedom" would also appear to be using a CPU from Taiwan produced by Mediatek, the likes of which is "popular in low-end Android-based devices" and is known to be buggy, said Hickey.
"Historically Mediatek devices have shipped with a wide number of insecure configurations and are prone to trivial vulnerabilities that allows anyone with physical possession of such a device to read/write the data on the phone through its early bootloader," Hickey said. "They make phones specifically to permit high customization and as such many of the vendors own software [that] can be used to manipulate the devices, which is why such hardware is popular in countries like North Korea as often the security enabled by a user can simply be circumvented by a state operative," he added.
Nothing screams "freedom" like products popular in the DPRK.
The funny thing is, if Trump voters are looking for a way to get off the "Big Tech" grid, there's no need for them to buy this sketchy shit. There are actually entire subcultures within the phone industry dedicated to escaping the Android/iOS paradigm. You can wade into the de-Googled phone sector, for instance—where Android phones are sold that have ostensibly been refurbished to rid the devices of code that will "send your personal data" back to the tech giant. There's also the Linux-based Pinephone, which sells at a fraction of the Freedom Phone's cost (between $150 and $200), and is a favorite of those in the privacy community. All of these come with caveats, obviously, but the point is that there are much more transparent and affordable options than the Freedom Phone.
Of course, total security and privacy aren't really what the Freedom Phone is about. For Finman and his company, it's just a cash-in on the growing conservative demand for products that are brand MAGA. For the customers, meanwhile, buying a phone like this is a statement of identity—a consumer choice that brings with it a sense of community, as well as a chance to give a big middle finger to the commercial and cultural establishment that they feel has repudiated them.
It'd be nice if Americans could actually come together around the issue of privacy since it's an area where—regardless of political party—we're all collectively getting screwed. However, something tells me the "Freedom Phone" isn't exactly a harbinger of that—more the opposite.
I trust this guy about as far as I can throw him.
Tech Advisor 17 July, 2021 - 09:00pm
The Washington Post 17 July, 2021 - 09:00pm
There's no telling how many Donald Trump superfans will fall for it, but they're a nearly infinitely minable resource, whether the goals of the elite conservatives targeting them are economic, political, or both.
That's also the way to understand the sweeping campaign against covid-19 vaccination that has overtaken the right. While conservative politicians and media figures are causing increased death and suffering among their own supporters, they're doing so because it serves their most important goal: Keep the machine running.
There's no shortage of hands reaching into the pockets of the conservative rank-and-file, whether it's scammy pro-Trump PACs making billions of robocalls to sweep up "donations" from the faithful or Trump and Bill O'Reilly mounting a stadium tour so you can see two of America's most famous alleged sexual harassers in person: "While most seats are priced between $100 and $300, a 'VIP Meet & Greet Package' goes for more than $8,500."
And while some Republicans are disgusted by the anti-vaccine campaign, the attacks against coronavirus vaccines on Fox News have been relentless, with all of the network's prime-time stars using their programs to cast doubt on their effectiveness and safety. Meanwhile, conservative politicians such as Sens. Ron Johnson (R-Wis.) and Ted Cruz (R-Tex.) have either stoked fear of the vaccines themselves or promoted resistance to Biden administration efforts to vaccinate more people.
The results have been predictably horrifying. As cases rise and rates of vaccination remain low in conservative areas, health officials are meeting stubborn resistance from people convinced that it's all a conspiracy, even when the pandemic reaches right into their families. As this heartbreaking Post story reports, one woman in Missouri "said that her daughter was hospitalized in an intensive care unit with covid-19 but that she thinks the numbers are exaggerated."
The conservative elites who view their supporters as easily manipulated rubes know exactly what they're doing. It's the same formula, applied again and again.
Keeping the machine running means outrage, anger, distrust, fear and conspiracy thinking, all wrapped up in a spinning turbine of hysteria where emotion is turned into action. The action might be small-dollar donations, or it might be tuning in to Fox News and Newsmax and OAN night after night, and at the right times it means turning out to vote.
But the fuel of the machine doesn't really matter; it's whatever will get people worked up today, even if it might get them killed tomorrow.
The vaccines are a perfect example. Does anyone doubt that if Trump was still president, the conservative media would be promoting covid vaccination as his personal triumph and encouraging it so normal life could resume as quickly as possible? Of course they would.
Today, on the other hand, there remains a political incentive to discourage vaccination: Fewer vaccinations extends the pandemic, which means more misery, more death, a constrained economy, and an increase in the feeling that things just aren't going well in America, which in turn makes it more likely that Republicans will win at the polls in 2022 and 2024.
But that may not be the main goal of those discouraging vaccination. They just want to keep the machine running, and if the fact that there's a Democratic president means vaccines can be divisive enough, they become a terrific vehicle for outrage.
Here's the extraordinary thing Trump showed everyone about the nature of the con: There's no risk that your scamming of conservative masses will be discovered when your victims have convinced themselves that their own victimization is something to be proud of.
They're in on the joke, they're part of the act, it's all a big show and nothing matters as long as they're owning the libs. When Trump tells a crowd that when it comes to polls, "If it's bad, I just say it's fake. If it's good, I say, 'That's the most accurate poll, perhaps, ever,'" they cheer his admission that he constantly lies to them.
Being truly savvy doesn't mean not getting scammed. It means being an enthusiastic partner in your own bamboozlement.
As long as the machine keeps running, the money comes in and the Republican voters stay angry. Everybody on the right wins — except for the people running up their credit cards and risking their own and their families' lives.
PCMag 17 July, 2021 - 09:00pm
With no specs available, we'd put money on it being an overpriced OEM Android phone running a skin. Americans who really want freedom and privacy can do better.
Free speech is important. Privacy is important. Both are vital to a healthy society and a healthy Internet. Ensuring our ability to do what we want with the technology we purchase, without having our data tracked or sold, is one of the biggest problems facing the tech world today. It's an ongoing problem and a constant fight, and everyone should work hard to both know and protect their rights both online and with their devices.
On a completely separate subject, the Freedom Phone looks like a colossal grift that preys on people who are technically illiterate and legally ignorant. It smells like a massive, cynical con job designed to overcharge customers by at least 400% while taking advantage of their lack of understanding about how phones work, how the Internet works, and how free speech works.
I'm going to pause here so you can scroll down and comment angrily below. It's okay, I'll wait.
Personal politics completely aside, this pet project from the "world's youngest Bitcoin millionaire" seems to offer nothing any other Android phone can't already do, just with a faux "freedom" bend over it and the assumption that its users have no idea what it means to sideload an app. Whatever you believe and however you vote, it really looks like the Freedom Phone is designed to cynically take advantage of you.
One note before we dive into it: These observations are all based on what has been revealed about the Freedom Phone and what we can glean about its details. We could easily be proven wrong and it might turn out to be a revolutionary privacy-protecting tool that's a good value, too. However, what we've seen so far indicates that, no, it looks like a big politically predatory rip-off.
Let's start from a purely technical, consumer-facing angle. The Freedom Phone seems to have absolutely no tech specs whatsoever. Basic things like CPU, storage capacity, screen resolution, and cellular bands simply are not published anywhere on the Freedom Phone website. According to a press release sent out about the Freedom Phone, it has a 6-inch screen and 128GB of storage. That's all the details we've seen (and the press release, from March, shows a different phone model photo, so even those details might be wrong).
If you're spending $500 on a phone, you should know what's running inside it. Period. You don't have to understand what all the specs are, but the information should be disclosed.
As it stands, it appears that the Freedom Phone is simply a bulk-purchased Chinese Android phone with a light UI skin thrown over the Android OS (see below). Specifically, it seems to be the Umidigi A9 Pro, available from AliExpress.com for $156, and purchasable in bulk from Alibaba for $118 to $135 per phone. The notch matches, the side buttons match, the camera stack matches, everything indicates that it is indeed this phone. One you can buy with raw Android for just over a quarter of the price.
That mention of raw Android brings us to the big appeal of the Freedom Phone: FreedomOS and its overwhelming freeness. Yeah, it's Android. It's Android with a skin on top. Look at one of the few pictures of what the operating system looks like on the phone. Android default app icons. Android navigation buttons on the bottom. Android status icons on the top. It's Android.
Maybe FreedomOS really does strip out some of the tracking that Android can do, and has features that preserve your privacy. The problem is that Freedom Phone doesn't actually explain how it does any of that, and there doesn't seem to be a single thing the phone can do, from limiting tracking to adding "banned" apps, that you can't already do with Android. However much you might complain about Google's handling of personal data or the management of its app store (and there are loads of valid complaints about both), Android is fundamentally an open-source operating system built on a nearly universal system kernel. That means you can basically do anything on it.
Is your favorite service "censored" on the Google Play store? You can load it on your phone pretty easily if you have the APK file (and despite what Freedom Phone might imply, conservative news sources like Newsmax and OAN are available on the Google Play store, along with Telegram and Rumble). Are you worried about your data being tracked? Load some privacy-minded apps like an encrypted email client, an encrypted browser, and a VPN on it (again, those are available on the Google Play store, so you don't have to wrestle with sideloading). There's nothing the Freedom Phone can do that you can't do with Android, so basically you're spending $500 to get Parler preloaded. That's it. Also, Parler's own website has a link to simply download the APK directly to your phone, so it's actually easier to load than most sideloading.
Guess what? If you're using cell service at all, especially with data and GPS services...that's traceable. Like, fundamentally. It's how the technology works, and nothing can actually prevent that telemetry and bandwidth from being seen by, at the very least, your cellular carrier.
If you don't know how to sideload an app, or set up and use encryption on your phone, the Freedom Phone might seem appealing. But at that point, it really raises the question of how much your freedom and privacy are actually worth to you, personally.
You're willing to spend $500 on a phone that claims to offer it? Okay. Is it worth putting in the work to educate yourself on how to hide your digital footprint and load unlisted apps on your phone? Because that's what really can protect your rights. Learn how encryption works. Learn how to sideload apps that have been "censored." Teach yourself how to do these things, because whatever your politics it's that knowledge that's actually useful in ensuring your freedoms. Don't rely on a rebadged mystery phone with vague promises of what it can do for you. Educate yourself, and you'll be able to do everything the Freedom Phone claims it does on any Android phone. There are some great ones for much, much less than the Freedom Phone and you can actually find out their specs.
Don't let a waving flag and empty rhetoric trick you into paying too much money for a cheap phone with an Android skin. Especially don't let it trick you into thinking that you can just throw cash at someone and they'll protect your rights. That kind of thinking is appealing because it's easy and simple. That kind of thinking will also keep you away from actively trying to educate yourself and learn how to actually protect your rights. Why should you settle for that?
This newsletter may contain advertising, deals, or affiliate links. Subscribing to a newsletter indicates your consent to our Terms of Use and Privacy Policy. You may unsubscribe from the newsletters at any time.
Your subscription has been confirmed. Keep an eye on your inbox!
Will Greenwald has been covering consumer technology for a decade, and has served on the editorial staffs of CNET.com, Sound & Vision, and Maximum PC. His work and analysis has been seen in GamePro, Tested.com, Geek.com, and several other publications. He currently covers consumer electronics in the PC Labs as the in-house home entertainment expert, reviewing TVs, media hubs, speakers, headphones, and gaming accessories. Will is also a THX Level I home theater expert and ISF Level III-certified TV calibrator, which ensures the thoroughness and accuracy of all PCMag TV reviews.
PCMag.com is a leading authority on technology, delivering Labs-based, independent reviews of the latest products and services. Our expert industry analysis and practical solutions help you make better buying decisions and get more from technology.
© 1996-2021 Ziff Davis, LLC. PCMag Digital Group
PCMag, PCMag.com and PC Magazine are among the federally registered trademarks of Ziff Davis, LLC and may not be used by third parties without explicit permission. The display of third-party trademarks and trade names on this site does not necessarily indicate any affiliation or the endorsement of PCMag. If you click an affiliate link and buy a product or service, we may be paid a fee by that merchant.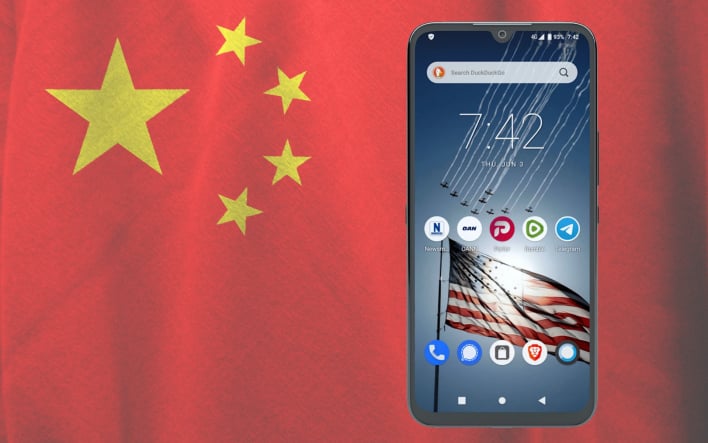 Hot Hardware 17 July, 2021 - 10:46am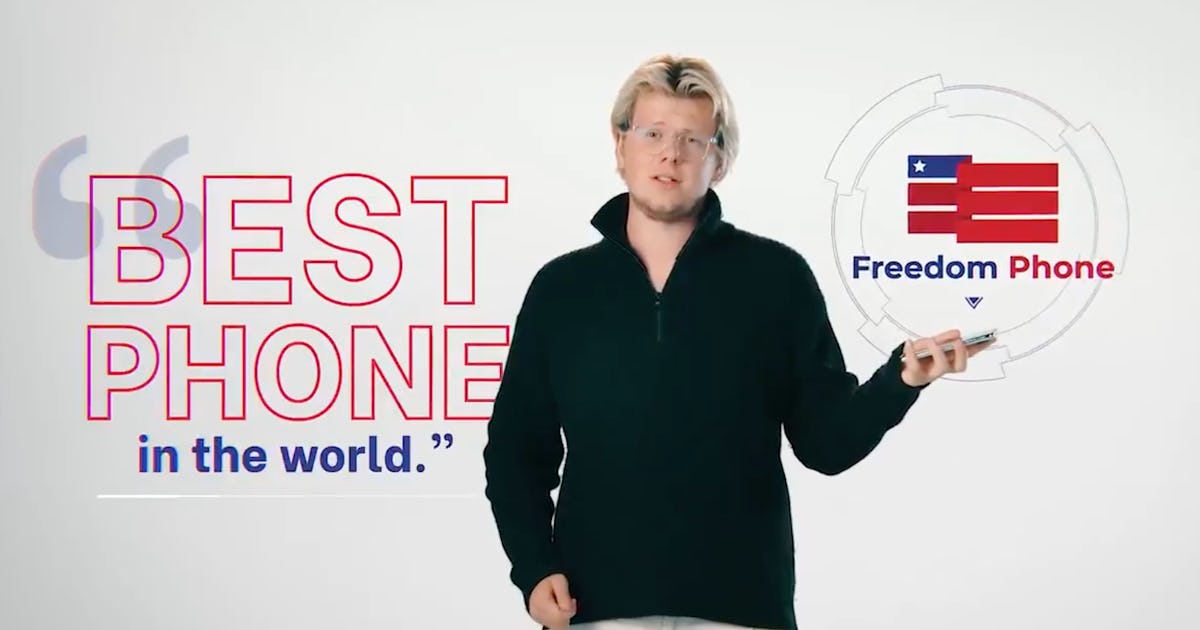 Mic 16 July, 2021 - 01:25pm
Apple and Google essentially have a duopoly over the smartphone market and use their dominance to their own benefit, stifling competition and milking money out of creators for the privilege of operating within their restrictive platforms. This is a very real and legitimate issue that hurts all kinds of people, from activists worried about government surveillance to app-makers who have their ideas copied and stolen. It is a problem that deserves legitimate regulatory scrutiny, intervention, and real competition.
Instead, we got the Freedom Phone — an unserious solution brought to you by grifters who pretend to care about the problems with Big Tech, but really only care about making a buck off their gullible audience. The creation of supposed Bitcoin billionaire Erik Finman, Freedom Phone is marketed as an "uncensorable" smartphone, serving as a home for apps that have been banned from the Apple App Store and Google Play Store. In a video announcing the phone, Finman calls the device "the best phone in the world," capable of doing "everything your current phone does, except censor you and spy on you." He also promises that the phone won't track your activity or data.
How exactly does Finman accomplish this? Well, according to the Freedom Phone's website, he's developed an operating system called FreedomOS, which is billed as "the first mass-marketable mobile phone operating system based on free speech." Finman also claims that the phone's app store, dubbed the PatriApp Store, will never censor or ban apps. In fact, it comes pre-loaded with the apps that have been scrutinized by Big Tech: Parler, far-right news outlets NewsMax and One America News, YouTube knock-off Rumble, and ... Fortnite? Apparently beefing with Apple is enough to get you a slot on the Freedom Phone home screen.
Truthfully, this is some great marketing for conservatives who feel like they are being unjustly targeted and censored by Big Tech (though are weirdly silent when environmentalists or Pro-Palestinian activists get banned or suspended). But if you've ever shopped for a smartphone before, there's a lot of information missing. For example: What are the technical specs for the phone? The Freedom Phone website doesn't say, other than to note it has "Large Storage. 6-inch Screen. Great Camera." And if you're privacy-minded, you might be curious about the source code of this brand-new operating system or want to know where the phone is manufactured — details that are also absent from any of the Freedom Phone's slick marketing.
While Finman has not been forthright with this information, you can certainly find it on your own. All you have to do is go to his original announcement post on Twitter and scroll down to the replies that he has chosen to hide. There you'll find out plenty of information about the Freedom Phone — because it's actually not a new device.
While Finman is pushing the Freedom Phone for $499, you can find it for much cheaper without the conservative catnip branding attached to it. It's a re-skinned Umidigi A9 Pro — a cheap smartphone produced by a Chinese company that can be purchased for $119. Matthew Hickey, co-founder of the cybersecurity firm Hacker House, told the Daily Dot that the Freedom Phone appeared to be a "drop-shipped" device that can be "bought and shipped in bulk from Asia with custom logos and branding so as to give the appearance of a phone that has been designed for a unique purpose."
Finman confirmed to The Daily Beast that the Freedom Phone is manufactured by Umidigi, a company headquartered in China. The phone uses a processor from Taiwanese company MediaTek, which has been roundly criticized for its lax security protocols, which have resulted in dangerous exploits. In 2019, Reuters reported that MediaTek chips were used in smartphones manufactured by the North Korean government because they were easy to manipulate in order to create surveillance backdoors.
As for FreedomOS, Finman told The Daily Beast that it is based off Google's Android operating system. What that appears to mean is that it is actually just Android with a custom skin. FreedomOS is an actual thing — a modified version of Android that has been defunct for three years now. It's not clear if Finman simply tapped this existing Android spin-off, or if he's created his own version of it, but it doesn't really matter either way: The Freedom Phone runs Android. The apps that it comes pre-loaded with are Android apps. So much for breaking free of Big Tech.
Of course, none of that has stopped the congregation of conservative grifters who have happily endorsed the Freedom Phone, even though they aren't actually using the device. Anna Khait, former Survivor contestant and current tool of right-wing propaganda machine Project Veritas, told her audience on YouTube that the phone was not an Android device and that it was manufactured entirely in America, both claims that are untrue. Candace Owens told her Twitter followers to be part of the "solution against Google and Apple" — via a message sent from an iPhone. Jack Posobiec called the device "epic." Both conservative commentators told their followers to use a discount code to get 10% off their purchase of the Freedom Phone, which appears to be a part of an affiliate program that kicks back up to $50 for each sale.
The Freedom Phone is, to use a technical term, a load of shit. It's a grift. It's a cheap and unsecure smartphone with a bunch of buzzwords applied to it, which apparently makes it worth a 400% markup. The guy who made it is hiding important details, the people promoting it don't even use it, and it solves exactly zero of the problems that it claims to. The Freedom Phone isn't about freeing people from the very real duopoly that dominates the smartphone market — it's about freeing people of their money, while charlatans pad their own pocketbooks.