Read full article at USA TODAY
CBSSports.com 06 September, 2021 - 04:10am
The United States men's national team had a chance to kick-start their World Cup qualifying campaign on Sunday with a win, and they tripped up along the way. Gregg Berhalter's squad followed up the 0-0 draw in El Salvador on Wednesday with an underwhelming 1-1 draw with Canada in Nashville.
Christian Pulisic made his long-awaited return from COVID, but without key contributors Weston McKennie (suspended) and Gio Reyna (hamstring), the Americans once again looked like an disconnected 11 players on the pitch and were outplayed in the second half. In truth, Canada had a couple of quality chances to take all three points, so the U.S. may just count their blessings that it wasn't worse.
Back to back draws for The USMNT, not a great start to World Cup qualifying😅 pic.twitter.com/xDYxqOUi4F
A fine team goal in the 56th minute gave the U.S. the lead, with Brenden Aaronson starting the play with his defense and finishing it off by being in the right spot at the right time.
But that lead was short-lived before Alphonso Davies got behind DeAndre Yedlin and set up Cyle Larin for the equalizer in the 62nd minute.
Canada then had a couple more chances thanks to substitute Tajon Buchanon, but both teams had to settle for just a point, putting them short of where they expected to be after two matches as the road to Qatar 2022 continues to get bumpy.
The U.S. finished with an xG of 1.79 while Canada finished at 1.55. The U.S. had 71.2 percent of the ball but only managed five more shots than Canada (11-6).
Both teams now have two points from two games. The Americans go to hostile Honduras on Wednesday, while Canada host El Salvador the same day. You can watch both matches on Paramount+.
Was decent but didn't see DeAndre Yedlin asking for help on the goal. Both he and John Brooks were caught ball-watching when it mattered.
Came on for Dest and was caught out on the goal. He just doesn't have the speed to keep up with Davies, but who does? Needed support and didn't get it.
Only got seven minutes, so the move made little sense. Not his fault though
Didn't get the time he needed.
Congratulations Brenden Aaronson on being selected as tonight's Insiders Man of the Match pic.twitter.com/gl22mUWB6V
Quick turnaround before Wednesday's game in Honduras. #OnlyForward #SoloPaLante pic.twitter.com/JFIBRpbjw5
Tonight's captain Christian Pulisic speaks to the media from Nashville. https://t.co/0RMVp5Cnnu
Head coach Gregg Berhalter speaks from Nashville following tonight's game.#USAvCAN x @VW https://t.co/0RMVp5Cnnu
Ratings are in after the #USMNT once again looked Concacaf average https://t.co/PXanITZopH pic.twitter.com/VvRPfnhmYV
As it stands in CONCACAF World Cup qualifying heading into Wednesday ⚽️ pic.twitter.com/M7H0i1MWGN
Look, this is a young team. Go through this last match and the October ones. But if they aren't at double digit points by the end of October...... https://t.co/5nXwtyXijA
Back to back draws for The USMNT, not a great start to World Cup qualifying😅 pic.twitter.com/xDYxqOUi4F
FT | We finish 1-1. #USAvCAN x @VW pic.twitter.com/0GIoFltmDB
The changes are coming! Roldan, Sargent and de la Fuente.
Davies is hurt and is asking for a sub...
Oh no! Tyler Adams gets a yellow for a silly challenge! The U.S. were on the counter, and Adams just decks a Canadian player. Lost his composure.
Oh Tyler......Oh Tyler.....what a loss of composure.....
Waiting on Berhalter to make some changes like ... pic.twitter.com/I8R0QeMmT9
David and Buchanon, arguably Canada's top two attackers, are on...
Pretty poor sequence from that US defense. Yedlin was looking for assistance if a ball got played in behind and both M. Robinson and Brooks were caught looking.
Davies finds Larin in front of the box after he gets behind Yedlin, and it's easy.
© 2004-2021 CBS Interactive. All Rights Reserved.
CBS Sports is a registered trademark of CBS Broadcasting Inc. Commissioner.com is a registered trademark of CBS Interactive Inc.
Images by Getty Images and US Presswire
These cookies are essential for the proper functioning of our Services. Essential cookies cannot be switched off in our systems. You can set your device to block or alert you about these cookies, but some parts of the Service will not work.
These Cookies allow us to collect information about how visitors use our properties. Some examples include counting visits and traffic sources, so we can measure and improve the performance of our services. If you do not allow these Cookies we will not know when users have visited our properties and will not be able to monitor performance.
These Cookies enable the services to provide enhanced functionality and personalization. They may be set by us or by third party providers whose services we have added to our services. If you do not allow these Cookies then some or all of these services may not function properly.
These Cookies may be set by us or through our services by our advertising partners. They may be used by those companies to build a profile of your interests and show you relevant advertising on this and on other properties. If you do not allow these Cookies, you will still see ads, but you will experience less relevant advertising.
These Cookies are set by a range of social media services that we have added to the services to enable you to share our content with your friends and networks. They are capable of tracking your browser across other sites, building up a profile of your interests to show you relevant content and advertisements on the relevant social networks. If you do not allow these Cookies you may not be able to use or see these sharing tools.
Waking The Red 06 September, 2021 - 04:10am
A week of AEW events in the Chicago area wraps up tonight with the biggest pay-per-view in company history.
CM Punk will make his long-awaited return to the ring, facing Darby Allin. It will be Punk's first match in more than seven years.
Four title matches are also set for tonight. In the main event, Kenny Omega will put his AEW World Championship on the line against Christian Cage. The Young Bucks will defend their AEW Tag Team titles against The Lucha Brothers in a steel cage match, Britt Baker will defend the AEW Women's Championship against Kris Statlander, and Miro and Eddie Kingston will face off for the TNT Championship.
Also on tonight's card: Chris Jericho will put his AEW in-ring career on the line against MJF, Jon Moxley will face off with NJPW's Satoshi Kojima, Paul Wight will make his AEW in-ring debut against QT Marshall, a 21-woman Casino Battle Royale will determine a future challenger for the AEW Women's Championship, and Orange Cassidy, Chuck Taylor, Wheeler Yuta & Jurassic Express will face Matt Hardy, Private Party, Jack Evans & Angelico.
The 10-man tag match will take place on tonight's The Buy-In pre-show. The Buy-In starts at 7 p.m. Eastern time, with the main card then kicking off at 8 p.m. Eastern.
The first half featured the typical assortment of video packages, promos, and general hype for the show.
Excalibur and Tony Schiavone ran down the card half past the top of the hour.
Hardy and Taylor started out, but Hardy wanted Orange. YUTA tagged in but Hardy wasn't having it so Orange tagged in. Luchasaurus tagged himself in and Hardy tagged out to Evans, who was immediately taken out with a slam and a German. Jungle Boy tagged in and covered for two.
Jungle Boy hit his step-up arm drag followed by a dropkick, pausing to take in the adulation of the crowd. YUTA and Kassidy tagged in, and the latter worked together with his Private Party partner Quen to take out YUTA. Quen landed a springboard crossbody for two.
Angélico tagged in and we got a submission train. Luchasaurus just dove into the pile to send everyone flying before fighting off everyone on the opposing team individually. Evans tried to flip out of a chokeslam attempt but was caught with a knee on the way down.
Hardy distracted Luchasaurus, allowing Private Party to chop him down and send him into the ring post. Orange walked up and hit weak kicks on all three before sending Hardy to the floor. Private Party hit a double team, almost a standing shooting star press into a senton, on Orange, but Taylor came in and took out everyone. He followed it up with a tope con giro on Private Party. YUTA landed a diving splash on Angélico, but Evans broke up the pin.
TH2 isolated YUTA with a neckbreaker and backbreaker combination for two. Private Party hit Gin 'n' Juice on YUTA, but Orange broke up the pin in time. He hit a hands-in-pockets hurricanrana on Angélico before doing the same to both of Private Party. The kip-up followed, but Hardy turned him around and hit the Twist of Fate.
YUTA and Taylor hit stereo planchas on Private Party out on the floor. Jungle Boy fought off both of Private Party and hit a sheer drop brainbuster on Kassidy. Jungle Boy and Evans hopped on their respective partners' shoulders and Jungle Boy got the better of the exchange. Kassidy tried to crossbody Jungle Boy off Luchasaurus's shoulders, but Jungle Boy turned it into a powerslam.
The Blade got involved and tried to distract Jungle Boy, but Marko Stunt came in and hopped on Luchasaurus's shoulders to take Blade out with a dive to the floor. Jungle Boy then locked on the Snare Trap on Angélico for the win.
– After the match, the Butcher returned and attacked Orange with a powerbomb. H.F.O. tried to set up Orange to cut his hair, but half the babyface locker room (including the Varsity Blonds, Dark Order, and Top Flight) came out and ran them off.
Dan Lambert, flanked by the Men of the Year alongside Jorge Masvidal, Junior Dos Santos, and Andrei Arlovsky, appeared in one of the press boxes and berated the fans. Page said that he and Sky have the "gift of gab" and that they are extremely dangerous men. Sky said they have to take it to the next level with their friends, American Top Team.
Lambert said everyone here is just waiting for his instruction on whose ass to kick and when.
Jim Ross joined the commentary desk for the main card.
This was very well-worked with a white-hot crowd. It exceeded expectations until the low blow finish.
Miro bull-rushed at the start and they both went for their respective finishers, forcing Miro to roll to the floor. Back in the ring, Kingston poked Miro's eye and landed machine gun chops in the corner. Miro nearly fought out, but Kingston turned the momentum into an exploder suplex, forcing Miro to roll out to the floor. Miro baited him in and threw Kingston into the barricade. Kingston came back with a boot to the face.
Kingston ran the apron looking for perhaps a cannonball senton, but Miro caught it and turned it into a powerslam on the floor. Miro repeatedly sent Kingston back-first into the ring posts. In the ring, Miro covered, but Kingston kicked out at one. Miro turned the target of his attack towards Kingston's hands in an attempt to limit his grip strength.
An extended beatdown at the hands of Miro ensued. Kingston fired back with slaps, but a single forearm shot from Miro sent him to the mat. Kingston landed chops and went for a backdrop suplex, but Miro easily fought out and hit a great standing dropkick. Miro basked in his own glory, allowing Kingston to avoid a corner attack and hit an enziguiri. A shoulder tackle sent Miro to the floor.
Kingston went for a dive, but Miro cut it off with a right hand. Upon re-entry, Kingston caught Miro and hit a Saito suplex. He couldn't follow up, however, and Miro laid in strikes. They traded right hands in the center of the ring until Kingston hit two straight backdrop suplexes for a near fall.
Miro rolled to the outside to avoid the spinning back fist. Kingston took advantage with an elbow suicida to the floor. In the ring, Kingston aboided a bicycle kick and hit a fisherman's suplex bridge for two. Miro attacked Kingston in the corner and followed it up with the former Machka kick to the midsection. He called for Game Over and locked it on.
Kingston made it just a couple feet from the ropes and was eventually able to force a break before Miro could fall back and lock it on fully. Kingston hit the desperation DDT, but the official was putting a turnbuckle pad back on, leading to a late great near fall. Kingston set up for the piledriver, but couldn't get Miro up. He tried to send Miro into the exposed turnbuckle, but the official got in the way.
With the official's vision obscured, Miro low blowed Kingston and hit the bicycle kick for the win.
This was a strong back-and-forth match. It was great to see Kojima as a featured talent on an American pay-per-view.
Kojima wanted a handshake, but Moxley just flipped him off. They immediately traded chops. Kojima knocked down Moxley with a shoulder tackle and flexed his pecs. He went for the Cozy Lariat, but Moxley rolled to the floor to avoid it, so Kojima kept up the attack with a plancha. He rolled Moxley back into the ring, but Moxley caught him upon re-entry and hit a tope suicida.
Back in the ring, Moxley attacked the taped-up hand of Kojima with stomps. He laid in knees and hit big-time corner chops. Kojima turned it around and hit the machine gun chops in the corner, following it up with the running elbow. Next was the Bakayaro elbow for two.
Moxley caught Kojima and called for a "brainbustah." Kojima blocked it and turned it around, perching Moxley on the top rope. They bit at each other's faces before Kojima hit a superplex. He followed it up with an apron DDT. A second DDT, this time in the center of the ring, got two.
A Cozy Cutter was countered into a rear naked choke attempt. Moxley turned it into a release suplex for two. When Kojima kicked out, Moxley immediately turned it into an armbar, forcing Kojima to maneuver towards the ropes to force a break. Kojima countered the Paradigm Shift and hit a brainbuster.
Kojima called for the lariat, but Moxley reversed it into a German suplex. He laid in repeated lariats of his own before being forced to hit a running knee. Kojima turned the Paradigm Shift into a left-arm lariat and the Cozy Cutter for the double down.
They exchanged forearms in the center of the ring. Moxley ran into a rolling elbow but rebounded back with a clothesline for two. Moxley locked on the Bulldog Choke until Kojima reached the ropes for a break. Kojima caught a kick and hit Mongolian chops. Moxley hit a headbutt, avoided the lariat, and hit the Paradigm Shift. A second Paradigm Shift followed for the win.
– After the match, "Kaze Ni Nare" played and Minoru Suzuki came out to a massive ovation. Suzuki and Moxley faced off in the center of the ring to the tune of "Holy sh*t" chants.
Suzuki took off his jacket and hit a forearm. Moxley came back with one of his own. They traded forearms until Suzuki hit a boot. Suzuki shrugged off a lariat and locked on the rear naked choke, allowing him to hit the Gotch-style piledriver and leave Moxley laying.
There were moments of greatness here interspersed with some really sloppy stuff. The "This is awesome!" chant felt a little patronizing.
They performed chain wrestling to start. Statlander went for the spider crab early on, but Baker had it scouted. Baker called for "D.M.D." from the crowd, but Statlander made her "boop" herself. Statlander climbed the ropes, but Baker turned it into a draping neckbreaker. Baker sent Statlander to the floor and hit repeated stomps.
Back in the ring, Baker kept up the attack until Statlander sent Baker into the corner. She hit a running knee, but Baker came back with a sling blade. Statlander kind of avoided a curb stomp and hit an inside hook Falcon Arrow for two. Baker hit a nice cradle sequence followed by a spike DDT for two.
Rebel gave Baker the glove, signaling for the Lockjaw. Statlander caught a kick and hit a high kick of her own. Baker countered the Big Bang Theory into a cradle for two. She then flatlined Statlander into the turnbuckle pad.
They fought on the top rope, with Statlander having to essentially deadlift Baker overhead for a superplex. Statlander went back to the top, but Baker rolled out of the way of Area 451 and went for the Lockjaw. Statlander fought out and hit an electric chair facebuster followed by a scissor kick for two.
Baker rolled to the floor. Statlander went for her pendulum moonsault, but Baker simply moved out of the way and Statlander splatted on the floor. Baker launched herself off the steps and hit a curb stomp. Back in the ring, Baker went for the Lockjaw, but Statlander tried to turn it into the spider crab. Baker kicked her way out and laid in stomps in the corner.
Baker climbed the ropes and hit a diving destroyer (Adam Cole's Panama Sunrise, called the Pittsburgh Sunrise) followed by the curb stomp for a good near fall. The Lockjaw followed for the submission victory.
Backstage, Andrade El Idolo was with Chavo Guerrero. He was asked if PAC's travel issues were his fault. Andrade said it wasn't his fault. Chavo said PAC wasn't here because he's scared, and the same thing happened with the Lucha Bros. This Friday, Andrade El Idolo will take on PAC, and there will be no more excuses.
Mexican rapper Muelas de Gallo performed the Lucha Bros' entrance theme. Don Callis joined commentary for the match.
This was one of the best tag team matches in American professional wrestling history. It was the best of the Bucks-Lucha Bros series and easily on the level of the Bucks' matches with Page/Omega and FTR.
They teed off on one another right away. The Bucks immediately tried to escape the cage, but Penta catapulted his brother into the Bucks to send them crashing down. Both teams used do-si-dos before the Lucha Bros hit stereo enziguiris. Nick was sent into the cage before Penta hit a thrust kick on Matt. Fénix hit a step-up hurricanrana on Nick, followed by the diving kick to the posterior on Matt for two.
The Lucha Bros repeatedly sent the Bucks into the cage, then hit stereo spears into the cage. The Bucks avoided the follow-up, sending their opponents crashing into the cage. They hit a double team gamenguiri on Fénix followed by a backstabber on Penta. Matt powerbombed Fénix into the cage as Nick landed a hard soccer kick on Penta.
Matt produced a chain from somewhere and choked Fénix with it. He went for another powerbomb into the cage, but Fénix hurricanrana'd out of it before Penta hit a sling blade followed by a backstabber for two. Fénix landed a step-up springboard arm drag rebounding off the cage, but the Bucks avoided stereo thrust kicks. All four took out the next with cutters until Fénix hit a double cutter on both Bucks. Penta then hit Made in Japan for two.
The Lucha Bros went for the Fear Factor double stomp combination, but the Bucks countered it. Nick hit a German on the apron as Matt locked on a Sharpshooter on Penta. Nick then hit a draping senton atomico for two. Fénix tried to make a comeback, but a springboard attempt was met by stereo superkicks.
The Bucks hit an Indytaker into a senton, leading to a double cover, but both Lucha Bros kicked out at two. They set up for the BTE Trigger, but Fénix rolled out of the way and went for a springboard crossbody. The Bucks caught it, but Fénix fought out. The Bucks had had enough, so Matt just low blowed both opponents with kicks.
More Bang For Your Buck got two. The Bucks ripped at the luchadores' masks. They lawn darted Fénix face-first into the steel cage. Brandon Cutler came out and tossed a bag into the cage. Inside was a shoe covered in thumbtacks. Penta was busted open badly.
Matt set up to hit Fénix with the thumbtack boot, but Penta got in the way and took the bullet. The Bucks then sent Penta face-first into the boot. Penta was pouring blood. The Bucks set up for the BTE Trigger, but first opted to superkick Fénix with the thumbtack boot. They hit the BTE Trigger on Penta, but Fénix broke up the cover just in time for an awesome near fall. Fénix was busted open as well.
Fénix kicked his way out of a double team and made a one-man comeback with a hurricanrana and a corkscrew kick. He got a hold of the thumbtack boot and hit both opponents with it. Fénix then hit the Black Fire driver on Matt for a great near fall.
The Lucha Bros went for their Fear Factor diving stomp combination, but the Bucks stopped it. The elder brothers faced off, both delivering package piledrivers to their opponents' younger brothers on the apron. Penta and Matt continued to fight, making their way to the top rope, where Penta hit a top-rope destroyer.
All four man hobbled to their feet. We had a four-way chop exchange followed by a line of superkicks. Matt was the last one standing until the others all kipped up, hitting more superkicks and leading to everyone down on the mat.
Nick and Fénix had an exchange that Fénix won with his rebound spin kick. The Lucha Bros hit the Fear Factor double stomp combination, but Matt broke up the count at the last second for another fantastic near fall. The Lucha Bros called an audible, and Fénix scaled the cage.
The Lucha Bros went for their super finisher, but Nick superkicked Penta before Fénix could dive. Nick scaled the cage, but Fénix kicked him down to the mat and landed an insane crossbody from the top. The Lucha Bros then hit their assisted piledriver to win the match and the championships.
– After the match, the Lucha Bros celebrated with their family.
This was a struggle, but Soho is an exciting winner and the crowd was very happy to see her debut.
The winner of this match earns an AEW Women's World Championship shot. The Clubs were first: Hikaru Shida, Skye Blue, Emi Sakura (w/ Lulu Pencil), The Bunny, and Abadon.
Shida and Sakura immediately teed off on each other. Abadon "scared" them both. Skye attacked Bunny but was met from behind by Abadon. Abadon eliminated her right away, but then Bunny took advantage to eliminate Abadon. Sakura locked Shida in the Romero Special, but Bunny raked her boot across Sakura's eyes. Neither woman could establish an advantage over the others before the next round.
Diamonds were next: Anna Jay, Kiera Hogan, KiLynn King, Diamante, and Nyla Rose. Shida and Sakura continued to face off while the others paired off with each other. Shida eliminated Sakura with a boot. Rose eliminated Hogan with an enziguiri, then eliminated King with a clothesline. She then dumped Shida over the top. Rose, Bunny, Jay, and Diamante were the only four in at this point.
The Hearts were Thunder Rosa, Penelope Ford, Riho, Jamie Hayter, and Big Swole. Riho hit a double tiger feint kick on Bunny and Ford, but then somehow got eliminated right away. Vickie Guerrero was screeching at ringside. Swole eliminated Diamante, but was in turn eliminated by Hayter.
Finally, the Spades: Tay Conti, Red Velvet, Leyla Hirsch, Jade Cargill, and Rebel. Conti used some acrobatics and core strength to avoid elimination. Velvet eliminated Rebel. Jay eliminated Bunny but was immediately eliminated by Ford. Cargill eliminated Hirsch by press slamming her onto a pile on the outside.
The Joker was Ruby Soho, the former Ruby Riott / Heidi Lovelace. She was already getting chants for her before she even came out. Soho fought off Cargill and Rose. Rosa hit a step-up hurricanrana with an assist from Soho. Cargill took out Soho with an inside-out suplex. She then eliminated Hayter.
Conti and Ford had an exchange as Cargill eliminated Velvet. Cargill celebrated but was eliminated by Rose. Conti eliminated Ford but was immediately eliminated by Rose. The final three were Soho, Rose, and Rosa. The two smaller wrestlers went after the giant Rose, but she effortlessly fought them off with a tree slam and a Samoan drop. Rosa used Rose's momentum against her to eliminate her.
Soho and Rosa were the final two. They both hit big-time chops, then exchanged running elbows. Soho countered the Fire Thunder driver and sent Rosa to the apron. Rosa brought Soho to the apron, where Soho was hanging by her hands. Soho blocked a pump kick and hit a knee strike. Soho tried to suplex Rosa to the floor, but then Rosa went for the Death Valley Driver. Soho fought out and sent Rosa into the turnbuckle. A gamenguiri followed to eliminate Rosa.
It appeared as if Jericho would get his classic countdown for his entrance, but then the graphic changed to "Jericho's last match" and MJF's music played.
Jericho was played out with a live perfomrance from Fozzy's guitarist. The fans provided the lyrics.
This was really entertaining and a ton of fun. The crowd completely bit on the MJF false finish.
If Jericho loses, he will never wrestle in AEW again.
MJF rolled to the floor and played mind games right away. Back in, they traded shouler tackles until a running right hand took down MJF. They traded arm drags and had each other scouted move for move. Jericho caught a kick and tripped MJF, putting him in perfect Walls position, but MJF turned it into a cradle for two.
Out on the floor, Jericho sent MJF into the barricade. They brawled into the stands, where Jericho grabbed a stanchion and threw it at MJF. The springboard dropkick followed. Jericho went for a baseball slide, but MJF pulled back the ring skirt, trapping Jericho and allowing MJF to attack. An armbreaker from MJF got two.
MJF continued to beat down Jericho, taunting along the way, until Jericho countered with a suplex. A cross chop and bulldog took down MJF. Jericho then hit an underhook backbreaker for two. MJF reversed a whip and hit a diving stomp on Jericho's arm for two.
The beatdown continued with MJF flipping off the crowd and doing the Flair strut. He guillotined Jericho over the ropes and hit a fantastic Heat Seeker. Jericho didn't move out on the floor until the official reached the nine count, but Jericho just barely made it in time.
MJF went for an Asai moonsault, but Jericho avoided it and powerbombed MJF onto the ring corner. Back in the ring, they traded right hands. Jericho climbed the ropes but was met with a Codebreaker from MJF for two. Both men took a long time to recover, but Jericho immediately went for the Walls and hit the Lionsault for a near fall.
Jericho hit repeated clotheslines in the corner, then punches on the top turnbuckle. He tried to follow it up with the top-rope hurricanrana, but MJF countered it into a powerbomb for two. He bit at Jericho's face and perched him up top. Jericho fought off and pushed MJF to the mat, allowing Jericho to hit a diving Codebreaker for a good near fall.
Wardlow came out but was immediately attacked by Jake Hager. They brawled over the entrance ramp area. MJF used Floyd the Bat with the official distracted, then hit the Judas Effect for the win. Jericho got his foot on the ropes, but the official didn't see it.
MJF's music played and he celebrated, but an official who had come out to stop the Wardlow-Hager brawl saw Jericho's foot on the rope and the match was reset. Jericho rolled up MJF for a great near fall, but MJF turned it into the Salt of the Earth. Jericho rolled MJF up, then turned it into the Walls of Jericho.
After a long fight, Jericho sat down deep on it and MJF tapped out.
– After the match, the rest of the Inner Circle came out to celebrate with Jericho.
Punk really couldn't have asked for a better return match. The atmosphere in this one was insane, the crowd got deeply into the near falls at the end, and Allin took two of the best GTS finishers you've ever seen.
They sat across from each other before the match. Once the bell rang, they locked up before Allin landed an arm drag. Punk came back with a shoulder tackle. "Welcome back" chants. They had a technical exchange until Punk landed a scoop slam. They ran the ropes until Punk caught Allin in fireman's carry position, forcing Allin to escape to the outside.
Back inside, Allin hit a step-up arm drag and the Coffin Splash in the corner. Punk reversed a hammer throw and sent Allin hard into the ring post through the ropes. Punk used that as an opening to target Allin's midsection with knees. Allin got some space, but Punk turned a running attack into a backbreaker and slowed the pace.
The over-the-top stunner from Allin allowed him to start his comeback. He hit a Coffin Splash and the La Magistral cradle for two, followed by another cradle for two more. Allin landed a couple slaps and the Code Red for another near fall.
Allin climbed the ropes, but Punk popped up and shoved him down. Punk went for a top-rope back suplex, but Allin turned it into a crossbody for a near fall. A cradle exchange ended up with Punk in perfect GTS position. He hit it, but the impact sent Allin all the way to the floor.
Punk waited for the referee's count, but Allin made it in at nine. Punk hit the corner knee and a short-arm clothesline before calling for the GTS once more. He picked up Allin, but Allin fought out using repeated elbows. Punk rolled to the floor, where Allin crushed him with a tope suicida. Allin then hit a flipping senton off the top rope all the way to the floor.
Allin rolled Punk into the ring and taunted, but Punk sat up to avoid the Coffin Drop. Allin rolled Punk up for two, then applied the Last Supper cradle for a great near fall. Punk popped up and hit a single leg dropkick. Allin hopped on Punk's shoulders, but Punk re-adjusted and hit the GTS for the win.
– After the match, Sting came out and shook Punk's hand.
Wight dispatched Factory members Aaron Solo and Nick Comoroto before the match. He hit repeated overhand frying pan chops. QT fought out and hit a low dropkick to take Wight off his feet, but Wight quickly sent QT out of the ring. QT went for a running Diamond Cutter, but Wight just pushed him off and hit a massive back body drop.
Solo was pulled up to the apron by Wight and chopped down. Wight then took out Comoroto with a running crossbody. The chokeslam followed on QT for the quick win.
Jon Moxley cut a promo on Minoru Suzuki, saying them fighting each other is the best drug in the world. He called Suzuki a bully before welcoming him to the jungle.
Malakai Black addressed Dustin Rhodes. Black said he wants Dustin to be as angry as possible, because that makes him predictable and likely to slip up. Just in case Dustin has calmed down, Black would like to remind him of all the reasons he's mad, including attacking his little brother Cody.
This was a good match but it followed the exact same Omega interference formula as usual and the crowd never bought for a second that Christian had a chance to win. Their Rampage match was better in my estimation.
Christian avoided a V-Trigger at the bell and went for a Killswitch, but Omega fought out. They peppered each other with right hands until a hurricanrana sent Christian to the floor, where he sent Omega into the barricade. Christian then landed a top-rope sledge all the way to the floor.
Omega regained control and pulled a table out from under the ring. He draped it over Christian and landed a running double stomp through the table onto his opponent. Callis set up another table, but Christian countered a suplex and hit one of his own on the floor.
Back in the ring, Christian laid in chops. Omega raked Christian's eyes and hit a basketball dunk bulldog for two. He continued to beat Christian down with a corner attack and a back suplex for two. Omega perched Christian on the top rope, where Christian tried to fight back, but Omega pushed Christian all the way to the floor.
Out on the floor, Omega slipped on a moonsault attempt off the barricade, but quickly re-adjusted and hit one. They moved back to the ring, where Christian fought back with right hands, but Omega whipped him hard into the corner. An ushigoroshi followed for two.
Omega climbed the ropes, but Christian popped up and knocked him down. Christian hit a top-rope hurricanrana to take Omega down to the mat, starting his comeback. They traded right hands, where Omega had the power advantage, but Christian avoided a corner elbow and went for ten punches. Omega put Christian in the electric chair, but Christian fought out and landed more punches. He choked Omega over the second rope and then hit the drop-down right hand.
They both countered each other's moves until Christian fought out of You Can't Escape and hit his signature reverse DDT for a near fall. Omega came back with a right hand and went for a powerbomb, eventually settling to drive Christian into the corner. Christian reversed the corner attack by hitting a tornado DDT for two.
Omega hit elbow strikes and a leg lariat to the back of Christian's head. He then hit a running V-Trigger followed by a snap dragon suplex and then another. Omega called for another V-Trigger, but Christian defiantly flipped him off, so Omega killed him with yet another snap dragon and another V-Trigger.
The attention turned to the table that had been set up outside. Omega tried to German suplex Christian into it, but Christian wouldn't let go of the ropes. He then went for a dragon suplex, but Christian fought out. Christian went for a Killswitch, but Omega turned it into the electric chair. Christian escaped the One-Winged Angel, snapped Omega over the top rope, and speared Omega to the floor through the table.
Back inside, Christian hit a spear to Omega's back, then a second to the front, for a good near fall. Christian went for the frog splash, but Omega avoided it. Omega went for the doctor bomb, but his midsection had taken too much punishment. Omega laid in repeated V-Trigger knees. He then hit a ripcord V-Trigger and Christian crumpled.
Christian surprised Omega and went for a cloverleaf submission. He eventually locked it on, a high-angle modification. Don Callis at ringside called for the Good Brothers to come out. Gallows held Christian against the ropes, but Christian fought out and Omega inadvertently hit a V-Trigger on Gallows. Christian then hit the Killswitch on Omega for a great near fall.
Callis entered the ring, but Christian chased him off. Christian went for a top-rope Killswitch, but Omega gouged at Christian's eyes and put him in position for the One-Winged Angel. He then hit it for the win.
– After the match, the Young Bucks came out. The Elite all attacked Christian. Jurassic Express ran out but were quickly overwhelmed by the Elite. We already got "Yes!" chants.
Omega grabbed a mic and said nobody is on his level. The only people that would ever have a chance to beat him aren't here, are retired, or are already dead.
The lights went out, then Adam Cole's music played and he made an entrance. Every single person in the building participated in the "Adam Cole, baybay!" chant.
Cole faced off with Omega, but immediately superkicked Jungle Boy and embraced the Bucks. Omega said Cole's one of their best friends. Cole said the Elite is the most dominant faction in the history of this business. Omega was about to bid the crowd "good-bye, and good night," but....
"Flight of the Valkyries" played and Bryan Danielson emerged. The crowd exploded. He stood side by side with Christian, and the Jurassic Express, leading to an all-out brawl. Danielson laid in Yes kicks in the corner on Nick Jackson followed by the running knee. Danielson and co. posed in the ring while the Elite licked their wounds on the stage to end the show.
TSN 06 September, 2021 - 04:10am
NASHVILLE — It speaks volumes about John Herdman's team that it comes home disappointed after securing just a single point in a 1-1 tie with the U.S. in CONCACAF World Cup qualifying play.
The Canadian men last won on U.S. soil in 1957. And they came into Sunday's match with a 1-11-8 record in their last 20 meetings with the Americans in any location dating back to 1985.
But, after rallying for the second time in four days from a 1-0 deficit to secure a tie, the Canadians felt a win was there for the taking before an enthusiastic crowd of some 39,000 at Nissan Stadium.
"I think we're content with coming away with a point in a pretty hostile environment against arguably the top team in CONCACAF right now," Herdman said. "But not happy. There were three points on the table there. We had some great chances.
"(Canadian goalkeeper) Milan Borjan didn't have a great amount to do tonight. He wasn't pulling out hundreds of saves."
While the U.S. dominated possession, the home side only managed two shots on target – the same as Canada.
Brenden Aaronson put the U.S. (0-0-2) ahead in the 55th minute after dispossessing defender Scott Kennedy off a Canadian throw-in. Six passes later, Antonee Robinson found the 20-year-old Aaronson, who poked the ball home from close range. Kennedy, who appeared to have taken a knock, was replaced minutes later by Kamal Miller.
Canada (0-0-2) wobbled briefly after the goal, but regained its composure and pulled even seven minutes later when Sam Adekugbe found Alphonso Davies behind substitute fullback DeAndre Yedlin. The Bayern Munich star fed Cyle Larin in front of goal for his 20th international goal, just two off Dwayne De Rosario's Canadian men's scoring record.
Larin, who plays in Turkey for Besiktas, upped his Canada goals total in 2021 to 12 in 11 games and has now scored in six of his last seven international outings.
The goal was the first conceded by goalkeeper Matt Turner in 568 minutes in U.S. colours.
"I think Sam Adekugbe said it. Canada of old, after that goal, might have crumbled," said Herdman. "But this group actually showed that response. They showed the response against Honduras, the response against the U.S. We're two games in and I think we're just going to keep getting better.
"The brotherhood, the culture's strong. And we're building more chemistry. More players are getting more opportunity and showing what they can do for this team."
The Canadian game plan was to defend resolutely, look for the counter-attack and bring on talent later in the game "that could finish really strong."
Canada introduced Jonathan David and Tajon Buchanan after the goal, adding to its attack. Veteran Atiba Hutchinson was introduced in the 77th minute, earning his 87th cap, two off Julian de Guzman's Canadian men's record.
The 10th-ranked Americans had 75 per cent of possession in the first half and outshot No. 59 Canada 5-3 (1-1 in shots on target) but could not make inroads on the Canadian defence. Canada, which had a line of five defenders when the Americans had the ball, looked to counter-attack, often through the elusive Davies.
It was more of the same in the second with Canada coming on as the game wore on.
It marked the Canadians' first World Cup qualifying point against the Americans on U.S. soil since 1980 when the teams played to a scoreless draw in Fort Lauderdale, Fla.
Sunday's result also denied the Americans two points at home.
Mexico leads the eight-team round-robin standings with six points while Panama has four. Canada, Honduras, the U.S. and El Salvador have two each while Costa Rica has one and Jamaica none.
"Obviously it's not exactly where we want to be," captain Christian Pulisic said of the Americans' start to qualifying. "But we have a lot of games left to play and it's not time to put our head down because we have one more in this (international) window. We've just got to keep going."
U.S. coach Gregg Berhalter said while the effort was there from his team, "the performance wasn't up to what we expect." He said his side's ball movement was far too slow to break down the Canadian defence.
"We have to figure out ways to break down a compact defence because I'm sure there's going to be other teams that come to the United States and do the same thing," he said
In other CONCACAF play Sunday, No. 74 Panama (1-0-1) won 3-0 at No. 50 Jamaica (0-2-0), No. 63 Honduras (0-0-2) drew 0-0 at No. 64 El Salvador (0-0-2) and No. 9 Mexico (2-0-0) won 1-0 at No. 44 Costa Rica (0-1-1).
Both Canada and the U.S. were coming off ties Thursday in their opening games of the final round. Canada rallied to draw Honduras 1-1 at Toronto's BMO Field while the Americans played a scoreless draw at El Salvador.
The Canadians host El Salvador in Toronto next Wednesday. The U.S. plays Honduras the same night in San Pedro Sula.
Canada will visit Mexico and Jamaica next month before hosting Panama in Toronto.
Each of the eight teams in the so-called Octagonal play 14 matches. Come March, the top three finishers book their ticket to Qatar 2022 to represent North and Central America and the Caribbean. The fourth-place finisher takes part in an intercontinental playoff to see who joins them.
It's Canada's first foray into the final round of qualifying since the lead-up to France '98. The Canadian men have only ever qualified for one World Cup, in 1986.
The U.S. have played in 10 World Cups, including seven of the last eight, but failed to qualify for the 2018 tournament.
Herdman made five changes to his starting lineup, bringing in Adekugbe, Kennedy, Doneil Henry, Mark-Anthony Kaye and Junior Hoilett. Borjan captained the team in place of Hutchinson.
Pulisic, who tested positive for COVID last month, returned to captain the U.S. as Berhalter made six changes to his starting 11.
U.S. goalkeeper Zack Steffen, who missed the El Salvador game, was replaced on the roster by Sean Johnson after testing positive for COVID-19. Steffen (Manchester City) said the positive test came despite being fully vaccinated. One other member of the U.S. delegation also tested positive and was isolated.
Gio Reyna (Borussia Dortmund) was sidelined by a hamstring strain while fellow American attacking midfielder Weston McKennie (Juventus) did not dress after breaching team COVID protocols.
Canada, wearing its new black away strip, had a big chance in the 14th minute from a long Borjan goal kick. Davies beat Barcelona fullback Sergino Dest to the ball and squared it back to Larin whose shot was palmed away by Turner.
Borjan made a comfortable diving save to deny Robinson in the 21st. And the Red Star Belgrade 'keeper had to make an acrobatic save in the 26th minute off an attempted Kennedy headed clearance after a fine run by Dest and an Aaronson cross.
Canada had a close call in the 40th minute when a tumbling Pulisic's close-range shot hit the goalpost. An injury forced Dest off the pitch late in the half.
Canada came into the game with a 9-16-11 all-time record against the U.S. but held a 6-4-3 edge when it came to World Cup qualifying matches. The two countries last met in World Cup qualifying play in 1997 when the U.S. won in Palo Alto, Calif., and Vancouver, both by 3-0 scores.
Canada's lone recent victory over the Americans came in October 2019 in CONCACAF Nations League play, a 2-0 triumph in Toronto that ended a 34-year, 17-match (0-9-8) winless run against the U.S.
This report by The Canadian Press was first published Sept. 5, 2021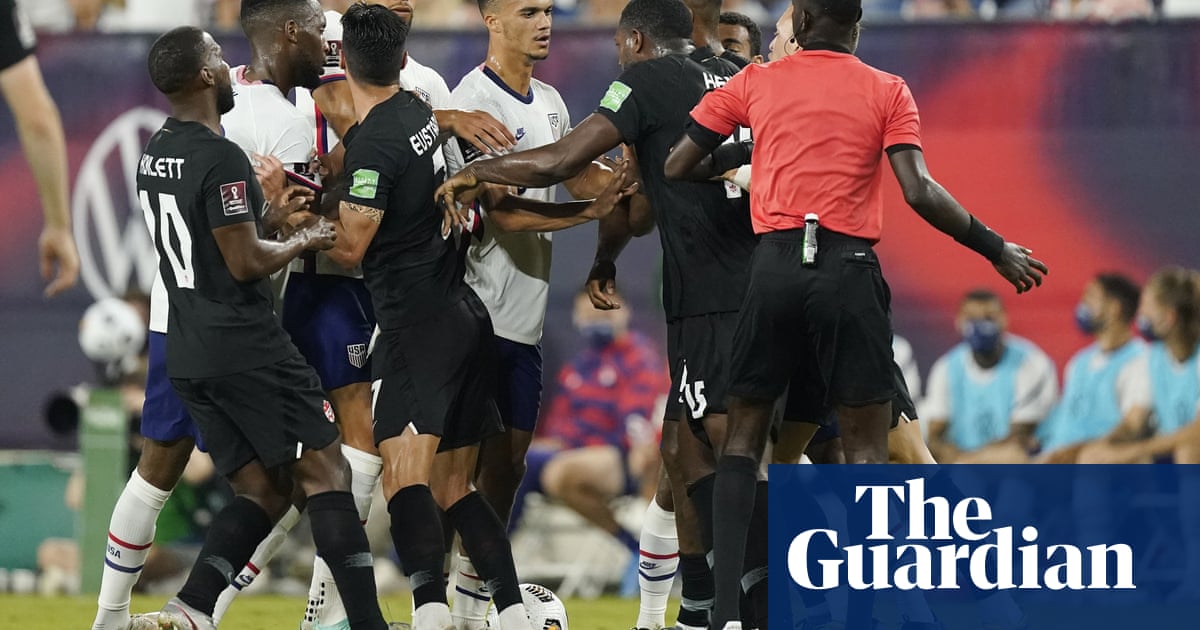 The Guardian 05 September, 2021 - 09:37pm
Christian Pulisic returned after missing Thursday's opening 0-0 draw at El Salvador following a positive Covid-19 test. Pulisic was dynamic and injected some creativity the Americans lacked in their previous game, contributing to the build-up for Aaronson's goal in the 55th minute.
THE @USMNT TAKES THE LEAD!@AaronsonBrenden sends it home to put 🇺🇸 out in front! pic.twitter.com/VdyIjaGih5
Aaronson won a throw-in, and the US made a series of quick passes before Kellyn Acosta sent the ball wide to Antonee Robinson. He crossed and Aaronson poked the ball past goalkeeper Milan Borjan for the 20-year-old's fourth international goal.
But defenders DeAndre Yedlin and John Brooks were at fault for Larin's goal in the 62nd. Alphonso Davies dribbled down the left flank and got by Yedlin. Davies crossed to an open Larin, who got away from Brooks and redirected the ball past the keeper.
Miles Robinson came closest to a winner, heading Pulisic's corner over the crossbar in injury time. An overwhelmingly pro-American crowd of 43,023 at Nissan Stadium in Nashville booed loudly at the final whistle.
The US emerge from their opening two matches of the 14-game qualifying tournament with just two points heading into Wednesday's game in Honduras.
"Obviously it's not exactly where we want to be, but we have a lot of games left to play and it's not time to put our heads down," Pulisic said after the game.
Mexico lead Concacaf qualifying with six points, followed by Panama with four. Canada are third with two points, ahead of the US on goals scored. The top three nations qualify for next year's tournament in Qatar, and the fourth-place nation advances to an intercontinental playoff.
Canada, who host El Salvador on Wednesday, lost Davis to an injury midway through the second half. The Canadians have their best team in decades and are trying to reach the World Cup for the first time since 1986.
While Pulisic returned, the US were missing Weston McKennie and Gio Reyna. McKennie violated team Covid-19 protocols, an issue that also caused Juventus to drop the 23-year-old midfielder for the Derby della Mole against Torino last April. Reyna strained his right hamstring and also will miss Wednesday's game.
Weston McKennie apologizes after being suspended for tonight's match due to violating COVID protocol pic.twitter.com/cwvqOb0LJb
"Unfortunately I am suspended for tonight's match due to a violation of team Covid protocols," McKennie wrote on Instagram on Sunday night. "I am sorry for my actions, I will be cheering hard for the boys tonight and hope to be back with the team soon."
First-choice US goalkeeper Zack Steffen missed his second straight match, this time after testing positive for Covid-19 after being sidelined for the opener by back spasms. He also will miss the Honduras trip.
With just two days off between games under the pandemic-altered schedule, US coach Gregg Berhalter made six changes to his starting lineup.