Read full article at ESPN
Yahoo Sports 11 September, 2021 - 04:20am
No teams in your favorites yet.
NEW YORK -- If Novak Djokovic does complete the first calendar-year Grand Slam for a man since 1969 -- and he is headed to the US Open final, just one victory away -- he, and everyone else, will remember one particularly pivotal, and epic, game along the way.
It came at the conclusion of the third set of what eventually became a 4-6, 6-2, 6-4, 4-6, 6-2 victory over Tokyo Olympics gold medalist Alexander Zverev in the semifinals at Flushing Meadows on Friday night, making Djokovic 27-0 in major championships this season.
Beating No. 2 Daniil Medvedev on Sunday will allow Djokovic to secure two significant milestones. He would add the 2021 US Open trophy to those he won at the Australian Open in February, French Open in June and Wimbledon in July. And the 34-year-old from Serbia would collect his 21st Slam title in all, breaking the men's career mark he now shares with Roger Federer and Rafael Nadal.
But Djokovic isn't celebrating just yet. He said during his post-match news conference that a famous quote from Kobe Bryant after the Los Angeles Lakers took a 2-0 series lead in the 2009 NBA Finals is helping to keep things in perspective ahead of Sunday's final.
"It's his famous interview where he said, 'Why should I be happy right now? Job is not done,'" Djokovic said. "He's been someone, as probably millions of athletes and people around the world have been looking up to him, admiring him. That's kind of an attitude I have. Job is not done. Excitement is there. Motivation is there, without a doubt. Probably more than ever. But I have one more to go."
That key game against Zverev featured one extended exchange after another, including a 53-shot, minute-plus point that was the longest of the tournament and actually was lost by Djokovic on a forehand winner by Zverev, who hunched over with his hands on his knees as most of Arthur Ashe Stadium's 21,139 spectators rose in unison on a cool, crisp evening.
But that one outcome didn't matter. Never seems to with Djokovic, especially in best-of-five-set matches on his sport's most prestigious stages. As usual, he used his superb returning and never-take-a-rest defense to wear down Zverev.
So, yes, Djokovic lost that point -- which was preceded by others lasting 13, 19, 22 and 31 shots, and followed by one that went 16 -- but he won that game, and that set with it. Just as he had lost the first set about 1½ hours earlier but turned things around with the help of a dip in level from the fourth-seeded Zverev. And just as, later, Djokovic lost the fourth set but immediately rebounded and was nearly untouchable while going ahead 5-0 in the fifth.
Djokovic, who has spent more weeks at No. 1 in the ATP rankings than anyone, figures out what is required to emerge on top and does it. In each of his past four matches -- and 10 in all at the Slams this year -- he trailed by a set and won.
He equaled Federer on Friday by getting to a 31st career Slam final; Djokovic's total now includes a record nine in New York.
It will be No. 3 for Medvedev, a 25-year-old from Russia who eliminated 12th-seeded Felix Auger-Aliassime of Canada 6-4, 7-5, 6-2 in the afternoon. Medvedev was defeated by Djokovic in this year's Australian Open final and by Nadal in the 2019 US Open final.
"The more you lose something, the more you want to win it. The more you want to gain it and take it," said Medvedev, who has lost only one set over the past two weeks. "I lost two finals. I want to win the third one."
Djokovic is trying to go 4-for-4 at the majors over the course of one season, something last done in men's tennis by Rod Laver 52 years ago. It was also done by Laver in 1962 and Don Budge in 1938. Three women have completed what's known as a true Grand Slam, most recently Steffi Graf in 1988. Serena Williams' attempt in 2015 ended at the US Open with a semifinal loss to Roberta Vinci.
"There's only one match left. ... All-in. Let's do it,'' Djokovic said while he spread his arms wide in his on-court interview. "I'm going to put my heart and my soul and my body and my head into that one. I'm going to treat the next match like it is the last match of my career.''
As Friday night's semifinal began, the 81-year-old Laver literally was looking over Djokovic's shoulder, seated front and center behind a baseline in the President's Box at Ashe.
A year ago in New York, when fans were banned because of the coronavirus pandemic, Zverev came oh-so-close to collecting his first major, taking a two-set lead and getting two points away from the championship before frittering it all away and losing to Dominic Thiem in a fifth-set tiebreaker.
Zverev came into Friday on a 16-match winning streak, a run that includes beating Djokovic in the Olympics semifinals on July 30. That was in a best-of-three-sets format, though, which changes everything when it comes to Djokovic. He is now 36-10 in matches that go five sets.
Here's the thing about Djokovic, who occasionally rubbed his lower back with his left hand or hit his legs with his racket: Whatever the outward signs seem to say, his racket stays steady, he never stresses and he waits for the other guy to slip.
"It's kind of a hurricane, a tornado, of emotions that you're going through in a sequence of one set or even one point. You are by yourself on the court, so there is no escape. You've got to find a way," Djokovic said. "And I think, over the years, I have managed to develop a formula that works for me.''
"Mentally, in the most important moments,'' Zverev said after the 3½-hour match, "I would rather play against anybody but him.''
Against Zverev, things really came alive six games and 20 minutes in, thanks to a terrific 24-stroke point in which Djokovic tried a drop shot. Zverev got to it, replied at a seemingly impossible angle and -- after Djokovic sprinted wide of the doubles alley and stretched to retrieve that, sneakers squeaking all the way -- came up with a winner.
The crowd went wild. Zverev raised his right hand and wagged his fingers: "Louder!" Ten minutes later, three missed forehands and a double fault by Djokovic put him in a 5-4 hole. Zverev, a 24-year-old from Germany with a game built on power, served out that set with the help of aces at 128 mph and 132 mph and, on the last point, a serve at 128 mph that Djokovic shanked off his frame, sending the ball into the seats.
Zverev went from six unforced errors in that set to 13 in the second, and the match was even. In the third, some loose play by Djokovic, and a backhand passing winner by Zverev, created a pair of break points. But Djokovic saved them and held to 3-2 with a forehand that clipped the baseline.
Zverev put a hand on a hip, disagreeing that the ball was in, but there is no recourse at the US Open this year: All rulings come via electronic line-calling and can't be disputed. There are no line judges to doubt or to argue with.
Last year, there were, and Djokovic was disqualified from Flushing Meadows in the fourth round when a ball he hit after losing a game inadvertently struck a line judge in the throat. At the following major tournament, the pandemic-delayed French Open, Djokovic lost in the final to Nadal.
Since then, there have been deficits in Grand Slam matches for Djokovic, but no defeats.
"It's great for the sport," Zverev said about Djokovic's pursuit. "Nobody thought that anybody would do it again. ... I do believe that he will do it.''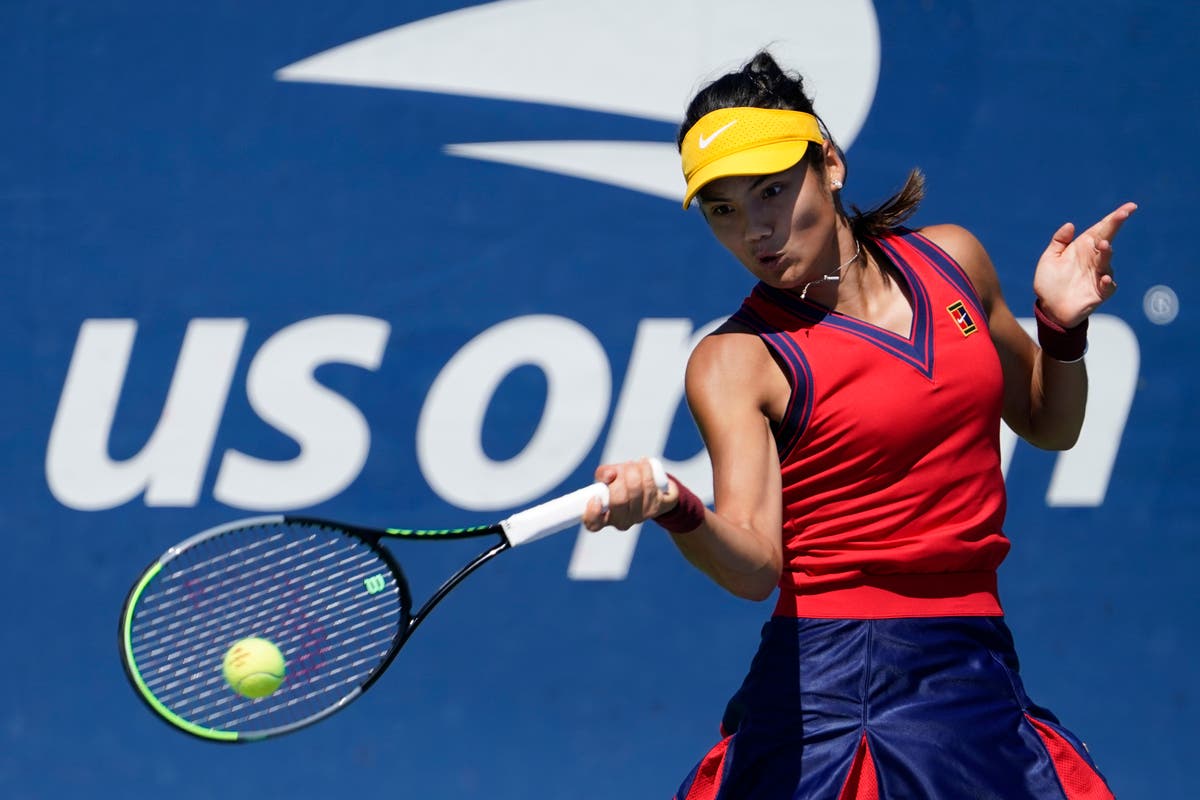 The New York Times 11 September, 2021 - 04:20am
Emma Raducanu can go home a millionaire if she beats Leylah Fernandez in the US Open final
Emma Raducanu will face Leylah Fernandez in Saturday night's US Open women's singles final, and though the glory of sporting achievement is without doubt the main prize, the 18-year-old also has the chance to make herself a millionaire if she can secure victory at Flushing Meadows.
The teenager has been on a stunning run of form which has seen her reach the final without dropping a single set, and gives her the opportunity to become the first British woman to win in New York since 1968.
In the men's draw, meanwhile, strong favourite Novak Djokovic faces Alexander Zverev of Germany in the second semi-final tonight after Canadian Felix Auger-Aliassime plays second seed Daniil Medvedev.
The men's singles final is also set for Saturday, around three hours after the women's singles final takes place.
Here's everything you need to know about the prize money on offer.
The total prize money available for the whole of the 2021 US Open is a record £41.5m, which represents an increase of £216,000 on 2019, the last time the tournament was held in front of a full crowd of spectators.
The 2020 event saw prize money decreased to £38.5m.
For 2021 the winners of both the men's and women's singles tournaments will win £1.8m each.
That is £360,000 less than in 2020, with the US Open having decided to reallocate funds so that the winners receive a smaller proportion of the total prize pot than in previous years, while those who exit in the earlier rounds will take home a larger purse. The decision was taken in conjunction with the players themselves.
US Open tournament director Stacey Allaster said. "We determined our round-by-round prize money allocations by engaging in an open dialogue with the players and the management of both tours. We applaud their collective leadership in directing the 2021 US Open prize money to benefit the maximum number of players."
The prize money is the men's and women's singles is allocated as follows (rounded to the nearest thousand):
The tournament is being broadcast live on Amazon Prime Video in the UK.
ATP Tour 11 September, 2021 - 04:20am
Tennis Magazine 10 September, 2021 - 05:22pm
After Marvel's Shang-Chi and the Legend of the Ten Rings scored a record-breaking opening over Labor Day weekend, Disney announced Friday that the remainder of its 2021 movie slate will receive exclusive theatrical releases, including Marvel's next film Eternals, Steven Spielberg's West Side Story, and the long-delayed Kingsman prequel The King's Man.
Disney's upcoming 2021 releases will be exclusive to theaters for 45 days, reflecting the new, shortened theatrical window that has quickly become the industry standard. Walt Disney Animation Studios' Encanto, however, will have a 30-day window, and will become available to stream on Disney+ on Dec. 24.
"As confidence in moviegoing continues to improve, we look forward to entertaining audiences in theaters, while maintaining the flexibility to give our Disney+ subscribers the gift of Encanto this holiday season," Disney Media & Entertainment Distribution Chairman Kareem Daniel said in a statement.
There may have been other factors at play, however; Disney's day-and-date strategy has caused the studio a massive headache in the form of Scarlett Johansson's lawsuit over Black Widow's Disney+ release. On the heels of that lawsuit, Emma Stone reportedly negotiated a lucrative payday for a sequel to Cruella, which was also released in theaters and on Disney+ at the same time. In a recent conversation with EW, Exhibitor Relations' senior box-office analyst Jeff Bock surmised that Eternals would receive an exclusive theatrical release to avoid massive payouts to talent on the film.
"There are a lot of actors in Eternals that they would have to pay off," Bock says. "I don't think Disney wants to revisit that while the [Johansson] case is still going on."
Disney's upcoming releases also include The Last Duel (Oct. 15), starring Ben Affleck and Matt Damon, and the 20th Century Studios-produced animated film Ron's Gone Wrong (Oct. 22). Eternals is slated for release on Nov. 5, followed by West Side Story on Dec. 10 and The King's Man on Dec. 22.
Want more movie news? Sign up for Entertainment Weekly's free newsletter to get the latest trailers, celebrity interviews, film reviews, and more.