How many teams qualify from Concacaf?
Eight teams will play 14 games (home-and-homes with each country), with the top three teams The countries involved: United States, Mexico, Canada, Costa Rica, Panama, Honduras, Jamaica, El Salvador. This style, similar to CONMEBOL World Cup Qualifying, is new to CONCACAF for this World Cup cycle. The TennesseanCONCACAF 2022 World Cup Qualifying: How the format works, what USMNT has to do to qualify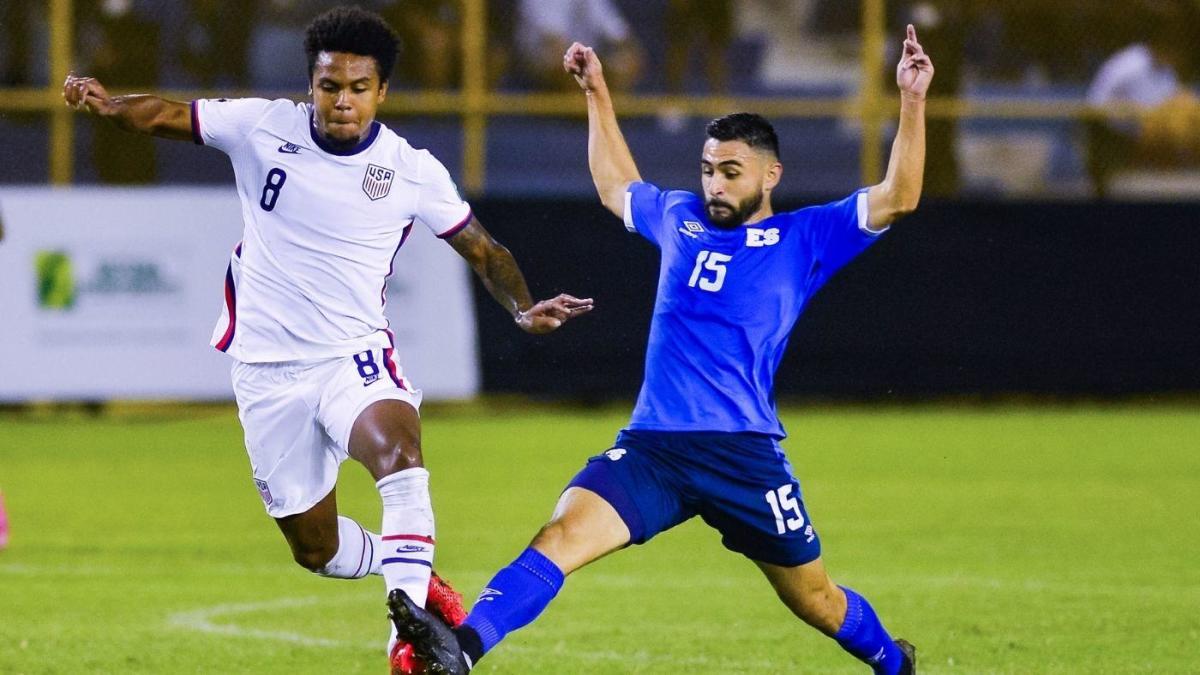 The United States men's national team's World Cup qualifying campaign got off to an uneventful start on Thursday as the red, white and blue had to settle for a 0-0 draw at El Salvador. Playing at the Estadio Cuscatlan in San Salvador, the Americans had their chances and were the better team on the night going forward, but a lack of precision when it mattered most saw them blow a chance of taking three points and kick-start their road to the World Cup.
Without Christian Pulisic, the U.S. struggled to find a reference point in attack that could be that threat and creator. Coach Gregg Berhalter went with an ultra-attacking lineup, deploying Josh Sargent, Gio Reyna, Brenden Aaronson and Konrad de la Fuente, but the returns were minimal on 13 shots, despite some solid chances.
Miles Robinson, who started at centerback with Tim Ream, had the clearest chance in the first half off a set piece from Reyna, but his wide-open header went over the goal.
The hosts threatened very little, with Matt Turner looking sharp at goal when called upon, helping record yet another clean sheet after his stellar performances at the Gold Cup. Turner only had to make one save on the night.
Matt Turner keeps things level 🧤 pic.twitter.com/hRkXdHJsdo
In the end, substitute Kellyn Acosta had one excellent change to collect all three points but saw his header well saved. The result will leave a sour taste in the mouths of USMNT fans who felt three points were likely, but as always in Concacaf, nothing is given.
Kellyn Acosta comes close to opening the scoring 😳 pic.twitter.com/BAGLV8GO1j
The U.S. returns to action on Sunday when they host Canada in their second qualifier in Nashville. Kickoff is set for 8 p.m. ET.
Here are our player ratings from the match:
A spectator. Had to make one save and did it well. Also dealt with the high balls well.
He was average. Had some OK moments going forward but too often he tries to do too much and can end up turning it over. It's as if he's trying to be cute 100 percent of the time.
Should have scored nine minutes in with a wide-open header that he sent over the goal. Defensively he was where he needed to be, but he won't forget that chance.
Lacked that killer instinct when attacking the ball, but he played it safe and did alright. Truthfully, he didn't have a whole lot to worry about and was solid in clearing crosses.
A threat whenever he had the ball. It seemed like where he was really dangerous was on the dead ball situations. During the run of play, he lacked accuracy aside from one delivery to McKennie.
As usual, he worked his tail off, helped defend, helped get the attack going moving forward yet just didn't get the service he needed and created little for himself. Story of his life.
(FWD) Konrad de la Fuente
Looked lively down the left early. He showed off that flair, but that was about it. His service was quite poor and he provided no end product.
Helped improve the defense that was under threat with Dest getting forward. Held his own.
Did more defensively than in attack, so that tells you everything considering he's a striker. His size and effort was needed earlier. He occupied the center backs well, and should be in the mix to start as qualifying goes on.
Shaky off the bench early, including a poor defensively clearance that could have been costly. Had a really nice late chance that he should have done better with. Played both midfield and fullback so his versatility came in handy.
Gregg Berhalter speaks to the media from El Salvador following the #USMNT's 0-0 draw. https://t.co/QmsK5DwLlx
🇺🇸🇸🇻 My player ratings after the USMNT's underwhelming 0-0 draw with El Salvador https://t.co/WoG3Ae7Hxf
FT: An important point on the road. We go again on Sunday vs. Canada in Nashville. #OnlyForward #SoloPaLante pic.twitter.com/q7c05948xh
A great ball in from McKennie goes to the back post, and Acosta is there, but his effort is saved well by Gonzalez at the right post.
A lovely bit of skill in the box down the left from Reyna, and he lobs it into the six for McKennie who reaches it with his head, but he knocks it wide.
With tonight's appearance, @KellynAcosta becomes the first player since DaMarcus Beasley to appear in 15 straight #USMNT matches. pic.twitter.com/iiuFUYbfmu
Good call taking Dest off for Robinson, IMO. Dest just tries to do too much way too often.
Cool and collected from @headdturnerr. pic.twitter.com/m010Z2r4EI
57' A good look there for ES as they get their first shot on target, with Zavaleta heading on frame off a corner, but Turner is there to save it somewhat comfortably.
Neither team has looked sharp in what's been a sloppy display. The field isn't helping, but it feels like it could go either way at this point. El Salvador's physical play is keeping the U.S. off balance as we approach the hour mark.
The USMNT attack right now pic.twitter.com/msrEQNJftN
46' - Second half underway. Let's go boys! #SLVvUSA
Sargent leads the way with his one chance at 0.50, while Miles Robinson is at 0.36 with that header he had off the set piece that just went wide. Gio Reyna is having some issues, completing just 58.8 percent of his passes as his sharpness just looks a tad off.
Got 45 more minutes to find the breakthrough. pic.twitter.com/SPpTxWcbCN
Alex Roldan with a couple tricks ✨ pic.twitter.com/edsvLriiPa
A little flair from Alex Roldan of the Seattle Sounders, as he beats Yedlin and goes back post with a lofted ball that goes just over the goal...Nearly!
It's a horrific display, really. Just so many chances for ES to whip in a good ball back post yet they all go high and wide. Just poor quality when needed, despite having the space.
It's been sloppy, but the U.S. has had its chances. El Salvador have to be happy with the start considering they have 60 percent possession but not getting quality looks just yet.
© 2004-2021 CBS Interactive. All Rights Reserved.
CBS Sports is a registered trademark of CBS Broadcasting Inc. Commissioner.com is a registered trademark of CBS Interactive Inc.
Images by Getty Images and US Presswire
These cookies are essential for the proper functioning of our Services. Essential cookies cannot be switched off in our systems. You can set your device to block or alert you about these cookies, but some parts of the Service will not work.
These Cookies allow us to collect information about how visitors use our properties. Some examples include counting visits and traffic sources, so we can measure and improve the performance of our services. If you do not allow these Cookies we will not know when users have visited our properties and will not be able to monitor performance.
These Cookies enable the services to provide enhanced functionality and personalization. They may be set by us or by third party providers whose services we have added to our services. If you do not allow these Cookies then some or all of these services may not function properly.
These Cookies may be set by us or through our services by our advertising partners. They may be used by those companies to build a profile of your interests and show you relevant advertising on this and on other properties. If you do not allow these Cookies, you will still see ads, but you will experience less relevant advertising.
These Cookies are set by a range of social media services that we have added to the services to enable you to share our content with your friends and networks. They are capable of tracking your browser across other sites, building up a profile of your interests to show you relevant content and advertisements on the relevant social networks. If you do not allow these Cookies you may not be able to use or see these sharing tools.
Read full article at CBSSports.com
U.S. Soccer 03 September, 2021 - 12:10am
Goal.com 02 September, 2021 - 11:00am
After four years of waiting, the U.S. men's national team will finally begin World Cup qualifiers on Thursday, as they travel to El Salvador for their first match of the new Octagonal.
It represents the first of a 14-game qualifying process, and also the first outing of a difficult three-game set during this international break as the road to Qatar begins.
There will most certainly be some rotation throughout the next week, and the USMNT head into this first game already a bit shorthanded.
After Tim Weah was confirmed as being out just before camp, Christian Pulisic and Zack Steffen were left behind in Nashville for rehab, leaving the U.S. without two likely starters.
So who will be the 11 players on the field? And what sort of decisions does Gregg Berhalter have to make heading into this first game? Goal takes a look...
With Steffen out, Berhalter has already confirmed one member of the USMNT's starting XI: Matt Turner.
The New England Revolution goalkeeper was the star of the show during the Gold Cup this summer, and could very well be the USMNT's permanent No.1 by the time Qatar rolls around if the U.S are to qualify.
The decision regarding Pulisic's replacement is a bit trickier, as Berhalter has two real options.
He could go with Brenden Aaronson, a player that, like Gio Reyna on the other side, is more of a creative winger who looks to cut inside from wide areas.
Or he could go with Konrad de la Fuente, who has had a spectacular start to the season at Marseille and is more of a dribbler than the other two.
In midfield, Sebastian Lletget has been ever-present and, despite the criticism based on where he plays his club soccer, that is for good reason. The LA Galaxy star is a very good fit next to Weston McKennie and Tyler Adams, who are locked in starters whenever fit.
Defensively, there are still ongoing questions about how to handle the fullback pool, with some combination of Sergino Dest, Antonee Robinson and DeAndre Yedlin likely to play. George Bello is also an option, although his lack of experience may be a mark against him.
With three games in a week, there will be rotation. And, with this game being held in El Salvador just days after many of the USMNT's top stars flew in from Europe, Berhalter may decide to play it relatively safe.
John Brooks has notoriously struggled in away games in CONCACAF and, after playing for Wolfsburg over the weekend, Berhalter could turn to Walker Zimmerman for Thursday night.
Adams could also begin on the bench due to his history of injury issues, with Kellyn Acosta now all the way in the circle of trust when it comes to the No.6 role.
Yedlin, meanwhile, could be handed the start on the right just to offer a bit more leadership and experience to a team that has few players that will truly understand what it is like to play road games in CONCACAF.
This one is a bit more unlikely and probably one for a down the road, but it is there if needed.
When at full strength, it could be argued that the U.S. is best suited to playing three at the back. It allows fullbacks like Dest and Robinson to push forward, which is particularly good for the Barcelona star given his constant desire to do just that.
One of the big takeaways from this summer's Gold Cup was James Sands' ability to change the game in this system, with his ability to step into the midfield when on the ball and drift back into defense while off of it.
However, with Adams already in the mix, this system is likely a bit too defensive for the game against El Salvador, one where the U.S. is likely to dominate possession.
But it could be of use against some of the region's better teams, or as a tactical tweak later on if Berhalter chooses to use it.
These cookies are necessary for the website to function and cannot be switched off in our systems. They are usually only set in response to actions made by you which amount to a request for services, such as setting your privacy preferences, logging in or filling in forms. You can set your browser to block or alert you about these cookies, but some parts of the site will not then work. These cookies do not store any personally identifiable information.
These cookies allow us to count visits and traffic sources so we can measure and improve the performance of our site. They help us to know which pages are the most and least popular and see how visitors move around the site. All information these cookies collect is aggregated and therefore anonymous. If you do not allow these cookies we will not know when you have visited our site, and will not be able to monitor its performance.
These cookies enable the website to provide enhanced functionality and personalisation. They may be set by us or by third party providers whose services we have added to our pages. If you do not allow these cookies then some or all of these services may not function properly.
These cookies may be set through our site by our advertising partners. They may be used by those companies to build a profile of your interests and show you relevant adverts on other sites. They do not store directly personal information, but are based on uniquely identifying your browser and internet device. If you do not allow these cookies, you will experience less targeted advertising.