Jason Schreier
jasonschreier
The California Department of Fair Employment and Housing has filed an explosive lawsuit against Activision Blizzard for discrimination. Some of the details in the complaint are horrifying news.bloomberglaw.com/daily-labor-report/activision-blizzard-sued-by-california-over-frat-boy-culture pic.twitter.com/dRuP8HPyqe
Katiechu
PikaChulita
Unfortunately, for women-especially us black women-the lawsuit against Activision Blizzard isn't even remotely surprising. Welcome to our reality. I hope those women win their lawsuit.

Lawrence Sonntag
SirLarr
Could be wrong about this but isn't CA v Activision-Blizzard the first time an American government body has sued a video game company?
DSP The Immortal
TheyCallMeDSP
Only one word to say in response to the California lawsuit against Activision Blizzard for years of systematic sexism, bigotry and ongoing harassment of female employees: YIKES.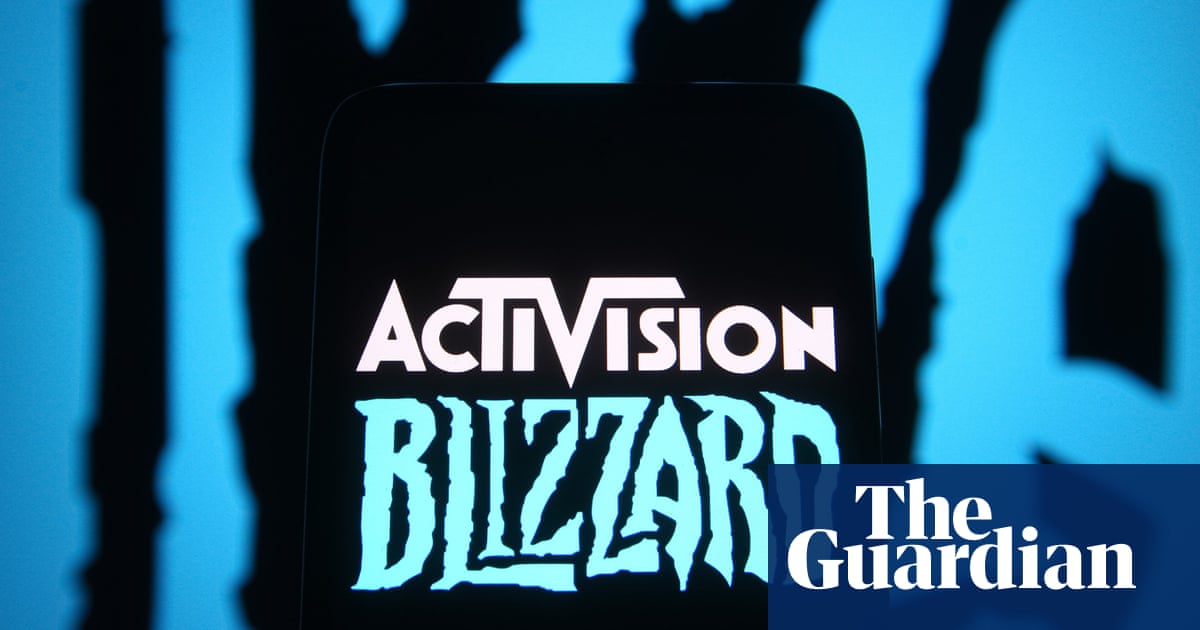 California's department of fair employment and housing (DFEH) filed suit against Activision Blizzard Inc in California's superior court after a two-year investigation into the company revealed discrimination against women generally and pregnant employees, sexual harassment, retaliation and unequal pay.
The company said it was cooperative with the agency in its investigation, and that the DFEH refused to inform them of certain allegations it had discovered. In cases of misconduct in the past, Activision Blizzard Inc said "action was taken" to address issues.
The company called the allegations in the complaint "distorted, and in many cases, false", and said it valued diversity in the workplace and inclusivity for everyone.
The DFEH issued its investigation's findings in June and said it had tried to resolve the issue without litigation, but three sessions of mediation with company management this month failed to do that.
The complaint says Activision Blizzard Inc, one of the largest American video game developers and distributors, "fostered a sexist culture" and that female employees receive a lower starting pay and earn less than males doing similar work.
The company responded to the allegations by saying the "picture" the agency painted was not "the Blizzard workplace of today". It cited new anti-harassment trainings, a confidential tip line for employees to report violations and performance-based compensation as its efforts to improve.
The agency said it was bringing the suit on behalf of itself and all aggrieved female employees. It is seeking punitive and compensatory damages, penalties under the Equal Pay Act, injunctive relief, and any back pay that could be determined later.
The leadership of the company is primarily male and white, and only 20% of its 9,500 employees are women.
The DFEH also said the organization fostered a "pervasive frat boy workplace culture that continues to thrive". Plaintiffs said in the office, women were "subjected to 'cube crawls'", which involved males drinking excessively as they crawled their way through various cubicles and engaged in inappropriate behavior towards the women.
The investigation also found that male employees showed up to work hungover, played video games while delegating their responsibilities to female employees, and joked about rape and their sexual encounters. One male supervisor allegedly told a male subordinate to "buy" a prostitute to cure his bad mood.
In another scenario outlined in the complaint, the company refused to deal with a former senior creative director for the company, Alex Afrasiabi, who the department said was "permitted to engage in blatant sexual harassment with little to no repercussion". That included hitting on female employees, telling them he wanted to marry them, and putting his arms around them, to the point that other male employees had to "pull him off female employees".
The president of Blizzard Entertainment had a chat with him about his drinking and that he had been "too friendly" toward the employees at company events, the suit says. But Afrasiabi continued the advances and groping. He left the company June 2020, and his social media profiles have been deleted. A publicly listed number for Afrasiabi did not yield a voicemail or a pick up.
"I'm going to come out and say it. I was one of these women. My incident happened in 2013 at BlizzCon. I didn't say anything officially until I decided to leave the company last year, because of the name recognition and fear of retaliation," wrote Stephanie Krutsick, a former producer for the company, on Twitter.
Read full article at The Guardian
MMORPG.com 23 July, 2021 - 12:10am
In a lawsuit filed Tuesday, the California Department of Fair Employment And Housing (DFEH) is alleging Activision Blizzard has fostered a "frat boy" culture which saw female employees contending with unequal pay, sexual harrassment and more. This filing comes after a two-year long investigation, according to Bloomberg Law.
The World of Warcraft and Call of Duty giant are being accused by the DFEH for discrimination against female employees at the company. The lawsuit alleges that Activision Blizzard disciminated against female employees, from equal pay, promotions within the company, assignments and more. The complaint also alleges that Activision Blizzard fostered a "frat boy workplace culture," as relayed by Bloomberg, which included an environment where men would drink "copious amounts of alcohol as they 'crawl' their way through the various cubicles in the office and often engage in inappropriate behavior toward female employees."
The complaint continues, stating that "[m]ale employees would proudly come into work hungover, play video games for long periods of time during work while delegating their responsibilities to female employees, engage in banter about their sexual encounters, talk openly about female bodies, and joke about rape."
The California Department of Fair Employment and Housing also alleges that female employees were denied promotions due to the possibilty of them becoming pregnant. The lawsuit also alleges that female employees were criticized for having to pick up children from day care, or even being forced from lactation rooms in order for male colleagues to have meetings.
Activision Blizzard, in a statement to IGN after the report broke, denied the claims as well as the accuracy of the claim and investigation by the State of California, stating that the "picture the DFEH paints is not the Blizzard workplace of today." Here is the statement in its entirety:
"We value diversity and strive to foster a workplace that offers inclusivity for everyone. There is no place in our company or industry, or any industry, for sexual misconduct or harassment of any kind. We take every allegation seriously and investigate all claims. In cases related to misconduct, action was taken to address the issue.
The lawsuit seeks to have Activision Blizzard pay damages, unpaid wages, relief and attorneys fees, as well as force compliance with proper workplace protections.
Joseph has been writing or podcasting about games in some form since about 2012. Having written for multiple major outlets such as IGN, Playboy, and more, Joseph started writing for MMORPG in 2015. When he's not writing or talking about games, you can typically find him hanging out with his 10-year old or playing Magic: The Gathering with his family. Also, don't get him started on why Balrogs *don't* have wings. You can find him on Twitter @LotrLore
Copyright © 2001-2021 MOBA Network AB
- Page Created in 0.078 seconds -
Yahoo! Voices 22 July, 2021 - 03:30pm
During a company event (an annual convention called Blizz Con) Afrasiabi would hit on female employees, telling them he wanted to marry them, attempting to kiss them, and putting his arms around them. This was in plain view of other male employees, including supervisors, who had to intervene and pull him off female employees. Afrasiabi was so known to engage in harassment of females that his suite was nicknamed the "Crosby Suite" after alleged rapist Bill Crosby. Afrasiabi would also call females derogatory names at company events. Afrasiabi's conduct was known to Blizzard Entertainment's executives, who took no effective remedial measures. J. Allen Brack, President of Blizzard Entertainment, allegedly had multiple conversations with Afrasiabi about his drinking and that he had been "too friendly" towards female employees at company events but gave Afiasiabi a slap on the wrist (ie. verbal counseling) in response to these incidents.
"The picture the DFEH paints is not the Blizzard workplace of today," the statement said.
Since the news broke, fans on the World of Warcraft forums are advocating that Afrasiabi's references be removed or renamed. There is precedent for Blizzard removing NPCs that reference problematic people. In 2020, Blizzard removed two NPCs named after popular WoW streamer Swifty shortly after Swifty's former partner accused him of abuse, though the company did not say if the two were related. In Afrasiabi's case, the forums feature threads that call Afrasiabi a "stain" on the WoW community while in-game, a player left a "Go Away" sign in front of one of his NPCs.
Activision Blizzard is facing a lawsuit filed by California over what's described as a "frat boy" workplace.
(Bloomberg) -- Blizzard Entertainment's disastrous remake of the classic video game Warcraft III last year was the result of mismanagement and financial pressures, according to newly revealed documents and people with knowledge of the failed launch. The release also reflected Blizzard's significant cultural changes in recent years, as corporate owner Activision Blizzard Inc. has pushed the developer to cut costs and prioritize its biggest titles.Warcraft III: Reforged was a long-awaited reimagin
With injuries and domestic violence behind her, Rachael Ostovich eager to avenge loss to Paige VanZant at BKFC 19.
Raiders WR Henry Ruggs named second-year breakout candidate
Social media reactions to report of Oklahoma looking to jump to the SEC.
Tossing back a few too many glasses of champagne can make someone say or do things they wouldn't normally, and that is exactly what happened to Megan Fox at the 2009 Golden Globes. The actress and model, who had made headlines lately for her hot and heavy love affair with Machine Gun Kelly, regretted her […]
This story has been a longstanding rumor.
Megan Fox is opening up about the red carpet experience that inspired her to stop drinking alcohol.
One of the best, but sadly least-used features of the Nintendo GameCube was its ability to talk to a Game Boy Advance. A few games used it, some exclusively, but now a lot more people can hopefully enjoy the idea with the release of a new version of popular GameCube emulator Dolphin.
After testing actresses this week, Warner Bros And DC Films looks to have found their Batgirl. Sources tell Deadline Leslie Grace has been tapped to play Barbara Gordon in the studios' Batgirl. The studio was already super high on the rising Afro-Latina star following her breakout role in In the Heights, and sources say her […]
UPDATED, 1:44 PM: Hurray for Hollywood indeed! In the heart of the home of the movies, California Gov. Gavin Newsom on Wednesday put pen to paper and made the new $330 million increase in California's film and television tax incentives a reality. Facing a recall election in September, the longtime studio-friendly Democrat swooped into Netflix's […]
Former NFL player and long-time assistant coach Jim Shofner died July 17, Drew Davison of the Fort Worth Star-Telegram reports. Shofner was 85. TCU confirmed Shofner's death. Shofner, who grew up in Fort Worth and went on to a two-sport career with the Horned Frogs, was a first-round choice of the Browns in 1958. He [more]
The U.S. government will send 3 million more doses of the Moderna Inc COVID-19 vaccine to Vietnam on Thursday, bringing total donations to the Southeast Asian country to 5 million, a White House official said. The next batch of shots is due to arrive in Vietnam this weekend as the country battles its worst coronavirus outbreak of the pandemic. After successfully containing the virus for much of the pandemic, Vietnam is now seeing a surge in daily infections to record levels.
Many people are taking to the skies again after receiving their COVID-19 vaccination — so which airline should they choose? According to AirlineRatings.com's annual ranking, their best bet is Qatar Airways, which topped the travel search site's list of the Top 20 carriers around the world. To be included in the list, an airline must have achieved "a seven-star safety rating," the website noted.
NPR 22 July, 2021 - 11:45am
The video game studio behind the hit franchises Call of Duty, World of Warcraft and Candy Crush is facing a civil lawsuit in California over allegations of gender discrimination, sexual harassment and potential violations of the state's equal pay law.
A complaint, filed by the state Department of Fair Employment and Housing on Wednesday, alleges that Activision Blizzard Inc. "fostered a sexist culture" where women were paid less than men and subjected to ongoing sexual harassment including groping. (Activision and Blizzard Entertainment merged in 2008.)
Officials at the gaming company knew about the harassment and not only failed to stop it but retaliated against women who spoke up, the complaint also alleges.
Years after the online harassment campaign known as Gamergate targeted women in the video game world, the California lawsuit depicts an industry that can still be unwelcoming and even hostile to female employees.
"All employers should ensure that their employees are being paid equally and take all steps to prevent discrimination, harassment, and retaliation," said DFEH Director Kevin Kish. "This is especially important for employers in male-dominated industries, such as technology and gaming."
"The DFEH includes distorted, and in many cases false, descriptions of Blizzard's past," the statement read. "The picture the DFEH paints is not the Blizzard workplace of today."
The lawsuit alleges that Activision Blizzard's female workers who spoke to investigators "almost universally confirmed" that their time at the company was "akin to working in a frat house."
Male employees drank on the job and came to work hungover, the lawsuit said. The alleged sexual harassment ranged from comments about women's bodies and jokes about rape to the unwanted touching of female employees by their male peers.
The complaint, which was the result of a two-year investigation by DFEH, claims that the unequal treatment of women went beyond company culture to the more formal parts of their jobs.
The sex discrimination was even worse for women of color, the suit claims. At least two African-American women reported being singled out and micromanaged.
Some of the women who came forward with complaints of discrimination or harassment faced involuntary transfers, were selected for layoffs or were denied certain opportunities, the suit said.
Activision Blizzard, in its statement, said it did not tolerate sexual misconduct or harassment and noted that investigated all claims, adding that it was making it easier for employees to report violations.
The company also said it strives to pay its employees "fairly for equal or substantially similar work" and ensure that pay is driven by "non-discriminatory factors," such as performance.
"We are confident in our ability to demonstrate our practices as an equal opportunity employer that fosters a supportive, diverse, and inclusive workplace for our people, and we are committed to continuing this effort in the years to come," the spokesperson said. "It is a shame that the DFEH did not want to engage with us on what they thought they were seeing in their investigation."
But several former employees took to social media Wednesday after the lawsuit was filed to corroborate some of the allegations it contained.
"Blizzard has claimed that the DFEH report is false/misleading/irresponsible," former Blizzard Entertainment employee Cher Scarlett tweeted. "I can tell you that I knew what was going to be in this report before I read it because during my time there - for only a YEAR - I witnessed ALL OF THESE THINGS."
BBC News 22 July, 2021 - 09:35am
Activision Blizzard is accused of unequal pay, promoting men over women, and widespread sexual harassment.
California's Department of Fair Employment and Housing (DFEH) is taking legal action against the company, following a two-year investigation.
Activision called the action "disgraceful and unprofessional".
And it called the DFEH "unaccountable state bureaucrats".
The company is one of the largest and most successful games companies, publishing major titles Call of Duty, World of Warcraft, Overwatch and many others.
The DFEH made extensive allegations about an ingrained culture of discrimination and sexual harassment.
"Female employees almost universally confirmed that working for defendants was akin to working in a frat house," the DFEH legal filing claims.
"In the office, women are subjected to 'cube crawls', in which male employees drink copious amounts of alcohol as they 'crawl' their way through various cubicles in the office and often engage in inappropriate behaviour toward female employees."
And such workplace cultures were "a breeding ground" for harassment and discrimination.
"Female employees are subjected to constant sexual harassment," the DFEH alleged.
"High-ranking executives and creators engaged in blatant sexual harassment without repercussions."
And when formal complaints were made, Activision failed to take effective measures to solve problems.
Instead, complaints were dismissed - and not kept confidential.
"As a result of these complaints, female employees were subjected to retaliation, including but not limited to being deprived of work on projects, unwillingly transferred to different units and selected for layoffs," the DFEH said.
One female employee had even killed herself, "due to a sexual relationship with her male supervisor", the DFEH claimed, "a tragic example of the harassment that defendants allowed to fester" - an allegation Activision strongly denies.
She had gone on a company trip with him, before which, another employee alleged, male co-workers had "passed around" intimate photos of her at a party.
But Activision said: "We are sickened by the reprehensible conduct of the DFEH to drag into the complaint the tragic suicide of an employee whose passing has no bearing whatsoever on this case and with no regard for her grieving family.
"It is this type of irresponsible behaviour from unaccountable state bureaucrats that are driving many of the state's best businesses out of California."
Pay disparity and other career barriers were also common inside the company, the filing claims, which mean many women leave.
The company's workforce "is only about 20% women", it says.
"Its top leadership is also exclusively male and white.
"Women across the company are assigned to lower paid and lower opportunity levels.
"Female employees receive lower starting pay and also earn less than male employees for substantially similar work.
"Defendants promote women more slowly and terminate them more quickly than their male counterparts."
And when one female employee taking on managerial responsibilities asked for a pay increase and promotion, her manager "commented that they could not risk promoting her, as she might get pregnant and like being a mom too much".
The DFEH also noted "women of colour were particularly vulnerable targets" of discriminatory practices.
In its fierce rebuttal, Activision said the DFEH filing "includes distorted, and in many cases false, descriptions of Blizzard's past".
"The picture the DFEH paints is not the Blizzard workplace of today," it said - adding it had made significant changes to internal procedures and introduced compulsory anti-harassment training.
The DFEH was required by law to "have good-faith discussions with us to better understand and to resolve any claims or concerns before going to litigation - but they failed to do so".
"Instead, they rushed to file an inaccurate complaint."
The DFEH, in its filing, said it had attempted to resolve things before filing the legal action.
It "required all parties to participate in a mandatory dispute resolution" - but both sides had been "unable to resolve" the problems.
Spacing out doses boosts antibody levels, say researchers - who suggest eight weeks as the "sweet spot".
15 sayings from around the world