Did ingenuity fly on Mars?
A small robotic helicopter named Ingenuity made space exploration history on Monday when it lifted off the surface of Mars and hovered. It was the first machine from Earth ever to fly like an airplane or a helicopter on another world. The achievement extends NASA's long, exceptional record of firsts on Mars. The New York TimesWatch Video of NASA Mars Helicopter Ingenuity's First Flight
"No Rules Rules: Netflix and the Culture of Reinvention"
Get it now on Libro.fm using the button below.
The rover, which carried Ingenuity almost 300 million miles to Mars, perched on an overlook 211 feet away and watched the historic flight take place at 3:34 a.m. ET.
In the video below, you can see Ingenuity begin to spin its rotors, get them up to full speed (five times faster than an Earth helicopter's rotors), then lift itself 10 feet above the Martian surface. After that, it hovers, pivots towards Perseverance, and lowers itself gently back into the dust.
The entire flight lasted about 40 seconds.
"Goosebumps. It looks just the way we had tested," MiMi Aung, Ingenuity project manager, said as she presented the video in a post-flight press conference on Monday. "Absolutely beautiful flight. I don't think I can ever stop watching it over and over again."
This was the first powered, controlled flight ever conducted on another planet — NASA's "Wright brothers moment," as agency officials call it.
"From everything we've seen so far, it was a flawless flight," Håvard Grip, the helicopter's chief pilot, said in the briefing. "It was a gentle takeoff. At altitude it gets pushed around a little bit by the wind, but it really maintains station very well, and it stuck the landing right in the place where it was supposed to go."
Ingenuity is a technology demonstration mission — it won't conduct any science. However, now that NASA has shown the rotorcraft technology works, future space helicopters could explore canyons, caves, and rocky fields that are too dangerous for rovers. Mars drones could even do reconnaissance for future astronauts.
Ingenuity has achieved its main goal — to prove rotorcraft technology can work on Mars — but its mission isn't over yet. Over the next two weeks, the space drone will attempt up to four more flights, venturing higher and farther each time. The next flight could come as soon as Thursday, according to Aung.
"We really want to push the rotorcraft to the limit and really learn and get information from that," she said.
NASA plans to power up Perseverance's microphone to include audio in future flight videos, though NASA engineers aren't sure what it will sound like. If all goes well, Ingenuity's fifth and final venture could take it up to 15 feet high over 980 feet of Martian ground.
By then, though, "it would be unlikely to land safely, because we'll start going into unsurveyed areas," Aung said in a preflight briefing.
"If we do have a bad landing, that will be the end of mission," she added. "The lifetime will be determined by how well it lands, pretty much."
Once Ingenuity's mission is over, the Perseverance rover will continue on its own epic journey: searching for fossils of microbial alien life in the ancient river delta of Jezero Crater.
Read full article at Business Insider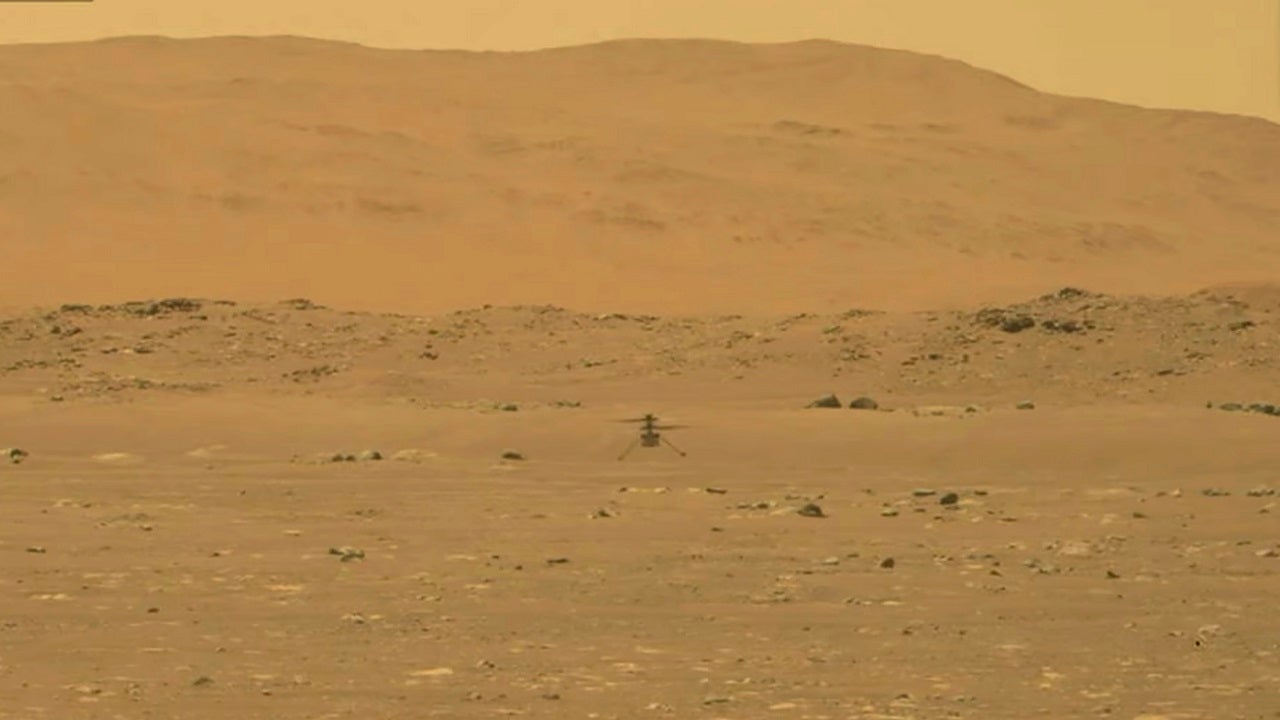 Fox News 19 April, 2021 - 05:00pm
This material may not be published, broadcast, rewritten, or redistributed. ©2021 FOX News Network, LLC. All rights reserved. Quotes displayed in real-time or delayed by at least 15 minutes. Market data provided by Factset. Powered and implemented by FactSet Digital Solutions. Legal Statement. Mutual Fund and ETF data provided by Refinitiv Lipper.
Founder of 'The Mars Society' Robert Zubrin on the historic Ingenuity Helicopter launch.
NASA has made history Monday with its Ingenuity Mars helicopter completing the first-ever powered, controlled flight on another planet.
The whole flight in the Jezero Crater flight zone was expected to last around 40 seconds, with Ingenuity lifting off climbing at a rate of 3 feet per second, rotating, taking images with a 13-megapixel camera and hovering at 10 feet above the surface.
"Ingenuity has performed its first flight -- the first flight of a powered aircraft on another planet!" flight control was heard saying in audio broadcast Monday morning by NASA.
Flight controllers in California confirmed Ingenuity's brief hop after receiving data via the Perseverance rover, which stood watch more than 200 feet away. Ingenuity hitched a ride to Mars on Perseverance, clinging to the rover's belly upon their arrival in an ancient river delta in February.
"We've been talking for so long about our Wright brothers moment," Ingenuity project manager MiMi Aung added. "And here it is."
The $85 million helicopter demo was considered high risk, yet high reward.
NASA had been aiming for a 40-second flight, and while details were initially sparse, the craft hit all its targets: spin-up, takeoff, hover, descent and landing.
To achieve the flight, the helicopter's twin, counter-rotating rotor blades needed to spin at 2,500 revolutions per minute — five times faster than on Earth. With an atmosphere just 1% the thickness of Earth's, engineers had to build a helicopter light enough — with blades spinning fast enough — to generate this otherworldy lift. At the same time, it had to be sturdy enough to withstand the Martian wind and extreme cold.
More than six years in the making, Ingenuity is a barebones 1.6 feet tall, a spindly four-legged chopper. Its fuselage, containing all the batteries, heaters and sensors, is the size of a tissue box. The carbon-fiber, foam-filled rotors are the biggest pieces: Each pair stretches 4 feet tip to tip.
The helicopter is topped with a solar panel for recharging the batteries, crucial for its survival during the minus-130 degree Fahrenheit Martian nights.
NASA chose a flat, relatively rock-free patch for Ingenuity's airfield, measuring 33 feet by 33 feet.
It turned out to be less than 100 feet from the original landing site in Jezero Crater. The helicopter was released from the rover onto the airfield on April 3. Flight commands were sent Sunday, after controllers sent up a software correction for the rotor blade spin-up.
Up to five helicopter flights are planned, each one increasingly ambitious. If successful, the demo could lead the way to a fleet of Martian drones in decades to come, providing aerial views, transporting packages and serving as scouts for astronauts. High-altitude helicopters here on Earth could also benefit — imagine choppers easily navigating the Himalayas.
Ingenuity's team has until the beginning of May to complete the test flights. That's because the rover needs to get on with its main mission: collecting rock samples that could hold evidence of past Martian life, for return to Earth a decade from now.
Get a daily look at what's developing in science and technology throughout the world.
You've successfully subscribed to this newsletter!
This material may not be published, broadcast, rewritten, or redistributed. ©2021 FOX News Network, LLC. All rights reserved. Quotes displayed in real-time or delayed by at least 15 minutes. Market data provided by Factset. Powered and implemented by FactSet Digital Solutions. Legal Statement. Mutual Fund and ETF data provided by Refinitiv Lipper.
NASA Jet Propulsion Laboratory 19 April, 2021 - 05:00pm