Minnesota Vikings
Vikings
Officially 💯% Real The #Vikings have signed DE @EversonGriffen! 📰: mnvkn.gs/3sGffku pic.twitter.com/GEGmiUVi4u

Minnesota Vikings
Vikings
"I just care about these players and I care about their families. That's my main reason. If they miss a game because they get COVID, so be it. But I don't want them to get sick, I don't want their families to get sick, their kids to get sick or my grandkids to get sick." - Zimmer pic.twitter.com/ff565UYcHr
Courtney Cronin
CourtneyRCronin
Vikings announce bevy of roster moves, including the signings of DE Everson Griffen and RB Ito Smith (formerly of ATL). Team made a few more roster moves: QB Danny Etling/LB Christian Ellis (waived); DT Jordan Scott (waived/injured); DE Janarius Robinson (IR); Cam Smith (retired)

Ben Goessling
GoesslingStrib
The #Vikings made the Everson Griffen move official, and also announced they've signed former Falcons running back Ito Smith. They cut Christian Elliss and Danny Etling, cut Jordan Scott with an injured designation and put Janarius Robinson on injured reserve.
BroBible 23 August, 2021 - 04:01pm
Everson Griffen is being forced to kiss some ass after showing his. The Minnesota Vikings announced on Monday that they are signing the 33-year-old defensive end, who played for the organization from 2010 through 2019.
The #Vikings have signed DE @EversonGriffen!
📰: https://t.co/L2jT6M2VNP pic.twitter.com/GEGmiUVi4u
— Minnesota Vikings (@Vikings) August 23, 2021
That might make things tense in the locker room.
Earlier this year, Griffen went viral for taking shots at Vikings starting quarterback Kirk Cousins. In a since-deleted thread, the four-time Pro Bowlers said that Cousins is "ass."
He even doubled-down, denying that he was hacked in a tweet that is still up.
— Everson Griffen (@EversonGriffen) January 9, 2021
Griffin did not have any plans on re-joining Minnesota at the time.
One final note on this: Everson Griffen does want to return to the Vikings, per a source. He's training in hopes of signing a deal. Free agency opens in March. We'll see if the Vikings have interest in him.
— Chad Graff (@ChadGraff) January 8, 2021
Well, now he's back. And Kirk Cousins is his quarterback. Awkward.
Griffen apologized for his tweets shortly after they caused quite a commotion. The apology that was specifically directed toward Cousins has also been deleted.
"I'm sorry for posting that about Kirk. It's not right for me to call people out. I apologize for hurting him. I'm very grateful and thankful."
The other tweet apologized to the team.
@vikings I'm sorry for saying anything negative. I love this organization. Vikings will always have a place in my heart. If you want it, go get it. All love for for real.
— Everson Griffen (@EversonGriffen) January 9, 2021
Despite the informal apology, Griffen wants to make things right in person now that he's back in the Vikings organization.
Everson Griffen said he plans to apologize to Kirk Cousins for his insulting tweets about the QB. Griffen said he's already apologized to Mike Zimmer.
— Chad Graff (@ChadGraff) August 23, 2021
Griffen, who spent the first 10 years of his career with Minnesota, signed a one-year deal with Dallas last season before being traded to Detroit. He will return to the Land of 10,000 Lakes with an apology in order.
Vikings.com 23 August, 2021 - 04:00pm
EAGAN, Minn. — The Vikings returned to action in full pads Monday at Twin Cities Orthopedics for a spirted session with temps in the high 80s.
Minnesota has a short week, with the team scheduled to travel to Kansas City Thursday and play the Chiefs at 7 p.m. (CT) Friday in the preseason finale for both teams.
The following Vikings did not participate in team drills: Sheldon Richardson, Adam Thielen, Xavier Woods, Alexander Mattison, Kene Nwangwu, Anthony Barr, Christian Darrisaw, Dru Samia, Tyler Conklin and James Lynch. Jake Bargas left the field via a cart at the end of practice.
The Vikings made a handful of roster moves just before practice that included the signings of Everson Griffen, returning the defensive end to the team he played for from 2010-19, and running back Ito Smith. Both participated.
Practice was halted for a moment because of a scrum between Garrett Bradbury and Jalyn Holmes. The center and defensive lineman went to the ground before teammates stopped the fracas. Bradbury continued practicing, and Holmes later returned to action.
Minnesota's roster is at 80 players, which will be the NFL maximum for all teams on Aug. 24. The reduction to 53 players is scheduled for Aug. 31.
Here are three observations from Monday's session presented by Minnesota Eye Consultants, the Proud Ophthalmology Partner of the Minnesota Vikings:
Vikings Head Coach Mike Zimmer lamented earlier Monday that the Vikings hadn't pushed the ball down the field in the passing game on Saturday in a 12-10 loss to the Colts.
"We didn't get the ball down the field vertically," Zimmer said. "If you're going to throw 5-yard checkdowns all day long, it takes 20 of them, so. We'd like to get the ball down the field a little bit more."
The Vikings took some deep shots in 7-on-7 and full-team drills.
Kirk Cousins found K.J. Osborn down the left sideline for a gain of about 20 yards in a 7-on-7 drill. Osborn made a nice adjustment and secured the football against coverage by Patrick Peterson.
Cousins later opened the situational period at the end of practice (first down at the offense's 25-yard line with 12:00 on the clock) with a deep heave to Osborn, but the ball appeared a little short. Kris Boyd broke up the play.
That possession included a catch by Irv Smith, Jr., to convert a second-and-7 but it appeared Harrison Smith would have recorded a sack on a blitz.
The drive stalled shy of midfield and ended with what would have been a sack by Danielle Hunter and D.J. Wonnum.
Jake Browning then got five plays at quarterback and led the second-team offense to the defense's 44-yard line, thanks to a 17-yard pass awarded on a completion to Shane Zylstra, although Stephen Weatherly likely would have recorded a sack. Browning was ruled to have converted a third-and-6 from the 50 with a pass to Whop Philyor, but Troy Dye signaled fourth down, saying Philyor would have been tackled shy of the sticks.
Kellen Mond then took three snaps: a run play for A.J. Rose, Jr., that lost 2, and consecutive incompletions to Bargas and Philyor. Harrison Hand had a nice breakup on the throw to Philyor.
View photos of Vikings DE Everson Griffen at his first practice back with the team after he signed on Aug. 23.
Griffen may not have been with a team this offseason, but he looks like he maintained his physical prowess that helped him record 74.5 sacks in Purple and make four Pro Bowls last decade.
He wasn't asked to go full-boar in his first practice of 2021, but he did work his way through position drills.
Griffen also participated in 2-on-2 reps in which a pair of defensive linemen were working on games against two offensive linemen. A combination of Griffen and Weatherly looked promising.
Later on, rookie Patrick Jones II was quick to soak up some tips regarding hand placement from Griffen, who said he believes he'll definitely be ready by Week 1 of the regular season for any role the Vikings have in mind.
View photos of the Vikings roster as of Aug. 23, 2021.
The Vikings offense on Monday wore white practice jerseys for the first time this preseason since Minnesota will be wearing white Friday as the road team against the Chiefs.
Minnesota's offense, except for quarterbacks in red, no-contact jerseys, had been wearing purple because of hosting consecutive home games.
Justin Jefferson isn't a quarterback (even though he has been spotted heaving footballs across the football field to equipment assistant Terrell Barnes during brief practice lulls), but he also donned a red jersey Monday.
The unique look served as a reminder to Minnesota's defensive players that Jefferson is working his way back from a shoulder injury. He made a couple of nice catches on the day, including a 6-yard reception that moved the chains on third-and-5 during the situational period for a rare red-jersey-to-red-jersey completion.
Yahoo Sports 23 August, 2021 - 01:11pm
Minnesota announced Monday it has signed defensive end Everson Griffen, who previously spent a decade with the organization.
The 33-year-old Griffen provides depth and special skills along the edge of the defensive line, where Danielle Hunter is entrenched as a starter. Stephen Weatherly and D.J. Wonnum have battled for the other starting spot the past few weeks.
Minnesota also has rookies Patrick Jones II and Janarius Robinson on the roster, along with Jalyn Holmes, Hercules Mata'afa and Kenny Willekes.
Griffen, a four-time Pro Bowler, has an extensive knowledge of Vikings Head Coach Mike Zimmer's defense and could also be used in pass-rushing situations if he makes the 53-man roster.
He was among the league's most dynamic pass rushers from 2014 to 2019, recording 57 sacks in 87 starts. He recorded a career-best 13 sacks in 2017 — including at least one sack in the first eight games of the season — to help Minnesota's defense rank first in the league in total points and yards allowed.
"If I didn't think he could help us, we wouldn't sign him," Zimmer said Monday before adding that the Vikings are likely to deploy Griffen as a "situational player" this season.
A fourth-round draft pick in 2010, Griffen ranks seventh in franchise history with 74.5 career sacks. He also added 93 tackles for loss, nine forced fumbles, six fumble recoveries and two interceptions in 174 career regular-season games in Purple.
Griffen also has three touchdowns on his résumé — a 2012 interception return for 29 yards, a 43-yard return of a blocked punt in 2014 and a 20-yard fumble return during the 2017 season.
A former captain in Minnesota, Griffen also brought an emotional energy to the locker room, as he was usually the go-to player for an amped-up pregame speech.
Griffen began the 2020 season with Dallas before he was traded to Detroit in late October. He played in 14 total games (seven with each team), recording 2.5 sacks with the Cowboys and 3.5 sacks with the Lions.
"We kind of watched him [last year], but we weren't studying him. He had 6.0 sacks," Zimmer said. "I think the way we rush would be more beneficial to him than the way he tried to do it last year, so he probably recognizes that as well."
View the photos of Vikings DE Everson Griffen from the 2019 season. The Vikings signed and welcomed him back on Aug. 23.
Vikings Assistant Head Coach/Co-Defensive Coordinator Andre Patterson, who coached Griffen from 2014-19, referenced Griffen last week before his tryout when describing how he coaches players to avoid jumping from a quarterback's hard count.
"With [Griffen], it was more about me getting him to breathe. It really wasn't the quarterback making him jump offsides," Patterson said. "It was just him in a cannon ready to explode and come out. … In a high-pressure situation, when he felt like, 'I had to get a good get-off to go sack the quarterback,' those were when those times would come."
Griffen spent the first four seasons of his career as a backup who started one of the 59 games he played from 2010-13, but when Zimmer arrived, he advanced to the starting lineup and started 87 of a possible 96 games in the next six seasons.
Griffen and Hunter were integral to Minnesota's defensive game plan that led to an upset of the Saints in New Orleans in the Wild Card Round of the NFC Playoffs that followed the 2019 season. The edge rushers kicked inside multiple times for matchups against Saints interior linemen and totaled 1.5 sacks apiece.
The 2019 season marked an impressive comeback for Griffen, who needed to take time away from the team in 2018 for a personal matter.
"We talked to him for quite a while the other day, and I think it seems like he's in a good place," Zimmer said. "Hopefully he continues to do that, and if he does, he can help us."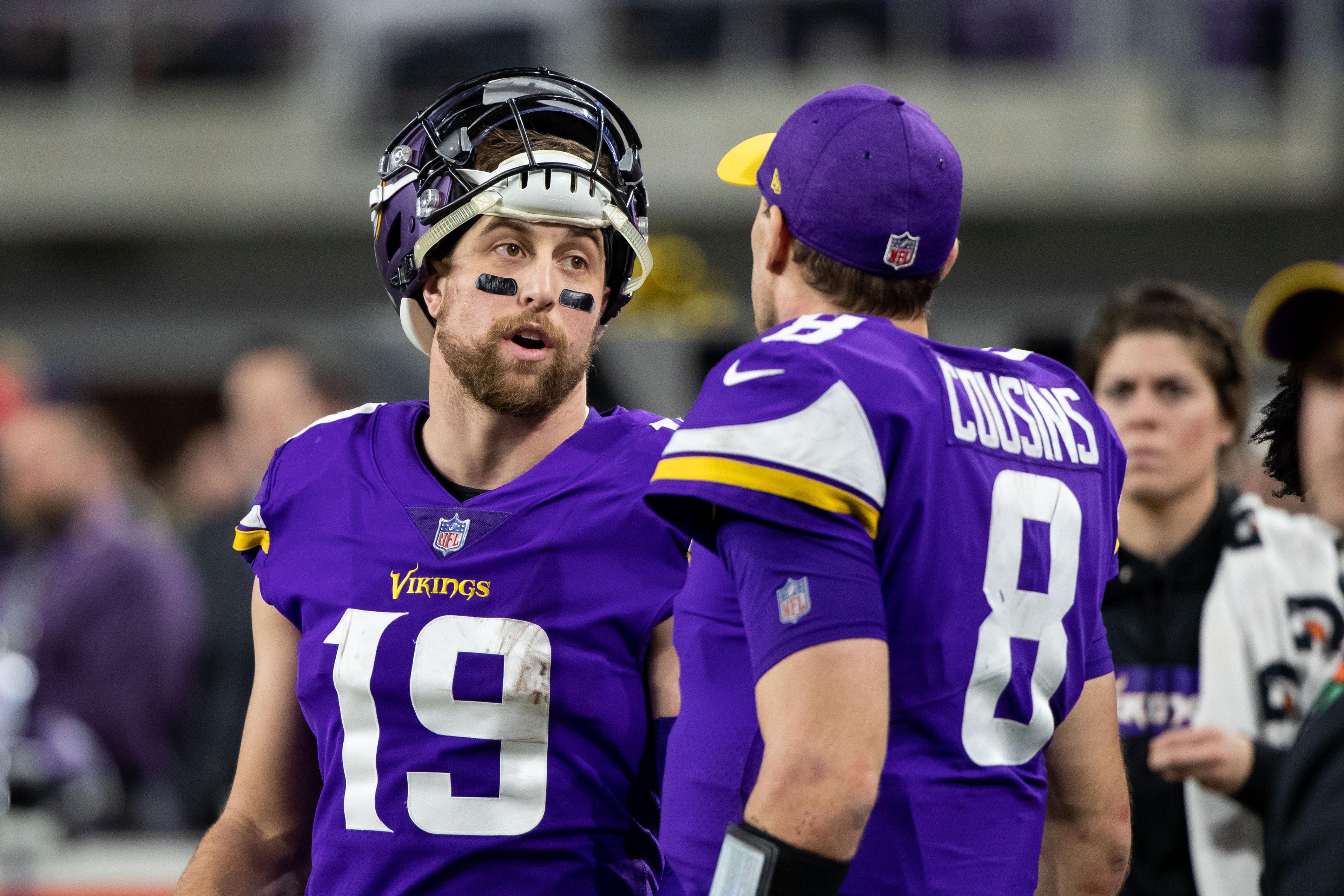 Sports Illustrated 23 August, 2021 - 01:06pm
"I thought it went well," Zimmer said. "I thought he was very good with his points, answered a lot of questions. Whether or not that changes anything, I don't know. We were very thankful he was able to come over here and talk to the team in person. It was great to meet him. He understands the importance of when people look up to our football players, especially now ... with this Delta variant and how it's affecting younger people all over the world, I think that the more we can show it's safe and young kids, not younger than 11, but these kids can get vaccinated, we're all going to stay healthier."
Earlier this month, it was reported that the Vikings had the NFL's lowest percentage of players with at least one shot of the COVID-19 vaccine. That lagging vaccination rate is headlined by the presence of an anti-vax quarterback in Kirk Cousins and several other star players who have not gotten the shot. Adam Thielen, Harrison Smith, Dalvin Cook, Sheldon Richardson, and Dalvin Tomlinson are among the prominent players believed to be in that group.
Given how much harsher the NFL's protocols are for unvaccinated players than they are for vaccinated players, this is an issue that could easily cost the Vikings wins during the upcoming season. We've already seen the effect of that, as Cousins and other players had to miss five days during training camp after being deemed "high-risk close contacts." Rookie QB Kellen Mond missed ten days when he tested positive.
Vaccinated players do not receive the "high-risk" designation as close contacts, meaning they can return to the field within 24 hours to consecutive negative tests. They can also return much quicker if they happen to test positive. Vaccinated players don't have to deal with any of the restrictions put in place by the NFL last season. There's also obviously the non-football related element, which is that vaccines reduce your chances to contract COVID, minimize potential symptoms, and inhibit the spread to others.
Zimmer has been very outspoken in his support of the vaccines and his frustration regarding the hesitancy or refusal of many of his players. For him, it's not about football as much as it's about general healthiness and preventing the spread of the virus. Zimmer became a grandfather this offseason, which seems to have given him some additional perspective.
"I thought [Dr. Osterholm] did a terrific job and hopefully it helps," Zimmer said. "I just care about these players and I care about their families. So that's my main reason. If they miss a game because of COVID, so be it. But I don't want them to get sick and I don't want their families to get sick or their kids to get sick or my grandkids to get sick."
Another thing that could theoretically help change players' minds is that the FDA granted full approval to the Pfizer vaccine on Monday. That had previously been a talking point by vaccine skeptics. Then again, who knows if anything could change the positions of Cousins or other players, who Zimmer has described as "staunch" in their stances.
Either way, they're going to keep trying.