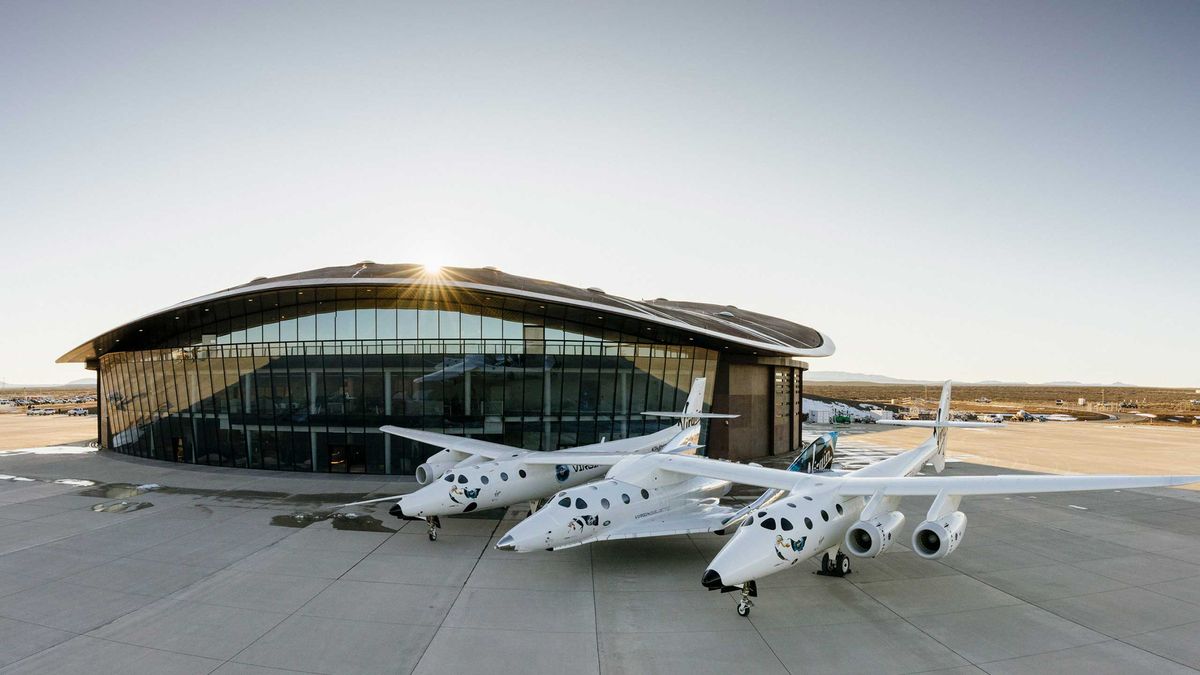 A launch webcast hosted by Stephen Colbert begins at 9 a.m. EDT (1300 GMT).
Branson, three crewmates and two pilots will launch on the historic flight after being carried into launch position by Virgin Galactic's carrier plane VMS Eve. They will take off from the company's homeport of Spaceport America in New Mexico, with a live webcast chronicling the flight. Here's everything you need to know about the mission, which Virgin Galactic has dubbed Unity 22.
Virgin Galactic has not released a specific time for the actual Unity 22 launch, but the company has announced it will begin webcasting the mission at 9 a.m. EDT (1300 GMT). And it looks like it's going to be fun. The crew will walk out to the ship about an hour earlier.
Stephen Colbert, host of The Late Show on CBS, will host the webcast along with singer Khalid (who will debut a new single during the launch), former Canadian Space Agency astronaut Chris Hadfield and future Virgin Galactic astronaut Kellie Gerardi, who will launch on a research flight in 2022.
The webcast will begin with the Unity spacecraft and its carrier plane taking off from its runway at Spaceport America, which is located 55 miles (88 kilometers) north of Las Cruces, New Mexico. 
Branson has stated that the entire flight will take about 90 minutes, including the ascent up to launch position, release, flight to space and glide back to Earth for a runway landing at Spaceport America.
Virgin Galactic will launch six people on the Unity 22 flight, although the spacecraft is designed to carry up to eight people (two pilots and six passengers). 
Unity 22's crew includes four mission specialists:
Related: Meet the crew launching on Virgin Galactic's 1st fully crewed flight
Two veteran Virgin Galactic pilots will be at the helm of Unity during the launch. They  have both launched to space on Unity before and are: 
Two other pilots will fly the VMS EVE carrier plane that will carry SpaceShipTwo into launch altitude. They are: 
The primary objective for Unity 22 is to serve as a test flight for future passenger flights by Virgin Galactic. As its number suggests, this will be the 22nd flight of Unity, but only its fourth launch to space. 
The four mission specialists will each evaluate different experiences that Virgin Galactic has promised its future customers, many of whom have already reserved trips to space with the company at $250,000 a seat. 
Bandla, for example, will test the experience of performing experiments aboard Unity during different phases of the flight, including the weightless period. Branson will take note of the flight as a paying passenger to look for ways to enhance the trip for ticket holders looking for the experience of a lifetime. 
Related: The long road to spaceflight for Virgin Galactic and Blue Origin
Moses is Virgin Galactic's Chief Astronaut Trainer and will ensure everyone is safe in their tests while Bennet will examine Unity's cabin performance to look for potential enhancements. 
This mission is a critical flight or Virgin Galactic, which Branson founded in 2004. VSS Unity is the company's second SpaceShipTwo after the first, VSS Enterprise, broke apart during a 2014 test flight, killing one pilot and seriously injuring another. Virgin Galactic has made numerous safety upgrades to prevent such an accident from happening again.
The mission will begin with takeoff from Spaceport America, where Virgin Galactic has built its "Gateway to Space" terminal to serve its future customers. The crews of Unity and Eve will walk out to their vehicles at about 8 a.m. EDT (6 a.m. local time, 1200 GMT). They'll be wearing custom Under Armour flight suits made for Virgin Galactic.
After takeoff, the carrier plane VMS EVE will haul the SpaceShipTwo VSS Unity (short for Virgin Space Ship) to an altitude of about 50,000 feet (15,000 meters), when it will drop the the spacecraft.
In Photos: Virgin Galactic's Sleek Under Armour Spacesuits for Space Tourists
After separation, Unity will ignite its hybrid rocket motor, which uses a mixture of solid and liquid propellant, to begin the boost phase. This will carry Unity to its target altitude above 50 miles (80 kilometers), where the pilots and crew can expect up to 4 minutes of weightlessness. They will exist their seats and enjoy sweeping views of the Earth below through the many round windows that dot the space plane's fuselage.
After that short encounter with weightlessness, the crew will climb back into their seats as Unity prepares to return to Earth. Pilots Mackay and Masucci will have "feathered" the spacectraft's twin tail booms to provide stability during atmospheric reentry.
The feathered tail will then be locked back into place for the glide back to Earth, which will end with a runway landing at Spaceport America. The entire flight, from takeoff to landing, should last about 90 minutes, Branson has said.
Virgin Galactic will launch Unity to an altitude above 50 miles (80 km), which NASA, the Federal Aviation Administration and the U.S. military classify as space. They will earn astronaut wings for reaching that height.
Another widely recognized boundary of space, the Kármán line, is at an altitude at 62 miles (100 km) above Earth. The SpaceShipTwo VSS Unity won't reach this milestone, which has led Virgin Galactic's competitor Blue Origin (which does fly higher than 62 miles) to call out Virgin Galactic for missing that mark. 
Richard Branson has downplayed that criticism and saying that "the actual difference in experience is going to be almost non-existent," in an interview with NPR's Leila Fadel.
Virgin Galactic initially launched SpaceShipTwo test flights from the company's facilities at Mojave Air and Space Port in California. However, in 2020 the company moved Unity and its carrier craft to its permanent home at Spaceport America, where it plans to fly regular passenger flights beginning in 2022. 
Spaceport America is located near Las Cruces, New Mexico and is home to Virgin Galactic's "Gateway to Space" terminal, a welcome center and waiting room for ticketed passengers preparing for trips to space. It also sports a large hangar designed to fit multiple SpaceShipTwo spaceplanes and the VMS Eve. Virgin Galactic has also built a new vehicle, the SpaceShip III VSS Imagine. 
If you booked a trip with Virgin Galactic early and have one of the first reservations, you may get your chance to fly in space as early as 2022. If not, there's a long wait ahead. And that's assuming you can afford the $250,000 ticket price. 
Virgin Galactic has said it plans to begin passenger launches in 2022 after a series of final test flights in 2021. The company does have hundreds of reservations for customer flights in backlog from eager would-be astronauts that have been waiting for over 17 years (since Richard Branson first announced Virgin Galactic in 2004) for the SpaceShipTwo to finally fly. The company paused taking new reservations after the 2014 accident.
Virgin Galactic is expected to resume taking reservations for "a limited number of tickets for future spaceflights" sometime this year, according to its website.
Thank you for signing up to Space. You will receive a verification email shortly.
There was a problem. Please refresh the page and try again.
© Future US, Inc. 11 West 42nd Street, 15th Floor, New York, NY 10036.
Read full article at Space.com
Los Angeles Times 10 July, 2021 - 11:15am
On Sunday, British tycoon Richard Branson will be one of the first four passengers soaring into space on his Virgin Galactic's rocket plane. Later this month, Amazon founder Jeff Bezos is expected to be on the first human spaceflight launched by his company Blue Origin. Elon Musk's SpaceX is planning to take paying passengers into orbit this year. And Boeing is hoping to use its Starliner spacecraft to carry space tourists.
What was once the final frontier, where "no man had gone before," could soon become the playground of the rich and daring. That comes as no surprise.
For centuries, humankind has looked to the sky in wonder. Sure, scientific advances have helped shed some light on the mysteries of space. Telescopes have allowed us to see stars and planets in greater focus. Rockets and space shuttles allowed the people to travel into space and even walk on the moon. Rovers and unmanned spacecraft have given us images and sound from Mars.
But the experience of being in space and looking down on the shimmering blue Earth has been largely the domain of highly trained astronauts on government-run flights. Until now. With technological advances fueled by billions of dollars supplied by some of the world's richest men, the opportunity to shoot into the Earth's orbit will soon be open to the public. Or, that is, the public willing to withstand a Mach 3 ascent into the sky and capable of spending at least $250,000 for the pleasure of it.
The first space tourists won't be taking a leisurely float over the Earth. What they'll experience sounds more like the most extreme amusement park ride imaginable.
The Virgin Galactic rocket plane, attached to a larger carrier plane, will take off from a runway in New Mexico. When the carrier hits an altitude of 50,000 feet, the plane will detach, fire up its rockets and blast up into space at three times the speed of sound, or roughly 2,300 mph. When the plane reaches the blackness of space, the motor will shut off and the plane will hover at nearly 300,000 feet above Earth. Passengers can briefly unbuckle to experience a few minutes of weightlessness. Then the plane descends, landing on the same runway as before. The trip takes about an hour.
Bezos' Blue Origin, which launches on July 20, will offer a similar experience, with passengers in the autonomous capsule having several minutes of weightlessness and Earthly views before the capsule returns to terra firma, floating under parachutes.
It's also dangerous. Spaceflight is still a highly risky endeavor; even the experts at NASA have had deadly accidents, including two space shuttle disasters, the Challenger in 1986 and the Columbia in 2003. In a world with life-and-death needs for technological advancements — cures for cancer and infectious diseases, carbon sequestration and geo-engineering to mitigate climate change — can we really celebrate the entrepreneurs who have chosen to spend billions of dollars on space tourism?
Yes, we can. We still want some visionaries to put money behind curiosity and imagination. We still need to push the limits of human experience and pursue what seems impossible or impractical. Even if dreams of spaceflights seem gratuitous, there will be Earthly benefits from the pursuit. The race in the 1960s to put a man on the moon did more than just that — it helped develop technology that we rely upon today, including solar panels, portable computers and air purifiers.
So let the new space race begin.
Get thought-provoking perspectives with our weekly newsletter.
You may occasionally receive promotional content from the Los Angeles Times.
The Los Angeles Times' editorial board determines the editorial positions of the organization. The editorial board opines on the important issues of the day – exhorting, explaining, deploring, mourning, applauding or championing, as the case may be. The board, which operates separately from the newsroom, proceeds on the presumption that serious, non-partisan, intellectually honest engagement with the world is a requirement of good citizenship. You can read more about the board's mission and its members at the About The Times Editorial Board page.
SB 9 would effectively do away with single-family zoning in California's cities. But it wouldn't solve our problems.
If we consider ourselves good stewards of the earth, we should pay to protect wildlife from being killed by our infrastructure.
As we discuss yet another water emergency in Southern California, it's worth thinking about how we have altered our landscape and waterways.
It's unfair to expect all women to accept nudity in intimate settings out of respect for transgender rights, says a reader.
Three people were slain within the blighted rooms of the MS-13 destroyer on Rampart Boulevard in 2017 and 2018, authorities said.
L.A. Mayor Eric Garcetti has made increasing the number of women in the Fire Department a major goal. Some senior women in the LAFD, and his own appointees, say the mayor could be pushing harder.
The film, which grew out of Black Lives Matter protests last summer, shines a light on the coastal community's intolerant past
Black civic leader Titus Alexander tried to build a seaside recreation center in the 1920s. El Segundo stood in the way.
Legal experts tell The Times that testimony from Trevor Bauer at a hearing about a restraining order could be used against him in a potential criminal case.
Uncritically reporting on the brisk online business done by seers and tarot card readers during the pandemic is a poor use of print space, say readers.
Readers debate the connection between surging gun sales during the pandemic and the rise in homicides since mid-2020.
Rising beef consumption around the world increases greenhouse gas emissions and affects the entire planet.
A bipartisan bill and new climate caucus are welcome changes, but what's needed is an admission that climate change is reaching crisis proportions and fossil fuels are the driving force behind it.
The pandemic broke the state's unemployment department. And it's still not fixed.