Is Walmart accepting litecoin?
A Litecoin Foundation representative said the group hasn't entered into a partnership with Walmart. ... Getty Images. Walmart has been rumored to be developing a digital currency strategy, but the retail giant isn't ready to start accepting cryptocurrency just yet. CNETNo, Walmart isn't accepting crypto payments in Litecoin
by Kevin Helms
The retail giant issued a press release in response to the fake news of its partnership with Litecoin Monday. "Walmart was the subject of a fake news release issued on Monday, Sept. 13, that falsely stated Walmart announced a partnership with Litecoin (LTC)," the company wrote, adding:
Walmart had no knowledge of the press release issued by Globenewswire, and it is incorrect. Walmart has no relationship with Litecoin.
Walmart spokesman Randy Hargrove told CNBC that the retailer has been in touch with the newswire company to investigate how the false press release got posted.
Globenewswire took down the fake press release late Monday and issued a "notice to disregard" across its service. The company also said that it has put in place enhanced authentication steps to prevent a similar incident from occurring in the future.
The press release distribution company declared:
We will work with the appropriate authorities to request – and facilitate – a full investigation, including into any criminal activity associated with this matter.
Many major news outlets ran the fake story, including Reuters and CNBC. This led to an instant spike in the price of litecoin (LTC). However, the gains were quickly wiped out when Walmart denied the news.
Meanwhile, the Litecoin Foundation, a non-profit organization that promotes the cryptocurrency, issued a statement on the matter. The foundation is run by litecoin creator Charlie Lee, who serves as its managing director.
"We have no information as to where this idea or the release to the press originated," the foundation wrote, confirming that it "has not entered into a partnership with Walmart of any kind." It further noted that the quotes in the press release did not come from Lee.
Lee told Reuters in an email that the hoax was being investigated but little headway had been made. The Litecoin creator added that he currently owned only five LTC and had little incentive to issue the fake announcement himself.
He also commented on Litecoin's verified Twitter handle (@litecoin) sharing the fake announcement. The tweet was deleted a few hours after Walmart denied the news. Lee admitted:
It was our mistake for retweeting using @litecoin. We will make sure to have stricter controls on our social media accounts so that something like this doesn't happen again.
Disclaimer: This article is for informational purposes only. It is not a direct offer or solicitation of an offer to buy or sell, or a recommendation or endorsement of any products, services, or companies. Bitcoin.com does not provide investment, tax, legal, or accounting advice. Neither the company nor the author is responsible, directly or indirectly, for any damage or loss caused or alleged to be caused by or in connection with the use of or reliance on any content, goods or services mentioned in this article.
The governor of the Reserve Bank of India (RBI), Shaktikanta Das, has once again expressed concerns regarding the impact of cryptocurrencies on India's financial stability. Crypto Presents 'Serious Concerns' to RBI The Indian government is currently awaiting the Cabinet to ... read more.
On Friday, Grayscale Investments, the world's largest digital currency asset manager in terms of assets under management (AUM), revealed that three trusts have been filed with the Securities and Exchange Commission (SEC) in order to become SEC reporting companies. The ... read more.
Read full article at Bitcoin News
Yahoo Finance 14 September, 2021 - 05:11pm
Litecoin is the No. 19 most valued crypto in world, but hasn't drawn a lot of attention recently as a form of digital payment that could be used by major retailers.
However, it seemed unorthodox for the company to announce its crypto plan without first naming an executive to fill that new role.
On Monday, Walmart said that it had "no knowledge of the press release issued by Globe Newswire," and emphasized that "it has no relationship with Litecoin."
GlobeNewsire, meanwhile, in a statement "advised that journalists and other readers should disregard the news release," but offered no explanation as to how or why the fake news release had been issued.
After briefly surging more than 20%, litecoin was down nearly 3%, changing hands at $179.33, while the broader crypto market was also under pressure.
In addition, the Litcoin Foundation, founded by the creator of litecoin Charlie Lee, issued this statement via Twitter:
Lee is a software engineer who worked at Google Inc. GOOGL, +0.74%GOOG, +0.81% and Coinbase Global COIN, -3.05%. About a decade ago, he created litecoin, using the bitcoin's open-source software to create what he hoped was a crypto that offered faster settlement time and lower transaction fee than bitcoin.
The revelation of the hoax was blamed for depressing the broader complex, with bitcoin prices changing hands at $44,647.72, down 2.7%, while Ether was off over 5% at $3,230.43, on CoinDesk.
John Wu, crypto expert, former venture capitalist and founder of Ava Labs, said via emailed comments that he would expect more scams like Walmart/litecoin to occur.
"Fake announcements are nothing new — but the fact that a scammer is willing to go so high profile shows that the old ways aren't working anymore, that the industry is taking itself far more seriously," he wrote.
"Unfortunately, today's stunt will deter those skeptical about cryptocurrency and contribute to the narrative surrounding volatility and instability," Wu wrote. "Thankfully, this will only set us back weeks or months, not years," the crypto specialist said.
Meanwhile, a survey conducted by the Motley Fool, found that almost 26,500 crypto scams were reported to the government in 2020, totaling losses of $419 million, with this year on pace to exceed those figures.
According to the survey, more than 14,000 investment scams were reported to the Federal Trade Commission in the first quarter of 2021 alone, with some $215 million in losses.
"In 2020, cryptocurrency became the most common payment method used in investment scams and fraud," according to the Motley Fool survey.
The rally in crude oil futures has stalled since June, but could resume again and even hit $100 depending how cold it gets
Mark DeCambre is MarketWatch's markets editor. He is based in New York. Follow him on Twitter @mdecambre.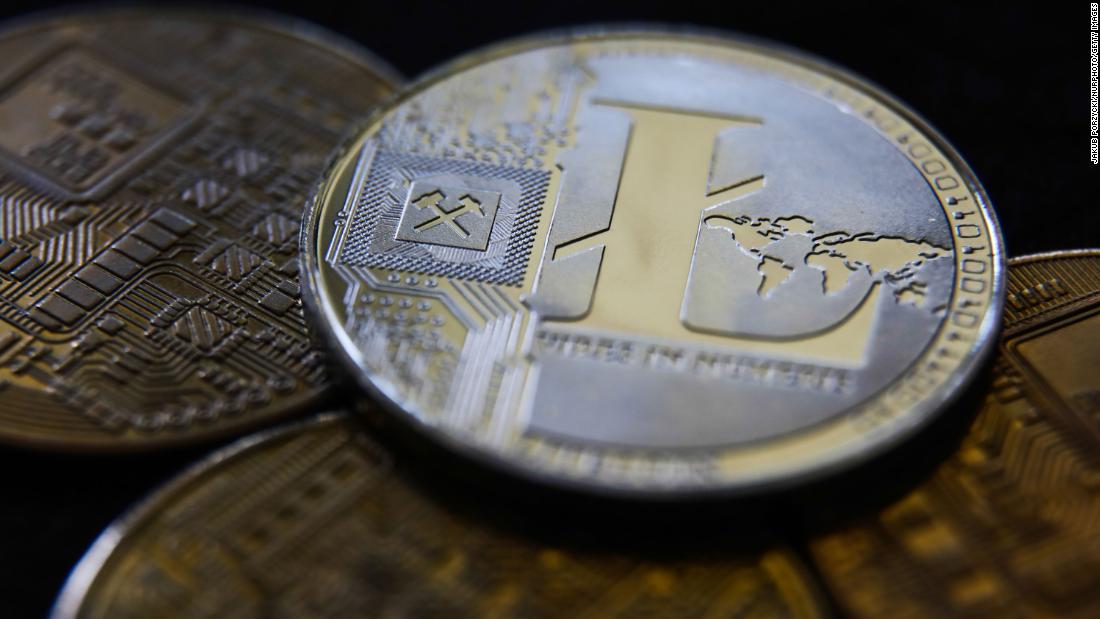 CNN 14 September, 2021 - 05:11pm
Updated 4:59 PM ET, Mon September 13, 2021
You can set your browser to block or alert you about these cookies, but some parts of the site will not work.
Bloomberg Technology 14 September, 2021 - 05:11pm
Benzinga 13 September, 2021 - 11:17pm
Monday's Litecoin (CRYPTO: LTC) spike thanks to a fake press release about its non-existent partnership with Walmart Inc (NYSE:WMT) is a wake-up call to not take "this stuff so seriously," as per Dogecoin (CRYPTO: DOGE) co-creator Billy Markus.
What Happened: Markus reacted to the LTC-Walmart phony news and noted that multiple mainstream news outlets reported the false story. He also pointed out that gains in LTC were erased in minutes.
See Also: How To Buy Litecoin (LTC)
There's good reasons to not take this stuff so seriously
— Shibetoshi Nakamoto (@BillyM2k) September 13, 2021
Former hedge fund manager and Bitcoin investor Michael Novogratz had a laugh on those who purchased LTC on the Walmart news.
The guys that bought $LTC on the Walmart news. https://t.co/xdbmhjN7oc
— Mike Novogratz (@novogratz) September 14, 2021
David Gokhshtein, founder of Gokhshtein Media who had earlier tweeted a CNBC story on Walmart accepting payments using LTC but also questioned if the news was genuine said he got rugged by the cryptocurrency.
Got rugged by $LTC this morning.
— David Gokhshtein (@davidgokhshtein) September 13, 2021
Entrepreneur Anthony Pompliano, a Bitcoin (CRYPTO: BTC) said the U.S. Department of Justice will look for the people responsible for the fake press release but the attention should be on media regulation.
Everyone is yelling and screaming about regulating the crypto industry after this morning's fake press release.
The DOJ will look for the people responsible.
But we should have a conversation about who is regulating the media for not doing their diligence before publishing?? 👀
— Pomp (@APompliano) September 13, 2021
Why It Matters: Charlie Lee, creator of Litecoin and managing director of the Litecoin Foundation acknowledged in an interview with Bloomberg that the Foundation "screwed up" after one of its employees retweeted what was a fake announcement.
See Also: Profit-Booking Hurts 'Ethereum Killer' Cardano As Smart Contracts Go Live
"We try our best to not tweet fake news and this time we really screwed up," he said — adding, "I deny that it has anything to do with us and we'll try our best to figure out who did it — and we will stop fake news from spreading."
As for Walmart, the company too took to Twitter to deny its relationship with LTC and issued a full-length statement as well.
An incorrect news release issued today falsely stated Walmart announced a partnership with Litecoin (LTC). Walmart has no relationship with Litecoin. Our full statement is here. https://t.co/BdjTWP2lHC
— Walmart Inc. (@WalmartInc) September 13, 2021
Price Action: LTC traded 0.37% higher at $178.48 at press time. The cryptocurrency has fallen 23.41% from an intraday peak of $233.06.
Read Next: Bitcoin, Ethereum, Dogecoin Stay Subdued But 'Hodlers' Are Unfazed By Recent Sell-Off
Click here, or sign up for our newsletter to explore more of Benzinga's Cryptocurrency market coverage, in-depth coin analysis, data, and reporting.
© 2021 Benzinga.com. Benzinga does not provide investment advice. All rights reserved.
$27 of crypto when you complete education
$25 in BTC when you deposit $100
2 free stocks when you make ANY deposit
© 2021 Benzinga | All Rights Reserved