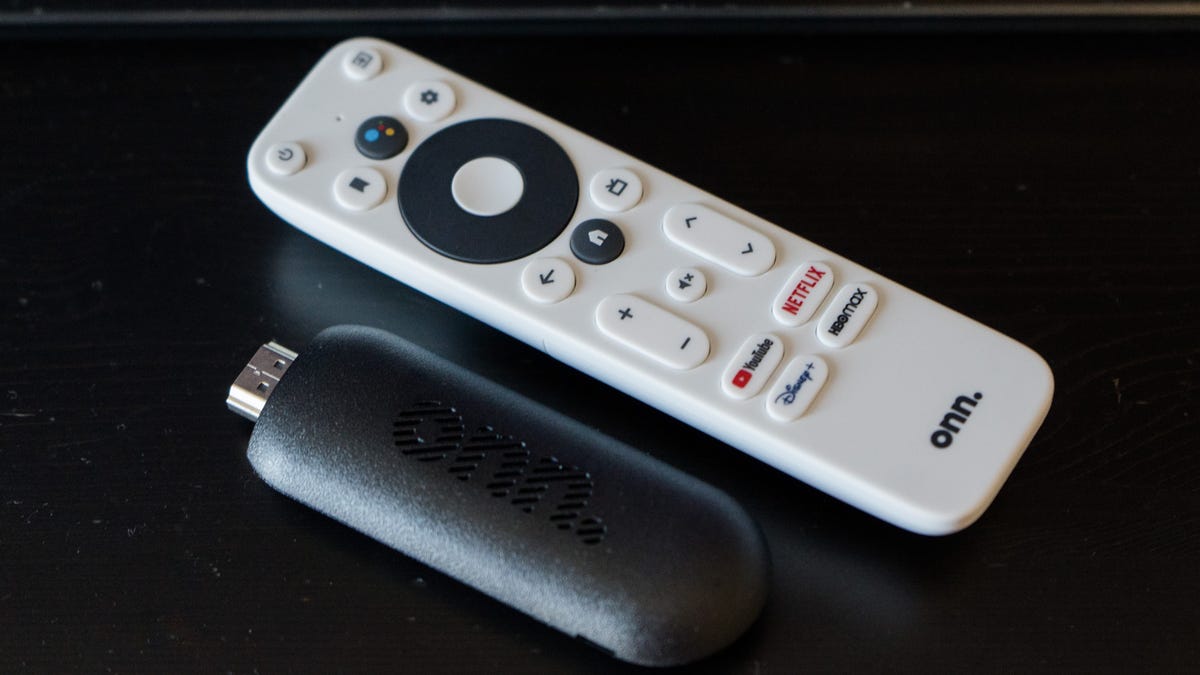 Like the Chromecast with Google TV and the Chromecast of yore, you plug the black Onn dongle into an HDMI port on the back of your television. The box comes with an HDMI extender to help make it more convenient for you, which is a nice touch. There's also a button-packed remote that comes with the device, which I'll get into in just a bit.
Curiously, there's a button for adding titles to your Watchlist, even though the Onn FHD Streaming Stick runs a version of Android TV that doesn't use the Google TV-introduced feature.
Google TV is a bit more of an interface than a launcher, which Android TV often feels like. It's better organized, too, with a clearly marked tab for live TV through a service like YouTube TV, as well as a tab for quickly accessing your DVR library. I asked Google if the Onn FHD Streaming Stick would be receiving the revamped Google TV update any time in the future. There's nothing to report yet, but the Onn streaming stick does have the new Discover tab that Google pushed to Android TV earlier this year.
In terms of overall performance, I noticed that apps were just a little slower to load than on the Chromecast with Google TV. Even YouTube TV would take a few seconds before bringing me to the home screen to access my DVR. I used the remote to ask the Google Assistant to launch something specific, but it would take a beat before entering command mode. For the most part, I used the Onn stick to watch Pluto TV and fall asleep to Unsolved Mysteries. The slight choppiness of navigating Android TV made me glad I'd installed the streaming stick on a secondary screen instead of the main one downstairs because of the wait time before a button makes something happen.
But the Onn stick is one of the cheapest ways to smarten up a dumb TV. It's more affordable than either of the Amazon Fire TV sticks, which are Walmart's main competition in this particular category. As I mentioned before, the big-box retailer is already playing nice with Roku's devices.
Read full article at Gizmodo