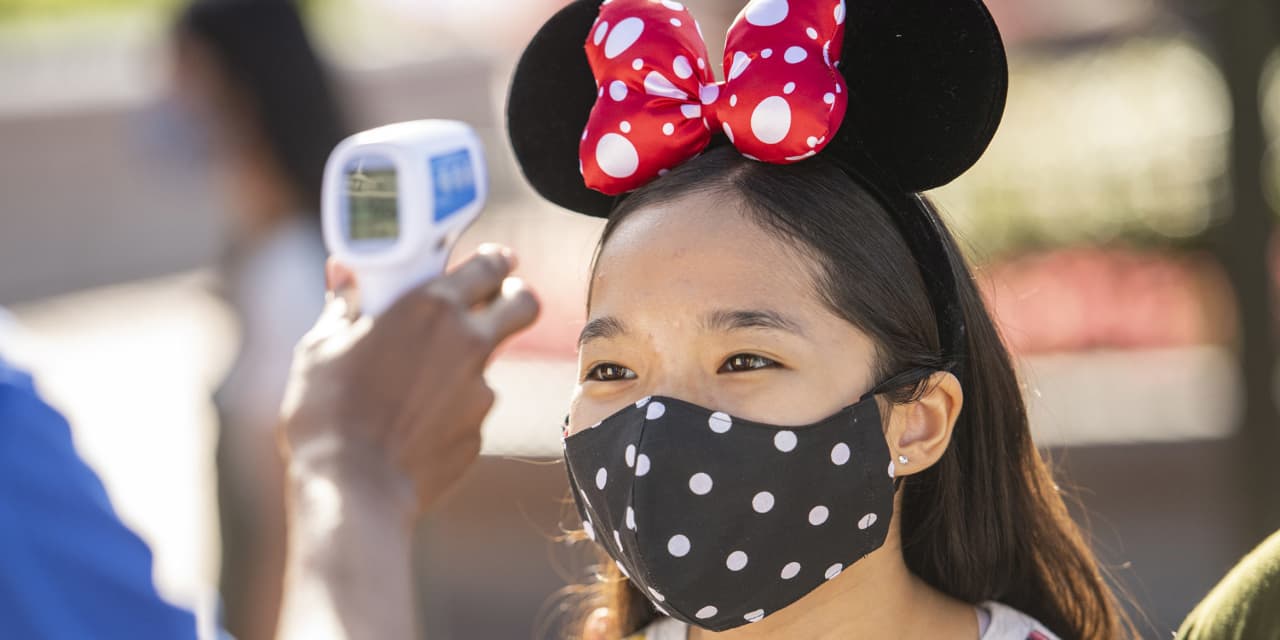 "Since reopening, we have considered guidance from public-health authorities, government agencies, and our own team of health and safety experts as we assess and update health and safety measures to help prevent the spread of COVID-19," the company said on its website in a section detailing the health protocols in place. "As this guidance continues to evolve, and with the support of local health and government officials, we are making some additional adjustments."
This is not the first time Disney has relaxed its COVID-19 safety rules. Recently, the theme park began allowing guests to remove their face masks when taking a photo outdoors if they are physically distanced and remain stationary. Previously, guests were only allowed to do this when eating or drinking or when visiting a designated "relaxation station" in one of the company's four Florida theme parks.
"The health and safety of our guests and team members is always our top priority," a Universal Orlando spokeswoman said. "We continue to review the CDC guidelines and work with local health officials as we update our health and safety protocols."
The spokeswoman added that all of the resort's other health and safety protocols will remain in place.
The changes at Walt Disney World and Universal Orlando come as local health officials have reduced their requirements. Last week, Orange County Mayor Jerry Demings reduced the requirement for physical distancing to three feet. The county also stopped recommending temperature checks as a preventative measure against COVID-19. Both Walt Disney World and Universal Orlando are located within Orange County.
Infectious disease experts have questioned the efficacy of temperature checks in preventing the spread of COVID-19. The Centers for Disease Control and Prevention calls temperature screenings "an optional strategy," but warns it's not fool proof.
"Performing screening or health checks will not be completely effective because asymptomatic individuals or individuals with mild non-specific symptoms may not realize they are infected and may pass through screening," the CDC states on its website, adding that "health checks are not a replacement for other protective measures such as social distancing."
The CDC recently relaxed social distancing requirements in school classrooms from six to three feet among children, but continues to recommend that people maintain six feet of distance in most circumstances including common areas and in cases where masks can't be worn.
State lawmakers in Florida have gone a step further in loosening COVID-19 requirements. Florida Gov. Ron DeSantis, a Republican, issued an executive order that will outlaw local COVID-19 emergency mandates throughout the state starting July 1. Previously, he banned the implementation of "vaccine passports" throughout the Sunshine State, saying that any business that requires a customer provide proof of vaccination for entry will be subject to a fine.
After DeSantis issued the executive order, Walt Disney World sent a notification to theme park visitors through its My Disney Experience mobile app advising that it was not changing its requirements in response to the new directive, according to theme park blog Inside the Magic. "We are aware of the state of Florida's plans announced today to modify COVID-19 guidelines," the notification read in part. "We will evaluate this latest guidance and maintain our current health and safety measures at this time, including face-covering requirements."
'What do you think of the way she has treated her inheritance? If we divorce, will I have to pay her alimony?'
Jacob Passy is a personal-finance reporter for MarketWatch and is based in New York.
Read full article at NBC News
Orlando Sentinel 07 May, 2021 - 06:01pm
What will the company do with all that promise? During Disneyland's yearlong closure, the world has changed. And whether from a sense of social justice or financial shrewdness, Disney is changing with it. The company announced more inclusive cast member appearance guidelines and the removal of outdated, racist imagery from two hallmark attractions, the Jungle Cruise and Splash Mountain.
Predictably, there has been some pushback. A recent op-ed in the Orlando Sentinel complained about "wokeness" ruining the parks, maligning among other things the Jungle Cruise's removal of the Trader Sam animatronic character (and, implicitly, the addition to the backstory of a female character of color) as "a mood killer."
Now a professor of gender history and participatory fan culture, I was once a devoted cast member, guiding the five-hour Keys to the Kingdom tour in the Magic Kingdom. I can tell you that historical evidence demonstrates that there is no dismantlement of Disney values afoot. Rather, the company's recent decisions are completely in line with tradition.
Disney has been accused of drawing political realities into immersive spaces. I'll momentarily set aside that doing nothing about, for example, a "take a wench for a bride" auction would in fact be a political decision; or that Walt Disney never eschewed politics, having volunteered to testify before the House Un-American Activities Committee. Let us simply concede that, yes, world-building is a trademark of the Disney parks.
But immersion is only one piece of a longstanding, meticulous philosophy of experiential entertainment. For over 60 years, cast-member conduct has centered on the Four Keys: safety, courtesy, show, and efficiency. These are the core of training, and they are hierarchized. Knowing this, even the most proudly un-woke patron should concede that making a guest feel welcome (courtesy) actually does take priority over immersion (show).
Another feature that could disrupt illusion: ADA-accessible ramps. As a tour guide, I took guests on the Haunted Mansion; but wheelchairs and scooters could not access the main entrance. Accommodating these guests does momentarily impede show, but this is not only courteous, it is the only safe solution. Should Disney be condemned for cowing to political pressures?
Even more unfounded is the logical consequence of anti-change arguments: that the parks should never evolve. But Disney has always remade its attractions. In the 1960s, beloved Imagineer Marc Davis was tasked by Walt himself with overhauling an already-stale Jungle Cruise. Trader Sam was not even part of the original attraction.
Despite recent handwringing over Dr. Seuss, stewards of intellectual property have long made changes to maintain relevance. When Disney's 1940 Fantasia was released to video in 1991, editors quietly expunged horrifyingly racist images of two Black characters, including a "pickaninny centaurette." Disney scholar John Culhane sagely observed that these depictions were never the point, and that retaining them would have been the real distraction from the work. This is also just the way of art: when Shakespeare moved Romeo and Juliet from the Middle East to fair Verona, nobody accused him of being political.
In short, there is no parks "canon" under fire. What these naysayers imagine themselves to be preserving never existed at all. Splash Mountain only opened in 1989, when it was constructed from the flotsam of the mostly-forgotten America Sings. These parks are built on progress. Guests arriving at Disneyland and the Magic Kingdom pass beneath a plaque inviting them to "enter the world of yesterday, tomorrow and fantasy." The spirit has never been to stand still.
Of course, this brawl with Disney isn't actually about rides. It's about an ongoing mission to preserve a white-centered vision of society by illegitimately laying claim to America's most popular spaces of entertainment and idealism — even as not only the so-called liberal media, but also the most popular Disney fan sites, promote these changes.
I, like many others, wish the company were so aggressively political. Realistically, I think the best we can hope for is that Disney continues to cautiously adapt its ersatz reality to be palatable to as many market demographics as possible.
And yet I cannot help but hope for better. In 1955, on that first Disneyland opening day, Walt Disney declared: To all who come to this happy place: Welcome. Disneyland is your land. What if, finally, the company were to give those words the power they deserve?
CBS Miami 07 May, 2021 - 06:01pm
Attractions Magazine 07 May, 2021 - 06:01pm
wdwnt.com 07 May, 2021 - 10:42am
Walt Disney World theme park hours have been released from July 18 through July 24, having previously been released through July 17.
Magic Kingdom is currently scheduled to be open 9:00 AM to 9:00 PM from July 18 through July 24.
EPCOT is currently scheduled to be open 11:00 AM to 9:00 PM from July 18 through July 24.
Disney's Hollywood Studios is currently scheduled to be open 9:00 AM to 7:00 PM from July 18 through July 24.
Disney's Animal Kingdom is currently scheduled to be open 8:00 AM to 6:00 PM from July 18 through July 24.
Keep reading WDWNT for future operating hours.
Motley Fool 07 May, 2021 - 07:36am
Founded in 1993 by brothers Tom and David Gardner, The Motley Fool helps millions of people attain financial freedom through our website, podcasts, books, newspaper column, radio show, and premium investing services.
At the pandemic's onset, Disney (NYSE:DIS) moved quickly, plugging holes where cash was escaping. The contagion was new, and little was known about its severity or how long it would last. As a result, management felt the No. 1 priority was to preserve liquidity and ensure survival. 
Dividends are optional payments to shareholders. Therefore, shutting off the dividend comes with no immediate cost to Disney. By contrast, borrowing money to maintain the dividend would have meant interest expenses. Consequently, pausing the dividend was the most logical place for management to start conserving cash. 
Turning the page to the next chapter, nearly all Disney's theme parks and resorts are again open (though operating at reduced capacity), its films are returning to the big screen, its TV networks again have content, its streaming services are thriving, and its survival through the pandemic is almost certain. So investors are asking: Is it time for Disney to restart its dividend? 
Disney has over $17 billion in cash. Image source: Getty Images.
Disney's parks, experiences, and products segment, including its theme parks like Disneyland in California and Walt Disney World in Florida, were the most negatively impacted by the pandemic. Initially, the turnstiles had to be closed to all visitors. And even though most of the theme parks have reopened at limited capacity (Disneyland Paris is still closed), revenue in the segment decreased by 53% in the most recent quarter because of a $2.6 billion impact from COVID-19.
There is light at the end of the tunnel. Disneyland California was finally permitted to reopen with capacity restrictions on April 30. Pent-up demand to visit the park is high. And indications point to tickets selling out soon after they become available.  
Still, its theme parks are usually bursting under normal circumstances, and it's no surprise they will be sold out at a limited capacity. In addition, operating a business with a deadly virus lurking is expensive. This is what Disney had to say on the matter in its first-quarter earnings release back in February: 
We have incurred, and will continue to incur, additional costs to address government regulations and implement safety measures for our employees, talent, and guests. The timing, duration, and extent of these costs will depend on the timing and scope of our operations as they resume. We currently estimate these costs may total approximately $1 billion in fiscal 2021.
While the worst of the financial damage from the pandemic might be behind Disney, revenue remains constrained, and expenses remain elevated. 
Disney has over $31 billion in cash and accounts receivables, but it also has over $52 billion in long-term debt. In addition to raising cash by suspending its dividend, Disney borrowed over $6 billion by issuing bonds.
Moreover, cash provided by operations in its first quarter decreased by $1.6 billion and barely remained positive at $75 million. Disney is rebounding, and it can see hopeful signs, but it's still barely keeping its head above water. It would be prudent for management to wait at least another quarter of recovery before making the decision to restart the dividend.
Stock Advisor launched in February of 2002. Returns as of 05/07/2021.