Alex Berenson
AlexBerenson
Quien es more disgusting? @NewYorker interview casting a teenager as a hero for wanting the #Covid vaccine, or @nytimes article casting a teenager as a heroine for lying and getting the vaccine? Hint: both cast parents as idiots, and neither mentions myocarditis even once. pic.twitter.com/Fh2Tnk990P
Governor Phil Murphy
GovMurphy
The COVID-19 vaccines are at least 99.9% effective in preventing hospitalization and even more effective in preventing death. Nearly every number we count each day is one that didn't have to be if someone had gotten vaccinated. Get vaccinated: covid19.nj.gov/finder pic.twitter.com/NXV1GEwYNt
Governor Sisolak
GovSisolak
We know that in the last year and a half, the effects of the #COVID19 virus have not changed, but our tools to fight it have – we now have vaccines, which are highly effective at reducing the severity of cases, hospitalization and deaths. pic.twitter.com/vW0mUTWJLy

Eric Feigl-Ding
DrEricDing
A mixed schedule of vaccines where a shot of Pfizer #COVID19 vaccine is given four weeks after an AstraZeneca shot will produce better immune responses than giving another dose of AstraZeneca, an Oxford study said on Monday. 🧵 www.reuters.com/world/uk/immune-response-astrazeneca-shot-boosted-by-mixing-dose-schedule-with-pfizer-2021-06-28/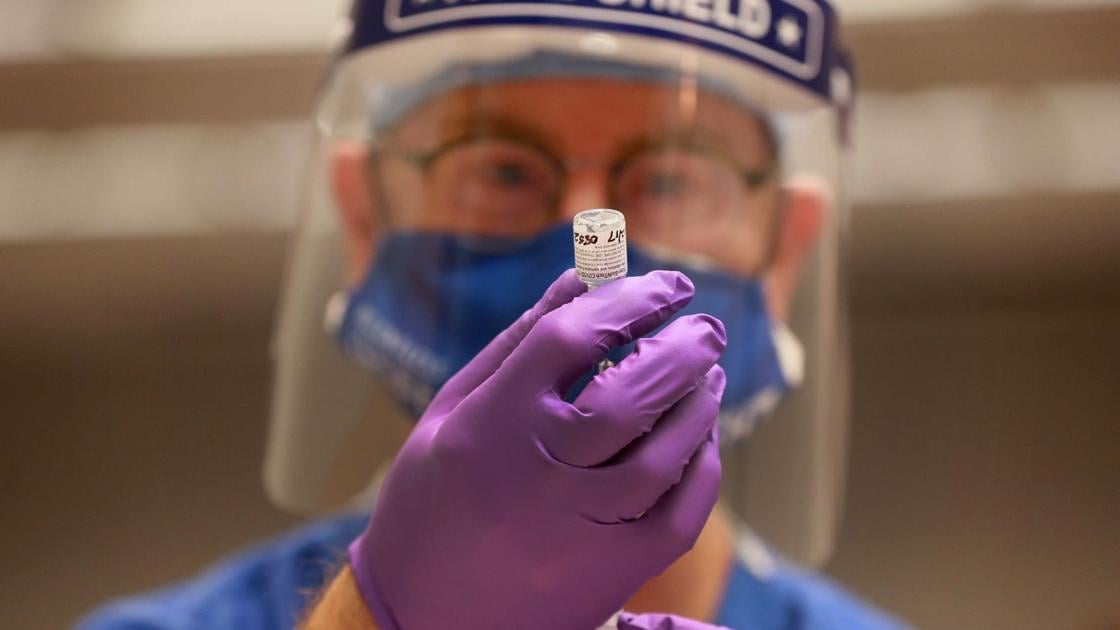 Dr. Ryan Fields, professor of surgical oncology at Washington University School of Medicine, prepares a vial of the Pfizer COVID-19 vaccine on Thursday, Dec. 17, 2020, at the school's campus near Barnes-Jewish Hospital in St. Louis. Photo by Christian Gooden, cgooden@post-dispatch.com
ST. LOUIS — Washington University researchers on Monday released a study further suggesting that the Pfizer and Moderna COVID-19 vaccines offer monthslong protection from the virus.
No one had yet studied whether the vaccines create persistent responses in key parts of the lymph nodes, the researchers said. Their data was published Monday in the journal Nature.
"This is evidence of a really robust immune response," co-senior author Dr. Rachel Presti, an associate professor of medicine, said in a statement.
The vaccines have already been studied in large clinical trials. The original Pfizer vaccine trial included nearly 38,000 participants, and tracked the number of vaccinated and unvaccinated individuals who became infected with COVID-19 over the course of months. But the study released Monday looked at the mechanism by which the body responds to the virus.
The researchers looked in structures within lymph nodes called germinal centers, which train immune cells to better recognize the virus and respond. The study included 14 people who received two doses of the Pfizer vaccine.
The Pfizer and Moderna vaccines both use mRNA technology, in order to teach the body's cells to make proteins, or pieces of proteins, that trigger an immune response to the virus.
Samples were taken from the participants just before they received the second dose of vaccine, and again one, two, and four weeks after that.
Of the 14 participants, 10 gave samples 12 weeks after the second dose. Eight of them still had detectable germinal centers producing immune cells against the virus.
The researchers also took blood samples from 41 healthy adults, eight of whom had previously had COVID-19. After vaccination, the individuals who had recovered from a previous infection had the strongest antibody responses.
"We didn't set out to compare the effectiveness of vaccination in people with and without a history of infection, but when we looked at the data we could see an effect," Dr. Jane O'Halloran, co-first author and assistant professor of medicine, said in a statement. "If you've already been infected and then you get vaccinated, you get a boost to your antibody levels. The vaccine clearly adds benefit, even in the context of prior infection, which is why we recommend that people who have had COVID-19 get the vaccine."
NOTE: On Saturday, April 17, 2021, the Missouri Department of Health and Senior Services (DHSS) noted on its dashboard that it discovered a database error that was causing individuals with both a positive PCR and antigen result to be counted as both a probable and confirmed case. This correction removed 11,454 cases that were counted twice in previous probable antigen cases, according the notation.
NOTE: Beginning Monday, March 8, 2021, the Missouri Department of Health and Senior Services (DHSS) began posting county-level data showing "probable" COVID-19 cases detected by antigen testing. Using the historical data from the DHSS dashboard, we reconfigured this graph to include that number in the total.
NOTE: Missouri updated its data dashboard on Sept. 28. 2020, to delete duplicate cases. This resulted in a decrease of total cases which caused the daily count to reflect a negative number.
NOTE: On Saturday, April 17, 2021, the Missouri Department of Health and Senior Services (DHSS) noted on its dashboard that it discovered a database error that was causing individuals with both a positive PCR and antigen result to be counted as both a probable and confirmed case. This correction removed 11,454 cases that were counted twice in previous probable antigen cases, according the notation.
NOTE: Beginning Monday, March 8, 2021, the Missouri Department of Health and Senior Services (DHSS) began posting county-level data showing "probable" COVID-19 cases detected by antigen testing. Using historical data from the DHSS dashboard, we reconfigured this graph to include that number.
NOTE: On Oct. 11, Missouri announced that a database error had resulted in an "incorrect inflation" of cases in its October 10 report.
Note from St. Louis Metropolitan Pandemic Task Force regarding the numbers for July 20: There was a delay in reporting some test results leading to the increase in reported hospital admissions.
Editor's note: This chart has been adjusted to reflect suspected and confirmed cases in hospitalized patients in early June. Previous updates only had confirmed case numbers.
Note from Missouri Department of Health and Senior Services: Note: Due to an abrupt change in data measures and the reporting platform issued by the White House on Monday, July 13, and effective Wednesday, July 15, Missouri Hospital Association (MHA) and the State of Missouri were unable to access hospitalization data during the transition. .
Sign up now to get the most recent coronavirus headlines and other important local and national news sent to your email inbox daily.
Email notifications are only sent once a day, and only if there are new matching items.
Dr. Ryan Fields, professor of surgical oncology at Washington University School of Medicine, prepares a vial of the Pfizer COVID-19 vaccine on Thursday, Dec. 17, 2020, at the school's campus near Barnes-Jewish Hospital in St. Louis. Photo by Christian Gooden, cgooden@post-dispatch.com
Get up-to-the-minute news sent straight to your device.
Read full article at STLtoday.com
Yahoo News 28 June, 2021 - 08:24pm
As The New York Times reports, scientists in a new study sought to determine whether "vaccination alone" will provide long-lasting protection against COVID-19 after research suggested the vaccines may offer years of protection for those who were previously infected with the coronavirus. The study consisted of 41 people who received two doses of the Pfizer vaccine, and the researchers extracted samples from lymph nodes of 14 participants. They found that 15 weeks after the first dose, "the number of memory cells that recognized the coronavirus had not declined," the Times writes.
"The fact that the reactions continued for almost four months after vaccination — that's a very, very good sign," Washington University in St. Louis immunologist Ali Ellebedy, who led the study, told the Times.
This suggested, the Times writes, that the Pfizer and Moderna vaccines could "protect against the coronavirus for years," or "at least, against the existing coronavirus variants." The report notes that even if that's the case, COVID-19 vaccine boosters might still be necessary for some, including older adults and those with weak immune systems. But University of Arizona immunologist Deepta Bhattacharya told the Times, "Anything that would actually require a booster would be variant-based, not based on waning of immunity. I just don't see that happening." Read more at The New York Times.
The variant is more transmissible and is not completely stopped by vaccines. Still, data confirmed that inoculation offers significant protection.
'Today's data are a vital step forward'.
Danielle Anderson, 42, worked at the Wuhan Institute of Virology's BSL-4 lab until November 2019. She told Bloomberg News she saw no sign of illness.
Some experts, fearing Delta, are having Pfizer booster shots after J&J's one-dose vaccine. "We shouldn't wait" for official recommendations, one said.
Republican Rep. Mo Brooks refused to answer questions from CNN's Jim Acosta and instead repeatedly bashed Acosta's network as untrustworthy.
The Turks and Caicos police said that while the "deaths are unexplained, there is no indication of foul play."
K-Fed has some thoughts about Brit's recent statement.
Gen. Mark Milley, chairman of the Joint Chiefs of Staff, repeatedly blew up at President Trump over how to handle last summer's racial-justice protests, The Wall Street Journal's Michael Bender writes in his forthcoming book, "Frankly, We Did Win This Election."The backdrop: Trump wanted to invoke the Insurrection Act and put Milley in charge of a scorched-earth military campaign to suppress protests that had spiraled into riots in several cities.Get market news worthy of your time with Axios Ma
"This post was meant to focus on the benefits of outdoor play for children, not to criticize parents," Brooke Raybould tells Yahoo Life.
ESPN analyst Jalen Rose walked back comments that Cleveland Cavaliers power forward Kevin Love had only made the United States's Olympic basketball team because it needed a token white player.
Monday's order denying review in the case means Gavin Grimm's victory in the lower courts remains intact.
The conversation on wearing bonnets in public is appropriate continues, this time with Mo'Nique calling out a woman's attire in general.
Mark Meadows reportedly said 'We can't organize that' after Trump told supporters he'd march, according to LandslideUS politics – live coverage Donald Trump in Washington DC on 6 January. Photograph: Shawn Thew/UPI/REX/Shutterstock Donald Trump told supporters he would march on the Capitol with them on 6 January – then abandoned them after a tense exchange with his chief of staff, according to the first excerpt from Landslide, Michael Wolff's third Trump White House exposé. The extract was publi
The first two generating units of the world's second-biggest hydroelectric dam were officially turned on Monday in southwestern China, the government announced. The Baihetan Dam on the Jinsha River, a tributary of the Yangtze, is part of Chinese efforts to curb surging fossil fuel demand by building more hydropower capacity at a time when dams have fallen out of favor in other countries due to environmental complaints. Plans call for the 289-meter-tall (954-foot-tall) Baihetan Dam to have 16 generating units with a capacity of 1 million kilowatts each.
The Oscar winner made a style statement in support of Pride.
One of the unusual quirks of the immigration crisis former Trump adviser Stephen Miller learned once inside the White House is that all migrants are not the same.
The investigation into what may be the deadliest accidental building collapse in American history has just begun, but experts who have examined video footage of the disaster outside Miami are focusing on a spot in the lowest part of the condominium complex — possibly in or below the underground parking garage — where an initial failure could have set off a structural avalanche. Called "progressive collapse," the gradual spread of failures could have occurred for a variety of reasons, including d
"We are doing this so that the tiny minority of people who do this don't spoil the show for everyone," Pierre-Yves Thouault told AFP.
Sky News 28 June, 2021 - 08:24pm
11Alive 28 June, 2021 - 08:24pm
FOX5 Las Vegas 28 June, 2021 - 08:24pm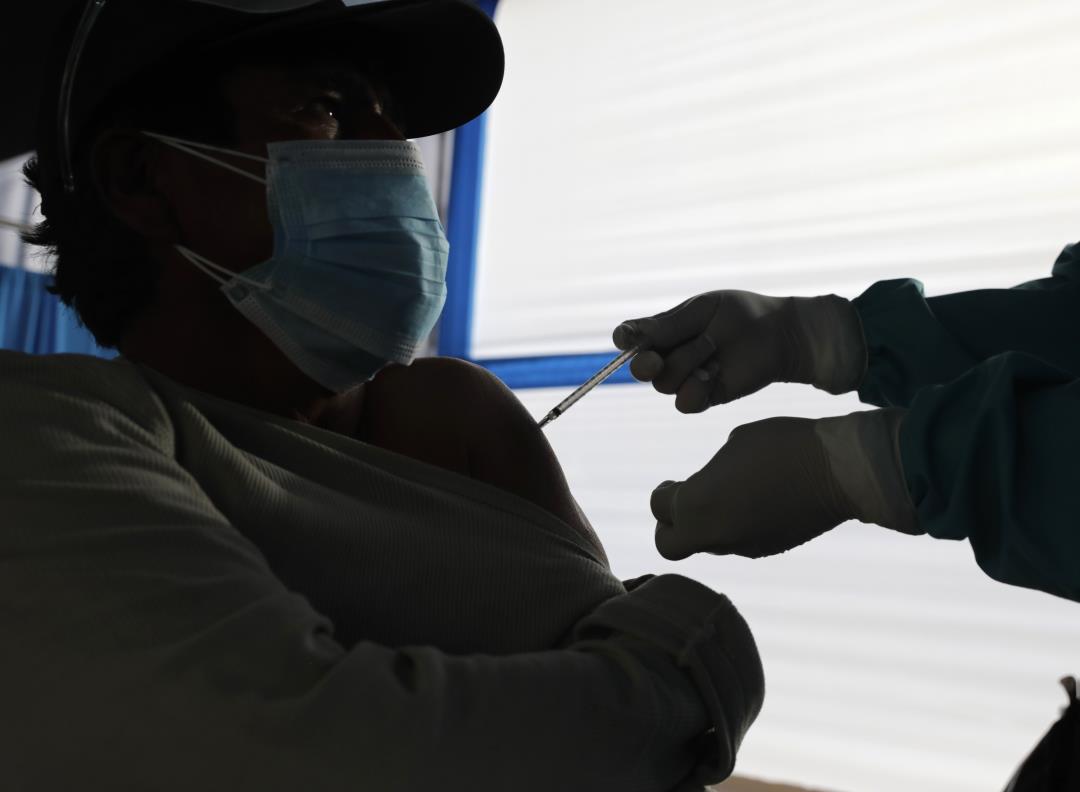 Newser 28 June, 2021 - 06:23pm
(Newser) – Anyone who received a double dose of either the Pfizer or Moderna vaccines may not need a booster shot anytime soon. A new study in Nature suggests that the mRNA vaccines provide years of protection—maybe even a lifetime of it, reports the New York Times. One big caveat: The virus is ever-evolving, and a significant new variation could make boosters necessary. The peer-reviewed study did not explicitly address the new Delta strain, which is thought to be particularly contagious, notes Forbes. Nor did the sample study include anyone who received the single-dose Johnson & Johnson vaccine, though lead researcher Dr. Ali Ellebedy of Washington University in St. Louis says the J&J immune response would likely be less robust over the long run. But on the mRNA vaccines, the news is better.
"It's a good sign for how durable our immunity is from this vaccine," says Ellebedy. The study buttresses earlier research suggesting that people who recovered from COVID retained protection for nearly a year, notes Fox News. The new study set out to see if the vaccines could provide similar protection, and certain cells found in recipients' lymph nodes suggest they do. As for the worrisome variants, a University of Washington immunologist in Seattle has a counter to that based on the research. "Everyone always focuses on the virus evolving—this is showing that the B cells are doing the same thing," Marion Pepper tells the Times. "And it's going to be protective against ongoing evolution of the virus, which is really encouraging." (Read more Pfizer stories.)
Daily Mail 28 June, 2021 - 04:00pm
By Mary Kekatos Acting U.S. Health Editor For Dailymail.Com
Doctors have documented what they believe to be the first known case of a U.S. patient developing blood clots after receiving the Moderna COVID-19 vaccine.
In a case report, researchers document a 65-year-old man who visited Allegheny Health Network in Pittsburgh, Pennsylvania, 10 days after his second and final dose.
He was diagnosed with blood clots in his legs, which they determined to a rare even caused by the immunization - and he ultimately passed away.
It was previously believed that the rare but life-threatening condition only occurred in people who received Johnson & Johnson or AstraZeneca vaccines, both of which combine genetic material from the coronavirus with the genes of the adenovirus - which causes the common cold - to induce an immune response.
The team says its findings show the side effect can also occur after someone gets a vaccine that uses messenger RNA (mRNA) but that, because blood clots after vaccinations are uncommon, it should not dissuade people from getting the COVID-19 jab. 
A 65-year-old man was admitted to Allegheny Health Network in Pittsburgh, Pennsylvania, 10 days after his second and final dose of the Moderna vaccine, and was diagnosed with thrombosis with thrombocytopenia syndrome (TTS). Pictured: Moderna vials sit on a table at a clinic in  Bridgeport, Connecticut, April 2021
Previously, it has only been believed that TTS was linked to shot that use a virus to administer the vaccine, including from J&J and from AstraZeneca, but it was determined the patient's blood clots were caused by the vaccine. Pictured: Juliet Schade of Santa Ana, receives a Moderna vaccine by nurse Yajie Yang at a new mass vaccination site in California, April 2021
According to the case report, published in Annals of Internal Medicine, the man visited the hospital 10 days after he received his second dose of the Moderna coronavirus vaccine.  
It is unknown when the 65-year-old received the vaccine. 
He had been experiencing headaches on and off, had one week of pain in both of his legs and had trouble breathing for the last two days.
The man had two chronic underlying conditions: high blood pressure and hyperlipidemia, which occurs when there are high levels of fat particles in the blood.
He was soon diagnosed with a condition known as thrombosis with thrombocytopenia syndrome (TTS).
Specifically, the man has deep vein thrombosis (DVT) occurs when a clot forms deep in the body such as in the thigh or lower leg.
It is rare to occur in combination with low levels of blood platelets, also known as thrombocytopenia.
Doctors tried to identify any other causes behind TTS including COVID-19 infection, other viruses, or thrombotic thrombocytopenic purpura, which is a reare disorder that caused blood clots to from throughout the body.
When all other options were ruled out, it lead the investigators to conclude that the blood clots were induced by the vaccine.
Three days into his hospital stay, the man developed cerebral venous sinus thrombosis (CVST), a rare type of blood clot that blocks the brain's sinus channels of draining blood, which can cause hemorrhages.
 n the U.S. the Johnson & Johnson vaccine was paused for 10 days after six women under the age of 50 developed CVST,.
This figure was later updated to include 28 people, including one 45-year-old woman who died.
In April, the European Medicines Agency reported a link between the AstraZeneca coronavirus vaccine and blood clots in combination with low platelets.
In May, two separate research teams in Germany and Norway claimed the shot may, in very rare cases, cause the body to attack its own blood platelets, which triggers the deadly clots.     
Doctors said that the man died 12 days later despite 'rapid and exhaustive' treatment including an inferior vena cava filter that traps large clot fragments and medication such as as bivalirudin.
According to a press release, this is the only report to date of TTS in a U.S. patient who received either the Pfizer-BioNTech or Moderna vaccine, out of more than 306 million doses.
'The authors note that COVID-19 vaccines that use mRNA technology are proven safe and effective and have been used with no such events in millions of people,' the release states. 
'They conclude that such a rare event, even if confirmed by additional reports, should not prevent persons from receiving the benefits of these vaccines.'
The comments below have not been moderated.
The views expressed in the contents above are those of our users and do not necessarily reflect the views of MailOnline.
By posting your comment you agree to our house rules.
Do you want to automatically post your MailOnline comments to your Facebook Timeline?
Your comment will be posted to MailOnline as usual.
Do you want to automatically post your MailOnline comments to your Facebook Timeline?
Your comment will be posted to MailOnline as usual
We will automatically post your comment and a link to the news story to your Facebook timeline at the same time it is posted on MailOnline. To do this we will link your MailOnline account with your Facebook account. We'll ask you to confirm this for your first post to Facebook.
You can choose on each post whether you would like it to be posted to Facebook. Your details from Facebook will be used to provide you with tailored content, marketing and ads in line with our Privacy Policy.
Part of the Daily Mail, The Mail on Sunday & Metro Media Group
The New York Times 28 June, 2021 - 04:04am
The Centers for Disease Control and Prevention, on the other hand, told fully vaccinated Americans in May that they no longer needed to wear masks indoors or to maintain a distance of six feet from other people. The agency also eased advice about testing and quarantine after suspected exposure to the virus.
Asked on Monday about the new cautions expressed by the W.H.O. — the world's largest public health organization — a C.D.C. spokesman pointed to the existing guidance and gave no indication it would change.
A highly infectious form of the virus, called the Delta variant, was first detected in India and has been identified in at least 85 countries. In the United States, where its prevalence has doubled in the last two weeks, the variant is responsible for one in every five Covid-19 cases. Dr. Anthony Fauci, the nation's top infectious disease doctor, has called it "the greatest threat" to eliminating the virus in the United States.
The rise of new variants "makes it even more urgent that we use all the tools at our disposal to prevent transmission," including consistent use of both vaccination and public health and social measures, Dr. Tedros Adhanom Ghebreyesus, the director-general of the W.H.O., said at a news briefing on Friday.
Dr. Mariângela Simão, the W.H.O.'s assistant director-general for access to medicines, vaccines and pharmaceuticals, emphasized at the briefing that even vaccinated people should continue to consistently wear masks, avoid crowds and maintain social distance from others, make sure they are in well-ventilated spaces, wash hands frequently, and avoid sneezing or coughing around other people.
"What we're saying is, 'Once you've been fully vaccinated, continue to play it safe, because you could end up as part of a transmission chain.' You may not actually be fully protected," said Dr. Bruce Aylward, a senior adviser to the W.H.O.
He added, "I think the first message we want to be careful about is saying, 'Once you're vaccinated, you can just go ahead and do whatever.'"
The comments were made in the context of broader statements criticizing the inequitable distribution of vaccines around the globe and the lack of access to vaccination in many parts of the world where the virus is spreading.
Covax, the W.H.O. program that poor countries rely on for vaccines, has "zero doses" of AstraZeneca or Johnson & Johnson vaccines, or those made by the Serum Institute of India, available for distribution, Dr. Aylward said. While less than 2 percent of the population of Africa is vaccinated, some countries are purchasing vaccines for young people who are at relatively low risk from the virus, he noted.
Even in countries where there are ample supplies of vaccine, full vaccination rates are lower than they could be, Dr. Alyward said.
Though fully vaccinated people are largely protected from symptomatic and asymptomatic coronavirus infections, studies suggest the Pfizer-BioNTech vaccine's efficacy against the Delta variant is slightly lower than against other variants; the efficacy is significantly lower for individuals who have received only one dose of the vaccine.
And countries with relatively high vaccination rates have seen an uptick in infections driven by the Delta variant: Britain, where some two-thirds of the population has received at least one dose of the Pfizer-BioNTech or AstraZeneca vaccine and just under half have received two doses, is nonetheless grappling with a sharp rise in infections from the variant.
In Israel, which has one of the highest vaccination rates in the world, a rise in cases attributed to the Delta variant has led the government to reimpose mask mandates indoors and at large outdoor gatherings.
Given how pernicious and fast moving the variant is, "the vaccine approach is not enough," said Eric Feigl-Ding, senior fellow at the Federation of American Scientists in Washington. "We're not at the level of vaccinations where we can release the brakes on everything else and herd immunity will grind transmissions to a halt."
Other scientists disagreed, saying guidance has to be more nuanced and tailored to local communities, varying according to vaccination rates and infection rates.
"The W.H.O. is looking at a world that is largely unvaccinated, so this makes sense," said Dr. Ashish Jha, the dean of the Brown University School of Public Health.
In parts of the United States with low vaccination rates, too, masks may be appropriate, and recommendations should be tailored appropriately, he added: "If I were living in Missouri or Wyoming or Mississippi, places with low vaccination rates, I would not be excited about going indoors without wearing a mask — even though I'm vaccinated."
Administering the vaccines in either order is likely to provide potent protection, Dr. Matthew Snape, a vaccine expert at the University of Oxford, said at a news conference on Monday. "Any of these schedules, I think could be argued, would be expected to be effective," he said.
Dr. Snape and his colleagues began the trial, called Com-COV, in February. In the first wave of the study, they gave 830 volunteers one of four combinations of vaccines. Some got two doses of either Pfizer or AstraZeneca, both of which have been shown to be effective against Covid-19. Others got a dose of AstraZeneca, followed by one of Pfizer, or vice versa.
For the first wave of volunteers, the researchers waited four weeks between doses. Studies have found that the AstraZeneca vaccine provides stronger protection if the second dose is delayed for up to 12 weeks, so the researchers are also running a separate 12-week trial which should deliver results next month.
The researchers found that volunteers reported more chills, headaches and muscle pain than people who get two doses of the same vaccine. But the side effects were short-lived.
Dr. Snape and his colleagues then drew blood to measure the immune response in the volunteers. They found that those who got two doses of Pfizer-BioNTech produced levels of antibodies about 10 times as high as those who got two doses of AstraZeneca. Volunteers who got Pfizer followed by AstraZeneca showed antibody levels about five times as high as those with two doses of AstraZeneca. And volunteers who got AstraZeneca followed by Pfizer reached antibody levels about as high as those who got two doses of Pfizer.
Dr. Snape said that the differences would most likely narrow in the volunteers who get a second dose after 12 weeks, when the AstraZeneca vaccine has had more time to strengthen its effects.
The study also found that using different vaccines produced a higher level of immune cells primed to attack the coronavirus than did giving two doses of the same vaccine. Dr. Snape said it wasn't clear yet why mixing had that advantage. "It's very intriguing, let's say that much," he said.
Dr. Snape and his colleagues have begun a similar trial, adding vaccines from Moderna and Novavax to the list of possibilities.
For now, he said, the best course of action remains getting two doses of the same vaccine. Large clinical trials have clearly demonstrated that this strategy reduces the chances of getting Covid-19. "Your default should be what is proven to work," Dr. Snape said.
But there are many cases in which that may not be possible. Vaccine shipments are sometimes delayed because of manufacturing problems, for example. Younger people in some countries have been advised not to get a second dose of AstraZeneca because of concerns about the small risk of developing blood clots. In such situations, it's important to know whether people can switch to another vaccine.
"This provides reassuring evidence that should work," Dr. Snape said.
The findings add to growing evidence that most people immunized with the mRNA vaccines may not need boosters, so long as the virus and its variants do not evolve much beyond their current forms — which is not guaranteed. People who recovered from Covid-19 before being vaccinated may not need boosters even if the virus does make a significant transformation.
"It's a good sign for how durable our immunity is from this vaccine," said Ali Ellebedy, an immunologist at Washington University in St. Louis who led the study, which was published in the journal Nature.
The study did not consider the vaccine made by Johnson & Johnson, but Dr. Ellebedy said he expected the immune response to be less durable than that produced by mRNA vaccines.
Dr. Ellebedy and his colleagues reported last month that in people who had survived Covid-19, immune cells that recognize the virus remained in the bone marrow for at least eight months after infection. A study by another team indicated that so-called memory B cells continue to mature and strengthen for at least a year after infection.
Based on those findings, researchers suggested that immunity might last years, possibly a lifetime, in people who were infected and later vaccinated. But it was unclear whether vaccination alone might have a similarly long-lasting effect.
After an infection or a vaccination, a specialized structure called the germinal center forms in lymph nodes. This structure is an elite school of sorts for B cells.
The broader the range and the longer these cells have to practice, the more likely they are to be able to thwart variants of the virus that may emerge.
After infection with the coronavirus, the germinal center forms in the lungs. But after vaccination, the cells' education takes place in lymph nodes in the armpits, within reach of researchers.
Dr. Ellebedy's team found that 15 weeks after the first dose of vaccine, the germinal center was still highly active in all 14 of the participants, and that the number of memory cells that recognized the coronavirus had not declined.
"The fact that the reactions continued for almost four months after vaccination — that's a very, very good sign," Dr. Ellebedy said. Germinal centers typically peak one to two weeks after immunization, and then wane.
"Usually by four to six weeks, there's not much left," said Deepta Bhattacharya, an immunologist at the University of Arizona. But germinal centers stimulated by the mRNA vaccines are "still going, months into it, and not a lot of decline in most people."
Dr. Bhattacharya noted that most of what scientists know about the persistence of germinal centers is based on animal research. The new study is the first to show what happens in people after vaccination.
The results suggest that a vast majority of vaccinated people will be protected over the long term — at least, against the existing variants. But older adults, people with weak immune systems and those who take drugs that suppress immunity may need boosters; people who survived Covid-19 and were later immunized may never need them at all.
Exactly how long the protection from mRNA vaccines will last is hard to predict. In the absence of variants that sidestep immunity, in theory immunity could last a lifetime, experts said. But the virus is clearly evolving.
The finding indicates that the AstraZeneca vaccine could be an option should third shots end up being needed, for example, to extend immunity. To date, the vaccine has been given as two doses, typically between four and 12 weeks apart.
The new data, detailed in a preprint manuscript that has not yet been peer reviewed, came from 90 study volunteers in Britain who were among the earliest to receive the shots in a clinical trial last year. This past March, they were given a third dose, roughly 30 weeks after their second.
Laboratory analyses showed that the third dose increased levels of antibodies to the virus in the volunteers to a point higher than seen a month after their second dose — an encouraging sign that the third shot would be likely to bring greater protection if the effectiveness of two doses waned over time.
"We do have to be in a position where we could boost if it turned out that was necessary," Prof. Andrew Pollard, an Oxford researcher who has led studies of the vaccine, said in a news conference on Monday. "I think we have encouraging data in this preprint to show that boosters could be used and would be effective at boosting the immune response."
Scientists and policymakers do not yet know whether booster shots may be needed.
Scientists reported Monday that the vaccines made by Pfizer-BioNTech and Moderna set off a persistent immune reaction in the body that may protect against the coronavirus for years, but it isn't clear if the same is happening with other vaccines, including AstraZeneca.
Emerging coronavirus variants could also accelerate the need for booster shots. If third shots are deemed necessary in the coming months, their availability could be severely limited, especially in poorer countries that are lacking enough supply to give first doses to their most vulnerable citizens.
Earlier this month, the National Institutes of Health announced that it has begun a new clinical trial of people fully vaccinated with any of the three authorized vaccines in the United States. The goal is to test whether a booster shot of the vaccine made by Moderna will increase their antibodies against the virus. Initial results are expected later this summer.
The AstraZeneca vaccine has won authorization in 80 countries since last December but is not approved for use in the United States, which already has more than enough doses of its three authorized vaccines to meet demand. The shot has been the backbone of the struggling Covax program to provide vaccines to poor countries, accounting for more than 88 percent of the doses shipped out to middle- and low-income nations through last week.
AstraZeneca announced on Sunday that the first volunteers had been vaccinated in a separate study assessing a new version of the vaccine designed to protect against the Beta variant of the virus first seen in South Africa. Some study results suggested that the original version of the AstraZeneca vaccine may not be effective against that variant. Professor Pollard said the study would compare the effects of a third dose of the original vaccine against those of boosting volunteers with the new Beta-targeted vaccine.
People who have stayed in Britain for longer than two hours will also be barred from boarding passenger flights bound for Hong Kong, the authorities said.
"A number of cases imported from the U.K. involving variant virus strains have persistently been found in the past few days," officials said, according to Hong Kong's government news agency.
The restrictions are the second time Hong Kong has suspended flights from Britain. After an outbreak of a dangerous variant in December, authorities barred passengers from entering, leaving many Hong Kong residents angered and confused as they desperately tried to return home.
Those restrictions were lifted in May.
Now, Britain is struggling with rising infections, recording a 109 percent spike in cases over the past 14 days, though cases remain a fraction of their winter peak, according to a New York Times database. Experts say the rise is likely linked to the highly contagious Delta variant, which is spreading rapidly in other countries as well.
The World Health Organization has said the variant is likely to become the most globally dominant strain of the disease.
On Monday, the prime minister of Spain, Pedro Sánchez, also announced new restrictions on visitors from Britain. They will be required to present a negative coronavirus test or proof of full vaccination to enter the country.
In Hong Kong, restrictions on passengers arriving from Brazil, India, Indonesia, Nepal, Pakistan, the Philippines and South Africa will also remain in place.
In Oregon, where temperatures are forecast to reach 113 degrees on Monday, roads have buckled from the extreme heat, and relatively few homes have air-conditioners, state health officials suspended capacity limits at swimming pools, movie theaters and shopping malls on Friday, and said that no one would be turned away from cooling centers because of crowding.
The decision follows a sustained decline in new reported coronavirus cases and deaths in the state, and Gov. Kate Brown's announcement that Oregon would fully open no later than June 30. Nearly 70 percent of adult residents in the state have received at least one vaccine dose, Governor Brown's benchmark for lifting the state's remaining restrictions.
Gov. Jay Inslee of Washington has suspended capacity restrictions at publicly owned or operated cooling centers and those run by nonprofit organizations in his state, though not for "private, for-profit businesses that offer air-conditioned spaces to the general public," according to a memo released on Friday.
More than 70 percent of adults in Washington have received at least one vaccine dose, according to a vaccine tracker maintained by The New York Times. Governor Inslee has said that all restrictions in his state will be lifted no later than June 30 as well.
Local officials in the Northwest have tried to balance pandemic safety with the need to provide places for the public to cool off indoors. In Multnomah County, Ore., which includes Portland, people have been asked to wear face masks and maintain social distance at official cooling centers, including several public libraries with extended hours, movie theaters and the Oregon Convention Center, according to Dr. Jennifer Vines, the county health officer.
People who come in are not being asked about vaccination status, she said, but officials are offering vaccine shots at the convention center for anyone who needs them.
Dr. Vines said that though the coronavirus precautions were important, they were secondary to ensuring that residents can get relief from the record-breaking temperatures.
"Cooling people down is the more immediate life safety issue," she said.
This is not the first time officials in Oregon have had to weigh competing health crises during the pandemic. Last September, Portland had the worst air quality of any major city in the world because of wildfire smoke, prompting a rapid shift in public health protocols to address that more immediate threat.
"We had been in full-on Covid response, and we suddenly had to do a complete 180 and say, 'If you have to evacuate, find friends and family — just get inside and close your windows,'" Dr. Vines said on Monday.
"It's a form of triage," she added. "Working in our favor right now is that we do have a number of people vaccinated. So that makes me feel a little bit better about putting Covid in the back seat, at least for these few days."
The looming restrictions, imposed in a series of steps, have sent tens of thousands of migrant laborers in Dhaka, the capital and largest city, scrambling to get to their villages in scenes reminiscent of neighboring India's migrant exodus last year.
The garment industry, which employs 4.5 million people and makes up 80 percent of the country's exports, will remain open. But other businesses were instructed to limit their operations to minimum levels of required staffing, and almost all public transportation systems are either closing or already closed.
Residents of Dhaka expect to be largely confined to their homes after Thursday, the first day of what the government has called a "hard lockdown," though how strictly the measures will be implemented remains to be seen. The government has said the army, police, and border guard will be deployed for strict enforcement.
Bangladesh had slowed the spread of the virus with sporadic restrictions and reduced movement while trying to keep much of the economy open. But a fast-spreading wave now, with barely 3 percent of the population vaccinated, has forced officials to take more drastic measures.
The country reported 119 deaths on Monday, the highest daily toll since the pandemic began, while the test positivity rate was over 20 percent. Bangladesh has officially reported a total of nearly 900,000 infections and 14,172 deaths from the virus, though experts believe the true numbers are much higher.
The current lockdown has been gradual. The government stopped trains and long distance buses last week. It also imposed lockdowns in seven districts surrounding Dhaka, aiming to avert a surge there. Shopping malls are closed, and restaurants are limited to takeout orders only.
The full lockdown, initially expected to last one week, begins on Thursday. All transportation systems except for auto-rickshaws will be shut.
The government has instructed garment factory owners to arrange transportation for their workers during previous rounds of restrictions. When the public transportation was shut in April to slow the spread of the virus, factory owners who did not arrange transportation were accused of violating the order, and workers had to walk for miles twice a day to get to work.
As the latest lockdown approached, ferry stations in Dhaka have been swamped by people trying to cross the river to the southern districts.
In the outbreak centered in Sydney, which has sent the city into at least a two-week lockdown, cases grew by 18 on Monday and now stand at 130. Other states across Australia also reported new cases and toughened restrictions, and an expansion of Australia's lagging vaccination program was announced after an emergency cabinet meeting.
Tens of thousands of people in New South Wales rushed to get tested for the coronavirus, with more than 300 locations around Sydney having been identified as visited by people who were infectious.
That raised concerns that the outbreak is far from over. Still, no deaths from the new outbreak have been recorded, and no one in Australia has died from the virus at all this year. Two people are in intensive care, and officials encouraged everyone who is eligible for a vaccine to line up for one — and otherwise, stay home.
Not everyone heeded that warning, and one case in particular made much of Australia smile and invited a joke from the prime minister.
Two nude sunbathers were caught violating lockdown rules when a deer chased them from their beach. The two men were found by emergency responders, separately, at about 6 p.m. on Sunday, after one of them called for help, according to a police statement. Each were fined 1,000 Australian dollars ($758).
As news of the case traveled across the country, Mark McGowan, the premier of Western Australia, joked: "I hope the deer is OK."
(An earlier version of this item misidentified Mr. McGowan as Australia's prime minister.)
Mechanics sprinted to the maintenance room to see what was wrong. Nurses grabbed small plastic pumps to fill the lungs of critically ill patients by hand.
It wasn't enough. Jaipur Golden, a respected hospital in Delhi, had run out of medical oxygen. Over the next seven hours, 21 coronavirus patients died.
"Nobody can forget that night," said Shaista Nigar, the hospital's nursing superintendent. "It was a total breakdown."
Across India, amid a devastating second wave of Covid-19, hospitals ran out of beds and critical supplies, contributing to deaths and worsening an already tragic outbreak. By one count, oxygen shortages alone have killed at least 600 people over the past two months.
India's leaders knew the country was vulnerable. Yet Prime Minister Narendra Modi's government and local officials alike failed to prepare for the second wave, according to interviews and a review of government documents by The New York Times.
India is a major producer of compressed oxygen. But the Indian government moved too late to distribute supplies.
State governments feuded over oxygen and seized tankers, creating bottlenecks and delays.
Delhi city officials didn't build systems to produce or store oxygen and struggled to allocate dwindling supplies. When tight supplies and government missteps led oxygen to run out at Jaipur Golden, some families said the hospital offered no warning.
Without a comprehensive coronavirus plan, Mr. Modi's government has left much of the burden to states, cities, hospitals and even individuals. The oxygen crisis tragically revealed the limits of a do-it-yourself approach.
That approach will be tested again. Though infections have dropped, a vaccine shortage puts India at risk of a third wave. Without adequate preparations, the second wave's tragedies could return.
"With an effective surge plan," said Robert Matiru, a director at Unitaid, a health initiative affiliated with the World Health Organization, "this could have been averted."
Of course, "Springsteen on Broadway" is no traditional Broadway production. The show consists of a man alone onstage; his ensemble a microphone, a harmonica, a piano and six steel strings stretched across a select slab of spruce wood.
"I am here tonight to provide proof of life," Springsteen called out early on. It was a line from the monologue of his original show — which ran for 236 performances, in 2017 and 2018 — and now it carried extra weight. That proof, he continued, was "to that ever elusive, never completely believable, particularly these days, us."
For the "us" that packed inside the St. James Theater — 1,721 filled seats, very few masked people, all vaccinated — that first chord from "Growin' Up" was indeed proof that the rhythms that moved New York City were emerging from behind a heavy, dark and weighty curtain.
The 15 months that Broadway had been closed were its longest silence in history. In years past, strikes, hurricanes, blizzards and blackouts had managed to tamp down the lights on Broadway only for a few days, weeks or a month.
But the pandemic forced the Theater District into an extensive darkness on March 12 of last year, as New York was quickly becoming the epicenter of the epidemic in the United States.
Though "Springsteen on Broadway" largely hewed to the original incarnation, Mr. Springsteen also tried to make sense of the moment.
"It's been a long time coming," he said after finishing the first song, stepping away from the microphone and speaking directly to the crowd. "In 71 years on the planet, I haven't seen anything like this past year."
In the final days of the Trump administration, the Justice Department issued a memo saying inmates whose sentences lasted beyond the "pandemic emergency period" would have to go back to prison.
But some lawmakers and activists are urging President Biden to revoke the rule and use his executive power to keep the prisoners on home confinement or commute their sentences entirely, arguing that the pandemic offers a glimpse into a different type of punitive system in America, one that would rely far less on incarceration.
Mr. Biden has vowed to make overhauling the criminal justice system a crucial part of his presidency, saying his administration could cut the prison population by more than half and expand programs that offered alternatives to detention.
While the White House has yet to announce a decision about those on home confinement, the administration appears to be following the direction of the Trump-era memo.
Andrew Bates, a spokesman for Mr. Biden, said in a statement that the president was "committed to reducing incarceration and helping people re-enter society," but he referred questions about the future of those in home confinement to the Justice Department.
The White House revisits the emergency declaration every three months, leaving the former prisoners in a constant state of limbo. The next deadline is in July.
Then two small companies came out of nowhere and found a way to help those businesses.
They also helped themselves. For their work, the companies stand to collect more than $3 billion in fees, according to a New York Times analysis — far more than any of the 5,200 participating lenders.
One of the companies, Blueacorn, didn't exist before the pandemic. The other, Womply, founded a decade ago, sold marketing software. But this year, they became the breakout stars of the Paycheck Protection Program.
Blueacorn and Womply aren't banks, so they couldn't actually lend any money. Rather, they acted as middlemen, charging into a gap between what big banks wouldn't do and what small banks couldn't do.
From late February to May 31, when the program ended, the companies processed 2.3 million loans. Most were for less than $17,000, and the vast majority went to solo ventures, which are more likely to be run by women and people of color.
All that hustle had downsides, however, including widespread customer service failures. And some lenders now have regrets about signing rushed deals that delivered most of the profit to their partners.
Federal officials expressed alarm in recent days about low vaccination rates among Americans in their late teens and 20s, and have blamed them for the country's all-but-certain failure to reach President Biden's goal of giving 70 percent of adults at least an initial dose by July 4.
The straightforward sales pitch for older people — a vaccine could very possibly save your life — does not always work on healthy 20-somethings who know they are less likely to face the severest outcomes of Covid.
As public officials race to find ways to entice young adults to get vaccinated, interviews across the country suggest that no single fix is likely to sway these holdouts. Some are staunchly opposed. Others are merely uninterested. And still others are skeptical.
But pretty much everyone who was eager for a vaccine already has one, and public health officials now face an overlapping mix of inertia, fear, busy schedules and misinformation as they try to cajole Gen Z into getting a shot.
Public health experts say vaccinating young adults is essential to keeping infection numbers low and preventing new case outbreaks, especially as the more infectious Delta variant spreads.
Since vaccines became available six months ago, health departments have focused with varying degrees of success on urging groups identified as reluctant — including people living in rural communities, African American residents, conservatives — to get vaccinated.
But in recent days, public health officials have identified young adults as a significant challenge for a country where fewer than a million people a day are receiving a vaccine, down from an April peak of more than 3.3 million.
In a federal report released last week, just over one-third of adults ages 18 to 39 reported being vaccinated, with especially low rates among Black people; among people 24 or younger; and among those who had lower incomes, less education and no health insurance.
USA TODAY 28 June, 2021 - 03:00am
As the Fourth of July nears, health officials are concerned about an increased spread of the delta variant. Latest COVID-19 news.
A link has been sent to your friend's email address.
A link has been posted to your Facebook feed.
The U.S. will fall short of Biden's goal to have 70% of Americans at least partially vaccinated by the Fourth of July. Here's what that means for us. USA TODAY
As the Fourth of July approaches this Sunday, health officials are concerned about an increased spread of the delta variant of COVID-19 in pockets of the nation where vaccination rates remain low.   
President Joe Biden had hoped to get 70% of adult Americans at least partially vaccinated by the holiday, but the White House last week said that the goal will fall short. 
Now with Transportation Security Administration screening numbers trending upward, including the highest recorded number since March 7, 2020 reported Friday, holiday revelry is expected to be at full-force. 
Dr. Jayne Morgan, executive director of Piedmont Healthcare's Coronavirus Task Force in Atlanta, told CNN that since children under 12 are still not eligible for the vaccine, it makes it even more important for those who are eligible to get vaccinated and reduce the transmission of the delta variant. 
"Those mutations have the ability to continue to learn, to become smarter, and eventually evade the immunization status of the rest of us," Morgan said.
► U.S. Education Secretary Miguel Cardona said Monday that Puerto Rico will receive nearly $4 billion in federal education pandemic relief funds to help boost the U.S. territory's fight against COVID-19.
►Restaurants and cafes in Moscow on Monday began requesting that patrons provide proof of vaccination or a negative coronavirus test as the Russian capital faces a surge of new infections.
►The delta variant now makes up 14.5% of cases in California, according to the state's most recent Department of Health statistics. As of June 19, it accounts for more than 20% of cases in the U.S. 
► The U.S. began shipping its first doses of Pfizer's COVID-19 vaccine abroad Monday, CNN reported, sending 2 million doses to Peru. The shipment comes weeks after the White House announced purchasing half a billion doses to donate to 92 low-income countries. 
►Malaysia's leader says the country will indefinitely extend a near-total lockdown that's been in place for a month as coronavirus infections remain high.
►U.K. Health Secretary Matt Hancock, who has led the country's response to the coronavirus, resigned Saturday, a day after apologizing for breaching social distancing rules with an aide with whom he was allegedly having an affair.
►Even though 40% of Americans said they preferred to work from home full time last month, major companies across the country are encouraging or demanding that their staff return to the office by Labor Day.
📈 Today's numbers: The U.S. has more than 33.6 million confirmed COVID-19 cases and at least 603,000 deaths, according to Johns Hopkins University data. The global totals: More than 181 million cases and more than 3.92 million deaths. More than 153 million Americans have been fully vaccinated – nearly 46% of the population, according to the CDC. 
📘 What we're reading: Although COVID-19 vaccines work incredibly well for the vast majority of people, roughly 10 million Americans whose immune systems are compromised because of medication or disease may not be well protected. Read the full story.
Mixing one dose of the Pfizer-BioNTech vaccine and one dose of the AstraZeneca-Oxford shot provides protection against the coronavirus, a British vaccine study found.
Researchers measured the immune response in more than 800 volunteers who were given two doses of the vaccine four weeks apart. They found the highest antibody response was seen after two doses of Pfizer and that the level of antibodies differed depending on the order the doses were received, according to a paper published in the Lancet pre-print server.
Those who received the AstraZenca vaccine followed by the Pfizer shot had a better immune response than those who received the Pfizer dose first. Both mixed schedules induced more antibodies than two AstraZenca shots alone and "are also likely to be highly effective, and could be considered, in some circumstances, for national vaccine programmes," researchers wrote.
Researchers are expected to release results of a similar study with a 12-week gap between doses soon. Lead researcher Matthew Snape, from the University of Oxford, told the BBC that the longer interval between doses leads to a better immune response.
Given the United Kingdom's stable supply of COVID-19 vaccines, there is no reason to change the current vaccine schedule, Deputy Chief Medical Officer Professor Jonathan Van-Tam said in a statement. 
"But we now know mixing doses could provide us with even greater flexibility for a booster programme, while also supporting countries who have further to go with their vaccine rollouts and who may be experiencing supply difficulties,"  he said.
The virus that causes COVID-19 did not originate at the Wuhan seafood market, confirms a new study of deleted gene sequences from the virus's earliest days. 
The sequences had been posted to a website run by the National Institutes of Health but were removed for unknown reasons.
Jesse Bloom, who studies viral evolution at the Fred Hutchinson Cancer Research Center in Seattle, does not suggest an answer to the question of whether the SARS-CoV-2 virus jumped directly from animals to people or was accidentally leaked from a research lab in Wuhan, China, in his new report, which has not yet been peer-reviewed.
But by studying how the viral genes mutate over time, researchers such as Bloom can reconstruct their history, figuring out which cases came first and how the virus changed as it moved through the population.
"These sequences are informative for understanding early SARS-CoV-2 spread in Wuhan," Bloom said. "They're not transformative, but they fill in some really important gaps."
Bloom knows that the deletion of the sequences will raise suspicions in the public, but he says there are many reasons a researcher might ask for material to be taken offline, including the fact that the week the study was posted, the Chinese government instituted a requirement that it review all scientific information related to SARS-CoV-2 before publication. Read more.
A mutation from the delta variant, called delta plus, is rising across a dozen countries. 
Officials in India asked Maharashtra, Kerala and Madhya Pradesh, three states in the country with the most cases, to increase screenings for the strain. Indian labs identifying and tracking the spread of COVID variant identified three main concerning characteristics of delta plus: Increased transmissibility, an increased attack on lung cells, and possible reduction in monoclonal antibody response or possible resistance to vaccines and immunity.
Experts say that there is still more research needed to fully confirm if it's more daunting than the original delta strain.
"I would keep calm," Dr. Jeremy Kamil, a virologist at the Louisiana State University Health Sciences Center, told BBC News. "I don't think India or anyone else in the world has released or accumulated enough data to distinguish the risk from the so-called delta plus as being more dangerous or concerning than the original delta variant."
A link has been posted to your Facebook feed.
© 2021 USA TODAY, a division of Gannett Satellite Information Network, LLC.