How much is Space Jam 2 on HBO Max?
Where can i stream Space Jam 2. HBOMAX:In the US, and in certain overseas US territories, Space Jam 2 will be available to stream exclusively on HBO Max. A subscription to HBO's streaming platform costs $15/month without ads or $10 a month with ads, and there is no additional fee to watch the latest movies. ipsnews.netWatch "Space Jam: A New Legacy" Online Streaming Free on HBO Max – Business
Following another pandemic-best debut from Black Widow last week, the midsummer release slate continues to pick up steam as theatrical recovery builds momentum in North America.
Exhibitors are hopeful that the counter-programming duo of Space Jam: A New Legacy and Escape Room: Tournament of Champions will do just that, but only the former has a clear shot to rival the Marvel film's sophomore frame — and it could be a close battle. The reopening of theaters in Ontario, even with seating capacities in place, could be mildly significant for openers and holdovers alike as the Canadian province typically represents between a 3 and 5 share of North American box office.
Although Widow experienced a sharp Saturday drop last weekend, Marvel films typically show some stabilization by the second weekend. The impact of the film's availability on Disney+ for an additional charge is an ongoing factor in this new box office climate, but Widow will at least have the benefit of retaining a large share of premium screens in theaters for at least one more week.
After just five days in domestic release, Widow crossed $100 million on Wednesday and did so in pandemic record time (speeding past F9's pace by three days).
Intriguingly, only two of the five previous July MCU releases have held onto first place in their second weekend — those being 2019's Spider-Man: Far from Home and 2015's Ant-Man. The latter was a squeaker as the Paul Rudd-led Scott Lang origin story won its sophomore frame with $24.9 million versus the debut of Adam Sandler's Pixels ($24.0 million). That could be a relevant comparison this weekend given the similar Pixels audience being targeted by the Space Jam revival.
The latest Warner Bros. hybrid release has been trending very well in pre-sales windows while also getting boosts from a strong social media presence thanks to the influencing power of LeBron James and the broader NBA sphere. James alone has more than 141 million combined followers on Instagram and Twitter. In pre-social media days, the 1995 film leveraged the iconic popularity of Michael Jordan in tandem with the generational appeal of Looney Tunes in order to generate what became a cult-classic family film.
Space Jam opened to $27.5 million back in November 1996 before capping off at $90.4 million domestically and $230.4 million globally, figures that A New Legacy could realistically hit on the domestic side. The nostalgia play among adults (now parents) fond of the original movie will need to be met by healthy walk-up business and interest from today's kids over the weekend.
It's those latter elements which present more wild cards, especially given the film's availability for free at home to subscribers of HBO Max. Warner Bros. played a large role in the early recovery efforts of movie theaters during the first half of 2021, but a recent stumble by In the Heights raises the question of whether or not the Space Jam sequel could similarly be prone to inflated pre-sales from fans without significant expansion. The kiddie appeal outside metro and urban areas should prevent any kind of misfire as large as Heights', though.
A combined 33 million trailer views from studio YouTube pages suggest outreach to the youth may be notable this weekend. However, some parents remain cautious in their return to theaters since vaccines aren't yet available for those aged 12 and under, while the Delta variant of COVID-19 remains a concern for the unvaccinated. As such, expectations for Jam this weekend are all over the board. Warner Bros. has not provided official studio expectations.
Meanwhile, Sony goes exclusively into theaters again with Escape Room: Tournament of Champions. The original film was a sleeper hit back in January 2019 as it bowed to $18.2 million onward to a $57 million domestic / $155.7 million global finish — all on just $9 million in production costs.
We expect the horror sequel to succumb to some diminished returns, namely due to the glut of horror films released in a short period this summer and somewhat cooler social media metrics. However, it's still in a financially low-risk position with just a $15 million budget behind it. Sony expects between $7 million and $8 million this weekend. The PG-13 rating will be friendly to teens and young adults, but it won't boast much of a premium screen footprint due to larger films in the market.
On Showtimes Dashboard, Black Widow unsurprisingly leads the sampled share of weekend domestic shows with 27 percent, followed by 18 percent for Space Jam: A New Legacy and 11 percent for the Escape Room sequel.
Warner Bros. has not provided any official pre-weekend location counts or premium screen details on Jam, but it will not be holding Thursday previews. The Escape sequel will, beginning at 3pm.
Not to be overlooked this weekend will also be releases from Focus Features and Neon. The former will distribute Roadrunner: A Film About Anthony Bourdain at 926 locations and has been generating encouraging pre-sales for the genre. A finish among the top ten looks possible based on those trends. Meanwhile, Neon's Pig will release in approximately 600 theaters (based on Dashboard projections).
Boxoffice projects this weekend's top ten films will decrease between 26 and 35 percent from last weekend's pandemic era record $117.5 million top ten aggregate.
Theater counts are updated as confirmed by studios.
Disney's latest global update on the first Marvel Studios release in two years provides the news that Black Widow crossed the $200 million global threshold on Wednesday after five days of domestic release and eight days in international theaters.
After 737 days, Marvel fans will be filling up movie theaters again this weekend with the domestic release of Black Widow.
As the summer box office continues its progressive rebound in North America, fans of the Marvel Cinematic Universe are counting down the days until the franchise's first theatrical release in two years arrives.
Universal achieved the biggest domestic box office opening in 18 months with F9's big debut last week, and now the studio looks to command the top three weekend spots over Independence Day weekend with the release of The Boss Baby:...
Read full article at Boxoffice Pro
IGN 16 July, 2021 - 06:01am
It's impossible to watch Space Jam: A New Legacy without comparing it to the original 1996 Space Jam starring Michael Jordan. The sequel, which features LeBron James as its basketball star this time, makes big strides in updating the premise for 2021, but ultimately acts as a calling card for Warner Bros. properties the way Ralph Wrecks the Internet was for Disney. There's still, however, a surprising amount of heart in this story, reminding audiences to stay true to yourself, but to keep things fun as well.
The movie takes on the same beats of the original film: an all-star basketball star is trapped in a universe where he plays a high-stakes basketball game against a team composed of, by some measure, pro-basketball players. This time, however, the stakes are more personal. The movie's LeBron James is a multi-championship winning, social media-influencing entrepreneur/basketball player who only wants his sons to focus on basketball. His son Dominic has greater passions for video game development and feels misunderstood that his dad won't let him be himself.
The original Space Jam placed the weight of the movie on Michael Jordan's back, but in this more fleshed-out (pun intended) sequel, LeBron also has an engaging supporting cast of characters that evens out LeBron's more grounded performance. So while LeBron's performance in Amy Schumer's Trainwreck garnered him praise and confidence in leading the Space Jam sequel, it's harder to see his charisma past a string of lines that are nothing more than stern, motivational mantras. LeBron's fictionalized version is just a 2D avatar of himself, ironically becoming the very thing Al-G Rhythm wants. However, when the script allows James to lean into being Looney or playing the compassionate father, he is the ultimate showman athlete.
The emotional core of the film is Cedric Joe's Dom, who has defeat and hope written on his face as he sorts through this complicated relationship with his father. He avoids tropes of being either a jock or a tech fanatic by being both; he could be great at basketball, but his face lights up when he talks about his true passions in tech. It's surprising, and a little hard to believe at times, that LeBron wouldn't encourage his son to be the best in anything he wanted to do.
And yet, for all the spectacle, our Looney Tunes characters are sidelined and wasted in this sequel. Even Zendaya's buzzy casting as Lola Bunny gets lost when you have dragons and the exciting Goon Squad filling every second in the Serververse. As Warner Bros. faces tougher competition than it used to -- with Disney and Pixar's continuous output, the rise of adult-oriented animation, and anime becoming more accessible and popular in the U.S. -- it feels more like a passing of the torch. And that's a little odd, considering the Looney Tunes brand has been revived on HBO Max with new episodes and if anything, this should serve as a revival of the franchise for new audiences, or even a reminder for old fans.
ThePostGame 16 July, 2021 - 06:01am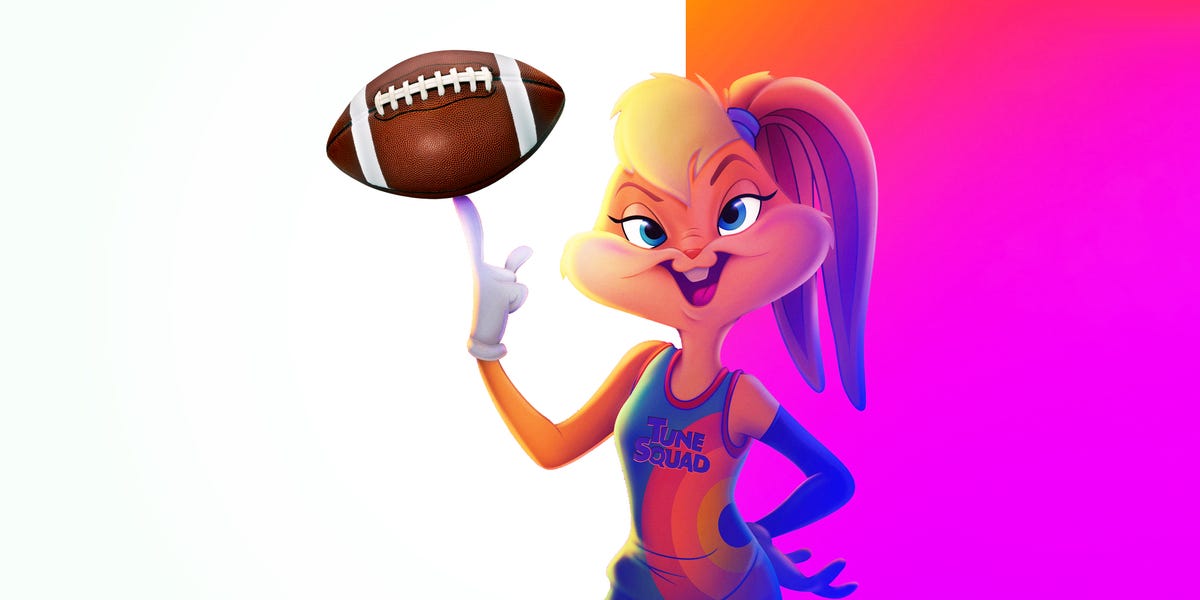 Esquire.com 16 July, 2021 - 05:00am
The LeBron James-led outing doesn't exactly merit a sequel—unless the Tunes leave hoops behind.
Listen. I love LeBron James. Don Cheadle. All of the Looney Tunes, especially Tweety Bird. And Marvin the Martian. But after seeing Space Jam: A New Legacy—which I did enjoy, by the way—I may never get the image of a 10-foot-tall, jacked CGI Don Cheadle out of my head. Nor the Notorious P.I.G. Last night, Foghorn Leghorn visited me in my dreams, Daenerys-esque wig flying around, wailing, "WINTER IS COMING!"
I have one suggestion. Because, contrary to public opinion, it seems, I do want to see another Space Jam movie. (Which does seem like a possibility.) At the end of the film, Bugs returns to the real world, walking off into the sunset with Bronny. Then, during the end credits, we seen portraits of the Toons out and about on planet Earth. Notably? Lola Bunny shaking hands with Naomi Osaka on a tennis court—who doesn't want to see how that match played out? This brings me to my note. After A New Legacy's slew of underwhelming reviews, it's clear that for the Tunes to keep their athletic pursuits alive they need to give up on their hoop dreams. Folks, it's time for a new sport.
Almost right away, it's pretty damn clear that the Space Jam franchise had gone the way of the Washington Wizards' MJ era. Clearly, the hive mind at Warner Bros. thought that it needed to level up the basketball battle from the OG Space Jam. The answer? Make it a literal video game. The climactic hoops game goes by the rules of the game created by the king's fictional son, Dom. It goes by the name of... Dom Ball. (By the way: Dom, my man, you just remade NBA Street.) So, the basketball game we see in A New Legacy is an acid-tripped, CGI marathon of dunks and fire and loud noises. It's fairly obvious that A New Legacy's team thought that normal-ish basketball wasn't enough to keep the young-ins engaged—hence the film making poor Klay Thompson a villain called Wet-Fire.
Unless Space Jam 3 features Zion Williamson battling a team of dinosaurs in Hollow Earth, the Tunes are better off turning to the fresh slate of a new sport. There's a reason why Space Jam fans lost their shit when Tony Hawk revealed that a skateboarding-centric spinoff, Skate Jam, was once in the works. The premise of an IRL sports hero acting alongside a bunch of quippy cartoons is fun! Endearing, even. Just not if it's the same game over and over again. There are stars outside of basketball who would nail a performance alongside Bugs and Taz. Again, let's see the Tunes take on the U.S. Open alongside Osaka. Maybe chew a big wad of bubblegum in the dugout alongside Mike Trout. Don't make me mention Tom Brady. There's more than enough time to prep an Olympics-themed Space Jam for the Paris Olympics, so we can get Simone Biles in the mix. Hell, if we want to get creative, throw the gang in a Fast and Furious-style epic alongside Lewis Hamilton.
Just don't let A New Legacy be the thing that makes the Looney Tunes permanently irrelevant. I'm sure that Tony Hawk is still waiting on that Skate Jam call.
Want unlimited access to Esquire's entertainment coverage? Join Esquire Select
ESPN 15 July, 2021 - 06:30pm
On Friday, the most highly anticipated film of a sports-movie-deprived generation, er -- the summer, "Space Jam: A New Legacy," starring four-time NBA champion LeBron James, has its worldwide premiere.
If you had told the creators of the OG "Space Jam" -- the first movie to be shot in a virtual studio -- that their $80 million film that grossed $250.2 million in 1996 would still be influencing the pop culture landscape in 2021, I doubt they would have believed you. Who am I kidding? They had Michael Jordan, so they probably knew.
It seems like just yesterday NBA fans and movie buffs were diligently sleuthing around the internet and dissecting James' social media activity for any signs that "The Chosen One" would reprise or reboot the 1996 cinematic masterpiece. But in truth, the journey to a "Space Jam" sequel has been long (25 years, to be exact) and arduous. Probably even more than you realize. As the Toon Squad finally gets the band back together, let's revisit how we got here.
Deadline reported that broadcasting veteran Dick Ebersol's sons, Charlie and Willie Ebersol, had been hired by Warner Bros. to develop the sequel as a starring vehicle for the then-Miami Heat star.
According to Deadline, Charlie had a preexisting relationship with the NFL thanks to his "NFL Characters Unite" series on USA Network, and he reportedly was eager to do the same with the NBA by producing the film. Willie was responsible for the script, which would be his first screenplay.
July 22, 2015: James signs production deal with Warner Bros., following his acting debut in 'Trainwreck'.
If 2014 had generated rumblings, 2015 created a roar. Rumors for a "Space Jam" sequel ran rampant when James, then with Cleveland Cavaliers, and his production company SpringHill Entertainment, inked a deal with the Burbank studio for television, movies and digital content.
The partnership came on the heels of King James' performance in the Judd Apatow-Amy Schumer comedy "Trainwreck."
I knew the man could act when he delivered, with conviction, the line: "What's the difference between Miami and Cleveland? It's the same." I also have LeBron's cameo in the film to thank for helping me discover my love of "Downton Abbey," but I digress.
LeBron didn't confirm our suspicions, but at least he gave us something.
In a Twitter Q&A (remember when those were a thing?), he indulged a fan's inquiry into whether or not James' signing with Warner Bros, who had recently renewed trademarks for "Space Jam," meant what we thought it meant.
I'm calling for a quick intermission. (See how I worked that film jargon in there?)
To fully understand how we got here, and waited 25 years, we need to go back to the beginning. In the context of this story, that means the mid-1990s. A time when Bone Thugs-n-Harmony and Celine Dion ruled the Billboard charts and "Space Jam" was the 10th-highest grossing film of the year.
In 1997, high off the success of the film and with director Joe Pytka and animators set to return, Warner Bros. began plotting the sequel, which would include Oscar-winner Mel Brooks voicing the villain.
"I felt the whole point was -- like a lot of sequels -- just to cash in on the success of the original," Bob Camp, a Warner Bros. animator on "Space Jam," told the website Animated Views in 2012. "It wasn't like it was a great idea that people wanted to make a movie out of. It was just, 'Hey, Michael Jordan is a cash cow. Let's milk him for all we can.'"
There was just one problem: They had no Jordan. One title into the Chicago Bulls' second three-peat, MJ wasn't interested in a sequel. But that didn't stop Warner Bros. from trying.
While I would love to further examine an alternate reality in which "Race Jam" and "Spy Jam" exist, I will instead inform you that neither made it to production.
Pytka, the original film's director, told Complex in 2016 that he was brought to the studio at one point to discuss a sequel with another athlete: Tiger Woods.
"There will never be another Michael Jordan," Pytka said in the interview. "There's only been two athletes with that kind of charisma: Michael Jordan and Muhammad Ali. At one point a long time back, I was called in to look at a script for 'Space Jam 2' and Tiger Woods was written into that. It never came to be. It was a strange script. But Tiger was part of it."
Surprisingly, that one didn't happen either. But perhaps even more surprisingly, there was one other sequel spinoff in consideration: "Skate Jam" with Tony Hawk.
in 2003, I was requested to meet with Warner Brothers about doing a film tentatively titled "Skate Jam." They were bringing back Looney Tunes with "Back In Action" & then wanted to start on my project immediately. A week later Back In Action bombed & Skate Jam was shelved forever pic.twitter.com/9giKzBnlWH
You really can't make this stuff up.
Now that you're sufficiently bummed out that we were deprived of a "Space Jam" expanded universe, let us return our attention to how we got the sequel we deserve.
Big-time movies need big-time players. Once LeBron was officially on board to do the movie, the film's protagonist brought in the big guns.
On Sept. 19, 2018, the Hollywood Reporter revealed that Academy Award nominee Ryan Coogler would be coming aboard in his first project since directing "Black Panther." His filmography boasts "Creed" and "Fruitvale Station." So yeah, his credentials speak for themselves.
Breaking down the two films and their stars.
In addition to the huge get of Coogler as producer, Terence Nance, who created HBO's "Random Acts of Flyness" and directed the experimental film "The Oversimplification of Her Beauty," came aboard to direct.
"I loved his vision for 'Black Panther,'" James told The Hollywood Reporter of Coogler at the time, adding that when he was a kid growing up in Akron, Ohio, there were no black superheroes. "So for Ryan to be able to bring that to kids, it's amazing."
When SpringHill Entertainment tweeted a picture of an animated locker room that featured the names attached to the project, it confirmed production was going down for real.
🏀 🥕 🎬 pic.twitter.com/Ay6wRaB915
Some people view "Space Jam" as a children's movie, others view it as another way to qualify the GOAT debate. Or, at least Kobe Bryant fans did in 2018, when they took to Twitter in droves to voice their outrage over LeBron being cast alongside Bugs Bunny instead of the Black Mamba.
When asked about a possible cameo in the movie in a 2018 interview with Access Online, the late, great Bryant said: "I've got to be honest, man. Being in front of the camera was never something that excited me."
Kobe expounded that he would consider directing the movie if the opportunity were presented to him. "But being in front of the camera is something that I would never [do]."
If the sequel is unable to live up to the legacy of its predecessor, it won't be for a lack of talent lining up against LeBron and the Toon Squad.
Against? Yep, in this iteration of the film, rather than the Monstars as the primary basketball antagonists (pour one out for MJ's legendary foes), LeBron & Co. will take on the "Goon Squad," a series of AI-created digitized versions of current NBA and WNBA stars.
Introducing the Goon Squad! Arachnneka, The Brow, Wet-Fire, White Mamba, and Chronos are stepping up to the Tune Squad in Space Jam: A New Legacy - in theaters and streaming on HBO Max* July 16. #SpaceJamMovie pic.twitter.com/42tc3pbXJR
Among the stars trying to take down LeBron and the Looney Tunes is the Portland Trail Blazers' Damian Lillard as "Chronos," the Los Angeles Lakers' Anthony Davis as "The Brow," the Los Angeles Sparks' Nneka Ogwumike as "Arachnneka," the Phoenix Mercury's Diana Taurasi as "White Mamba" and the Golden State Warriors' Klay Thompson as "Wet-Fire."
Once I got past the unfairness of the fact that Thompson has to go by the moniker of "Wet-Fire," which sounds more like a heartburn-inducing flavor offered at my local Wingstop than that of an intimidating basketball super villain, I was able to acknowledge that the Goon Squad is stacked.
The Phoenix Suns' Chris Paul, the Sparks' Chiney Ogwumike, The Warriors' Draymond Green and the Lakers' Kyle Kuzma also are slated to appear in the film.
No disrespect to the the OG film's supporting cast of Charles Barkley, Patrick Ewing, Muggsy Bogues, Shawn Bradley and Larry Johnson, but in a best-of-seven series I've got the Goon Squad in four.
In July 2019, Damian Lillard gave us some insight into the film. Not in the spoiler sense, but in the vein of his involvement. Namely, how long he had to film and why he had to shave his facial hair.
"That was different," Lillard told NBA.com of shooting the movie. "You all know I've always had a babyface, so this season I grew a beard out, it took me like six months to grow it. I show up on the set, they make me shave it off for the animation. That's why I look like this now. It was bare-faced for the animation, 15-hour days, showing up on the set at 6 a.m., leaving at 9 p.m. It was long."
The Portland star, who spent a week in Hollywood being recruited to the Lakers by LeBron, I mean, filming, added of his role, "It's significant, it's not a cameo."
On the same day Dame Time detailed his involvement in the production, The Hollywood Reporter revealed that "Girls Trip" and "Night School" director Malcolm D. Lee was taking over for Terrance Nance on the Warner Bros. sequel.
LeBron, phenomenal basketball player and world-class motivational speaker? On the final day of shooting, the film's leading man delivered a heartfelt speech to the cast and crew.
King James began by reflecting on what the opportunity to be in the sequel meant to him, saying, "I'm gonna be honest completely with you guys -- when I found out about the project, I was like it's 'Space Jam!' It's a movie that I grew up watching. People in the movie that I idolize. I was like absolutely, I gotta do it. There's no way I can turn down 'Space Jam!'"
The Lakers star also joked that he almost reconsidered his commitment upon learning that the production schedule was so demanding.
Big Monday Mood 🙌 pic.twitter.com/BAjJTOdLji
Then, he quickly shifted back to disarming sincerity.
"I'm just a small kid from Akron, Ohio -- a very small town outside of Cleveland. From a single-parent household, I'm the only child, my mother had absolutely nothing. She was walking around high school when she was 16 years old and she was pregnant with me as a high school sophomore. So I'm really not supposed to be here. Growing up in the inner city, as an African American kid, there's no way you're supposed to f---ing make it out. And, the fact that I'm who I am as an African American adult now with three kids of my own, and I made it out of the situations that I was in. This s--- is like extra credit for me, man."
LeBron closed his remarks by thanking everyone involved in the film saying, "Ya'll say you appreciate me, but I'm s--- without ya'll."
You know how with rap songs if you want to ensure it's going to be a hit, you put Drake on the track? Well, Zendaya is the actress equivalent of that.
Basically what I'm saying, is that the moment news broke that Zendaya had been tapped to voice Lola Bunny is the moment I bought all the way in on this thing.
Welcome to the Jam, @Zendaya 🏀 https://t.co/BAp4UZuwkf pic.twitter.com/Z9wYts9IFp
If that revelation wasn't enough cause for excitement, the first trailer went way harder than it had to.
In the first peek at the film, it became clear "Space Jam: A New Legacy" takes place in the larger Warner Bros. universe. For the untrained eye, that means cameos aplenty.
In the trailer alone, the Night King and a "Game of Thrones" dragon, King Kong, Batman, Joker, Robin, Penguin, The Mask, Harry Potter, the Flintstones, Iron Giant, Pennywise (from "It"), Mad Max and an agent from "The Matrix" could all be spotted in the crowd.
For lack of a better way to put this, the second trailer pumped up the jam. (It's a "Space Jam" article, what do you want from me?)
We got to see more action on the court and more of LeBron's daunting quest to put together an elite team in an effort to rescue his son from the grips of an evil algorithm who lives in the Warner Bros. server-verse (played by Don Cheadle) who wants to play him in basketball.
Bron's list of potential teammates included Gandolf, King Kong and Superman. While I'm not sure what King Kong would do in the paint, Gandolf would undoubtedly be an asset on both ends of the floor.
At this point, I'm sipping the Kool-Aid and fully prepared to claim this film could pull a "Toy Story 3" or "Godfather Part II" and outshine it's namesake.
The "Space Jam: A New Legacy" soundtrack saw the OG film's soundtrack Seal, Quad City DJ's, Busta Rhymes and Coolio and raised it with Chance The Rapper, Lil Uzi Vert, Saweetie, John Legend, the Jonas Brothers and one Dame D.O.L.L.A., aka Chronos, aka Dame Lillard.
Stream the full #SpaceJamMovie soundtrack on all platforms here: https://t.co/j5vVW3Jc5E #DameDOLLA pic.twitter.com/ulGpHIsStU
The musical stylings of the sequel and its much-ballyhooed predecessor have one thing in common -- aside from the artist Salt-N-Pepa, who appears on both albums -- and that's a desire to be legendary.
"We knew that with the soundtrack for this one, that whole idea of making a soundtrack for this generation, but still having that melting pot, was something we all really wanted," Spencer Beighley, head of film at SpringHill, said in a feature for Billboard.
It wouldn't be unfair to assert that the new soundtrack has a greater legacy to live up to than the new film. As someone who still gets irrationally hyped upon hearing the words "it's your chance, do your dance," it's good to know Beighley understands the gravity of the situation.
Whether the movie is a huge success or a total flop, at least we'll always have this pure moment at the premiere to fall back on.
Chris Bosh, clad in a Kobe Bryant No. 8 Lakers jersey, came out to support his former teammate on his big night.
And I, from behind my keyboard, got significantly more emotional than was warranted watching two-thirds of the Big Three embrace.
Brothers for life 🤝 @chrisbosh x @KingJames #SpaceJamMovie pic.twitter.com/D4ocGadpOo
Where's Dwyane Wade when you need him?
CNBC 15 July, 2021 - 03:12pm
LeBron James may be king of the basketball court, but that title doesn't transfer to the box office. At least not when it comes to "Space Jam: A New Legacy."
Warner Bros. attempt at recapturing the nostalgic love for the 1996 "Space Jam" helmed by Michael Jordan is a massive air ball in the eyes of critics. The 2021 film, which debuts in theaters and on HBO Max Friday, currently holds a 37% "Rotten" score on Rotten Tomatoes from 78 reviews.
While its predecessor also fell flat with critics 25 years ago — it holds a 44% "Rotten" score from 80 reviews — it became a beloved sports comedy, especially with younger audiences.
"Space Jam: A New Legacy" may not inspire that same esteem.
"It fills a two-hour hole in the schedule, which will keep parents happy, and it brandishes the brand, which will keep shareholders happy," wrote Bilge Ebiri in his review of the film for Vulture. "Whether it could have also been a good movie might not have crossed anyone's mind."
Helmed by James, "A New Legacy" follows a similar formula to the 1996 film — famous basketball champion gets sucked into the world of the Looney Tunes and must play a high-stakes game of hoops.
In this iteration, James, playing a fictional version of himself, is at odds with his youngest son Dom (Cedric Joe), who dreams of being a video game developer instead of a basketball star. While visiting Warner Bros.' lot to see a new system called Warner 3000, a new technology that can copy James and insert him into different movies and TV, Dom is kidnapped by an evil A.I. by the name of Al-G Rhythm (Don Cheadle).
In order to save his son, James must team up with Bugs Bunny, Daffy Duck and the rest of the iconic Tune Squad to win a basketball match against AI-G's digitized champions.
The zany, meta humor that made "Space Jam" endearing is lost in this new edition, critics say. Instead, it is replaced with "shameless" plugs to Warner Bros. massive vault of intellectual property.
"Short of asking audiences point blank to subscribe to HBO Max, 'Space Jam: A New Legacy' is as shameful a display of product placement as one would hope to endure," wrote James Marsh in his review for South China Morning Post.
Here's what critics thought of "Space Jam: A New Legacy" ahead of its debut on Friday:
"Here's the thing about basketball: It is extremely watchable. Here's the thing about Space Jam: A New Legacy: It's not," Mary Sollosi wrote in her review of "Space Jam: A New Legacy" for Entertainment Weekly.
"You will be amazed by how little the basketball game resembles an actual sport, and how hard it is to sit through," she added.
Sollosi speculates that this new movie exists for only two reasons: for Warner Bros. to flex its massive collection of IP and to build up the legacy of James.
"The studio ostentatiously flips through its library of properties throughout the film, most notably in a series of brief clips of James gathering Tunes who have relocated to 'The Matrix' and 'Austin Powers' and, most distressingly, 'Casablanca,'" she wrote. "There is not much to be taken from these scenes, not even the pleasure of nostalgia; no meaningful reference is made to these films in spirit or content."
And then there is James, who is regularly referred to as "king" throughout the film.
"The man's stature, already impressive, grows a little bit more when he gets to stand atop this enormous chunk of movie, now piled up with his many other achievements," Sollosi wrote. "Just as a film, though, for people to actually watch? Algorithmically speaking, it's no slam dunk."
"I've never seen anything like it," Richard Roeper writes in his review for Chicago Sun-Times. "I also hope to never see anything like it again, and I wish I could unsee what I have seen."
Roeper was also critical of Warner Bros.' overindulgent use of its IP within the film. There's a moment early in the film when James is being shown the Warner 3000, which has inserted him into a game of Quidditch from Harry Potter, where the sports star balks.
"LeBron says it's an awful idea, one of the worst ideas he's ever heard, and he rejects the pitch — and then the movie pursues the exact same path after acknowledging it's a terrible concept," Roeper wrote.
The film is teeming with nods to the studio's archives, including "The Wizard of Oz," "Mad Max" and "Game of Thrones."
"As Al-G Rhythm (ugh, that name) co-opts Dom by pretending to be his friend and encouraging his dreams, LeBron and Bugs Bunny round up the Looney Tunes gang, all of whom have been inserted into — you guessed it — Warner Bros. properties, e.g., Daffy Duck is in a Superman adventure in Metropolis, Yosemite Sam is at Rick's Cafe from 'Casablanca', Lola Bunny is about to take the speed and endurance test to become an Amazon a la 'Wonder Woman,'" Roeper explains.
"With the exception of a few clever one-liners and visual gags, it's more exhausting than amusing," he said.
For a movie co-starring the Looney Tunes, "Space Jam: A New Legacy" keeps its animated Tune Squad sidelined for much of the movie.
The film "takes almost nothing but wrong turns, all leading to a glittering CGI trash heap of cameos, pat life lessons, and stale internet catchphrases," A.A. Dowd wrote in his review for AV Club. "Its first misstep: keeping Bugs, Daffy, and the rest of the gang on the bench for about as long as it would take the audience to watch three and a half 'Merrie Melodies.'"
The Tunes are largely secondary and tertiary players, sequestered away until one of them is needed to shout a quippy one-liner or fall victim to a well-placed anvil. The Tunes get a makeover toward the end of the film where their traditional 2D animation is traded for a 3D "plush doll" look.
James, who shined in 2015's "Trainwreck" as Bill Hader's sidekick best friend, was "as flat and rigid as a backboard," Dowd said. The basketball champ turned actor spends most of the film interacting with animated characters, a difficult feat for even the most seasoned Hollywood stars.
"As someone who grew up with 'Space Jam,' I wanted nothing more than to like 'A New Legacy,'" Germain Lussier wrote in his review of the film for Gizmodo.
"I distinctly recall 'I Believe I Can Fly' and Air Jordans, and I love watching basketball and sci-fi movies, so on paper, the film is right up my alley," he said. "The problem is, the new film is so dense and manic, with a hugely uneven tone, that the end product feels like white noise."
Like other critics, Lussier cited the rule-less basketball game climax — which he noted was an arduously long sequence — and the abundance of random Warner Bros. IP as detriments to the film.
"The team behind 'Space Jam: A New Legacy' has pulled off the impossible," he said. "They've taken two of the most dynamic and entertaining things on the entire planet and made them boring. One of those is LeBron James, an iconic, generational basketball champion, and the other is the Looney Tunes, a timeless, hilarious, adaptable, and unforgettable set of characters.
"On their own, each is amazing. Put them together and, apparently, it's anything but," he wrote.
Got a confidential news tip? We want to hear from you.
Sign up for free newsletters and get more CNBC delivered to your inbox
Get this delivered to your inbox, and more info about our products and services. 
Data is a real-time snapshot *Data is delayed at least 15 minutes. Global Business and Financial News, Stock Quotes, and Market Data and Analysis.