Andrea Mitchell
mitchellreports
On uptick in MN COVID cases, @shaqbrewster: "Officials say it is happening among the unvaccinated. We're talking about those resisting the vaccine & those who are not eligible at this point. You're seeing the cases & hospitalizations go up..." (1/2) #AMRstaff
Céline Gounder, MD, ScM, FIDSA
celinegounder
1/ National averages conceal regional COVID surges. See the case of Minnesota: - 59% fully vaccinated (higher than the U.S. average) - 54 cases per 100K (⬆️35% in last 2 wks) - 18 hospitalized per 100K (⬆️18% in last 2 wks) www.nytimes.com/2021/10/13/world/minnesota-hospitals-capacity-virus-surge.html

David Boulware, MD MPH
boulware_dr
If someone with #COVID19 demands #ivermectin, refer them to a trial to determine what is the effect. Two nationwide clinical trials; participate from home: ▪️ NIH ACTIV6 activ6study.org ▪️ U of MN CovidOut.umn.edu Both trials test multiple possible therapies pic.twitter.com/fxAkoZdiTR
Rep. Betty McCollum
BettyMcCollum04
Hospital ICUs are reaching capacity across MN, staff are overworked, and in some cases, care is being rationed. Please #GetVaccinated & take precautions! A shortage of beds affects not just COVID patients, but others who can't get the care they need. www.nytimes.com/2021/10/13/world/minnesota-hospitals-capacity-virus-surge.html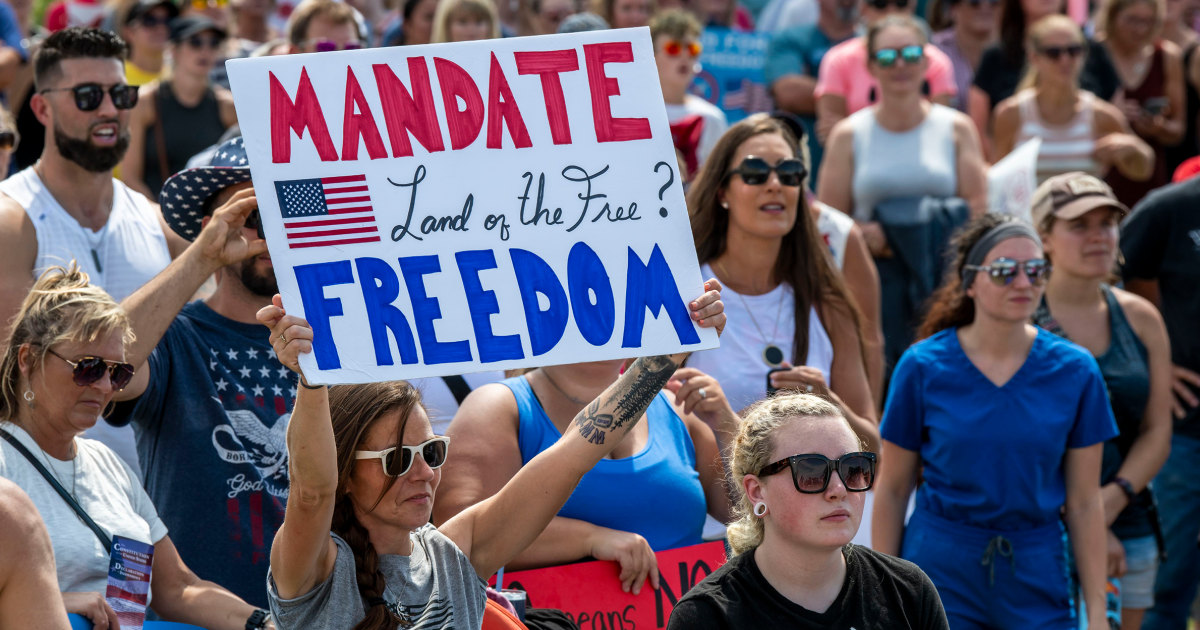 Overwhelmingly, the latest victims are unvaccinated Minnesotans who caught the fast-spreading Delta variant, health officials said.
And as the weather gets cooler, the potential to catch the virus will only increase as people head indoors, they said.
"It is devastating to see the recurrent surge with concerns that the fall may prove to be even worse with cooler weather," Dr. Sadiya Khan, an epidemiologist at the Northwestern University Feinberg School of Medicine told NBC News.
With a vaccination rate of 59 percent, Minnesota is actually doing better than neighboring Wisconsin (57 percent), South Dakota (52 percent) and Iowa (55 percent), and much higher than North Dakota, where just 45 percent are fully vaccinated, according to figures compiled by the Mayo Clinic.
The national average is 56 percent, with Vermont at the top with 70 percent of its population fully vaccinated and West Virginia at the bottom with just 41 percent, according to the Mayo Clinic.
But Minnesota's 8.3 percent rate of new infections over the last seven days has been among the highest in the country, according to the federal Centers for Disease Control and Prevention.
"With the amount of virus that's out there and the amount of population that is not protected by the vaccine, there's unfortunately plenty of room for the virus to still do its harm," Jan Malcolm, the state's health commissioner, said at a recent news conference.
The Minneapolis Star-Tribune, one of the leading newspapers in the state, described the current situation as a "gut punch to public health leaders who hoped vaccination progress would knock out the pandemic."
Khan said the exasperation is understandable.
"Throughout the whole Covid-19 pandemic, we have seen surges happen in different states at different times that haven't always made sense," said Khan. "These numbers in Minnesota concern me not just for the patients with Covid-19 but for all the patients with heart disease and cancer who are not able to get routine care as health care systems are at maximal capacity. With an effective vaccine, we should not be having the same conversations that feel like 'Groundhog Day.'"
The surge is a hallmark of school reopenings in September that led to more transmissions, said M. Kumi Smith, an assistant professor in epidemiology and community health at the University of Minnesota Twin Cities.
Minnesota health officials on Tuesday reported 7,942 more Covid cases and 10 deaths, nine of whom were senior citizens.
Since the start of the pandemic, Minnesota has logged 746,768 infections and 8,330 deaths from Covid-19, according to the latest state health department figures.
But now there are fewer health care workers to deal with the crisis than there were at the start of the pandemic, Malcolm said.
"What's important to understand is that this isn't so much about the physical asset of a hospital bed or a ventilator, and those were big focuses earlier in the pandemic, but now this is really an issue of health care worker capacity," Malcolm said.
Why are they leaving? "Extreme stress and burnout," Malcolm said.
Read full article at KSTP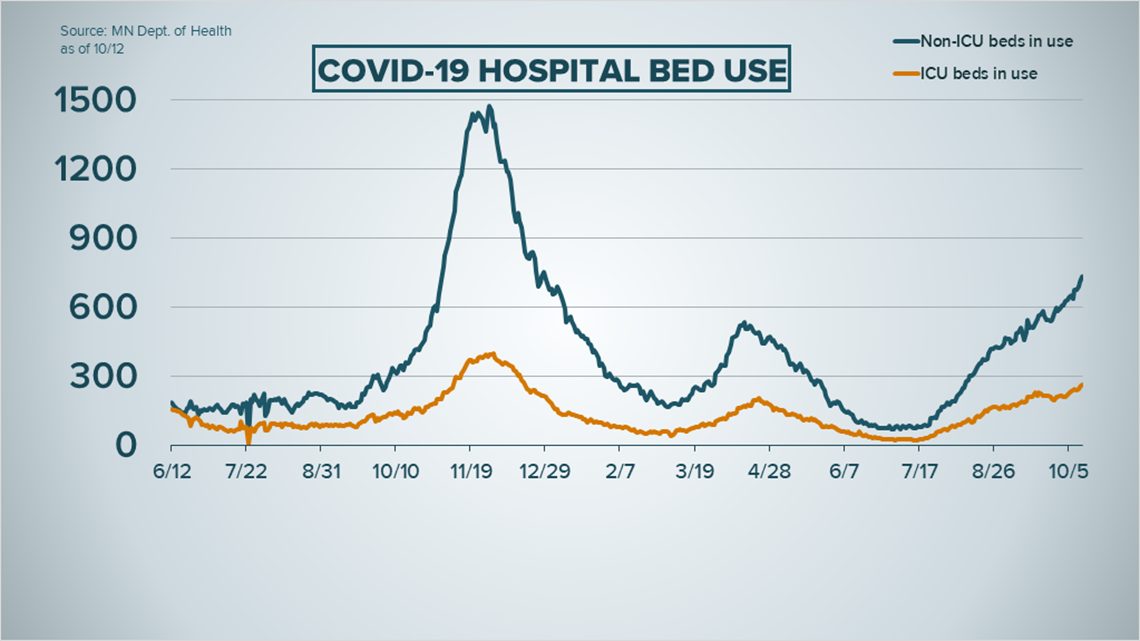 KARE11.com 14 October, 2021 - 03:21am
For full feature support, please upgrade to a modern browser such as Microsoft Edge.
VERIFY helps distinguish between true and false information by answering questions directly from you. Looking for 'Connect' content? Check out the site's footer.
Browse hyperlocal photos and videos from people just like you. You can even submit your own!
ST PAUL, Minn. — Wednesday, Oct. 13, 2021
Daily COVID hospitalizations are inching closer to the 1,000 threshold as health officials keep a wary eye on Minnesota's ongoing battle with the virus and the delta variant.
Numbers released by the Minnesota Department of Health (MDH) show 990 people being treated for COVID on an inpatient basis as of Tuesday, 260 of them in ICU. It's the highest daily number since Dec. 23 of 2020, when 1,048 were reported hospitalized with the virus.
Bed availability is low in parts of the state, especially the Twin Cities metro where just 6 ICU beds are listed as open (.9% vacancy) and 49 non-ICU beds are vacant (1.3%).
In total, 39,447 people have been hospitalized with COVID in Minnesota since the pandemic began.
MDH reported 24 more deaths from the virus Wednesday, 21 of which occurred in the month of October and three in September. Of those deaths, three involved people in their 30s: Two recorded in Ramsey County, and one from Blue Earth County.
New cases dipped a bit in the most recent reporting period with 2,388 infections. Health officials say 1,825 of those cases were confirmed by PCR tests, while 563 are considered probable from antigen testing.
Minnesota's total cases are likely to top 750,000 by the end of the week (749,144 as of Wednesday).
The state vaccine dashboard says 6,644,085 total doses of COVID vaccine have been administered in Minnesota to date, with 59.3% of them Pfizer, 36.3% Moderna and 4.3% Johnson & Johnson. MDH says 3,262,423 people age 16 and older have completed their shot series and are considered fully vaccinated (70.6%), while 3,430,921 of those eligible have received at least one dose (an even 74%).
Only 166,459 children ages 12 to 15 have been immunized at least once.
The daily number of Minnesotans hospitalized with COVID continues to escalate as state's health care providers struggle under the load.
Data released by the Minnesota Department of Health (MDH) shows 960 people were being treated for the virus on an inpatient basis as of Monday, with 254 of those patients requiring ICU care. The last time daily hospital numbers were that high was Dec. 28, 2020, when 964 were reported.
Total hospitalizations have now reached 39,181 since the start of the pandemic.
MDH is reporting 7,942 new infections during the reporting period between 4 a.m. Friday and 4 a.m. Monday. The combined numbers are shared Tuesdays as the department no longer issues reports over the weekend.
The new cases bring Minnesota's total to 746,768.
Ten more people have lost their lives to COVID, bringing fatalities in the state to 8,330. Of the new daily deaths, one involved a person in their early-to-mid 40s from Morrison County, and both Benton and Ramsey County recorded two COVID fatalities. Nine of those listed in Tuesday's report died in October, with one death dating back to September.
The number of Minnesotans age 16 and up who have received at least one dose of a COVID-19 vaccine has now reached 3,429,066 (74% of those eligible), while 3,260,319 of those (70.5%) have completed their shot series and are considered fully vaccinated. As of Sunday, 166,312 children between 12 and 17 had received at least one dose of a COVID-19 vaccine.
Notifications can be turned off anytime in the browser settings.
Minnesota Public Radio News 14 October, 2021 - 03:21am
21,605 known, active cases; 990 currently hospitalized
74 percent of 16-and-older residents with at least one vaccine dose
Minnesota's summer-fall COVID-19 surge stubbornly refuses to retreat, although the newest numbers offer some signs conditions may be starting to plateau.
Known, active cases appear to be flattening — the count is high at 21,605, but that's the lowest it's been since Tuesday of last week. Newly reported cases came in at 2,388 on Wednesday, the lowest daily count in two weeks.
Hospitalizations, however, continue to rise, putting more pressure on the state's short-staffed care systems. There are 990 people in Minnesota hospitals now with COVID, with 260 needing intensive care — the highest counts so far in 2021.
There are more COVID patients hospitalized in greater Minnesota than in the Twin Cities region, continuing a pattern that emerged last week.
The rate of tests coming back positive, which stayed relatively stable through the spring and early summer, has been edging higher over the past weeks.
The seven-day average is running at more than 7 percent — higher than the 5 percent officials find concerning — although Wednesday's seven-day rate was down a tick from from Tuesday.
While the positive test rate is not leaping as it did in last year's late-fall wave, it continues to signal significant community spread.
Driven by the highly contagious delta variant, the entire state now shows a high level of COVID-19 transmission, according to the Centers for Disease Control and Prevention. Teens continue to be among the hardest hit in new cases.
Around two-thirds of the newly reported cases are from outside the seven-county Twin Cities region, with northwestern Minnesota hit particularly hard.
The state's death toll stands at 8,354, including 24 deaths newly reported on Wednesday. Those include three people in their 30s and four in their 50s.
Generally, Minnesota remains better positioned now than during its fall and spring spikes. Seventy-three percent of state residents age 12 and older have received at least one vaccination shot, with more than 69 percent now completely vaccinated.
It remains a huge challenge, though, to get more Minnesotans vaccinated, and wide gaps remain in the vaccination rates among regions and counties.
State health officials and hospital leaders last week painted an increasingly worrisome picture of a Minnesota health care system that's stressed, short-staffed and struggling to meet the needs of rapidly rising numbers of COVID-19 and other patients.
"Across the state, we have more hospitals reporting that they have zero available adult medical-surgical beds and zero adult ICU beds available during this latest surge," Minnesota Health Commissioner Malcolm told reporters.
She pleaded with eligible Minnesotans to get vaccinated and take precautions to slow the spread of the disease. "There's unfortunately plenty of room for the virus to do its harm."
You make MPR News possible. Individual donations are behind the clarity in coverage from our reporters across the state, stories that connect us, and conversations that provide perspectives. Help ensure MPR remains a resource that brings Minnesotans together.
The Seattle Times 14 October, 2021 - 03:21am
While the Bills have dominated teams and the Rams have shown their flashes of greatness, Green Bay has zigzagged around to get to 4-1. The Packers have taken an unorthodox path to their record. But the rest of the league should be put on notice for what they could look like once they refine some of their flaws.
On one hand, they've put up at least 25 points in the last four games, which is a solid benchmark. On the other hand, they've put together a makeshift offensive line due to injuries, Rodgers has relied heavily on Davante Adams, and they just generally haven't gotten in sync yet.
The offensive line has been stout, given that they've been without David Bakhtiari and Elgton Jenkins and missed rookie center Josh Myers in Week 5. There are only so many injuries one unit can withstand before the boat starts to leak a little. Given the circumstances, they've been tremendous.
Circumstances aside, Rodgers has been scrambling a lot more in the first five weeks of this season than he did in the first five weeks of his first two years in Matt LaFleur's system. The reigning MVP has been sacked 11 times through five games, which is on pace for 37.4 on the year. That would shatter his mark of 20 sacks last year and would be the most he's endured in the LaFleur era. But Green Bay is 4-1 even when it hasn't all been clicking. In a way, that makes the start of the year even more impressive.
Rodgers, for his part, has taken a more aggressive approach and is trying to thread the needle more than in past seasons.
In 2018, Rodgers started all 16 games and threw only two interceptions. In 2019, he made 16 starts and threw four interceptions. Last year, he had 16 starts for a third consecutive year and only five interceptions.
These numbers are absurdly low, but Rodgers has always been known for taking care of the ball and being able to make impossible-seeming passes.
This year Rodgers already has three interceptions so far. This isn't cause for alarm; he's just made more foot-on-the-gas decisions.
The defense was a disaster in Week 1 against the New Orleans Saints, but that has proven to be an anomaly. Since then, the Packers have ripped off four straight victories, and the defense is getting better by the week. Still, Joe Barry's bunch has some lopsided numbers.
The Packers are now the only team in the NFL to give up a touchdown every single time the opponent makes it into the red zone. It's an unfathomable number to digest. Green Bay's defense has given up 13 touchdowns on 13 red zone drives. Per Matt Schneidman of The Athletic, Green Bay stands alone and not in a good way.
On defense, the Packers entered Sunday as one of only two teams in the NFL (Carolina was the other) to allow a touchdown on every single red zone trip by an opponent this season. The Bengals scored touchdowns on both red zone trips Sunday, making it 13 straight opponent red zone visits in which the Packers have allowed a touchdown.
The Panthers allowed two touchdowns on four Eagles red zone trips Sunday, so the Packers stand alone with the NFL's worst red zone defense. Last year, they ranked 13th in the NFL in red zone defense, allowing touchdowns on 59.7% of opponents' red zone visits.
While the defense has improved, those numbers are flat-out unsustainable for a team that has dreams of winning the Super Bowl. It is cringeworthy not to hold a single team to even a field goal attempt when they are inside the red zone through five weeks. Yet, Green Bay is 4-1.
A slew of injuries has led to some of their problems finding and keeping a groove. Za'Darius Smith is on injured reserve, and it's anyone's guess as to when or if he will be back this year. The same stands for superstar cornerback Jaire Alexander. Those are Green Bay's two best defensive players, two All-Pros, on the shelf for an indefinite amount of time. Yet, the Packers' defense has still forced at least two turnovers in each of the last four games.
Teams that are also 4-1 like the Bills have been smacking their opponents around. They beat the Miami Dolphins by 35, the Washington Football Team by 22, the Houston Texans by 40, and they just went into Kansas City and clubbed the Chiefs, 38-20.
The Rams are also 4-1 and have done it with an offense that has put up 20 or more points in every game, is second in passing yards per pop, and is eighth in points per game (28.2).
For the Packers, it hasn't been pretty. They've needed two game-winners from Mason Crosby, and they are still trying to get healthy at a lot of positions where they're missing key players. Nobody doubts that Green Bay is a good team. The fact that they have gotten to this point with their record, especially after the debacle of Week 1, is nothing short of incredible. The rest of the league should be on notice for when things finally start clicking.
After a nightmarish end to regulation and beginning of overtime, Mason Crosby split the uprights with a 49-yard field goal that finally gave the Green Bay Packers […]
KARE11.com 13 October, 2021 - 04:15am
Finally, some more restocks for the Halo Infinite Xbox Elite Controller are on the way. This Limited Edition controller has proved to be extremely popular so far and additional pre-orders for the accessory have been scarce.
The last Halo Infinite Controller restock was over 2 weeks ago now and there hasn't been any sign of them since. However, we now know that they will be on sale today at a major retailer.
Find out how to prepare for the major controller restock below.
This is a big week for GameStop restocks as the retailer sold the Limited Edition Halo Infinite Xbox Series X yesterday. Despite this, fans were left disappointed after crashes and cart issues on the GameStop site.
If you want to access today's restock, you'll need to be a GameStop PowerUp Rewards Pro member. Luckily, this is a much more reasonable price than Best Buy's insanely expensive TotalTech membership.
The October 13 Halo Infinite Xbox Elite Series 2 Wireless Controller drop will happen at 8 AM PT / 10 AM CT / 11 AM ET.
This controller is exclusive to GameStop and Microsoft in the US so this will be one of your only chances to secure one.
Unfortunately, there's no guarantee that securing a Halo Xbox controller on October 13 will be easy, thanks to thousands of customers heading to the GameStop website. Luckily, we know how to fix the GameStop website 'Access Denied' error.
Also, Xbox fans will also want to see the newest addition to its accessory lineup. The brand-new Xbox 20th Anniversary Controller looks absolutely stunning.
News: Halo Infinite Xbox Series X bundles and controllers will be in stock at GameStop this week.https://t.co/SJfaEpivqt
Meanwhile, it's bad news for gamers who are still looking for a next-gen console. The Xbox Series X shortage will continue into 2022.