Biles pulled out of the team all-around final Tuesday after struggling on her first routine and then withdrew ahead of Thursday's individual all-around final to focus on her mental health.
Suni Lee won gold in the event, defending the title for Team USA despite the reigning champion's absence.
In a series of Instagram Stories posted early Friday, Biles invited her 6.1 million followers to ask about the phenomenon that can cause gymnasts to lose their sense of space and dimension in midair — even if they have performed the same maneuver for years without problems.
The four-time Olympic gold medalist also posted two videos of herself struggling with dismounts from the uneven bars. The first showed her landing on her back on the mat, the second showed her falling to the mat in apparent frustration after she said still needed to complete another half twist.
She said the videos, which have subsequently been removed, were taken during practice on Friday morning.
"If you look at the pictures and my eyes, you can see how confused I am as to where I am in the air," she told her followers.
The 24-year-old superstar is still scheduled to compete as an individual in the vault, bars, balance beam and floor exercise. The finals for those individual events are scheduled for next Sunday, Monday and Tuesday.
Biles said that "the twisties" had "randomly started happening" the morning after preliminary competition, adding that it was "the strangest, weirdest feeling."
She said she "literally can not not tell up from down," which meant she had no idea how she was going to land or what part of her body she was going to land on. "It's the craziest feeling ever," she added.
Getting rid of them "varies with time" and they had lasted for about two or more weeks in the past, she said, adding that they had "never transferred to the bars and beam before for me," but this time it had affected her for every event "which sucks… really bad."
Biles praised her teammates as "queens" for continuing without her in the team final and landing the silver medal. She also lauded Lee on Instagram Thursday. "So so so beyond proud of you!!!" Biles said.
"I don't think you realize how dangerous this is on hard/competition surface," she added. "Nor do I have to explain why I put health first. Physical health is mental health."
She said she had "had plenty of bad performances throughout my career and finished the competition," but on this occasion she had "simply got so lost my safety was at risk as well as a team medal."
While Biles' absence was felt on the floor of Tokyo's Ariake Gymnastics Centre, her decision to step back from competing to focus on her emotional well-being continued to make an impact across the sports world.
Biles' candid admission, which follows Naomi Osaka's decision this year to withdraw from tennis tournaments to protect her mental health, again put a global spotlight on the often taboo subject of mental health.
Henry Austin is a London-based editor for NBC News Digital.
Read full article at NBC News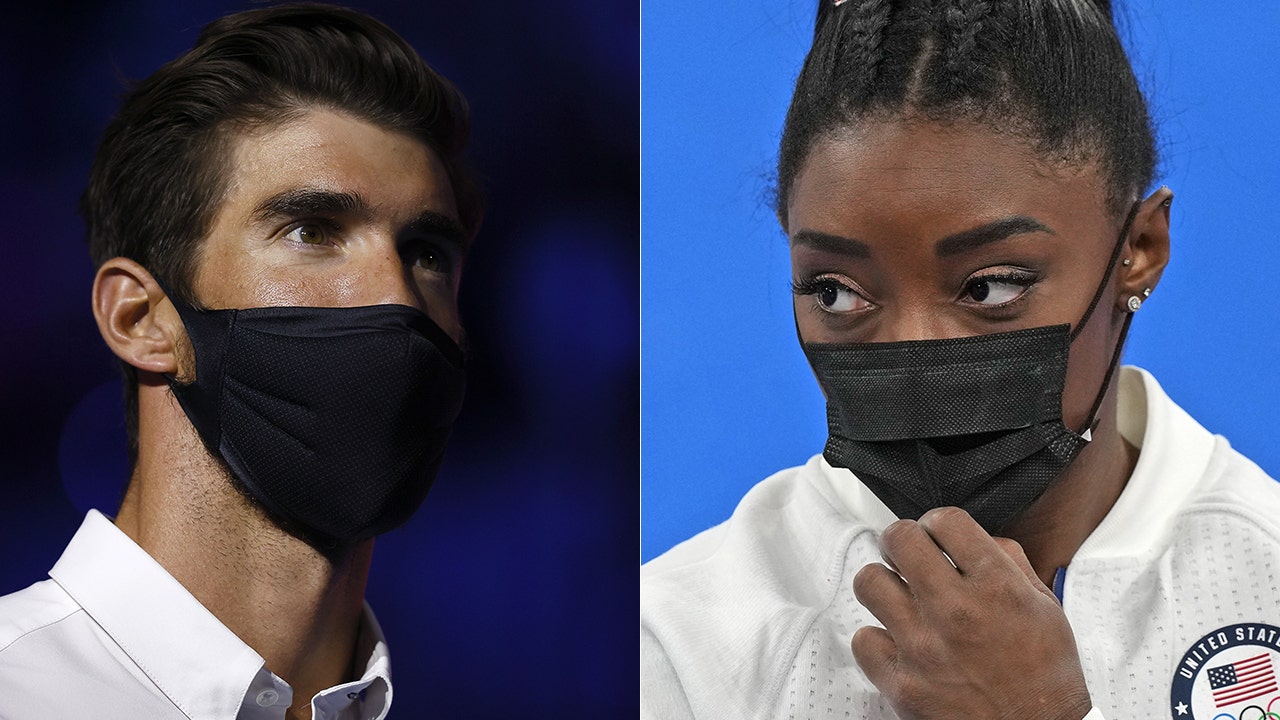 Fox News 30 July, 2021 - 07:20am
This material may not be published, broadcast, rewritten, or redistributed. ©2021 FOX News Network, LLC. All rights reserved. Quotes displayed in real-time or delayed by at least 15 minutes. Market data provided by Factset. Powered and implemented by FactSet Digital Solutions. Legal Statement. Mutual Fund and ETF data provided by Refinitiv Lipper.
Fox News Flash top headlines are here. Check out what's clicking on Foxnews.com.
Simone Biles' decision to withdraw from two Tokyo Olympics gymnastics events sent shock waves across the world this week and led to empathy from retired swimmer Michael Phelps.
Phelps launched his mental health campaign in June 2018, according to Olympics.com. He has been open about having suicidal thoughts after the London Olympics in 2012.
He told Tirico that fans have to remember that athletes are human too.
"We're humans, right? We're human beings. Nobody is perfect so, yes, it is OK to not be OK. It's OK to go through ups and downs and emotional roller coasters," he said. "But I think the biggest thing is we all need to ask for help sometimes, too, when we go through those times. For me, I can say personally it was something very challenging. It was hard for me to ask for help. I felt like I was carrying, as Simone said, the weight of the world on [my] shoulders. It's a tough situation."
He added he hoped that Biles' situation would help raise awareness on mental health issues.
Biles was seen in the stands supporting her teammates during the individual all-around competition on Thursday night.
"the outpouring love & support I've received has made me realize I'm more than my accomplishments and gymnastics which I never truly believed before," she tweeted.
This material may not be published, broadcast, rewritten, or redistributed. ©2021 FOX News Network, LLC. All rights reserved. Quotes displayed in real-time or delayed by at least 15 minutes. Market data provided by Factset. Powered and implemented by FactSet Digital Solutions. Legal Statement. Mutual Fund and ETF data provided by Refinitiv Lipper.
KHOU 11 30 July, 2021 - 07:20am
After her dramatic withdrawal from both the team and individual all-around Olympic gymnastics competition in order to prioritize her mental health, Simone Biles' boyfriend Jonathan Owens is letting her know he is "always there" for the four-time gold medalist.
The 26-year-old Houston Texans star penned a heartfelt Instagram message on July 29, along with photos of the happy couple. "Imma ride with you through whatever baby. Your strength and courage are unmatched and you inspire me more and more everyday SB," Jonathan began.
He continued, "You always gone be my champ baby and don't you ever forget that. I love you so much and I can't wait till you come home and I get to see that beautiful smile again. You know I'm always here for you baby."
Simone and Jonathan began dating in March 2020 and are total couple's goals. Their Instagram accounts are filled with photos of each other and captions of love and support. The NFL player gushed over Simone taking home her seventh national women's all-around U.S. gymnastics title on June 7.
"What an amazing experience. First time getting to watch you compete in person and you didn't disappoint. It's so cool that I get to watch you do what you love and be the best at that! I'm so proud of you my lil champ. Trials up next and you already know I'm there!! Love you baby," he gushed.
Simone wrote in the comments, "I love you so much. I'm so happy you got to come watch while in the middle of OTA's. You a real one," referring to how he took a break from the Texans' Organized Team Activities to watch her compete.
The Olympic veteran was highly favored to take home gold again in the 2021 Tokyo Olympic games. But after a rough vault during the team all-around competition on July 27, she took herself out of the contention. The U.S. team still finished with a silver medal, and Simone cited her mental well-being as the reason behind her decision to remove herself from competing.
"Once I came out here [to compete], I was like, 'No, mental is not there, so I just need to let the girls do it and focus on myself,'" she told the press following the medal ceremony.
The following day, Simone withdrew from the individual all-around competition "in order to focus on her mental health," USA Gymnastics said in a statement on June 28. It added, "We wholeheartedly support Simone's decision and applaud her bravery in prioritizing her well-being. Her courage shows, yet again, why she is a role model for so many."
Simone thanked her fans for their understanding later that evening in an Instagram post, writing, "The outpouring love & support I've received has made me realize I'm more than my accomplishments and gymnastics, which I never truly believed before."
Life & Style has affiliate partnerships so we may receive compensation for some links to products and services.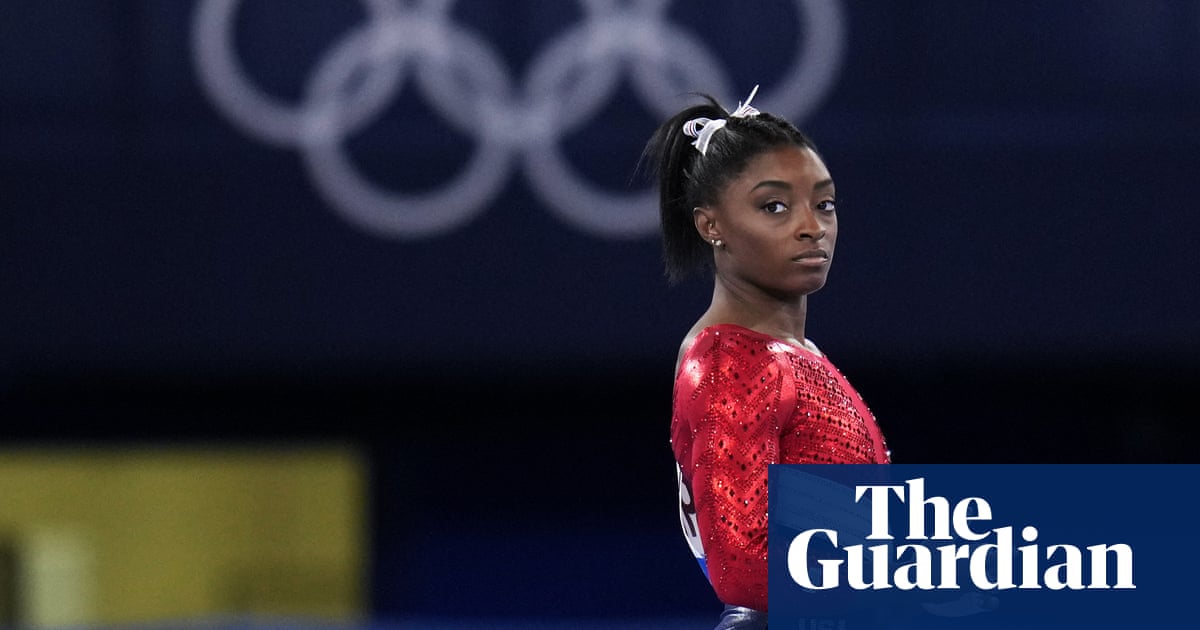 The Guardian 30 July, 2021 - 07:20am
But unlike most other athletes gearing up for the Olympics, Biles is held to impossible expectations. That is not only because she is the greatest in her sport, but also because she is a Black woman dominating an industry that has neglected and discriminated against athletes of her kind. A woman like Biles was never meant to be the greatest gymnast of all time, and because of that, she is held to higher standards and became a role model to the next generation of Black gymnasts and Black women. That is an incredible burden, even for someone who is not stepping onto the biggest stage in sports.
"She has put her hat on to be the mentor and protector of her former gymnastic athletes, but also of the new team," says Eden Ghebresellassie, a former creative strategy lead at ESPN. Now working as a creative strategy consultant, Ghebresellassie's role focuses on diversity, equity, inclusion, and social and sustainable impact in the sports industry, providing her with inside knowledge of the systems that control athletes.
"If your employees, and in this case, athletes, feel safe – whether it's safe when it comes to their mental health, their race, or being a woman – they will thrive in their work," Ghebresellassie explains.
Just a month before Biles's Olympic withdrawal, Naomi Osaka pulled out of Wimbledon. The decision came after the 23-year-old exited the French Open due to social anxiety, particularly around press conferences. Osaka has always been vocal about topics like anxiety and race, yet the public didn't let her off easily. Immediately after her withdrawal, Osaka faced criticism about her decision to prioritize her mental health.
A case of the twisties and discomfort with interviews aren't the only factors that caused Biles and Osaka to step away. Public scrutiny, pressure and racism also played their part. While white athletes too are subjected to strenuous workouts, long practices, and press scrutiny, their Black counterparts must deal with added stressors. When England soccer players Marcus Rashford, Jadon Sancho and Bukayo Saka missed penalties in their team's shootout loss in the Euro 2020 final, defeat wasn't the only thing they needed to deal with; they were also bombarded with racist messages on social media. A mural of Rashford was defaced with an obscene drawing and expletives shortly after the loss.
"There is a big intertwined storytelling that comes from the fans or the media, that hits the player," Ghebresellassie says. "I think at a certain point, that hate and that anger fuels a player to kind of prove people wrong, but then ultimately it gets to them. We've seen Serena break down on the court, and if you compare her to other white tennis players, they're viewed as passionate and secure about themselves, and that's why they were defending their game. But when it comes to Serena, she's just the angry Black woman."
The heightened level of stress that Black athletes endure hurts them at moments. when a clear mind is needed, such as the Olympics or the final of a Grand Slam. But racism isn't only an issue for the best of the best, like Biles and Williams.
Even at the US collegiate level, Black athletes are subjected to racism and discrimination. "There's definitely an unlevel playing field. I've seen instances where things that a Black athlete does are seen as negative versus when other athletes do it," says Mike Watkins, a 31-year-old athletic trainer.
Watkins recalls the difference in how two outstanding athletes were treated for breaking rules such as getting drunk on nights out. "There was one Black athlete and one white athlete, and they were getting into the same trouble, yet things were kind of lightly glazed over with the white athlete," he says. "Even how other athletic trainers would talk about [the white athlete] would be different versus Black athletes."
When Black athletes came in for injury treatment, Watkins says, they were viewed by training staff as lazy or trying to get out of playing time, a dangerous belief to hold when caring for someone's health. He says such discrimination even made some Black athletes hide their injuries. Watkins says he often had to push them to admit they were in pain. "Two of my Black athletes, when I worked with gymnastics, felt more comfortable and felt like they were only listened to by medical staff because I was there," he says. "But if a white athlete had concerns, all things needed to stop to make sure nothing was wrong with them. There's definitely a double standard."
Watkins has been in the athletic and mental training industry for 10 years and previously worked as a trainer in college gymnastics.
His firsthand understanding of the injuries that can occur from one misstep in gymnastics is why he believes Biles made the right decision to step down.
"I saw people on Facebook saying she only pulled out because she knew she was losing," Watkins says. "And it's actually far from that. If she would have continued going, she would have absolutely hurt herself more."
Similar to Osaka, who has the weight of her sport on her shoulders and her community looking at her to lead, Biles stepped down because of mental exhaustion and not receiving the same grace white athletes are offered.
"Maybe not even looking at them as an athlete, but seeing them as a human is what people should try to do," Watkins says. "Because I've worked in such high athletic levels, seeing a highly elite athlete is very normalized for me. I don't look at them as some spectacular human being. I look at them as just a regular person and understand their struggles, just like anyone else would."