The Scarlett Johansson-led film outpaced predecessors "F9," which walked away with $70 million after its opening weekend earlier this month, along with "A Quiet Place II," which earned $57 million in ticket sales during its Memorial Day weekend opener.
The Marvel prequel was simultaneously available on Disney+ (DIS) for a $30 rental fee — a familiar strategy that Disney has applied to other pandemic-era tentpoles like "Mulan" and "Cruella."
However, the entertainment giant reported streaming revenue for the very first time, and the reasons why were obvious. According to the company, the film generated $60 million on Disney+ — less than theaters, but a significant haul amid Hollywood's "new normal" after COVID-19.
"This is a watershed moment for the industry," LightShed Partners Rich Greenfield told Yahoo Finance in a recent interview. He suggested movie studios are "becoming more powerful" in the wake of COVID-19, as the focus shifts from box office exclusives to hybrid releases on streaming platforms.
"[Studios] don't need the theaters as much as they used to. Do they still want theaters? Sure. Do they make money on theaters? Absolutely. It's a good business [and] movie theaters will be around for a very long time," Greenfield said.
"But the leverage in the relationship is shifting towards the movie studio, and they're realizing that they can generate a lot of money directly to consumer," he continued.
Studios that release films directly to platforms — Disney to Disney+, Warner Bros. to HBO Max — keep a significant portion of the revenues (about 80%) whereas a theatrical release is often split with theater chains, Greenfield explained.
"This is a pretty profound moment, [and] a big signal that direct-to-home movies that you know don't have to be seen in theaters are here to stay," he predicted.
While "Black Widow's" box office success is still a positive outcome for cinema chains like AMC (AMC), IMAX (IMAX) and Cinemark (CNK), many analysts believe that the streaming threat is a significant hurdle.
"The theater chains are in deep trouble. I mean deep, deep trouble," LightShed's Greenfield warned.
"AMC was not making money pre-pandemic [and] now you're looking at attendance that is nowhere near what it was pre-pandemic," he said. He noted how box office numbers are still falling short of expectations, despite big budget marketing and perceived optimism around theatrical re-openings.
Greenfield suggested that pent-up demand for concerts and travel are at all-time highs, whereas "movie theater attendance is not blowing out. This is a substantial contraction versus where we were in 2019, and when you look at what happened this past weekend, we're never going back," he added.
He underscored the financial dilemma that theater chains will face as more studios opt for hybrid day-and-date releases.
Overall, Greenfield notes that although movie theaters will continue to exist "they're going to be a lot less profitable and a lot smaller business than they are today."
Alexandra is a Producer & Entertainment Correspondent at Yahoo Finance. Follow her on Twitter @alliecanal8193
Shares of AMC Entertainment Holdings (NYSE: AMC) continue to fall, and were down 6.6% Tuesday morning on no company-specific news, but instead because the momentum behind meme stocks fading. GameStop (NYSE: GME) was down over 3% as well. The theater operator's stock is down more than 17% over the last five trading days.
For the second day in a row, Carnival (NYSE: CCL) (NYSE: CUK) stock is sinking. After falling 1.6% from Friday's close on Monday, shares of the cruise ship operator are down another 2.5% as of 11:11 a.m. EDT on Tuesday. On Monday, The Miami Herald reported that in an effort to keep its ships free of the novel coronavirus -- but also comply with a Florida law forbidding cruise companies from requiring that passengers show proof of vaccination against it -- Carnival has decided to demand that vacationers purchase "special COVID-19 travel insurance" if they want to board its ships.
'I worry that stretching that house payment into our first five years of retirement will eat a huge chunk out of the retirement funds.'
On Sunday, Richard Branson blasted into space aboard the Virgin Galactic Unity spacecraft, officially marking the launch of the space tourism market. Virgin Galactic shares had rocketed higher in anticipation, but the reaction since has been muted. Secondary offerings typically have a negative impact on stocks because they add to the total float, meaning every investor has a slightly smaller piece of the overall pie.
Shares in the company rose 6.6% on Tuesday in Helsinki following the announcement.
Coupang (NYSE: CPNG), the largest e-commerce company in South Korea, went public in March. Can Coupang impress the bulls again and generate millionaire-making gains over the next few years? Coupang was backed by big investors like SoftBank, Sequoia Capital, and BlackRock over the past decade, and their funds supported the expansion of its first-party logistics network across South Korea.
This was supposed to be a summer of love for the cruise line industry, but the bounce for Carnival (NYSE: CCL) (NYSE: CUK), Royal Caribbean (NYSE: RCL), and Norwegian Cruise Line Holdings (NYSE: NCLH) is starting to take on water. Florida has gone from being a state that was at one point backing the three Miami-based cruise lines in efforts to resume operations to one that's become a hindrance to the restart process.
One of history's most successful investors is betting on these stocks -- and neither is a typical Berkshire Hathaway holding.
For SGOCO Group (NASDAQ: SGOC), it was the days after Independence Day when the fireworks were seen. During the segment Cramer stated in reference to the stock's meteoric climb yesterday, "It's beyond me that this stuff is allowed, beyond me that you could have a Chinese stock that could be ramped like this."
Cassava stock actually went as high as $106.39 Monday before coming back to earth a bit at $99.32 at the close, but it was still 4.1% higher than it had been on Friday. The best explanation for Friday's drop was that the FDA's (Food and Drug Administration) acting head said the agency is asking the Office of the Inspector General to conduct a review regarding the FDA's decision to approve Aduhelm, an Alzheimer's treatment from Biogen, to see if any interactions between FDA staff and Biogen broke agency rules. While this doesn't have anything directly to do with Cassava, the company has its own Alzheimer's drug, Simufilam, in a phase 2 trial, and investors may have been concerned the agency would adopt stricter measures regarding other Alzheimer's treatment approvals moving forward.
A photo of a sign outside a Lincoln, Neb., Burger King has gone viral. The sign, which reads "we all quit" and "sorry for the inconvenience," was put up by disgruntled staff members trying to send a message to upper management. "They wanted to put up a sign to say, you know sorry there's really not going to be anyone here," former general manager Rachael Flores told a local ABC affiliate.
In this article we will take a look at the 15 best gold mining stocks to invest in. You can skip our detailed analysis of the mining industry's outlook for 2021 and some of the major growth catalysts for mining stocks, and go directly to the 5 Best Gold Mining Stocks to Invest In. Gold […]
Is NIO Inc. (NYSE:NIO) a good place to invest some of your money right now? We can gain invaluable insight to help us answer that question by studying the investment trends of top investors, who employ world-class Ivy League graduates, who are given immense resources and industry contacts to put their financial expertise to work. […]
Much of the profit that investors in Sundial Growers (NASDAQ: SNDL) have made over the past year can likely be attributed to speculation and the stock becoming a popular buy on Reddit. Sundial Growers is an underdog in the sector due to its small size and low sales numbers. One of the most important things for investors to consider when looking at marijuana companies is the strength of their financials, and specifically cash.
While the company's brief life as a public company has been anything but a smooth ride, its business is well-positioned for growth.
In this article, we discuss the 10 Reddit's WallStreetBets meme stocks hedge funds are piling into based on the data of over 800 hedge funds tracked by Insider Monkey. If you want to skip our detailed analysis of these stocks, go directly to the 5 Reddit's WallStreetBets Meme Stocks Hedge Funds are Piling Into. Users […]
Tesla (NASDAQ: TSLA) has seen a flurry of press coverage in recent months, much of which has been focused on its troubles in China. Here are two things investors need to know about Tesla. In early 2019, Tesla started construction of Gigafactory Shanghai, making it the first foreign automaker to operate a wholly owned plant in China -- the world's largest electric vehicle (EV) market in terms of cars on the road.
Boeing plans to cut production of its 787 Dreamliner as it looks to resolve another issue, forcing another slowdown to deliveries. Boeing stock fell. "Based on our assessment of the time required to complete this work, Boeing is reprioritizing production resources for a few weeks to support the inspection and rework," Boeing said in a statement Tuesday.
In this article, we will be looking at the 10 best gun stocks to invest in. You can skip our detailed analysis of the firearms industry, and go directly to the 5 Best Gun Stocks to Invest In. Even before President Biden was elected into office, concerns about strictly enforced gun control and new firearm […]
Read full article at The Motley Fool
Yahoo Entertainment 14 July, 2021 - 03:29am
Unlike theater grosses, "Black Widow" PVOD revenues represent a 100 percent return to the studio. Rival studios suggest that the domestic portion ranged between 67-80 percent. On that basis, Disney would have so far earned more from PVOD than in theaters. (That's take-home, not gross.) A single weekend's performance is not the final word for movies, theaters, or even Disney, but it suggests major implications for all concerned.
Another indication that PVOD remains a lucrative alternative to theaters is the strategy for home availability of "A Quiet Place Part II" which drops Tuesday — as planned, 45 days after its very successful theatrical release — on Paramount+. What's surprising here is "A Quiet Place Part II" will also be available for download at $19.99. We've seen Warners and Disney open the PVOD window only after HBO Max and Disney+ had first crack, prioritizing their streaming services.
Similar to Paramount, Universal announced last week that Peacock subscribers would have to wait up to four months to the see the studio's first-run films. They will be available on PVOD as early as three weeks after their theatrical release. Everyone wants to support their homegrown streamers — but not at the expense, it seems, of cash on the barrelhead.
If Paramount chose to Paramount+ serve as the initial exclusive home for the film, that certainly would have served as incentive for more platform sign-ups. However, that PVOD revenue — 80 percent retained — is too big to pass up, especially when a successful theatrical run will boost its take.
For those titles on the VOD charts, there's been limited movement this week. Four different titles, all past successes, placed at #1. Three of the four — "Godzilla vs. Kong" (Warner Bros./$19.99), "Cruella" (Disney/$29.99), "Wrath of Man" (United Artists/$19.99) — are Premium VODs, along with the unstoppable "Nobody" (Universal/$5.99).
All four placed across the board, with "Nobody" with the highest overall ranking. Rounding out the group is the Megan Fox shackled-to-a-corpse horror entry "Till Death" (Screen Media/$6.99).
Two new entries debuted this week. "Closed for Storm" (Gravitas Ventures/$3.99), a documentary about the fate of an abandoned Six Flags amusement park in New Orleans, showed up at #7 at Google Play. "The House Next Door: Meet the Blacks 2" (Hidden Empire/$13.99), after three weeks in theaters, placed on both charts that rank by revenue.
Along with "Till Death," "Werewolves Within" (IFC/$6.99), a second strong recent non-studio release, placed on three charts, including #2 at iTunes.
It doesn't feel like a coincidence that Netflix unleashed its strongest group of original titles just as top films return to theaters. This week's entries are typically diverse. "Fear Street Part 2 – 1978," the middle film of this new trilogy, is #1 at the moment ("Part 1" is now at #3). Also strong are #2 "Major Grom: Plague Doctor" and #5 "How I Became a Super Hero."
The last two titles are products of foreign producers (Russia and France, respectively). "Grom" is a latter-day vigilante story set in contemporary St. Petersburg. "Hero" involves Paris cops trying to intercept trafficking of a drug that grants ordinary people superpowers. Thierry Fremaux of Cannes may be bothered by the streamer, but for better or worse the international films they present get vastly more interest in the U.S. than the more acclaimed premieres shown on the Riviera.
1. Nobody (Universal) – $5.99
2. Werewolves Within (IFC) – $6.99
3. The Swordsman (Opus) – $0.99
4. Till Death (Screen Media) – $6.99
5. Godzilla vs. Kong (Warner Bros.) – $5.99
6. The Wrath of Man (United Artists) – $19.99
7. The Courier (Roadside Attractions) – $5.99
8. Cruella (Disney) – $29.99
9. The Dry (IFC) – $6.99
10. Lansky (Vertical) – $6.99
1. Godzilla vs. Kong (Warner Bros.) – $5.99
2. Nobody (Universal) – $5.99
3. Werewolves Within (IFC) – $6.99
4. Wrath of Man (United Artists) – $19.99
5. Demon Slayer – Mugen Train (Funimation) – $14.99
6. Till Death (Screen Media) – $6.99
7. Closed for Storm (Gravitas Ventures) – $3.99
8. A Quiet Place (Paramount) – $2.99
9. Mortal Kombat (Warner Bros.) – $ 24.99
10. Cruella (Disney) – $29.99
1. Cruella (Disney) – $29.99
2. Those Who Wish Me Dead (Warner Bros.) – $19.99
3. Spirit Untamed (Universal) – $19.99
4. Wrath of Man (United Artists) – $19.99
5. Nobody (Universal) – $5.99
6. Godzilla vs. Kong (Warner Bros.) – $5.99
7. The House Next Door: Meet the Blacks 2 (Hidden Empire) – $13.99
8. Till Death (Screen Media) – $6.99
9. Spiral: From the Book of Saw (Lionsgate) – $19.99
10. Demon Slayer – Mugen Train (Funimation) – $14.99
1. Wrath of Man (United Artists) – $19.99
2. Nobody (Universal) – $5.99
3. Cruella (Disney) – $29.99
4. Godzilla vs. Kong (Warner Bros.) – $5.99
5. Till Death (Screen Media) – $6.99
6. Those Who Wish Me Dead (Warner Bros.) – $19.99
7. Werewolves Within (IFC) – $6.99
8. Demon Slayer – Mugen Train (Funimation) – $14.99
9. Spirit Untamed (Universal) – $19.99
10. The House Next Door: Meet the Blacks 2 (Hidden Empire) – $13.99
1. Fear Street Part 2: 1978 (2021 Netflix original)
2. Major Grom: Plague Doctor (2021 Netflix original)
3. Fear Street Part 1: 1994 (2021 Netflix original)
4. Mother's Day (2016 theatrical release)
5. How I Became a Superhero (2021 Netflix original)
6. Kung Fu Panda (2008 theatrical release)
7. Talladega Nights (2006 theatrical release)
8. This Little Love of Mine (2021 Netflix premiere)
9. Kung Fu Panda 2 (2011 theatrical release)
10. The Ice Road (2021 Netflix original)
Sign up for Indiewire's Newsletter. For the latest news, follow us on Facebook, Twitter, and Instagram.
Disney will raise the monthly and annual fees for ESPN Plus, one of three different subscription-based streaming services it operates in the U.S., in a maneuver that signals how much the media industry is starting to depend on those direct-to-consumer outlets for new revenue. Starting on Aug. 13, the price of an ESPN Plus subscription […]
Wellington Paranormal is a What We Do in the Shadows' spinoff, but its comic tone and characters remind us of Flight of the Conchords. The post WELLINGTON PARANORMAL Is FLIGHT OF THE CONCHORDS' Successor appeared first on Nerdist.
John Singleton wasn't afraid to take a chance on new talent when he made his feature directorial debut "Boyz n the Hood" in 1991, which turns 30 today. As the seminal film celebrates its 30th anniversary, Singleton, who died in 2019 after suffering a stroke, told ABC Audio two years prior to his death that looking at the success of the actors he helped "put on," like Ice Cube, was always a source of pride for him as a director. "Ice Cube has transitioned from being an actor-producer to almost mini mogul -- making a lot of things happen in different ways in film and television."
Paramount's A Quiet Place Part II is available to stream now on Paramount+, the streaming service said today. Written and directed by John Krasinski, and starring Emily Blunt, Cillian Murphy, Millicent Simmonds, Noah Jupe, Djimon Hounsou and Krasinski, the film begins streaming 45 days after its May 28 theatrical release. If you need a refresher of […]
The game, featuring Hollywood star Keanu Reeves, was pulled from the PlayStation Store in December shortly after its debut as gamers complained about glitches. Its version for PS4 consoles was the most downloaded game in the U.S./Canada and Europe in June, according to PlayStation's blog https://blog.playstation.com/2021/07/09/playstation-store-june-2021s-top-downloads.
SUNDAY AM Final: The Walt Disney Company sent out a widespread announcement that Black Widow made $215M-plus WW this weekend: Broken down, that's $80M at the domestic box office, $78M in international box office, and over $60M in Disney+ Premier Access consumer spend globally. I understand that the latter figure skews more heavily toward US Disney+ […]
Cannes: Valdimar Jóhannsson's first feature is derivative in parts but impressive once its big twist comes together.
Tom Ford looks good on him.
The Republican bill, while unnecessary, isn't that bad, and fleeing to DC is a gift to Gov. Greg Abbott. [Opinion]
Disney Plus Premier Access allows viewers to watch movies that are in theaters—at an elevated price.
Sarah Palin couldn't take the Alaska senator out. Donald Trump just might.
Babe Ruth's great-grandson loves what Shohei Ohtani is doing for baseball and for revitalizing the memory of baseball's 'Sultan of Swat.'
The Backstreet Boys will be back in Las Vegas in November and December for a series of holiday concerts to complement an upcoming Christmas album.
"I love you so much," Jasmin Lawrence captioned a photo of herself and Eric Murphy. Their fathers costarred in the 1992 rom-com "Boomerang."
*If* he actually did, that is.
From 1980-91, the Bucks reached the East finals three times and the conference semifinals six times. Boston and Philadelphia often stood in the way.
Showtime has picked up to series I Love This For You, Vanessa Bayer's half-hour comedy pilot, written by and starring Bayer. Co-created and executive produced by Bayer and Jeremy Beiler (Saturday Night Live), I Love This for You is a grounded comedy in which Bayer plays a character, inspired by her own past, who overcame […]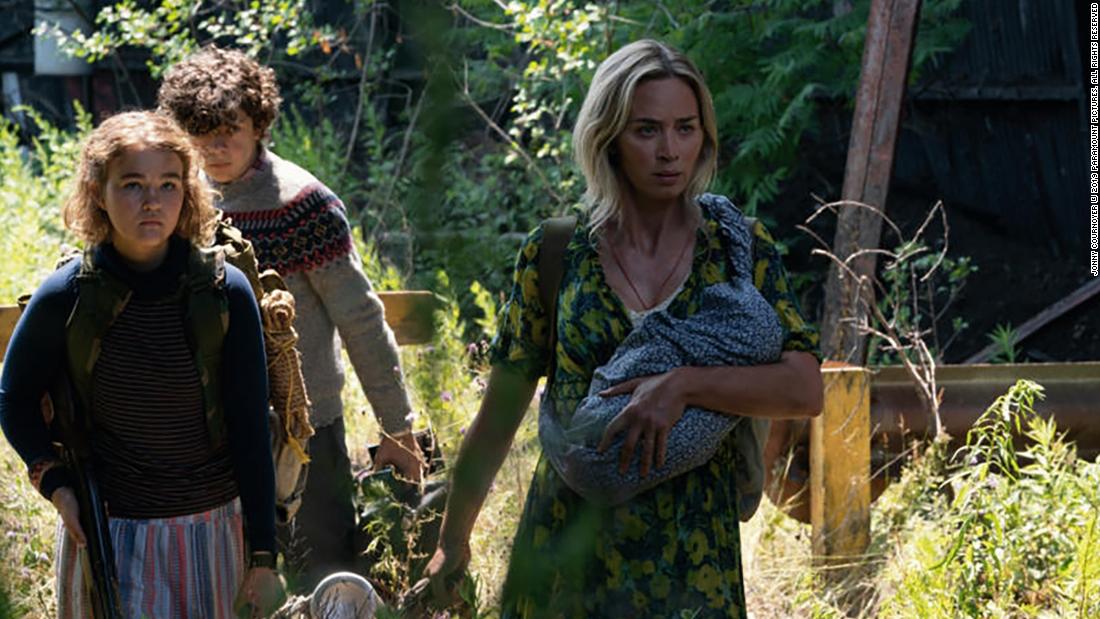 CNN 14 July, 2021 - 03:29am
Updated 5:11 PM ET, Tue July 13, 2021
Moneycontrol.com 13 July, 2021 - 09:49am
You are using an outdated browser. Please upgrade your browser to improve your experience and security.
Fundamental, Stock Ideas, Multibaggers & Insights
Stock & Index F&O Trading Calls & Market Analysis
Positional and Intraday Trading Calls basis Noiseless Chart
Technical Call, Trading Calls & Insights
Commodity Trading Calls & Market Analysis
Currency Derivatives Trading Calls & Insights
Options Trading Advice and Market Analysis
Model portfolios, Investment Ideas, Guru Screens and Much More
Proprietary system driven Rule Based Trading calls
Curated markets data, exclusive trading recommendations, Independent equity analysis & actionable investment ideas
Details stock report and investment recommendation
Set price, volume and news alerts
There has been a lot of hand-wringing about the demise of movie theaters over the past year and a half, and for good reason. Most were closed for at least a few months during the height of the pandemic. Companies like the Walt Disney Co., NBCUniversal, WarnerMedia and Viacom have started to prioritize streaming for their films, in part to bolster subscriber interest in their own Netflix-style platforms.
Over the weekend came evidence that, at least for the biggest franchise films and with a carefully calibrated pricing strategy, theatrical distribution and streaming can coexist.
"Black Widow," a long-delayed Marvel movie, collected about $80 million in the U.S. and Canada from Thursday night to Sunday for Disney. Overseas, the superhero movie sold an additional $78 million in tickets. That means that, in total, roughly 17 million people went to see the movie in a theater, according to Rich Greenfield, a founder of the LightShed Partners research firm. After giving theater owners their cut of ticket sales, Disney cleared about $98 million over the weekend, Greenfield calculated.
Disney also made "Black Widow" available on its Disney+ streaming service, which has more than 100 million subscribers worldwide. Subscribers could instantly watch the film (and have permanent access to it) for a $30 surcharge. Disney said Sunday that Disney+ generated about $60 million from "Black Widow" orders over the weekend. Greenfield said that figure equated to about 2 million transactions and about $48 million in revenue for Disney after streaming partners had taken their cut. (The benefit to Disney in the form of new subscribers to Disney+ is unknown; subscriptions cost $8 a month.)
There are several takeaways. "Imagine being a theater owner and realizing studios need you less and less everyday," Greenfield wrote on Twitter. "Leverage is shifting rapidly in the streaming era toward the studios."
On the other hand, the fact that 17 million people decided to leave their bubbles and go sit with strangers in a theater — amid rising coronavirus infections, the result of the delta variant — when they could just push a button in their living rooms is nothing to sneeze at. For now, theatrical distribution remains a major revenue generator and cannot be ignored if studios want to make money on big-budget spectacles.
"This is an extremely impressive theatrical opening," David A. Gross, who runs Franchise Entertainment Research, a movie consultancy, said in an email. "Certainly the figure would be higher if every theater were open, if there were zero concern with Covid and if there weren't a streaming option. For now, those impediments make the 'Black Widow' opening all the more impressive."