Marco Rubio
marcorubio
The extortionist ring known as the Black Lives Matter organization took a break today from shaking down corporations for millions & buying themselves mansions to share their support for the Communist regime in #Cuba www.instagram.com/p/CRU5kYYp-UU/?utm_medium=share_sheet
Sabrina Rodríguez
sabrod123
Black Lives Matter has released a statement on Cuba: pic.twitter.com/NgnT1o1oZE
Rep. Alexandria Ocasio-Cortez
RepAOC
We stand in solidarity with the Cuban people and condemn the suppression of the media, speech and protest. We also call for an end to the U.S. embargo and additional Trump-era restrictions that are profoundly contributing to the suffering of Cubans. pic.twitter.com/Fw6Quv5TAN

Bernie Sanders
SenSanders
All people have the right to protest and to live in a democratic society. I call on the Cuban government to respect opposition rights and refrain from violence. It's also long past time to end the unilateral U.S. embargo on Cuba, which has only hurt, not helped, the Cuban people.
It was 1994, and hundreds of Cubans poured their rage and desperation onto the oceanfront boulevard known as the Malecón.
Some 27 years later, the country saw even larger protests, with thousands across the island taking to the streets over similar complaints: a failing economy, tightened U.S. sanctions, food shortages and blackouts that have left scores of Cubans sweltering in the heat. A spiking covid-19 outbreak has only made matters worse.
But there is one big difference: Fidel Castro — revered liberator, feared tyrant, master propagandist — is gone.
Moments after police quelled the 1994 protests, Castro stepped out of a Jeep onto the Malecón, according to news reports from the time, to find, almost magically, a group of supporters shouting "Viva Fidel!"
When the current president, Miguel Díaz-Canel, walked through streets of protesters this week, he was cursed at.
Díaz-Canel lacks the revolutionary pedigree of a Castro — a guerrilla fighter credited by his followers for freeing the island from the yoke of U.S. domination — nor has he yet displayed the kind of geopolitical sleight of hand that Castro relied on to wiggle out of difficult situations. While Díaz-Canel has shown no aversion to strong-arming and detaining protesters, neither does he have Castro's decades-long record of consistent and brutal repression of political opponents.
Díaz-Canel is dealing with "a situation much more complicated than the one in 1994," said Miguel Coyula, an architect and urban planner in Havana. "And he's no Fidel. That's a fundamental difference."
A former education minister, longtime bureaucrat and Communist loyalist, Díaz-Canel became Cuba's new head of state in 2018 after nearly six decades of Castro rule. This year, he succeeded Raúl Castro as first secretary of the Communist Party.
Diaz-Canel's ascension coincided with a number of crippling developments. Gross domestic product shrank by 11 percent over 2020, and Economy Minister Alejandro Gil has admitted it may take years for the country to fully recover. The nation is facing an estimated 500 percent inflation rate. The economic collapse of Cuba's once oil-rich patron, Venezuela, coupled with U.S. sanctions tightened by the Trump administration and thus far maintained by the Biden administration, has left the island struggling.
"Economically, the treasury is empty," said Richard Feinberg, a professor at the University of California at San Diego.
Protesters and Cuba analysts alike are wondering whether this could be a tipping point toward long-awaited economic reforms in the country — or whether the protests will simply lead to further repression.
Either way, "this means a change in Cuba," said Pavel Vidal, an economist who previously worked at Cuba's Central Bank and now teaches at Pontificia Universidad Javeriana in Colombia. "We don't know when and we don't know how, but it's undeniable that this will mean a change in the dynamics of economic policy and politics itself in some way."
When Díaz-Canel replaced Raúl Castro, Fidel's brother, as head of state more than three years ago, some Cubans were cautiously optimistic that this younger generation of leaders — born after the country's revolution — would usher in change.
But in his inaugural speech, Díaz-Canel vowed to bring "continuity to the Cuban revolution" and said there was "no room for those who aspire to a capitalist restoration."
In one of his first decrees as president, Díaz-Canel banned artists and musicians from operating in public or private spaces without prior approval of the Ministry of Culture. To many, the law was "no more than the repression of the liberty of expression," said Iris Ruiz, coordinator of the dissident San Isidro Movement.
In the immediate aftermath of this week's historic protests, Ruiz said demonstrators saw a continuation of that repression. Díaz-Canel urged Cuba's "revolutionary" citizens to take to the street. Security forces have detained at least 400 people, human rights groups say, and have targeted journalists and activists by standing watch outside their homes.
"They're using the same playbook, but they have to apply it massively," said Juan Pappier, a senior researcher for Human Rights Watch. "The name of the game for the Cuban government has always been, 'We will repress with the least visibility possible.' But when you have hundreds of thousands of people in the streets, that's challenging."
The detentions have led to condemnations from both the U.S. government and the U.N. human rights chief.
Over the course of the week, the president's tone began to change. While he continued to castigate the protesters and blame the unrest on the United States, he started calling for "unity" and "peace." In a televised speech on Wednesday, he admitted for the first time some of the government's missteps in handling power and food shortages.
"We have to gain experience from the disturbances," he said. "We also have to carry out a critical analysis of our problems to act and overcome, and avoid their repetition."
That same day, Prime Minister Manuel Marrero announced some measures that many Cubans had called for since the beginning of the pandemic. He said Cuban citizens would be allowed to travel abroad and bring home toiletries, food and medicine — items that have been hard to find on the island — without paying customs. The prime minister also said officials are working to improve the nation's electricity system and its supply of medicines.
While some analysts and protesters saw these as positive signs, Vidal said the increased customs flexibility will have little impact on the average Cuban family. "The majority of families don't have anyone who can bring them medicine or food from outside of the country," he said.
Yoani Sánchez, a dissident blogger and journalist, sent a stronger message in response, tweeting: "Blood was not spilled on Cuban streets to import a few extra suitcases."
Carlos Alzugaray, a former Cuban diplomat, said the government should have recognized its mistakes earlier.
"Mr. Díaz-Canel has confronted the tornado, hurricanes, Trump, so he is stressed out, I have no doubt about it," Alzugaray said. "There is a group of ideologues surrounding Díaz-Canel who scare the hell out of him," which he said is part of the reason economic reform has been slow.
"But I think they have to do something," he added.
Within the past year, the Cuban government took two significant steps: It announced the largest devaluation of the peso since the 1959 revolution, and it said it would allow private businesses to operate in most sectors.
Vidal, the economist, said he hopes the protests help loosen the state's grip over economy. He also emphasized the need for Cuba to join international financial institutions to integrate into the global market. But this would require negotiation with President Biden, who has so far not shown any desire to refresh relations with the country.
"There are a number of things that we would consider doing to help the people of Cuba," Biden said Thursday in a news conference, "but it would require a different circumstance or a guarantee that they would not be taken advantage of by the government."
While there are parallels with the protests of 1994, one difference, analysts say, is that Cuba's current leader has few options even as the patience of the Cuban people is at an ebb.
"In some sense, Cuba hasn't ever completely recovered," Cuba historian and New York University professor Ada Ferrer said. "Díaz-Canel can't ask for more sacrifice. Díaz-Canel can't say this is just a blip … it'll end. He's unable, I think, to convince the public that there's a fix."
And he's unable to use migration as an escape valve for opposition, Ferrer said, as Castro did with the Mariel boatlift of 1980 and the 1994 exodus to the United States.
Many of today's protesters don't want to leave Cuba, Ruiz, coordinator of the San Isidro Movement, said. They have seen generations of Cubans leave the island, yet life for those left behind hasn't gotten any better, she said.
"We can't keep going like this," Ruiz said. "As a country, we need to advance. We need to resolve our issues. We need to get somewhere different."
Read full article at CNN
The Week Magazine 17 July, 2021 - 12:01pm
Things that make you go hmmmmm...
When Florida Gov. Ron DeSantis (R) signed a controversial "anti-riot" law in April, citing racial justice protests following the police killing of George Floyd, he said "there needs to be swift penalties" when "you have people out there shutting down a highway." On Tuesday, when South Floridians blocked the Palmetto Expressway for hours in support of Cuban anti-government protesters, DeSantis said, "I think people understand the difference between going out and peacefully assembling, which is obviously people's constitutional right."
"Democrats and other critics of the law — which is being challenged in federal court — accused DeSantis and other Republicans of supporting selective enforcement of the measure," which clearly mandates punishments for obstructing public streets and highways, Politico reports. "They said the measure was designed to target Black protesters upset with police shootings. But now DeSantis and other GOP leaders are in a difficult position since they support the aims of many of the demonstrators backing Cuba in Miami and elsewhere."
After days of being accused of hypocrisy, DeSantis said Thursday that law enforcement can't "tolerate" people blocking traffic, though he praised law enforcement for breaking up the road blockades without arresting anyone. "It's dangerous for you to be shutting down a thoroughfare," he said. "You're also putting other people in jeopardy. You don't know if an emergency vehicle needs to get somewhere and then obviously it's just disrespectful to make people stand in traffic."
State Sen. Jeff Brandes, the only Senate Republican to vote against the anti-riot bill, said Thursday that he had warned his colleagues about the dangers of selective enforcement. "People gather for all sorts of reasons, they happen spontaneously," he told Politico. "The law doesn't contemplate the difference."
FOX 13 Tampa Bay 17 July, 2021 - 12:01pm
The Washington Post 17 July, 2021 - 12:01pm
Much has been made about recent food shortages on the island and the lack of access to coronavirus vaccines. Certainly, that is fueling some of the current anger. But focusing on those factors ignores the longer arc of change in Cuba. Disillusionment has grown about the communist ideology, not only among Cubans of my generation, but also older Cubans who believed in the revolution 60 years ago.
The older generation sacrificed freedoms to achieve a communist utopia, but their efforts ended in misery. For instance, Cubans were promised a world-class health care system, but the result six decades later is dirty hospitals, a lack of medicine and a lack of doctors as Cuban doctors are sent abroad for the state's profit and propaganda. Other big propaganda programs have also devolved into disaster, such as late dictator Fidel Castro's touted literacy program. It might still woo the likes of Sen. Bernie Sanders (Vt.), a self-described democratic socialist, but it has become a decayed tool of indoctrination.
The most significant recent change is communication technology. Cellphone usage, the Internet and social media have enabled Cubans to network and communicate. During the last uprising in 1994, known as the Maleconazo, the regime easily isolated and cracked down on the demonstrations by cutting off the few phone landlines. That prevented most Cubans from learning about the demonstrations until after they were over. This time, footage from spontaneous demonstrations in two towns far away from each other were shared on social media, allowing the rest of the country to learn about them immediately.
In contrast with previous demonstrations — such as the Ladies in White (a collective of mothers and wives of political prisoners) and the San Isidro Movement (artists demanding freedom of expression) — these demonstrations have spread beyond their small enclaves and have been made up of tens of thousands of Cubans, despite harsh repression tactics including arbitrary arrests and disappearances.
The technology has helped give rise to a robust civil society. Cubans have seen communities crop up around religion, LGBT issues, politics, entrepreneurship and even video games. These associations, harmless in a normal society where people freely pursue common interests, are considered a threat to the communists' power in Cuba.
A growing social media movement of influencers is also challenging the Communist Party's monopoly on public discourse. While the Cuba Communist Party's flagship show, "Mesa Redonda," has since 2009 had more than 4 million views and 32,000 subscribers on YouTube, the "Cubanos por el Mundos" channel, which provides independent news and entertainment, has racked up more than 38 million views and 142,000 subscribers since 2013. A popular YouTuber, Alex Otaola, who is mostly unknown outside of the Spanish-speaking Cuban and Cuban-American social media niche, has used his provocative commentary to push prominent Cuban artists and celebrities to echo his anti-communist message and persuade Cubans to peacefully fight for freedom on the streets.
Even if this uprising is crushed, I feel sure these events are the beginning of the end of communist rule in Cuba, because people realized they can demand their freedoms. Even if the regime is able to retain power, it will be forced to make economic reforms and possibly allow more political freedoms. Despite the strong repression, my contacts in Cuba are telling me people are still going to the demonstrations. They are afraid, but they believe this is the end of the dictatorship. They just want to have the support of the free world.
The United States can take a leadership role in supporting the demonstrations by applying further sanctions and other measures if the regime resorts to violence to repress the demonstrations. More immediately, the Biden administration should make clear to the Cuban regime that provoking an exodus, like the 1980 Mariel boatlift or the 1994 rafter crisis, will be considered a hostile action and dealt with by putting all options on the table, including military intervention.
Many Cuban Americans like me did not vote for President Biden, but we hope he rejects domestic radicals, including the democratic socialists, and fights against our foreign communist enemies. Biden has claimed he has "taken on the Castros and Putins of the world. I let them know: it stops here. It stops with me." He also recently called communism a "failed system." This is the time to act. The Biden administration's message to the Cuban regime should echo the Cuban people's "Se acabó!" It is over.
The Washington Post 17 July, 2021 - 12:01pm
The Biden team, which has often eschewed the day-to-day political and social-media food fights, sought to err in favor of clarity on its position.
This week it was confronted with a similar dilemma, with comparable political dynamics but somewhat different causes. And again, it chose to be explicit.
Amid GOP criticism that the White House hasn't been as aggressive in linking protests in Cuba to its communist regime, both Biden and White House press secretary Jen Psaki on Thursday declined to mince words.
"Communism is a failed ideology, and we certainly believe that," Psaki said. "It has failed the people of Cuba. They deserve freedom. … And instead, this has been a government — an authoritarian, communist regime — that has repressed its people and has failed the people of Cuba. Hence, we're seeing them in the streets."
Biden added hours later: "Communism is a failed system, universally failed system. I don't see socialism as a very useful substitute. But that's another story."
At the root of this are a couple of things that happened this week. One was that some people and groups on the left, most notably Black Lives Matter, used the occasion of the protests not to link them to Cuba's communist rule, but to call for the lifting of the U.S. trade embargo on Cuba. The other was that the White House initially played up the role of Cuba's coronavirus response in the protests.
We'll take the latter first. It's valid to ask whether the White House got its emphasis right in its initial response. But even in previous comments that they were asked to clarify by Fox News and others — and did — they cited not just the Cuban regime's coronavirus response, but also its repression.
"We stand with the Cuban people and their clarion call for freedom and relief from the tragic grip of the pandemic and from the decades of repression and economic suffering to which they have been subjected by Cuba's authoritarian regime," Biden said in a statement Monday.
Psaki, too, cited repression when probed Wednesday on why the protests are taking place:
If there is a fault, apparently, it's in not citing the specific form of government that is responsible for this form of oppression. The argument seemed to be: Why won't you just say the word?
But was there any mystery about what was responsible for "decades of repression and economic suffering?" It's not like Biden has given any indication he likes communism, much less socialism, from which he has repeatedly distanced himself. Was the idea that he opposes authoritarianism, but not necessarily the communist brand of it? It's understandable the White House might resist attacking socialism too much, given an increasing number of Democrats align with a certain brand of it, but being anti-communist would seem to be a given in all of this.
Perhaps the bigger reason for the decision to come out forcefully lies not in what the administration's foes say, but what some more closely aligned with its party have said — comments which played directly into the hands of those accusing the left of being too friendly with Cuba's communist regime.
The Black Lives Matter statement calling for an end to the U.S. embargo on Cuba epitomized this. It focused more blame on the embargo than the Cuban government, saying that "the people of Cuba are being punished by the U.S. government because the country has maintained its commitment to sovereignty and self-determination." It added that the "United States leaders have tried to crush this revolution for decades."
The idea that the Cuban people have "self-determination" is certainly a viewpoint — as is the implication that the protests are somehow more a result of U.S. rather than Cuban policy.
As with the racial-justice protests, the Biden team was left with a decision about whether to more forcefully distance itself from something with which it was never truly aligned. And it did so, recognizing that allowing this kind of thing to take hold in certain corners of the left without carving out its own path could be counterproductive.
Whether its denunciations of communism will suffice for its critics or stop the claims that it's too soft on Cuba, is another matter entirely. It's popular to argue that clarifications such as Biden's and Psaki's are pointless because the other side will simply keep attacking, as it did last year with protest violence. (Some conservatives did give Biden credit Thursday, while re-upping attacks claiming its policies were not necessarily communist, but socialist.)
But just because they keep saying so doesn't mean there's no value in carving out an explicit position. There is clearly an element on the left that would prefer to focus the narrative around the protests in Cuba on something other than its repressive, communist regime. And it assisted Biden's foes in applying pressure. This is not exactly a "Sister Souljah" moment for Biden — saying "communism is bad" is a pretty low bar in this country — but it's certainly a commentary on our time that such a clarification was called for and provided.
BBC News 17 July, 2021 - 12:01pm
WPTV News - FL Palm Beaches and Treasure Coast 17 July, 2021 - 12:01pm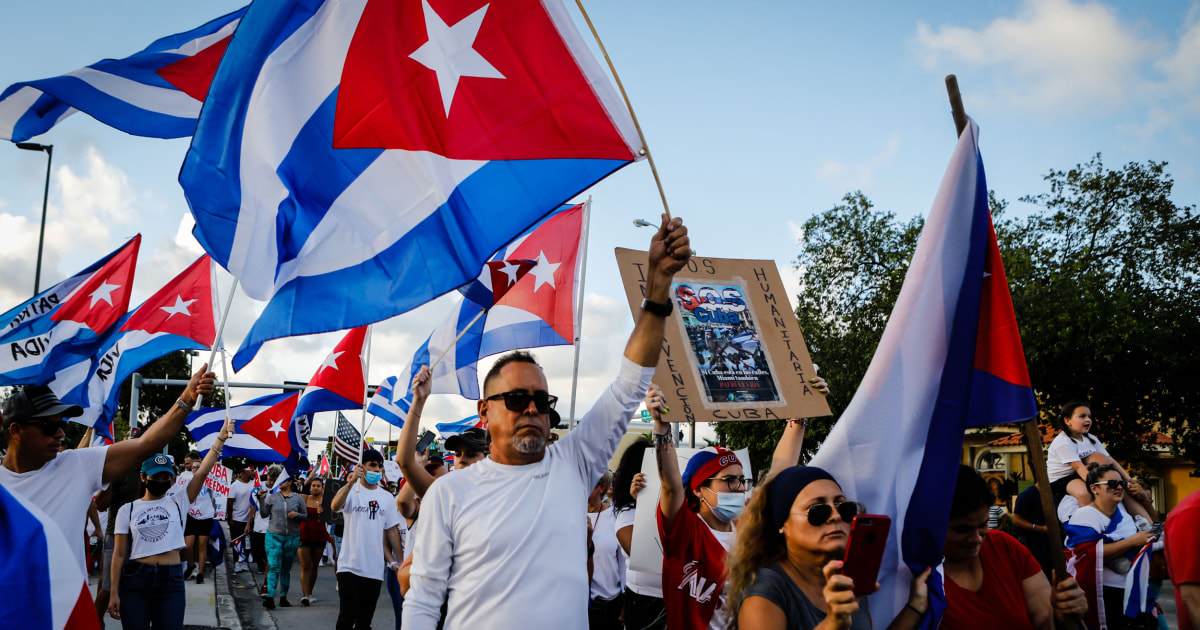 NBC News 17 July, 2021 - 12:01pm
While Cubans expressed anger over shortages in food and medicine, rising inflation and power outages — amid the challenges of Covid-19 — many of the chants throughout the island called for political change and included expressions such as "libertad" (liberty), "We want change" and "Down with the dictatorship."
Many Cuban Americans say that should not be glossed over.
"For the first time in 62 years, they are risking their lives from one end of the island to the other to demand accountability from the regime," Carmen Peláez, a Cuban American filmmaker and Democratic political consultant, said. "I'm anti-embargo. But it's not about the embargo right now. That's not what this fight is about."
In the U.S., Cuban Americans hold different positions on U.S.-Cuba relations, some falling along party lines. But while conservatives and Republicans are known for a more hard-line stance against Cuba, some progressives and human rights groups have been denouncing the Cuban government's tough stance against activists' calls for greater freedom of expression.
Many Cuban Americans have grown up hearing calls for "libertad" for Cuba in the streets of Miami and other U.S. cities, but it's seldom heard in Cuba. Some Cuban Americans said it was emotional to hear the word being shouted by so many on the island.
"Policy differences aside, Cuban Americans strongly agree and understand that these protests are not about the embargo or even food shortages. It's opposition to the regime," said Giancarlo Sopo, a conservative media strategist.
"It doesn't matter if you're a Republican or a Democrat. We all recognize what these protests are about," said Sopo, adding that the chants called for "libertad."
Cuba has been run by a Communist government, with a strong grip on society, for over six decades. Though the government has received praise for its ability to offer primary care to its population, it also determines many aspects of people's lives, including wages, food and internet prices, as well as their freedom of assembly, expression and the ability to choose a president that does not belong to the Communist Party of Cuba.
After the protests, Cuba's government announced it would temporarily lift restrictions on the amount of toiletries, food and medicine that Cuban citizens can bring back home when they take foreign trips, but for many protesters on the island it's a small concession compared to their demands, and out of touch with their basic needs.
Cuban President Miguel Díaz-Canel took some blame for the protests recently, saying failings by the government played a role, though he still says the United States is primarily at fault.
Before the protests began on Sunday, public displays of dissent had been increasing in recent months. In November, authorities broke up a hunger strike by members of the San Isidro Movement, an artists' collective, sparking a rare protest with hundreds of artists and activists in front of the Culture Ministry. Those who protested formed another group, called 27N.
The leader of the San Isidro Movement, Luis Manuel Otero Alcántara, went on a hunger strike in May and was forcibly taken to the hospital on the seventh day, drawing international attention and condemnation.
Following the protests, the government faced scrutiny over its shutdown of social media and messaging apps.
The U.N. human rights chief, Michelle Bachelet, on Friday urged Cuba's government to address protesters' grievances and called for the prompt release of all those detained.
"I am very concerned at the alleged use of excessive force against demonstrators in Cuba and the arrest of a large number of people, including several journalists," Bachelet said in a statement. "It is particularly worrying that these include individuals allegedly held incommunicado and people whose whereabouts are unknown."
The streets of the capital, Havana, have been calm in recent days but a heavy police presence remains. Since Sunday's protests, 55 out of 383 people who were detained nationwide have been freed, according to Cubalex, a human rights group based in the U.S.
For Cuba's government, the challenge will be to manage the acute economic crisis and the pandemic, while addressing human rights concerns and growing calls for "libertad" in Cuba and abroad.
Cuban American musician Pitbull said in a widely shared video on Twitter that he felt frustrated "having a platform to speak to the world and not being able to help my own people, not being able to get them food, not being able to get them water, not being able to get them medicine. But most of all, not being able to help and really get them what they deserve, which is freedom." 
USA TODAY 16 July, 2021 - 08:54pm
An image purports to show a recent anti-government protest in Cuba. The photo actually is from the 2018 May Day Parade in Havana.
A link has been sent to your friend's email address.
A link has been posted to your Facebook feed.
Miami's Little Havana neighborhood is the scene of another rally by people showing their support for anti-government demonstrations in Cuba. (July 14) AP Domestic
Thousands of Cubans took part this month in what was said to be "the biggest anti-government protest in 30 years," USA TODAY reported. Cuban people were protesting food and medicine shortages as the country undergoes an economic crisis amid the coronavirus pandemic.
Images of the protests began circulating on social media shortly after, but some do not show the recent demonstrations as claimed.
On July 15, a Facebook user posted an image of a large crowd with the caption, "Cuban's (sic) fighting for their freedom. #SocialismSucks."
The post accumulated more than 1,000 interactions in the first day. USA TODAY reached out to the user for comment.
The image does not show a Cuban anti-government protest.  It's actually from a 2018 parade.
In a recent debunk by Reuters, the news agency noted the original image was published by Getty Images and Reuters Pictures. It is from the 2018 International Worker's Day parade in Cuba.
The image – taken by Alejandro Ernesto and the AFP news agency – is captioned, "People march to Revolution Square in Havana to celebrate May Day, on May 1, 2018."
In Reuters Pictures it has a similar caption: "People march during the May Day rally in Havana, Cuba May 1, 2018. Alejandro Ernesto/Pool."
In 2018, hundreds of thousands of people paraded through Revolution Square in Havana, the nation's capital. Cubans waved flags and held up banners reading "United for our Socialism" and "Viva Fidel," according to Reuters.
The rally was a show of support for the revolution, for Castro "and the continuity of his leadership in the state and government," Ulises Guilarte, of the Cuban Workers' Confederation, said in a speech, according to Reuters.
In other words the post was wrong about both the event and the purpose. The crowd in this picture was there in support of the government, not protesting against it as the post claims.
Similar images show the crowd from different angles.
The claim that an image shows a 2021 Cuban protest is FALSE, based on our research. The picture was taken in 2018 and shows a May Day parade on May 1 of that year in Havana.
A link has been posted to your Facebook feed.
© 2021 USA TODAY, a division of Gannett Satellite Information Network, LLC.