Spider-Man: No Way Home
SpiderManMovie
shout-out to the real ones who are watching the trailer for the first time right now

Spider-Man: No Way Home
SpiderManMovie
What just happened? Watch the official teaser trailer for #SpiderManNoWayHome, exclusively in movie theaters December 17. pic.twitter.com/gitbLCniOd
Spider-Man: No Way Home Updates
spideyupdated
scarlett johansson leaking the no way home trailer as part of the lawsuit #SpiderManNoWayHome pic.twitter.com/3dH2a8pGOA
Luke
qLxke_
MATT MURDOCK IS THAT YOU pic.twitter.com/dMmNmncMLs
The film, with its sexual openness, upended the lives of its filmmakers and stars. Twenty years later, they still feel the effects.
Mexican cinema was just emerging from decades of obscurity when Alfonso Cuarón's "Y Tu Mamá También," a voyage of self-discovery and the study of a country in flux, was released there in 2001, instantly achieving landmark status.
The film, structured as a road trip from Mexico City to a paradisiacal beach in Oaxaca, revolves around a love triangle involving the upper-class teenager Tenoch (Diego Luna), his humbler best friend, Julio (Gael García Bernal), and a Spanish visitor, Luisa (Maribel Verdú). She challenges the boys' nascent notions of manhood against the backdrop of a society getting its first taste of democracy after seven decades under the rule of the Institutional Revolutionary Party, known as the P.R.I.
The movie, which smashed box office records in Mexico before debuting at the Venice Film Festival that August, represented a return for the director, not only to Mexico after a stint in Hollywood but also to his passion for cinema. And it saw the birth of the cinematographer Emmanuel Lubezki's naturalistic film grammar. But the film's larger impact resides in the sexual openness it depicted, resulting in the most restrictive rating from the Mexican government; its tacit questioning of traditional masculinity in a culture where machismo is ingrained; and its incisive treatment of class issues in a nation of painful inequalities.
I spoke with the far-flung stars and filmmakers, including Carlos Cuarón, the director's brother, who co-wrote the Oscar-nominated screenplay, about their memories of making the film, the changes it brought to their careers and the reception in Mexico at the time, when the carnal encounter between the two boys was controversial. These are edited excerpts from those conversations.
ALFONSO CUARÓN: At that point I had let the industry seduce me and that's where my confusion started because I forgot about cinema. It's a myth that the industry corrupts you, you corrupt yourself. Making my first movie in Hollywood, "A Little Princess" [1995], was wonderful, but then I made another movie, "Great Expectations" [1998], that I never understood. I started watching a lot of movies I had loved. That's when I called my brother and said, "Let's write a movie."
CARLOS CUARÓN: "Y Tu Mamá También" was a conceptual idea that Alfonso and I had even before his first movie, "Sólo con tu pareja." The movie is inspired by those trips that we take in adolescence. What neither my brother nor I did was do that with a beautiful Spanish woman. [Laughs] We were working on it for about 10 years while apart. But then a really nice project Alfonso had in the U.S. fell apart and here in Mexico what was going to be my debut feature also fell apart. Alfonso lived in New York and he called me. "What if we make 'Y Tu Mamá También'?" I flew to New York using his frequent flier miles and we got to work. [Laughs]
DIEGO LUNA: This was the first time I realized [I] could have a reach that I didn't imagine possible. I grew up mostly in theater in Mexico and thinking mostly in the context of my community there. But "Y Tu Mamá" was like an awakening for me. What struck me the hardest was the distance that developed between my family and friends and I after this movie. I started to work in other countries, to spend long periods away from home to the point that I questioned where my home really was. That can be exciting, but it was also anguishing because you feel lost, like you don't belong anywhere.
GAEL GARCÍA BERNAL: When I made "Amores Perros" [his first movie, in 2000] I discovered this universe without knowing anything about the craziness of moviemaking. With "Y Tu Mamá También," Alfonso was at a moment in his life where he was very open to including us actors throughout the process for over a year. We learned the basics of cinema! What I've taken with me into every movie I make is that as an important requirement there should be a sense of fraternity like the one we had then.
MARIBEL VERDÚ: I've been working since I was 13, so I would have kept on working in Latin America and in my country regardless, but thanks to "Y Tu Mamá También" I became known abroad. It wasn't only that I gained international recognition for any movie, but this prestigious and significant movie. I got to know Mexico thanks to [Alfonso] and eventually made other films with Mexican directors.
ALFONSO CUARÓN: One part is obvious. Putting teenagers in situations that include sex will always be attractive to a certain audience. But I hope "Y Tu Mamá También" transcended that, because we set out to not be "American Pie." We wanted the sex scenes to get a point across about these characters and about the social elements we were playing with, like class and the conceptions of masculinity that these characters have.
CARLOS CUARÓN: That portrait of adolescence with its failures and virtues, the narrator who doesn't narrate but contextualizes things and helped us avoid explanatory scenes, the enormous chemistry between Diego and Gael and the counterpoint that Maribel provided were some of the many factors. None of us who made it thought it would have such success. When we wrote the screenplay, we didn't know who would dare make it.
LUNA: This is a great movie, of course, but not all great movies arrive in the correct moment. "Y Tu Mamá También" had such luck. It found an audience that needed a journey like the one the movie proposes. The movie speaks of fundamental relationships and it's very easy to reflect yourself in it. It's also a movie that portrays a Mexico that seemed to be hidden before. The way it depicts the economic inequality and class conflict was very painful for some to see back then. I remember a lot of people complained, "Why do you portray Mexico this way?" But at the same time it portrayed the beauty that the country has to offer.
GARCÍA BERNAL: It caused a schism within the Mexican audience. Many people connected positively with the movie but it angered the pearl-clutchers. [Laughs] Some audiences projected a certain discomfort with the sexual openness or with the fact that the movie touched on gay themes in an ambiguous way. All of that created a dialogue. Outside Mexico what transcended was the desire to live that this movie instills in you. When you come out of the theater, you want to head to the beach and go on a crazy adventure.
VERDÚ: I believe it's authenticity. It's a movie that feels like a documentary. It looks like something improvised, but there's so much work behind it. There [were] rehearsals to have it all very tight, but to make it seem like everything was just happening in front of us. That's so magical and audiences felt that too.
ALFONSO CUARÓN: I talked a lot about this with Guillermo del Toro, with Carlos and Chivo [Emmanuel Lubezki]. It would be pretentious to say the discussions were about masculinity, because those conversations happen more now, but without using that language we were trying to explore that. At some point it becomes more obvious. There's a moment in which Luisa tells them, "The only thing you want is to have sex with each other."
CARLOS CUARÓN: I vividly remember that at the premiere in Mexico City people cursed and whistled when Diego and Gael kissed. During that premiere, a gay friend, a theater and film director, said, "Thank you for showing clearly the image of the Mexican macho for the first time." I asked him what that image was and he said, "Julio and Tenoch kissing."
LUNA: We always said that we were making a love story between the two men. In the debates about the ending, people wanted us to label what it meant. The movie suggests things but leaves that decision up to the audience. That's what good movies do. They make questions. They don't give answers.
GARCÍA BERNAL: The 2000s were a watershed. The youth at the time, including myself, started having a very different vision of sex and the lines of division between genders started disappearing, given that masculinity was and is in a tremendous crisis. I'm convinced this movie couldn't have been done in the U.S. In Mexico we have greater freedom of expression in cinema because we can put things together more independently.
VERDÚ: On that front the movie was ahead of its time. It shows things that no one did back then. No one dared.
LUNA: I don't believe the narrator. I think they did meet again somehow. It's hard to think that they didn't. Curiosity probably brought them back together. That's what I want to believe because in life nothing is definitive.
ALFONSO CUARÓN: I've questioned that. At some point Carlos and I talked about the possibility of making a movie about [them] but now in their forties. Unfortunately I think it would be too sad. I have a bit of a pessimistic view on life. Tenoch probably followed in his father's footsteps, not as a politician but as a banker. And I don't think Julio had a good relationship with women. But they both have a beautiful spirit and there's a possibility they reconnect and what unites them are the things missing in their lives. Perhaps talking about the past acts as a catalyst for the second part of their lives. That's a nice way to look at it. Maybe Diego is right.
CARLOS CUARÓN: If the narrator says it, then they never saw each other again. If they [did] it was probably by accident. I truly believe that life separated them. I don't think they ever saw each other again not because they hated each other, but because they loved each other too much.
GARCÍA BERNAL: I'm sure they met again, but the narrator says what their parents would want to say. Now that we are over 40, we should probably do a reunion between Julio and Tenoch.
VERDÚ: They never ever saw each other again. I'm convinced. Their relationship wasn't real. You see it, for example, when one goes into the other's home and he lifts the toilet seat with his foot as to not to touch it. They came from different backgrounds. They went on a trip with that Spanish woman and they enjoyed it as part of the sexual awakening. She united them for that moment, then she disappeared, and they disappeared from each other's lives. And that's that.
Read full article at The New York Times
Den of Geek 25 August, 2021 - 02:10pm
MovieWeb 24 August, 2021 - 11:35pm
Fans Want Bruce Campbell to Bring His Mysterio to 'Spider-Man: No Way Home'
Reportedly set to appear in Sam Raimi's canceled Spider-Man 4, fans want Bruce Campbell to complete the Sinister Six line up.
Throughout the teaser trailer references are made in a quite obvious way to Doc Ock, the Green Goblin and Electro. There is also a strong suggestion that one quick scene involves the Sandman and after much debate and visual enhancing, some have come to the conclusion that the Lizard is hiding in the shadows on a blink and you miss it shot. The appearance of so many villains does in a way make sense, and may well fit in with Sony's previous comments that this movie would make a connection between the MCU and Sony's Marvel Universe, which has now been rebranded as Sony's Spider-Man Universe. It also pushes a hefty chunk of weight behind theories that Bruce Campbell could be about to bring the final member of the Six to screen as Mysterio.
On the surface, this does seem like just a while fan wish, but there is quite a bit of credit behind in when you consider some other evidence. Campbell is set to appear in Doctor Strange in the Multiverse of Madness, which is directed by old Spider-Man director Sam Raimi. While there has been no previous talk of Campbell joining the Spider-Man movie, there is genuine reason why fans want to see him appear in the movie as Mysterio - and it all comes back to Sam Raimi's Spider-Man movies...or at least one he never made.
With Doc Ock, the Green Goblin and potentially Sandman all being pulled from Raimi's Spider-Man Universe, if the director had been able to make his planned fourth installment, it would have reportedly featured Campbell as Mysterio. With the movie dealing with the multiverse and drawing from a series of other realities, it could easily be possibly to bring in a new version of Mysterio in the wake of Jake Gyllenhaal's version's death in Spider-Man: Far From Home.
One of the biggest stumbling blocks for this scenario happening could well be Campbell himself, as the Evil Dead star has previously said that he has no interest taking on a big superhero character. "That's Sam Raimi all the way," Campbell told ComicBook.com his reasons for appearing in the Spider-Man movies. "Big blockbuster movies, whenever I see an actor get cast in one of those, I wince, because I go, 'Oh, that poor son of a bitch is going to be in that suit for 10 years.' If shooting schedule's seven months of shooting, you get your one month in the Bahamas, and then you're promoting for three months, then you go right back to the next sequel, back in that same f-cking suit.'"
Whether this comes true or not, there are plenty of fans who will be disappointed if they don't get to see a little bit of what might have been in Campbell making an appearance in the movie. With hints having been given to five of the Sinister Six members, and industry insider adamant that a sixth member appears later in the movie, why would they hold back a tease of that sixth member if it wasn't something special? All will be revealed in time...probably about four months' time.
There is a 6th villain but he shows up later on in the film. https://t.co/bnL1RjoVtV
Can we please get Bruce Campbell to be an alternate universe Mysterio in No way Home? How you gonna bring the Raimi Spider-man villians and leave out the one person who defeated spidey? pic.twitter.com/uvFrjMuHsy
No Way Home is multiverse related. Imagine if Mysterio returns but it's not Jake Ghyllenhal, instead it's Raimi's Mysterio from his early plans and it's Bruce Campbell? pic.twitter.com/D6LXbke7Ee
Topics: Spider-Man: No Way Home, Spider-man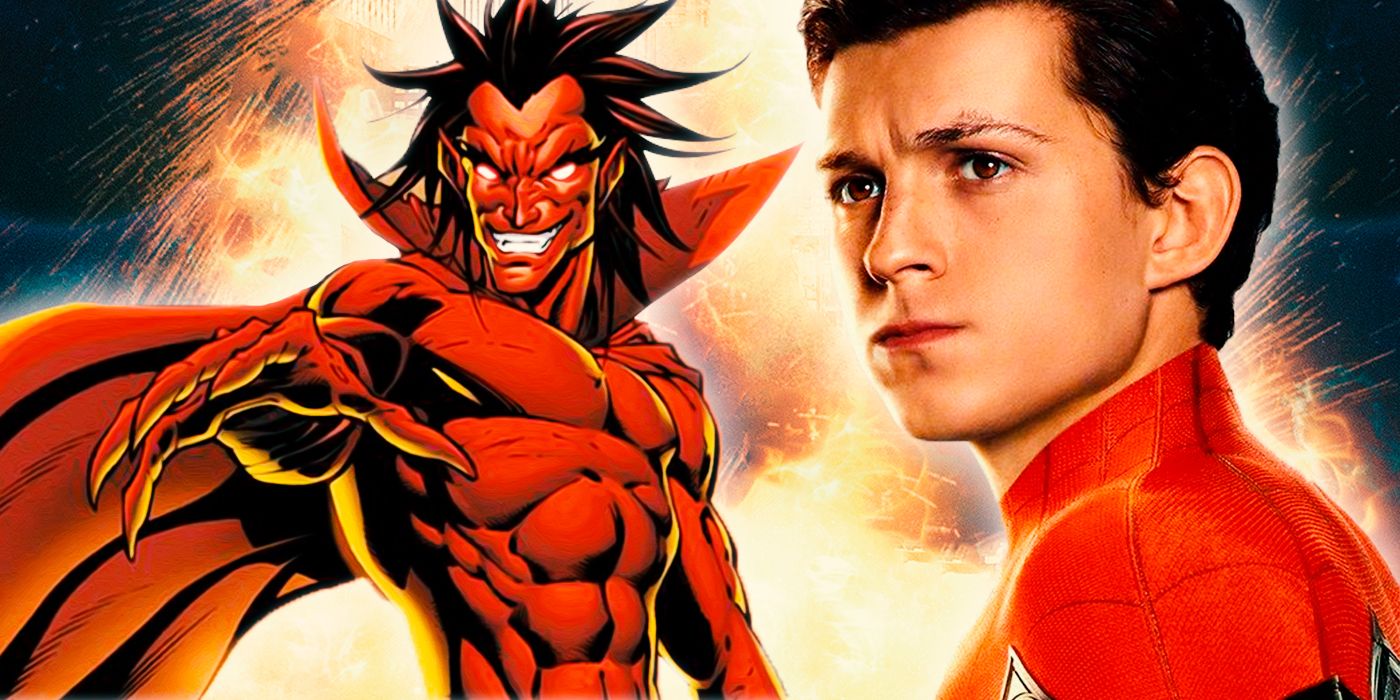 CBR - Comic Book Resources 24 August, 2021 - 07:00pm
Hunting Mephisto became a popular MCU pastime during WandaVision's run, with fans believing Wanda's hexagonal magic was linked to him, or that he created her twins, or that he was a fly on the wall inside Agatha's home, or even that S.W.O.R.D. Director Tyler Hayward's blatant hostility meant he was a shape-shifting Mephisto. Then, just as things had cooled down, a shot of a picture of a devil on a church window in Loki sent fans back down the rabbit hole.
As many comic book readers are aware, Strange's spell in No Way Home recalls the deal Mephisto made with Peter during the One More Day storyline, which took place after Peter's secret identity was revealed to the public during Civil War. While their agreement saved Aunt May's life after she was shot and killed as a result of Peter's actions, it also erased Peter's marriage to Mary Jane by making it so no one but Peter would know who was really behind the Spider-Mask.