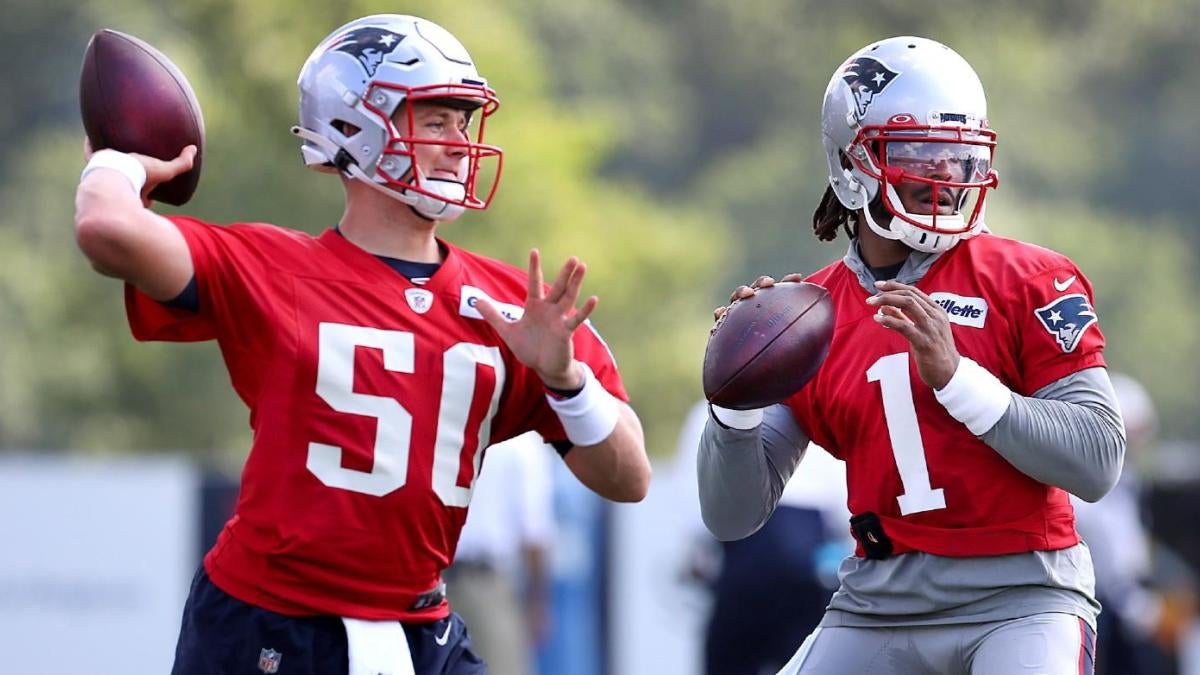 Happy Tuesday to everyone, although I have to say, that probably isn't the best way to start things off today, because it's definitely not going to be a happy Tuesday for everyone due to the fact that it's cut day in the NFL.
Each team in the league will be making its second round of cuts today, which means roughly 160 players will be out of a job by the end of the day. If they want to take some of the sting off of getting cut, I suggest getting a Pumpkin Cream Cold Brew, which apparently came out today at Starbucks. Is it way too early for that kind of stuff? Probably, but I will end up drinking three of them before the end of the week, so I'm not going to judge.
Alright, let's get to today's rundown, where we'll be talking about why Mac Jones could overtake Cam Newton and we'll also be revealing our All-AFC East team.
As always, here's your weekly reminder to tell all your friends to sign up for the Pick Six newsletter. To get your friends to sign up, all you have to do is click here and then share this link with them.
It's officially "Fantasy Week" on the Pick Six podcast, which is our way of telling you that if you want to win your fantasy league this year, then you better listen to every podcast we put out over the next few days. For today's show, Will Brinson was joined by CBS Sports fantasy guru Frank Stampfl.
If you're into daily fantasy sports, you should probably start stalking Frank on Twitter and that's because DFS is his bread-and-butter. Frank actually hosts a daily podcast of his own here at CBS Sports -- you can subscribe by clicking here -- and on that podcast, he gives out DFS advice (his most recent podcast went over the top DFS plays for Monday's game between the Saints and Jaguars).
If you've never tried your hand at daily fantasy stuff, then this is definitely the perfect episode of the Pick Six Podcast to listen because it will help you get your feet wet. Today's show won't be available until late Tuesday, but it will be worth the wait.
To listen to today's episode when it comes out -- and to subscribe to the best daily NFL podcast out there -- be sure to click here.
I don't usually get overly excited to watch preseason games, but I was glued to my television last night for Jacksonville's game against New Orleans to watch one person: Jamies Winston.
This was a huge game for Jameis Winston and because of that, I was half-expecting him to throw five interceptions, which is what he usually does in huge games. However, not only did Jameis avoid throwing any picks, but he basically played a flawless game in the Saints' 23-21 win.
Here are a few nuggets from the game.
As for the Saints QB Battle, if you want to read a more detailed piece on why Winston has an edge on Hill, be sure to click here.
The Patriots spent the offseason restocking their roster and if our All-AFC East team is any indication, their decision definitely paid off big time. The Bills might be the defending AFC East champions, but the Patriots have the most players on our all-division team.
Jared Dubin went through all four rosters in the division to create one Super Team that consisted of 27 players (12 on offense, 12 on defense plus three special teams). Of the 27 players on the All-AFC East team, ELEVEN OF THEM came from New England. The Bills produced seven players, which was the second most.
With that in mind, let's take a look at the offense for the AFC East's all-division team:
Although the Patriots had the most players overall, the might not even be the biggest surprise. A bigger shock might be the fact that the Jets had more players (5) than the Dolphins (4)!
If you want to see the defensive side of the AFC East's All-Division team, plus the special teams representatives, then be sure to click here.
If it's Tuesday, that can only mean one thing in the NFL: Players are getting cut today.
With the league trimming the preseason down to three games this year, the NFL decided to hold three cut days with each one coming on the Tuesday following a full week of preseason games. The first cut day came last week with each team trimming its roster down to 85 players. For today's cut day, each team has to trim its roster down to 80 players (The biggest cut day won't be coming until Tuesday, Aug. 31, when each team has to get its roster down to just 53 players).
Teams will have until 4 p.m. ET today to get their roster down to 80 players. Although there are still a few more hours to go until the deadline, here's a look at some notable players who have already been released:
If you want to check out the full list of cuts, just click here (The list won't be final until after the 4 p.m. ET deadline).
One of the disadvantages that comes with being unvaccinated in the NFL this year is that you can't travel anywhere and Cam Newton found that out the hard way this week. The Patriots quarterback had to leave New England over the weekend to travel to a team-approved medical appointment; however, he didn't follow proper COVID testing protocols while he was gone and because of that "misunderstanding," he now has to stay away from the team for five days (If Newton had been vaccinated, he wouldn't have to sit out at all).
With Newton out until Thursday, CBS Sports NFL Insider Jonathan Jones thinks that could open the door for Mac Jones to win the starting job and Bill Belichick seems to agree with him. Less than 24 hours ago, Belichick made it clear that Cam was the starter. However, after it became clear that Newton would have to miss five days, Belichick slightly changed his tune on Tuesday, saying this would be a big week for Mac Jones. There's also been a report that the Patriots are "frustrated" with Newton over the situation. Basically, if Jones is going to win the job, he needs to do it this week.
Our Jones thinks New England's Jones could win the job for multiple reasons. For one, Mac Jones is going to get all the first-team reps this week, so this could be his best shot to earn the Week 1 starting job.
The other part is that Newton could take a small step back during his time away from the team.
To read Jonathan Jones' full take on why this will be a big week for Mac Jones, be sure to click here.
It's been a busy 24 hours in the NFL and since it's nearly impossible to keep track of everything that happened, I went ahead and put together a roundup for you.
If you're a Patriots fan, you need a Mac Jones jersey before the new era starts! Shop the latest Mac Jones game jerseys featuring No. 10. Click here to shop.
Create your custom survivor, confidence or picks pool with Football Pick'em.
© 2004-2021 CBS Interactive. All Rights Reserved.
CBS Sports is a registered trademark of CBS Broadcasting Inc. Commissioner.com is a registered trademark of CBS Interactive Inc.
Images by Getty Images and US Presswire
These cookies are essential for the proper functioning of our Services. Essential cookies cannot be switched off in our systems. You can set your device to block or alert you about these cookies, but some parts of the Service will not work.
These Cookies allow us to collect information about how visitors use our properties. Some examples include counting visits and traffic sources, so we can measure and improve the performance of our services. If you do not allow these Cookies we will not know when users have visited our properties and will not be able to monitor performance.
These Cookies enable the services to provide enhanced functionality and personalization. They may be set by us or by third party providers whose services we have added to our services. If you do not allow these Cookies then some or all of these services may not function properly.
These Cookies may be set by us or through our services by our advertising partners. They may be used by those companies to build a profile of your interests and show you relevant advertising on this and on other properties. If you do not allow these Cookies, you will still see ads, but you will experience less relevant advertising.
These Cookies are set by a range of social media services that we have added to the services to enable you to share our content with your friends and networks. They are capable of tracking your browser across other sites, building up a profile of your interests to show you relevant content and advertisements on the relevant social networks. If you do not allow these Cookies you may not be able to use or see these sharing tools.
Read full article at CBS Sports
ESPN 24 August, 2021 - 07:30pm
Yardbarker 24 August, 2021 - 11:07am
The Giants will make another round of cuts on Tuesday, dropping the roster from 85 to 80. The final 53-man roster is an elusive goal for many backend roster players. This next round of cuts delays the inevitable, for active rosters will need to be 27 less by Week 1 of the NFL season. This excludes the practice squad players.
The practice squad will consist of 16 players in 2021, with six of them being "veterans(players with more than two accrued seasons). Every NFL team will have the ability to protect at least four practice squad players per week.
Nevertheless, after this next round of cuts, two of which have already been made Tuesday morning, the Giants will still have several players who need a strong effort to crack the initial 53-man roster.
So as the Giants head into the final week of the preseason, starting with their joint practices against the Patriots, let's take a look at a few players who need to have a strong week in these joint practices with the Patriots if they want to have a shot at sticking around at 1925 Giants Drive.
It's unfortunate, to be honest. I like what Pettis brings to this New York Giants team, but none of his traits are elite, and he's competing in a very deep wide receiver room.
(Yes, Kenny Golladay and Kadarius Toney haven't seen the field in a while, but signs suggest they should be ready for the regular season.)
Pettis played on 38 snaps, catching three of four passes for 25 yards. He is a good route runner with solid speed. The Giants currently have Golladay, Toney, Darius Slayton, Sterling Shepard, and John Ross, who are all ostensibly above Pettis on the depth chart--Ross may not be, but he has dynamic speed that can't go overlooked.
Furthermore, David Sills V is having another terrific training camp. Pettis has to compete with him at wide receiver. Pettis offers some value on special teams as a returner, but the Giants have several players who can execute that role.
CJ Board, another receiver, is better on special teams as a gunner, so I wouldn't be shocked if Board makes the team over both Sills and Pettis for that reason alone. Pettis may end up being a solid player who is released due to circumstance, but there's no doubt that another team won't scoop him up and give him a chance.
The ship for Beal may have already left the dock. He was targeted several times on a drive where receiver Matt Cole was playing cornerback opposite of him.
Beal missed three tackles and lacked discipline on some of the tackle attempts. He was also targeted four times and allowed a catch on all four. The Giants played him on 53 snaps, and I couldn't imagine that they were impressed.
Fellow backend roster cornerback Rodarius Williams, a rookie, has flashed well throughout camp. We have yet to see former Packers cornerback Josh Jackson on the field, but he is worth mentioning as is special teamer Keion Crossen, acquired via trade with the Texans.
Beal's time in New York seems to be running out; can he mount a last-ditch effort to stick around?
We know who Devante Downs is at this point. He's a backend roster linebacker who plays a decent amount of special teams snaps.
He played significant snaps in 2020--233 defensive snaps, to be exact--and that's way too many for a player like Downs.
That said, T.J. Brunson's injury made the already light inside linebackers room even lighter. Still, the ascension in confidence around Carter Coughlin's ability to play linebacker may force Downs off the active roster.
The secondary of the Giants has some solid run support contributors who can play the "Star" position. Jabrill Peppers, Xavier McKinney, Julian Love, and Aaron Robinson (once he gets healthy) profile well in those Big-Nickel, Big-Dime, types of defenses.
The Giants currently have Blake Martinez, Tae Crowder, Reggie Ragland, and Coughlin working at linebacker. There are also players like Cam Brown that have experience in the middle.
If this Giants coaching staff believes enough in Coughlin's linebacker ability, that makes Downs more expendable. That said, the lack of bodies at true linebacker may work in Downs favor, but better pure football players at other positions would have to be released to retain Downs.
He's on the bubble, and I wouldn't be shocked if the Giants added another linebacker from another team and released Downs just before the regular season.
The former star at Dartmouth played 22 defensive snaps against the Browns. He flashed in a few games down the season's stretch; he forced a big fumble, had an interception, and consistently found himself around the football.
Lalos is 6'5, 280 pounds. The Giants certainly value his length, effort, and his ability to play at different shades past the 3-technique position.
Lalos being on this list isn't a referendum on his skillset. I always thought he was destined to be a practice squad player again, only called up after injuries.
However, with the buzz and play of fellow defensive lineman David Moa, I have been wondering who the Giants value more. Both Moa and Lalos can coexist on the practice squad together, but if injuries do happen, who would get called up first?
I think Moa has earned his way into the discussion with Lalos. They're similar in size and can play similar roles, so I think the question is fair.
Anderson played 36 snaps against the Browns. He was credited with a sack and a pressure in the Giants' 17-13 preseason loss in Cleveland, but the film doesn't suggest a player executing his assignments well.
The Browns' rushing attack averaged 6.5 yards per carry on Sunday. That is not acceptable, especially considering it was the second team versus the second team.
Anderson's known as a run defender, but there were far too many times where he was out of position, and he fell for far too many misdirection plays. A veteran like Anderson shouldn't lack that much discipline in the run game.
The Giants' EDGE group is much deeper than it was in 2020. Anderson is competing with Ifeadi Odenigbo, Trent Harris, and Raymond Johnson III for a roster spot.
Johnson looked very solid on Sunday; Anderson not so much. He could use a good healthy week of practice against a Patriots team that runs the football. If Anderson plays with more discipline, continues to do well at the point of attack, and maintains the continuity of the defense with his run-setting ability, he can earn a roster spot. It, however, is not a lock.
Jackson is a 6'0, 196-pound cornerback selected in the second round of the 2018 NFL Draft. His career in Green Bay hasn't been great, so the Packers traded him to the Giants for cornerback Isaac Yiadom.
Jackson hasn't played yet for the Giants, but that could be just a matter of him getting up to speed on the playbook. That said, Jackson isn't a lock to make the team, though the injuries to Harper and Wilson, along with the struggles of Beal, could help him ingratiate himself with his new coaching staff.
If it's going to happen, it will have to happen quickly with time starting to run out on the preseason.
Locks for the rosters in 2021 at the offensive line are Andrew Thomas, Shane Lemieux, Will Hernandez, Matt Peart, and Nick Gates. That's five.
Then there are reserves Nate Solder, Jonotthan Harrison, and Jackson Barton, which brings the total to eight. Jake Burton and Brett Heggie could be early practice squad players. If the Giants keep nine offensive linemen, as they did last year in Week 1 against the Steelers, this means one of the three listed above should have a strong chance to make the roster.
Who's it going to be? If Solder's shoulder injury is significant or Barton doesn't get the nod, Wiggins could grab a spot even though he has been unimpressive in two preseason games (he was much better in the second preseason game).
Slade has positional versatility. Larsen's been with the Giants for less than a fortnight, but he brings a lot of experience to the position and might have a slight edge. Still, I don't believe any of these three have separated themselves, so a week of joint practices in New England could lead to the final JUDGEment on who's on the active roster against the Broncos.
This article first appeared on FanNation Giants Country and was syndicated with permission.
Get the latest news and rumors, customized to your favorite sports and teams. Emailed daily. Always free!
Many assumed the New York Mets shifting ace Jacob deGrom to the 60-day injured list last week because of the elbow inflammation that's kept him sidelined since the end of the All-Star break was the unofficial end of the 33-year-old's season. That may not be the case. Mets acting general manager Zack Scott told reporters ahead of Tuesday's home game against the San Francisco Giants that deGrom is scheduled to have an MRI Wednesday and could soon start a throwing program: The Mets began Tuesday evening at 61-63 and trailing the first-place Atlanta Braves by six-and-a-half games in the National League East division standings. Scott suggested deGrom could nevertheless return to the rotation before the season ends even if the Mets are mathematically eliminated: The two-time NL Cy Young Award winner won't be eligible to return from the IL until Sept. 13 at the earliest, and the Mets theoretically could shut deGrom down following any MRI between now and then. Considering he's dealt with six separate injury issues this season, alone, trying to convince any fans that he should face batters even in simulated situations before next spring could prove to be difficult for Scott and anybody else associated with the organization.
Long story short: Lamar Jackson is feeling pretty darn confident ahead of the 2021 NFL season. The Baltimore Ravens quarterback revealed as much when he met with the media on Tuesday morning and was asked if he thinks this is the year the rest of the league "figures him out." "We're going to see... But I doubt it, though. I strongly doubt it," Jackson said without pause. The 2019 NFL MVP has looked strong in training camp despite having to miss the start due to COVID-19. Even with a slew of injured wide receivers unable to practice with him as of late, Jackson appears to be feeling very optimistic ahead of the preseason finale against the Washington Football Team this Saturday. "When they are back, we'll be hitting right where we started off at," Jackson continued. "We ain't worried about it because they've been working hard and we've been working hard as well." Jackson having a noticeably strong camp has boosted the rest of the team's confidence, too. "Lamar is slinging the rock like he didn't have those 10 days off with COVID," tight end Mark Andrews gushed last week. "I always think he throws the ball incredible. But yes, he's slinging the rock, man. He's putting the ball right where it needs to be, and he's locked in. He's more focused than he's ever been." The Ravens start the regular season on Monday Night Football against the Las Vegas Raiders.
Auburn Tigers head football coach Bryan Harsin confirmed last Friday that he was isolating away from team activities after he tested positive for COVID-19. On Tuesday, Auburn defensive coordinator Derek Mason took to Twitter to announce he has recovered from a breakthrough bout with the coronavirus. Mason also used the platform to encouraged those who haven't yet been vaccinated to get their shots: According to Alex Scarborough of ESPN, health and safety protocols will prevent Harsin from returning to the team until next week. Fortunately for all involved, Auburn doesn't open the season until Sept. 4 versus the Akron Zips. Assistant head coach, linebackers coach and defensive run game coordinator Jeff Schmedding is serving as interim head coach in Harsin's absence. Like the other major conferences, the SEC is threatening to force programs to forfeit if they cannot safely field squads at any point this season because of issues related to COVID-19. On Tuesday, the LSU Tigers announced guests must show proof of a COVID-19 vaccination or a negative coronavirus PCR test taken within 72 hours to attend football games held at Tiger Stadium this year.
In news that will make Carolina Panthers quarterback Sam Darnold happy, the team agreed to terms on a two-year contract extension with wide receiver Robby Anderson on Tuesday. NFL Network's Ian Rapoport reported the news of Anderson's new contract, along with the financial details: Anderson was teammates with Darnold on the New York Jets, and now they've been reunited in Charlotte after the Panthers traded for the young signal-caller this offseason. That chemistry, a better culture and a capable offensive coordinator in Joe Brady should serve Darnold and Anderson well. Robby Anderson stats (2020, Carolina Panthers): 95 receptions, 1,096 yards, 3 touchdowns Despite entering the NFL as an undrafted free agent out of Temple — when current Panthers head coach Matt Rhule was leading the program — Anderson has found his stride as a dynamic playmaker who's coming off his first 1,000-yard season last year. Teddy Bridgewater's limited arm strength put a ceiling on what Anderson was able to accomplish in 2020. At least in terms of talent level, Darnold is superior to Bridgewater in his ability to stretch the field, and Anderson has the speed to blow the top off a defense. Although Carolina's offensive line is a bit of a question mark, the all-world talents of tailback Christian McCaffrey should still allow the Panthers to establish enough of a rushing attack to help them thrive off play-action passing. That's where Darnold and Anderson could really be dangerous. Plus, the Panthers have already picked up the fifth-year option on wideout DJ Moore's rookie contract, and put together another reunion through the 2021 NFL Draft, selecting Terrace Marshall Jr. to join forces with ex-LSU play-caller Brady. Between Anderson, Moore and Marshall, the future of Carolina's receiving corps is extremely bright. Add in a 100-catch back in McCaffrey to the mix, and Darnold should absolutely play better than he did during his tenure with the Jets.
The Mavericks are in advanced discussions with veteran forward Jared Dudley about hiring him as an assistant coach on Jason Kidd's staff, according to NBA reporter Marc Stein (Twitter link). Dudley, 36, has appeared in over 900 NBA regular-season games since entering the league in 2007. He began his career in Charlotte, then spent time with the Suns, Clippers, Bucks, Wizards, Suns, Nets and Lakers over the course of 14 seasons. However, Dudley has seen his playing time decline significantly in recent years. In 2020-21, he logged just 81 total minutes in 12 games for the Lakers, and a report last week indicated that L.A. wasn't expected to re-sign him. Now, it seems as if he's prepared to move on to the next stage of his career. While Kidd and Dudley never played together, they have plenty of history. Dudley played for Milwaukee in 2014-15 when Kidd was the head coach, and the Hall of Fame point guard was an assistant with the Lakers for the past two years. Kidd's coaching staff is still taking shape, but it appears he's making it a priority to add at least a couple assistants with playing experience. J.J. Barea and Tyson Chandler are among the other NBA vets who have been mentioned as possible candidates.
The Big Ten joined the other power conferences on Monday by announcing its COVID-19 policies for the upcoming fall seasons ahead of Saturday's football opener between the Nebraska Cornhuskers and Illinois Fighting Illini. "The conference has determined that if one of its member institutions is unable to play a conference contest due to COVID-19, that contest shall be declared a forfeit and will not be rescheduled," the Big Ten declared in an official statement. "That contest shall be considered a loss for the team impacted by COVID-19 and a win for its opponent in the conference standings. "If both of the two competing teams are unable to participate in a scheduled conference competition due to COVID-19 and as a result the competition is unable to occur on the calendar day on which it is scheduled, the competition shall be considered a 'no contest.'" The ACC, SEC, Pac-12 and Big 12 previously announced similar guidelines before the United States Food and Drug Administration officially approved the Pfizer-BioNTech COVID-19 vaccine on Monday. The ACC went one step further and said that two teams involved in a game can be made to forfeit if both are unable to play because of setbacks related to the coronavirus. According to Harry Lyles Jr. of ESPN, unvaccinated college athletes are to be tested for COVID-19 weekly, wear masks in most situations, and quarantine if exposed to an infected individual. Vaccinated athletes don't need to be tested as often.
The Minnesota Wild have exactly one restricted free agent to sign, but it's a big one. Kirill Kaprizov, the reigning Calder Trophy winner and arguably the most exciting player to ever play for the franchise, currently doesn't have a contract for the 2021-22 season. With everyone else signed the team has an exact number they could work up to but it is still unclear on what kind of deal the two sides will eventually land on. For the last several weeks, there has been speculation about whether Kaprizov would actually turn down an offer from the Wild entirely and return to the KHL. As Michael Russo of The Athletic tweets, though a contract is not imminent the Wild and Kaprizov's camp are still talking. CSKA Moscow, his old team in Russia that has been linked to Kaprizov over and over, recently stated publicly that they are not negotiating a return with the young forward. Discussion between the Wild and their best player is obviously a positive, but it still remains to be seen if they can get Kaprizov signed long-term. The 24-year-old is scheduled to become an unrestricted free agent at the end of the 2023-24 season unless he signs a contract beyond that in the meantime. A three-year deal would take him right to the open market, while anything past that would be buying out UFA years. That would undoubtedly make the average annual value higher, though even these next few years will likely be expensive for the Wild as they try to lock up the dynamic forward. With $13M in cap space right now, there's plenty of room to fit in Kaprizov even if he wants to be paid among the league's elite. The Wild will have to consider the hefty cap penalties they have coming after buyouts of Ryan Suter and Zach Parise, but also have several big contracts coming off the books after this season. It appears as though things are headed in the right direction, but with no pressure points until training camp opens next month, there's no real rush in Minnesota.
It was reported last week that Denver Broncos head coach Vic Fangio was "pretty damn close" to choosing a winner in the quarterback competition between 2019 draft pick Drew Lock and veteran Teddy Bridgewater. Fangio suggested otherwise when speaking with reporters on Tuesday. "We haven't decided that yet," Fangio said of picking a QB1, per Charean Williams of Pro Football Talk. "We just want to do it at the right time, meaning the right time obviously for the players involved, the team, for everybody. . . . We've got 19 days [until the season opener]." Williams added that Fangio hasn't yet publicly said who will start for Saturday's preseason finale against the Los Angeles Rams. Both Lock and Bridgewater have impressed in exhibition starts but also have struggled during some practice sessions. Lock completed five of seven passes for 151 yards and a pair of touchdowns against the Minnesota Vikings on Aug. 14, while Bridgewater connected on nine of 11 attempts for 105 yards and a score versus the Seattle Seahawks this past Saturday. The Broncos open the regular season at the New York Giants on Sept. 12. "It's pretty damn close," Fangio added about the battle between the two signal-callers. "You guys have seen it. . . . It is close, and I think it's close for a good reason. They both have played well. The good news of this competition is we've got two quarterbacks we feel we can go win with."
Knicks center Nerlens Noel has filed a lawsuit against agent Rich Paul and the Klutch Sports agency, reports Darren Heitner of SportsAgentBlog.com. The suit, which was filed in Dallas, Texas, claims that in a birthday party for the Klutch-represented Ben Simmons in 2017, Paul convinced Noel that he was a "$100M man," and that if Noel fired then-agent Happy Walters and signed with him, Paul would get him a max contract. Noel subsequently left Walters and signed with Paul. As part of the same pitch, Paul allegedly told Noel to cut off negotiations with the Mavericks, who had offered Noel a four-year, $70M extension, and instead sign the one-year, $4.1M qualifying offer. After a season plagued by injury, however, his free agency proved unsuccessful, as he claims that no one from Klutch presented any ideas for how to pursue long-term contracts, and none were forthcoming on the market, leading him to sign a two-year, $3.75M contract with the Thunder, which Noel claims was largely orchestrated by Thunder stars Russell Westbrook and Paul George, rather than by Rich Paul. Finally, the lawsuit states that Noel learned that multiple teams, including the Sixers, Clippers, and Rockets informed him that they attempted to get in touch with Paul about offering Noel a contract, but were unable to make contact. Noel left Klutch Sports in December of 2020, and is suing Paul and the agency for the loss of approximately $58M stemming from the initial declined extension with Dallas.
The John Reid trade did not mark the only cornerback transaction for the Seahawks on Tuesday afternoon. They are releasing Pierre Desir, according to NFL.com's Ian Rapoport (on Twitter). Desir's surprising release will clear a roster spot for Luke Willson, whom Rapoport adds will return to the Seahawks. Willson, 31, made a return visit to Seattle on Monday. The veteran tight end has twice headed elsewhere, but he will once again return to the Pacific Northwest and aim to contribute as a role player. The Seahawks originally drafted Willson in the 2013 fifth round. He signed with the Lions in 2018 and spent time with the Raiders in the summer of 2019, earning some Hard Knocks screen time with the latter, but ended up back in Seattle for the '19 season. After a short stint with the Ravens last year, Willson re-signed with the Seahawks in December. They will add him to a group that is again dealing with a notable injury. Cody Parkinson is rehabbing from a second foot fracture. Willson will team with Will Dissly and free agency addition Gerald Everett, though the veteran should not be expected to play a big part in Seattle's passing game. Willson has not surpassed 200 receiving yards in a season since 2016. Desir's departure is somewhat strange for a team that is not exactly oozing high-profile cornerbacks. Though, it does continue a trend for the soon-to-be 31-year-old defender. The Colts cut Desir in March 2020, and the Jets ended up cutting him during the season. Desir, who caught on with the Ravens last year, has been with five teams — including two Seahawks stints — but has enjoyed quality stretches. He worked as a full-time starter in 2018 and '19 with the Colts, who extended him in 2019. The former Division II standout will look for a new home ahead of what would be his eighth NFL season.