There's been some evidence that Commissioner Rob Manfred's crackdown on "sticky stuff" is working — bating averages jumped seven points in June, while on-base and slugging percentages also climbed — but it's clear that MLB at-large has an offense problem. Pitchers (especially high-velocity, single-situation relievers) have gotten too good, while hitting a round ball with a round bat hasn't gotten any easier.
All of which makes it truly astonishing that the Los Angeles Angels just completed the 2021 MLB Draft without drafting a single hitter. That's right. The franchise selected 20 pitchers in 20 rounds. It's the second time a team has drafted only pitchers, but the previous instance (the Miami Marlins last year, in a shortened, five-round draft) hardly counts. The Angels drafted 19 college pitchers and one high school pitcher; their top choice was right-hander Sam Bachman from the University of Miami.
What's the rationale here? Well, the team's current arsenal of arms is pretty bad. They rank 26th in the league in ERA (4.90), which is right around where they finish each year. And when their bullpen implodes, it really implodes, with over 10 games of nine or more runs allowed in just the first half.
The staff does happen to have an ace who just started the All Star Game for the American League, but his name is Shohei Ohtani and he's a two-way star on track to become this year's Home Run King. The entire baseball world would love that story to continue for many years, but general manager Perry Minasian can't pin all his pitching hopes on the wing of Ohtani.
The good news: in this anemic offensive era, the Angels actually shake out okay. They've got Ohtani, Mike Trout (who was hunting for an MVP trophy before he strained his calf), and a lineup that ranks near the top five in every relevant statical category. So even if drafting only pitchers seems dramatic, it does make some sense. The front office would rather fill its coffers with lively arms that can capitalize on this new, pitcher-dominant epoch, than draft replacements to an already-potent troupe of position players.
Still, there is no guarantee the move will pay off. Twenty pitchers may sound like a lot, but research has shown that just 17.6% of drafted players actually make it to the majors. Seriously. The minors is a long, unromantic, uncertain slog. While it's rare for a first-round draft pick to not speed though a farm system, early-round selections with fantastic scouting reports routinely get "stuck" in systems for years, and the majority of later-round picks (which would comprise most of those Angels selections) never make it out at all.
Still, you only need five men for a rotation, and about seven or eight to fill out a bullpen. And that pool includes existing starters, free agent arrivals, deadline trade targets, international bonus pool signings, and every previous draft combined. It could take a while, but at some point, down the line, the Angels will stop giving up more runs than they score. And that's a pretty good recipe for winning baseball games.
News, advice and insights for the most interesting man in the room.
Sign up for InsideHook to get our best content delivered to your inbox every weekday. It's free. And awesome.
Get InsideHook in your inbox. It's free. And awesome.
Copyright © 2021 InsideHook. All rights reserved.
Read full article at InsideHook
ESPN 15 July, 2021 - 01:09am
The only other team to select all pitchers in a draft was the Miami Marlins a year ago, but MLB shortened that draft to just five rounds due to the COVID-19 pandemic.
Miami University right-hander Sam Bachman was the Angels' first-round pick -- one of 19 college pitchers they selected. The only high school selection was 12th-round pick Mason Albright, from the IMG Academy in Florida.
Angels scouting director Mike Swanson said the team didn't necessarily rule out selecting a position player, especially in the earlier rounds, but at some point during the final 10 rounds on Tuesday decided to "let it ride."
"Today was really targeting pitching. It's obvious," he said. "We took 20 pitchers. That was a strong focus for us today. There were so many valuable pitchers to bring into the organization, so just go all out and play the hot hand."
The Angels have emphasized drafting pitching under Swanson in previous drafts as well. In 2017, 13 of their first 20 picks were pitchers. In 2018, 16 of their 20 were pitchers, although their top two selections were position players. In 2019, 17 of their first 20 choices were pitchers, although the top two were again position players. This year the Angels went all in.
"It's not excluding other subsets of players, but I was a pitcher myself and understand the wear and tear and how difficult it is to find pitching," Swanson said. "Again, it's a commodity you can't have enough of, so take as many as you can and take the ones you believe in."
Pitching has long been an issue for the Angels, the primary reason the team hasn't made the playoffs since 2014. When Shohei Ohtani starts Tuesday's All-Star Game in Denver, he'll be the first Angels pitcher to appear in an All-Star Game since Jered Weaver in 2012. (Hector Santiago was selected in 2015, but did not pitch).
The Angels currently rank 12th in the American League with a 4.90 ERA and the starting rotation has a 5.06 ERA.
Swanson suggested one reason the club went all-in pitching was simply the depth of pitching available due to last year's draft getting shortened to five rounds and more college juniors returning for their senior seasons instead of turning pro.
"A lot of guys who got squeezed last year and two classes condensed into one," he said.
The Angels weren't the only organization to invest heavily in pitching in this draft. Cleveland drafted 19 pitchers out of its 21 selections, all of them college players. The Dodgers didn't draft a position player until the 16th round and selected 17 pitchers out of 19 picks. The first two of those were high school pitchers, but the rest were college or junior college selections. The Giants selected pitchers with their first nine selections, with eight of those coming from the collegiate ranks.
Swanson said the team views the young position players in its minor league system a strength, making the choice to target pitching easier.
"It's not fully intentional, but a little more of an advanced pitching group [in the draft] sort of offsets the depth of position players we have. It probably injects a little bit of balance into the system."
13WMAZ 15 July, 2021 - 01:09am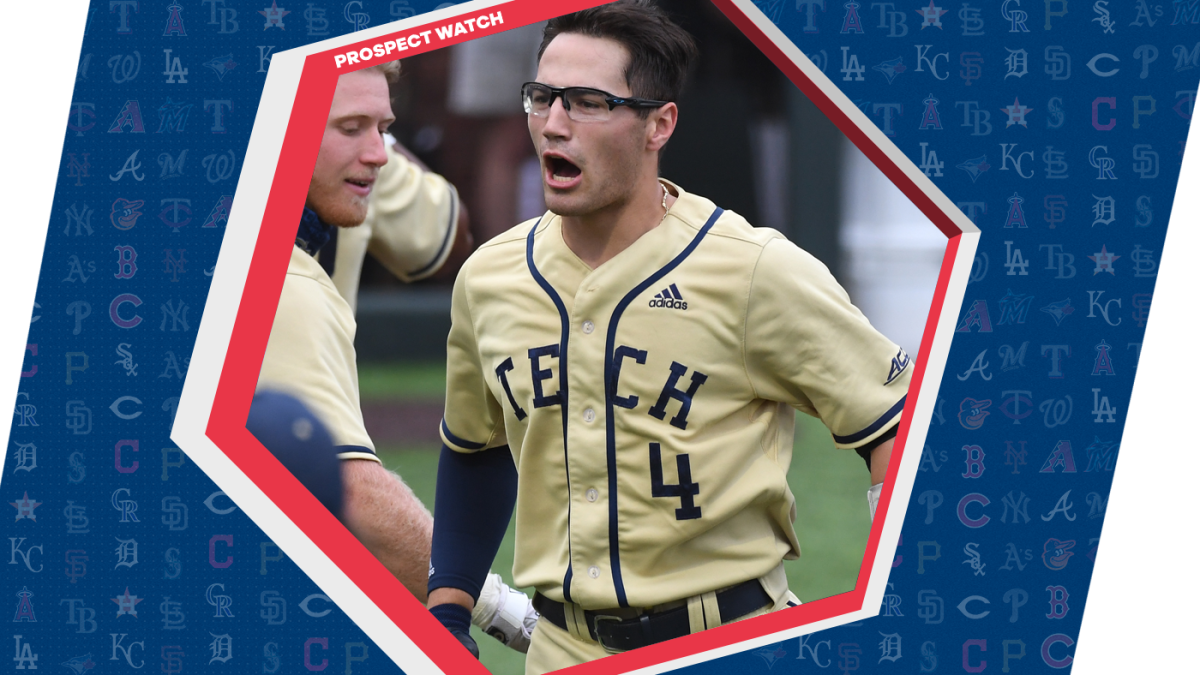 CBS Sports 15 July, 2021 - 01:09am
Major League Baseball wrapped up its 2021 amateur draft on Tuesday. It wouldn't be accurate to describe the event as a return to normalcy. For one, it remained shorter (20 rounds) than its standard length (40); for another, this was the first time MLB scheduled the draft to coincide with the All-Star Game festivities, right down to hosting the event in Denver, Colorado. 
What next year's draft will look like is to be determined at a future date and by a future Collective Bargaining Agreement. Working off the assumption that there will be a 2022 MLB draft, we decided to devote this week's Prospect Watch to previewing the top of next year's class.
This exercise, naturally, falls closer to guesswork than lab work. Last year's preview did identify five players who ranked within CBS Sports' pre-draft top 50: Jack Leiter, Kumar Rocker, Matt McLain, Adrian Del Castillo, and Jaden Hill. With any luck, the same will be true of this year's crop. Let's get to it. 
Green, the early odds-on favorite to go No. 1 next summer, has elite upside. He's a well-built outfielder with an array of loud tools, including top-notch speed; light-tower power potential; and an arm that has clocked into the 90s on the mound. Green has a commitment to Miami, but it would come as a surprise if he ever suits up for the Hurricanes.
Green gets the most attention among prep position players, but Johnson is no slouch himself. He has a strong build, a fast bat, soft hands, and an accurate arm. Johnson is yet to commit to a college; it may not matter if he goes as high in next year's draft as it seems possible.
Parada, who will be a draft-eligible sophomore, hit .318/.379/.550 with nine home runs and a 17 percent strikeout rate in 243 plate appearances as a freshman. He's an athletic backstop with a good arm and a quick release, and he's well-positioned to stake out a spot near the top of the board.
Lesko has a starter's frame and starter traits, including a feel for the strike zone and for three distinct pitches (fastball, sweeping slider, and changeup). He also has a very fast arm with which he's been able to generate upper-90s velocity. Lesko is committed to Vanderbilt, because of course he is.
© 2004-2021 CBS Interactive. All Rights Reserved.
CBS Sports is a registered trademark of CBS Broadcasting Inc. Commissioner.com is a registered trademark of CBS Interactive Inc.
Images by Getty Images and US Presswire
Dodger Blue 15 July, 2021 - 01:09am
Arizona Desert Swarm 14 July, 2021 - 10:00am
Moved to mid-July, and coinciding with the All-Star break, the 2021 draft instead provided a bigger stage for the sport's best amateur talent. That included quite a few players associated with the Arizona Wildcats.
Arizona had seven members of its 2021 team picked during the 3-day draft, second-most in the Pac-12 behind UCLA's 10. The seven were the most for the Wildcats since the 2018 team had eight players selected, though that included one chosen in a round beyond the current 20-round format.
The UA also had one incoming signee get drafted in Las Vegas outfielder Tyler Whitaker. A third-round pick of the Houston Astros, Whitaker is unlikely to make it to college with him in line to earn a signing bonus of around $689,000 based on MLB.com's "pick value" for the No. 87 selection.
Here's a look at the eight UA-connected players drafted, and as well as the likelihood they turn pro or return to school:
Righty Quinn Flanagan and lefty Ian Churchill, who like Irvin are in the transfer portal, also might want to start their pro careers after each spending four years in college. And senior righties Preston Price and Vince Vannelle will try to find a spot somewhere in the minors after both going undrafted.
Baseball America 14 July, 2021 - 08:30am
BA Newsletter: Get Analysis, Rankings Delivered To Your Inbox!
We give you this spiel every year after the draft about how crazy it is to do a mock draft for the next class the day after the previous one wraps up. But, hey we are a little crazy about prospects here at Baseball America and sometimes we want to just embrace it.
Green currently ranks as the top prospect on our 2022 high school class rankings (update on those coming soon) and he could make a compelling case as the top player overall in the class. We haven't yet started having conversations on who is the overall top player of the 2022 class but Green has a special combination of elite physicality, electric tools and an impressive underclass track record of hitting. If he did wind up going with the first pick, he would be the first right-right high school outfielder to be taken first overall since Delmon Young in 2003 (Rays). But when scouts talk about you like this, anything is possible:
"I think Elijah Green would go in the first 10 picks (in 2021)," one scout said about Green, who is committed to Miami. "I have lived here a long time and he is up there on the list of guys I have scouted at this time in his junior year… It's a polished game too, not just electric tools. He uses the field, his tools are outstanding. He is very big and very strong, he has all five tools but it is a polished game."
Jung is the younger brother of Rangers 2019 first round pick Josh Jung and recently was named to our Freshman All-America First Team after posting one of the better offensive seasons in the country. His 1.159 OPS was better than any mark his older brother hit with the same program over three years and he finished with a .337/.462/.697 line with 21 home runs and an impressive 18% walk rate.
Lee was a high-pedigree prospect out of high school who ranked as the No. 38 prospect on the 2018 BA 500 thanks to standout pure hitting ability from both sides of the plate. He made it to campus at Cal Poly where his father, Larry, is the head coach of the baseball program. After hamstring surgery limited him to just two pinch-hit appearances in 2020, Lee hit .342/.384/.626 with 10 homers and 27 doubles this spring while starting 54 games at shortstop. He's continued that offensive pace so far in the Cape Cod League this summer, hitting .389/.405/.639 with three homers through nine games. Lee has a chance to be the highest drafted player in Cal Poly history next year, topping catcher John Orton, who is the only first rounder from the program (1987, 25th).
Similar to Lee, Parada was an outstanding pure hitter out of high school and see by many as one of the best hitters in the prep class in 2019. He ranked as the No. 48 player in the 2020 draft class and is a draft-eligible sophomore who posted a .318/379/.550 slash line with nine home runs this spring in his first collegiate season in the ACC. Parada has a chance to become the fourth first-round catcher out of Georgia Tech, following in the footsteps of Jason Varitek (1993, 1994), Matt Wieters (2007) and Joey Bart (2018).
Johnson has some of the best barrel control and pure hitting traits in the 2022 class and seems totally in control of every at-bat with top-of-the-order upside. He's performed at a high level with Team USA and has played shortstop, second base and centerfield, with almost unconsciously smooth actions and sure hands defensively. He's listed at 5-foot-10, 175 pounds and doesn't have the most projectable frame, but does everything on the field at a very high level already. Johnson is uncommitted.
Lesko recently won the Gatorade National Player of the Year Award as an underclassmen and was the sole player on our 2021 All-America Teams that wasn't a member of the 2021 class. He has been seen as the top pitching prospect in his class for several years now thanks to pitching ability well beyond his years, a loose and easy arm action, lean frame and a three-pitch mix that could be plus across the board. This spring Lesko went 11-0, 0.35 with 112 strikeouts in 60 innings for Buford High.
Susac will compete with Parada for the title of best draft-eligible catcher in the 2022 class and had a similarly strong collegiate debut. He was the Pac-12 Freshman of the Year and a Baseball America First Team All-American after hitting .335/.392/.591 with 12 home runs and 24 doubles and his numbers were even better in conference play.
Pallette posted a 4.02 ERA over 56 innings and 11 starts this spring for Arkansas, with 67 strikeouts and 20 walks. He made massive strides between the 2020 and 2021 season, and this spring sat with a fastball that sat in the 93-95 mph range and ran up to 98-99 mph at his best. He pairs that with an upper-70s curveball that generated whiffs at a 44% rate and a mid-to-upper-80s changeup.
Berry will follow coach Jay Johnson from Arizona to Louisiana State this year and was one of the national leaders in homers, with 17—which was good for third in the Pac-12. Berry hit .352/.439/.676 with 19 doubles and his bat seems very real from both sides of the plate, but he'll need to establish his defensive profile this year.
Barco has been a full-time starter essentially from day one with the Gators—no small feat considering some of the other pitchers on the staff he's had to compete with. Over two seasons (including the shortened 2020 season) the 6-foot-4 southpaw has posted a 3.52 ERA in 102.1 innings, with 120 strikeouts and 32 walks. He has a four-pitch mix with a fastball that gets into the mid-90s, a low 80s swing-and-miss slider and a curve and changeup that are thrown less frequently. Barco ranked as the No. 32 prospect in the 2019 draft class out of high school.
Yardbarker 14 July, 2021 - 07:40am
If you're wondering why the Los Angeles Angels have only made the playoffs once during Mike Trout's MLB career, you can look directly to their pitching as the biggest culprit. The Angels have struggled with their pitching for several years and haven't had a consistent ace since Jered Weaver's last year of dominance in 2014.
New Angels GM Perry Minasian recognized how much of a weakness their pitching has been and attempted to address it with his first draft. His Angeles literally drafted 20 pitchers in 20 rounds. With the exception of 12th-round pick Mason Albright, who is from IMG Academy, all the pitchers are from colleges.
The Angels had 20 draft picks.
The Angels drafted 20 pitchers. pic.twitter.com/tjAIGIhMuf
— B/R Walk-Off (@BRWalkoff) July 13, 2021
Not only did the Angels show they recognize what a weakness pitching is and has been for them, but their draft tells a second story. Taking nearly all college pitchers indicates the Angels feel they have a team that is ready to win now. College pitchers generally are further along in their development process than high school pitchers. That means they are closer to being able to help the MLB team.
The Angels in 2021 redefined drafting for need. They should hope that their sole focus on pitchers didn't lead them to pass up some other players who would be helpful, but they probably did. They probably also figure that between Shohei Ohtani, Mike Trout, Anthony Rendon and Jared Walsh, their offense is in good hands. They just need pitching help badly.
#Angels scouting director Matt Swanson he said he doesn't think a team has ever drafted only pitchers in a full draft (excluding last year's 5-round draft).
He said it was to fill a need in organization as a whole (not necessarily the majors).
— Jeff Fletcher (@JeffFletcherOCR) July 13, 2021
The Angels entered the draft 26th in MLB in team ERA. For a team with World Series aspirations, that won't cut it. They know it and are attempting to address it.
This article first appeared on Larry Brown Sports and was syndicated with permission.
Get the latest news and rumors, customized to your favorite sports and teams. Emailed daily. Always free!
Bleacher Report 14 July, 2021 - 06:00am
The 2021 Major League Baseball draft concluded with its third day on Tuesday, yet there's still a good deal of focus on the cream-of-the-crop talents who went in the top 10 picks on Sunday.
If this focus can be distilled down to one simple question, it's probably something like, "So, are these guys gonna be All-Stars or what?"
Though the answer to that question will take years to become clear, for now we thought we'd venture a buy/sell guess for each of the players who went in the top 10 in this year's draft. This involved weighing not only their current talent and future projection, but also any relevant precedents.
We'll proceed in reverse order, starting at No. 10 and ending at No. 1.
Ranked as highly as the draft's No. 5 prospect for The Athletic and Baseball America, the New York Mets got a steal when Kumar Rocker slipped to them at No. 10.
During Rocker's three seasons with the Vanderbilt Commodores, there were times when he looked too good to merely be pitching in the college ranks. Never more so, of course, than when he whiffed 19 batters in a no-hitter against Duke in the NCAA Super Regionals in June 2019.
And yet the 21-year-old was also oddly human at times, including this past season; his velocity was up and down en route to a good-not-great 2.73 ERA in 20 starts. That alone suggests there's also a low floor underneath his high ceiling.
That ceiling, though, is indeed sky-high on account of a mid-to-high 90s fastball and devastating slider that Jim Callis of MLB.com ranked among the draft's top tools. Rocker also has an ideal starting pitcher's body at 6'5", 245 pounds, so his velocity issues clearly aren't a question of strength.
Factoring in that Rocker is coming from an institution that's produced major league aces like David Price, Sonny Gray and Walker Buehler, his upside is ultimately more believable than his downside.
Verdict: Buy
If there's one thing to know about the Los Angeles Angels' highest draft pick since 1997, it's that Sam Bachman can light up the radar gun.
The 6'1", 235-pounder could already work in the low-to-mid 90s with his fastball in his first two seasons with Miami (Ohio) in 2019 and 2020, but in 2021, he was sitting in the mid-to-high 90s and regularly touching triple digits. For anyone who needs proof, here's him throwing 101 mph in March.
In addition to his blistering fastball, Bachman also offers a plus slider that's at least in the discussion for the best among this year's draft prospects. So, what's not to like?
Well, his injury history, for one. The 21-year-old missed a couple of early-season starts with a tired arm and also had some shoulder soreness from time to time. And while his build is sturdy, there's some effort and moving parts in his delivery that could lead to lasting control issues.
This is to say there's room for doubt concerning Bachman's long-term potential as a starter. But even if it's kind of a copout to say as much, we'll do it anyway: With his stuff and mechanics, he could easily turn into an All-Star-caliber relief ace if starting doesn't work out.
Verdict: Buy
Because the Colorado Rockies are operating with something of a skeleton crew in their front office after so many departures, any decision they make should be met with a degree of skepticism.
This includes the club's choice to draft prep outfielder Benny Montgomery at No. 8 overall on Sunday.
It's not that the 18-year-old out of Red Land High School in Lewisberry, Pennsylvania, is lacking in physicality or tools. He's already 6'4", 200 pounds, so nobody should be surprised to hear that he's seen as having good power potential. He also already has a plus arm and, according to Baseball America, 80-grade speed.
However, questions about Montgomery's hit tool are pretty much universal. That 6'4" frame is going to give him a bigger strike zone than most players, and there's a hitch in his current swing that points to a high likelihood of having a swing-and-miss issue in the professional ranks.
Granted, problematic swings can be fixed. But unlike, say, the Los Angeles Dodgers, the Rockies don't exactly have a track record of matching talented hitters with their ideal swings. And given the current state of their front office, there's no reason to think that will change any time soon.
Verdict: Sell
When the Kansas City Royals drafted Frank Mozzicato with the No. 7 pick, there was an immediate question as to whether they had reached for a prospect who didn't even crack The Athletic's top 50.
What arguably justifies that call, though, is that Mozzicato had a lot of helium this spring.
To wit, the 18-year-old southpaw out of Manchester, Connecticut, threw four straight no-hitters for East Catholic High School in May. Scouts started flocking to watch him pitch, as did San Diego Padres general manager A.J. Preller at one point.
Though he only has 175 pounds on his 6'3" frame, Mozzicato should add more strength as he matures. That bodes well for a fastball that already cracks 90 mph, and he already has a plus curveball in his arsenal. So if he can so much as develop a workable changeup, he could vaguely resemble Atlanta ace Max Fried.
Still, the fact that Mozzicato doesn't already have a plus fastball or a go-to third pitch means he's about as risky as any other high school pitcher. There's also no escaping the sense that the Royals reached for him to avoid blowing their bonus pool all on one guy, so it's fair to have doubts about his All-Star potential.
Verdict: Sell
Amid an otherwise brutal 2021 season, the Arizona Diamondbacks had something go right when Jordan Lawlar was still on the board when they made the No. 6 pick.
The 18-year-old product of Dallas Jesuit College Prep High School was widely seen as one of the draft's five best talents. He even checked in at No. 1 overall for Baseball America, which rated each of his five tools as above average or better.
If nothing else, Lawlar should stick at shortstop even as he further fills out his 6'2", 190-pound frame. That process should also equip him with more power at the plate, where he already boasts electric bat speed.
If there's a tool of Lawlar's that's more of a question mark, it's his hit tool. Even Baseball America remarked on it, noting that he struck out 20 percent of the time through the first 21 games of his season. For a high schooler, that's...not great.
But since Lawlar eventually corrected that problem, he arguably entered the draft with no actual red flags. And while the history of highly drafted prep shortstops is mixed, Manny Machado, Carlos Correa, Francisco Lindor and Javier Baez are living proof that Lawlar can find the right path.
Verdict: Buy
The Baltimore Orioles used top-five picks on college standouts in both 2019 and 2020, going for catcher Adley Rutschman at No. 1 in the former and outfielder Heston Kjerstad at No. 2 in the latter.
On Sunday, the O's went back to the college outfielder well when they plucked Colton Cowser out of Sam Houston State with the No. 5 pick.
Since Ryan Tepera is probably the best player to come out of the school in recent years, it's fair to say that Sam Houston isn't a breeding ground for major league stars. But after hitting .361 as a freshman in 2019 and .374 as a junior this season, Cowser sure seems like he could break the mold.
Those batting averages underscore a hit tool that's perhaps the best of any of this draft's college hitters. Because he's also a plus runner, the Orioles have at least two reasons to dream on the 21-year-old as their future leadoff hitter.
Yet there are also questions about Cowser's ability to stay in center field and, because of a swing that isn't geared for launch angle, about his long-term power outlook. Since he's already been through the college ranks, there's less room for belief that he'll answer those questions and become a truly well-rounded star.
Verdict: Sell
Based on his predraft rankings at MLB.com, FanGraphs, The Athletic and wherever else, Marcelo Mayer was the de facto favorite to go No. 1 overall to the Pittsburgh Pirates.
Yet he somehow fell to the Boston Red Sox at No. 4, effectively forcing him to renounce his New York Yankees fandom on the spot.
Perhaps nobody is higher on Mayer than Callis, who rated him as both the best hitter and the best defender in this year's draft class. As comps go, he has the potential to be Corey Seager on offense and Brandon Crawford on defense. A super-shortstop, in other words.
If there's literally any "yeah, but..." here, it's that the 18-year-old out of Chula Vista, California, could outgrow shortstop as he packs bulk onto his 6'3", 188-pound frame. As it is, he's already a merely average runner.
But even if Mayer does have to move to third base or second base, his bat alone could be his ticket to All-Star honors. He also wouldn't be the first player from Eastlake High School to achieve stardom in the majors, as Adrian Gonzalez did so after leaving the school as the Florida Marlins' No. 1 pick in 2000.
Verdict: Buy
Contrary to Mayer's alma mater, Jackson Jobe is the first player to ever be drafted directly out of Heritage Hall High School in Oklahoma City.
If it's a question of what drew the Detroit Tigers to him with the No. 3 pick, well, have you seen his slider?
In addition to looking great to the naked eye, the folks at PitchingWRX have tracked the spin rate on Jobe's slider at more than 3,200 revolutions per minute. Among current-day major leaguers, only Pirates right-hander Kyle Crick has hit that mark consistently with his slider in 2021.
Lest anyone think that the slider is all 18-year-old Jobe has going for him, he can already get his fastball into the mid-90s, and his changeup's grades range from average to plus. Per MLB.com, some evaluators even think the latter is just as good as his slider.
As prep arms go, all of this makes Jobe less of a long shot than Mozzicato. He also has a solid pitcher's build at 6'2", 190 pounds, and his delivery wouldn't seem to have any obvious mechanical red flags. So even if he is an anomaly for Heritage Hall, all signs point to him doing the school proud.
Verdict: Buy
In the days leading up to the draft, there was some intrigue as to whether Jack Leiter and the Red Sox would be able to make good on their mutual interest via the No. 4 pick.
The Texas Rangers nixed that idea when they drafted Leiter at No. 2, and bully for them given that it meant landing the best pitching prospect in this year's draft.
Though Leiter—whose father, Al, had a fruitful major league career in his own right—only occasionally reaches the upper 90s with his fastball, it nonetheless draws plus-plus grades. As Justin Choi of FanGraphs showed, Leiter's heater plays above its velocity because of its high spin and his location efficiency.
The 21-year-old also has an excellent curveball, plus a slider and changeup that have above-average potential. And while he's perhaps slightly undersized at 6'1", 205 pounds, he has an effective drop-and-drive delivery that calls to mind a young Roy Oswalt.
In all, there are good reasons why Leiter put up a 2.08 ERA over 125.2 innings with Vanderbilt. Like Rocker, he now stands to become the next great MLB success story to come out of that university.
Verdict: Buy
Though they were widely expected to go for Mayer with the No. 1 pick in the draft, the Pirates went against those winds to draft Henry Davis out of Louisville.
He's the sixth catcher to ever be drafted first overall, and the history there isn't encouraging. Joe Mauer certainly made it, but after him, the most successful No. 1 catcher is Mike Ivie, whose 11 seasons yielded all of 7.3 WAR and no All-Star selections.
For his part, whether the 21-year-old Davis will even stick behind the plate is somewhat up in the air. His throwing arm is more than good enough for catching duty. His receiving, however, has generally left evaluators wanting more.
Yet that could be a moot point if MLB eventually implements an automated strike zone. And if Davis does have to move to another position, his bat could make him a star anyway. He just hit .370 with 15 home runs as a junior, numbers which point to a plus hit tool and above-average power.
So even though some concern is warranted here, the Pirates ultimately didn't pick Davis just to troll everyone. He's legitimately talented, and thus a legitimate All-Star candidate in the long run.
Verdict: Buy
Enjoy our content? Join our newsletter to get the latest in sports news delivered straight to your inbox!
Spartan Nation 14 July, 2021 - 06:00am
Erla led the Spartans pitching staff in multiple categories this year, including innings pitched (79.2), strikeouts (80), wins (5), and games started on the mound (13).
At 6-foot-4 and 200-pounds, he finished the season with a 5-6 record and an ERA of 3.50.
Since arriving in East Lansing in 2017, the Cass City native logged 243 career strikeouts, placing him third on the all-time list at Michigan State, despite playing a shortened campaign in 2020.
Baseball America ranked Erla in the top-200 (No. 170) last summer, indicating his stock had risen substantially. If not for the MLB Draft shortening its draft to five rounds due to the COVID-19 pandemic, Erla may have been able to experience his dream of playing professionally a year earlier.
Please make sure you tell us your thoughts when you like our Facebook Page WHEN YOU CLICK RIGHT HERE.
Hello Spartan fans, do you want the latest and breaking MSU news delivered straight to your email for FREE? Then please go sign up for the DAILY Spartan Nation newsletter when you CLICK THE MAGAZINE ICON at the top left of the page or the FOLLOW button back on the main page. Don't miss any of the latest up to the second updates on Michigan State Sports when you follow us on Twitter @HondoCarpenter @McLainGrant1