At first blush, Microsoft's upcoming Windows 11 looks to be a solid update to the operating system software that powers most of the world's PCs. The first thing you'll notice when looking at it is the new streamlined design similar to smartphones and tablets powered by Apple's iOS and Google's Android. Microsoft's also added features meant to help people navigate the new ways we've all learned to work during the coronavirus pandemic. They include built-in video chat software, technology to make video games look better, and more modern-looking buttons and windows for controlling apps and sorting documents.
But Microsoft believes its most important selling point may be what it doesn't do. After announcing Windows 11 on June 24, Microsoft CEO Satya Nadella said his company is building its technology to work with as many products as possible, including software for competing Google Android-powered smartphones. Microsoft's releasing Windows 11 as a free upgrade later this year.
"Today, the world needs a more open platform -- one that allows apps to become platforms in their own right," he said. "Windows is a platform where things that are bigger than Windows can be born."
He pushed this point by inviting Google to bring its Google Play app store onto Windows. He also told developers they're now allowed to sell programs on the Microsoft Store for little to no commission, a stark shift from Apple's and Google's 15% minimum take that's led to an avalanche of court cases, antitrust probes and proposed new laws around the world. And he said he'd welcome Apple's FaceTime and other technologies on Windows 11 and in the Microsoft Store.
"We want to remove the barriers that too often exist today and provide real choice and connection," he said. "Operating systems and devices should mold to our needs, not the other way around."
Microsoft is building its Teams video chat into Windows 11.
Microsoft's move with Windows 11 marks the latest in a sea change for the world's most highly valued software company. Two decades ago, Microsoft's attempts to crush competitors through its Windows software led a federal judge to declare it a monopoly. Microsoft's sharp-elbowed tactics and problem-prone software made it so reviled that people across the tech landscape shorthanded the company as M$ in chatrooms for what they saw as the company putting profit before the needs of people using its products.
Competitors joined in too. In the early 2000s, Google marketed its nascent search engine with the corporate ethos "Don't be Evil." And when Apple began formulating its "Get a Mac" campaign to help market its computers in 2005, it cast the Microsoft-powered PC as a bumbling and arrogant fool.
"The fact is you're selling like hotcakes now, and I've got to get my message out, so I'm doing a little buzz marketing for good old PC, the only computer you'll ever need," said the character PC, played by comedian John Hodgman, who then holds up signs saying "Amazing!" and "Totally cool!"
But things have changed since then. Google dropped its famous "Don't be evil" corporate mantra in 2015, opting instead for "Do the right thing." (Perhaps not coincidentally, the search giant is now facing antitrust scrutiny itself.) And Apple's controlling approach to the iPhone and its App Store have fueled lawsuits and government investigations in Europe and the US, fueled by complaints from major partners such as Tinder dating app maker IAC, music service Spotify and Fortnite developer Epic Games.
Read more: Windows 11: These are the best new features, and how to use them
Meanwhile, Nadella's been instituting changes at Microsoft since he was named CEO in 2014. He's pushed Microsoft to soften its approach with partners, competitors and even within its own divisions. It's about "the renaissance as much as about just sort of fixing something that's broken," Nadella told CNET in 2018.
Now, with Windows 11, Microsoft sees an opportunity to stand out from the crowd, rather than merely compete. And it'll be coming quick. Microsoft's planning to launch Windows 11 later this year, after a public beta test period this summer. Rumors suggest it'll land in October, around the same time Apple releases its free annual iPhone, iPad and Mac software updates as well.
"Now is the time," said Maribel Lopez, an analyst at Lopez Research. For a long time, Nadella has told developers that Microsoft is more open, easier to develop on and, with hundreds of millions of PCs sold every year, still a platform with opportunity. Even Microsoft's biggest hurdle -- the lack of a smartphone operating system -- is fading as mobile chips begin to power more PCs and the lines blur further.
That's not to say there's an easy road ahead for Microsoft. Though the company is making its single operating system more accessible to developers, Apple boasts two popular platforms in iOS and MacOS.
"You can't take Apple lightly," Lopez said, noting that there's a "war" going on for the future of tech. 
In the 1990s, when people were buying their first desktops and logging onto the internet for the first time, Microsoft's stated corporate mission was to put "a computer on every desk and in every home." By 2015, it had largely succeeded -- and that groundwork even helped put a computer in everyone's pockets as well. (Despite Microsoft's best efforts, though, the devices didn't have a Windows logo on them).
So what do you do next? Nadella decided he wanted Microsoft to "empower every person and every organization on the planet to achieve more." That thinking ended Microsoft's obsession with Windows, solidifying it more as a company whose products help other company's products run.
But the Microsoft of old didn't entirely go away. Analysts believe Nadella's broadsides against Apple during his Windows 11 launch speech weren't just about knocking Microsoft's biggest frenemy. His tone wasn't jovial, nor was he dismissive like former CEO Steve Ballmer when Apple co-founder Steve Jobs first showed off the iPhone in 2007. Nadella was serious.
"He's attempting to pierce the veil," said Patrick Moorhead, an analyst at Moor Insights & Strategy, referring to Apple's position as the innovative cool kid in the tech industry. "How many opportunities do you have to pierce the veil?"
Moorhead noted that Microsoft's put a lot of effort into making sure its Office productivity apps, Teams chat software and other programs run well on iPhones, iPads and Macs. But Apple's barely updated iTunes on Windows over the years, and it hasn't even made apps like FaceTime available to download.
Microsoft declined to make Nadella available for an interview to discuss the motivations behind his speech. Whatever his reasons, Nadella's move showed that beneath Microsoft's cool-by-being-uncool veneer, it still has that monopoly-making cutthroat business sense.
"I can see why they envy Apple -- everyone bows down to that company like it's a religious talisman," said Endpoint Technologies Associates analyst Roger Kay.
Read more: Windows 11: All the big differences from Windows 10
But attacking Apple may not be enough to change people's perceptions. In 2001, more than nine out of every 10 computers on the planet was powered by Windows. Today, it's closer to seven out of 10, according to StatCounter. 
The iPhone makes Apple a hard nut to crack.
So Nadella may want to position Windows 11 as the anti-Apple, but Microsoft's influence these days largely extends to the people who already have Windows. And those people will either download the free Windows 11 update when it's released this fall or wait until the IT team at their company lets them.
"Microsoft's only competing against themselves," Kay said. "No one else cares."
And if that isn't enough, Microsoft's building its Teams software into Windows in a way similar to how Apple's used FaceTime with its devices. But it's clear Microsoft wants to carve out its own identity with the way it's opening up Windows.
"We're building for the next decade and beyond," Nadella said in that Windows 11 speech. "This is the first version of a new era of Windows."
And maybe most important to him, it won't be Apple.
Stay current on the latest Microsoft news, plus reviews and advice on Windows PCs.
Read full article at CNET
Engadget 04 July, 2021 - 11:04am
PCWorld 04 July, 2021 - 11:04am
MUO 04 July, 2021 - 11:04am
Notebookcheck.net 04 July, 2021 - 11:04am
A new TechRepublic interview with Microsoft's Director of OS Security, David Weston, has shed some light over the company's decisions, none of which is necessarily about forcing users to buy new PCs -- even if that might be a side-effect of its choices. As you might expect, given Microsoft's TPM 2.0 requirements which are security driven, the same is true of the CPU cut-offs. For better or worse, Microsoft is aiming to get the balance right between security, performance and battery life so users can get the best possible experience on Windows 11.
TPM 2.0, for example, has been a requirement in Windows since 2016, but many vendors didn't enable it because of performance and battery life concerns. Turning this on along with other existing malware mitigations, which will be a requirement of the final build of Windows 11, increases security protection by 60 percent alone. These features all impact the performance and battery life of PCs that might otherwise be able to run Windows 11, including the Beta right now.
Virtualization Based Security is on by default [in Windows 11]. Obviously the TPM is there, so that's going to give us the ability to do BitLocker in Windows Hello in more default scenarios. Those are going to allow commercial enterprises to do zero trust and take advantage of things like System Guard. There's a lot of out-of-the-box security value. I want people to flip their laptop open and feel they are much better protected, and we know that they will be, based on looking at threat intelligence versus the default we changed.
Some 7th gen Intel chips and those from other vendors including AMD and Qualcomm are described by Weston as having only 'limited support' for these virtualization-based security features, hence their omission. While this may be irksome, it is hard to criticize Microsoft for doing its best to address platform security when this has been a long-standing criticism of Windows.
TechRadar 04 July, 2021 - 11:04am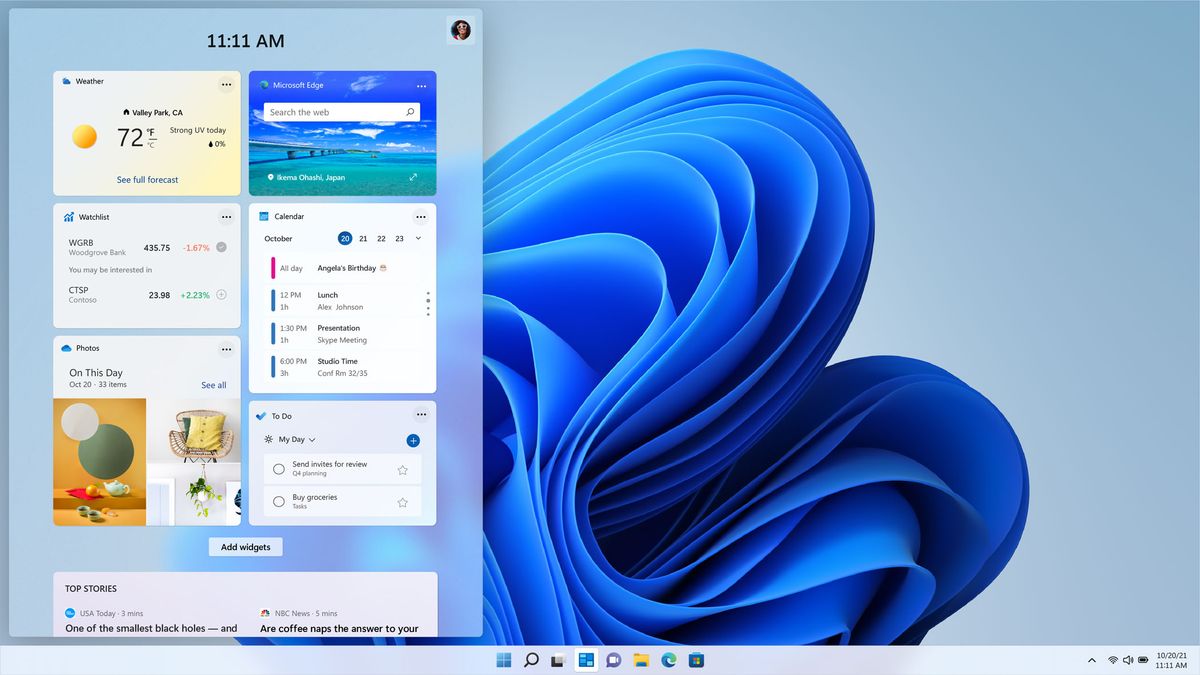 Tom's Guide 04 July, 2021 - 11:04am
Many are angry about Windows 11's strict requirements, but Microsoft is right
That said, the news about Windows 11's stringent system requirements doesn't seem that awful (unless you built your own system, more on that below). And now before you get angry, I'm not saying that Windows 11's chaotic week of confusion has been great. 
Things got so bad that Microsoft took down the PC Health Check utility for Windows 11, because it wasn't explaining things clearly enough.
I'm not going to let Microsoft off the hook. In its haste to promote all the Windows 11 features, it could have done a better job of explaining what you need to get Windows 11 on your PC. That's now its task for the remainder of the year,: telling people what a TPM is, as well as how to enable Secure Boot and TPM 2.0 functionality if it's not enabled yet.
Microsoft could have explained — up front and to the camera — that Windows 11 would not be available for all systems, and that it would be worth it when you got it. But it did not. It could have also said that Windows 11 was more for new machines and less about upgrading existing machines, but it did not. Things got so bad that Microsoft took down the PC Health Check utility it gave out to check if your system supported Windows 11, because it wasn't explaining things clearly enough.
I called up Avi Greengart, the lead analyst at the Techsponential industry research firm, to get his two cents about Windows 11's sticky situation. He agreed that messaging was one of the key issues, and mentioned that it ties back to Microsoft's years of updates, saying "the expectation set over the year has found Microsoft prioritizing backwards compatibility, but that's not how all updates go, and the Windows 11 security model is a very good reason to not do that."
Greengart says this despite being one of the affected users, as his Surface Studio is among the not-supported devices. He notes that while "Microsoft wants to guarantee a faster experience, which in turn created a list of fast processors, there's a big question of how they define 'slow.' Was one year's i7 fine, where an i3 wouldn't be?"
While it may be easier for Microsoft to just have their big list of supported processors, one wonders if they'll ever explain the cutoff. 
User-built systems (particularly those made by gamers) are the one area where things get dicey, because, as Greengart told me, "if you built your recent PC yourself," you could be without a TPM chip, with is a bad situation. Especially since your motherboard may not even support the addition of one, another headache to take on. 
"Just look at how components are so hard to come by right now," he continued, "with the graphics card situation, and now you add the need for a TPM 2.0 chip on top of that? There's no advice that can be given for that audience, given the supply chain shortages for all the necessary components." 
And it's not like gamers won't want Windows 11. Increased Game Pass integration, auto HDR and other big features make this requirement sting a bit. 
"Demanding that your computer has a TPM 2.0 chip is not a bad thing — even though it will frustrate enthusiasts who built their own without one, or don't know it's there."
But even with all that headache that PC users have to process, it looks like Windows 11 will be worth it. It's just that people probably didn't expect it to require so much. 
While Windows 11 may be seen as the first huge update since Windows 10, it's arguably even bigger than that. Windows 10 supported most if not all PCs running Windows 7 SP1 or the Windows 8.1. Aside from that, you just needed 1GB of RAM, a processor of at least 1 GHz or faster, 16GB to 20GB of storage space, a DirextX 9 or later graphics card and a display measuring 800 x 600, at least. To put it lightly, Windows 10 was practically a no-questions asked upgrade. Which may have led some people to think Windows 11 would have a similarly wide berth for welcome systems.
Greengart agrees that Windows 11 is a bigger update than one might expect. And a lot of that is owed, he believes, to the renewed importance of the PC, saying that during the last year-plus, we were reminded that while "the PC may not be the central digital device, it is absolutely a central device in our lives. And you need that for connectivity, creation, community, productivity and gaming."
And to try and further perfect the device that you use for your entire life, Microsoft has decided to set stricter standards this time out. In a blog post, the Windows Team said that its decisions for requirements are guided by reliability and security, two priorities where many will hold at least one (if not both) as important. Those new reliability standards, for example, Microsoft notes "are supported by our OEM and silicon partners who are achieving a 99.8% crash free experience."
Per the security needs, Greengart noted that "Some of the requirements aren't just rational, but important. And not just for enterprises, but consumers, too. Demanding that your computer has a TPM 2.0 chip is not a bad thing — even though it will frustrate enthusiasts who built their own without one, or don't know it's there."
I also called up Carolina Milanesi, a principal analyst at market intelligence firm Creative Strategies, Inc, who explained that Microsoft is using Windows 11 to push people to better standards, or as she said "nudging people to move forward," on better behaviors that will improve everything for all. Nobody wants to be told to eat their broccoli, but in this case I can't blame Microsoft, especially as it notes that its set of security standards "has been shown to reduce malware by 60%". And reducing malware on systems helps stop the spread to other systems, so that's a net gain for everyone. 
Also, think about the security requirements this way. Yes, you may not run a business at home off your laptop, but you could wind up working for a company whose IT department requires a secure-enough laptop. You never know when you'll be in a BYOPC (Bring Your Own PC) situation where you'll need to meet someone else's requirements. 
When I asked if this confusion could make people switch, Avi left it at "No," while Carolina agreed, and said "it's not like Windows 10 is not good."
And that's what I come back to. Windows 11 is definitely cool, shiny and neat. I can see that clearly, even as someone who primarily uses Macs. But software updates don't need to be the thing that makes you change your situation.
Instead, PC users whose machines don't support Windows 11 have a new big reason to think about getting a new system when they come to that point. When I asked about advice to give to everyday users, like my relatives I'll hopefully see at the holidays and likely give advice to about their tech. Milanesi told me that they "Probably should continue to use their system, as they're likely not a high risk environment, [and] Windows 10 will be supported [with] security patches." 
That's because Microsoft is giving people time to upgrade: Windows 10 support won't end until October 14th, 2025. And while that date comes directly from Microsoft, Avi and I agreed that Microsoft is just as likely to extend Windows 10's end-of-life date down the road. 
And that's just half of the good news. You may be frustrated that Windows 11 may not support your system, but older 7th Gen Intel- and AMD Zen 1-based systems could be added, as Microsoft is double-checking that during testing. In the meantime, if anything can be gleamed from the way the reaction went down, we bet that Microsoft won't make a communications mistake like this again. 
Henry is an editor writer at Tom's Guide covering streaming media, laptops and Apple. Prior to joining Tom's Guide — where he's the self-described Rare Oreo Expert — he reviewed software and hardware for TechRadar Pro, and interviewed artists for Patek Philippe International Magazine. You can find him at your local pro wrestling events, and looking for the headphone adapter that he unplugged from his iPhone.
Thank you for signing up to Tom's Guide. You will receive a verification email shortly.
There was a problem. Please refresh the page and try again.
© Future US, Inc. 11 West 42nd Street, 15th Floor, New York, NY 10036.
BetaNews 04 July, 2021 - 11:04am
As excitement builds around the launch of Windows 11, eager computer users are scrambling to use utilities such as WhyNotWin11 and Win11SysCheck to see if their system is compatible and up to the job.
The biggest stumbling block is the requirement for TPM 2.0, and while Microsoft has indicated that some OEMs will -- with approval -- be able to bypass the need for TPM support. While this is not an option that will be available to the average user, it is possible to edit the registry to make it possible to install Windows 11 on a computer that does not have TPM 2.0.
The good news was shared by Bleeping Computer following a tip from Albacore. By editing the registry, you can bypass not only the TPM 2.0 requirement, but also the need for Secure Boot and 4GB of RAM. While you probably don't really want to run Windows 11 on a computer that does not fully meet Microsoft's minimum specs because of security and performance issues, it is a good way to try out the operating system in a virtual machine.
Use the following steps to install Windows 11 on an "incompatible" system:
Comments on the Bleeping Computer article suggest that the hack is not working for everyone, but it still seems worth a try, even if it only means that you are able to use the Insider build of Windows 11 for the time being.
© 1998-2021 BetaNews, Inc. All Rights Reserved. Privacy Policy - Cookie Policy.
TrustedReviews 04 July, 2021 - 11:04am
I personally can't recommend any of Microsoft's offerings as an alternative, mainly because Windows 10 (and Windows 10 in S Mode) doesn't translate very well to a tablet. The operating system was clearly designed with a keyboard and mouse in mind, with lots of menus, small icons and lack of gestures. It just feels like a very clumsy experience when using touch controls.
However, Microsoft has made me optimistic for the future of Surface tablets after showing off a demo of Windows 11 installed on the Surface Pro X. After watching this video (shown below) I suddenly realised that Microsoft has considered tablet use very carefully when designing the Windows 11.
The centralised taskbar in particular will be very handy for those using tablets, with all of the app icons easier to reach and the added space between each icon making them easier to prod.
I do hope Microsoft adds the capability of making the taskbar larger, as it still doesn't look quite as touch-friendly as iPadOS, but it's still a great step in the right direction.
Microsoft's new Snap Layouts will be useful for tablet users too, allowing more fine-tuned control over how you display multiple Windows simultaneously. It's even taking the tablet form factor into consideration, stacking windows on top of one another when flipping the tablet into horizontal mode rather than squashing them in side-by-side.
Windows 11 will also enable touch gestures for more intuitive controls. What's more, it's using the exact same gestures as a laptop's trackpad, so you won't have to relearn a whole new list of shortcuts. Other exciting additions include haptic feedback for styluses, an improved touch keyboard and voice typing with automatic punctuation.
These new features admittedly don't seem significant when viewed independently, but as while they should ensure a far more enjoyable tablet experience. I'm excited to see Microsoft finally taking tablets seriously for Windows, which is long overdue since it's been launching various Surface tablet devices over the years.
Microsoft is also making it easier for developers to transition x64 apps over to Arm, which would get such apps running with native speeds for devices such as the Surface Pro X. This is great news, as it could encourage more manufacturers to create Arm-based Windows devices, taking advantage of improved battery and thermal efficiency.
Apple has shown with its MacBook range that jumping ship to Arm can be hugely beneficial, and I'd love to see the likes of Dell, Lenovo, Microsoft and more experiment with new processor options outside of AMD and Intel. Windows 10's compatibility issues were a big stumbling block for a transition over to Arm, but Windows 11 is looking to right those wrongs.
As a result, I'm confident that we'll see more ambitious tablet designs running on Windows in the future. Factor in the new Windows 11 UI enhancements for touch controls and improved Microsoft app store, and you could have a killer combination that could finally knock Apple's iPad off its perch.
Editorial independence means being able to give an unbiased verdict about a product or company, with the avoidance of conflicts of interest. To ensure this is possible, every member of the editorial staff follows a clear code of conduct.
We also expect our journalists to follow clear ethical standards in their work. Our staff members must strive for honesty and accuracy in everything they do. We follow the IPSO Editors' code of practice to underpin these standards.
Founded in 2004, Trusted Reviews exists to give our readers thorough, unbiased and independent advice on what to buy.
Today, we have 9 million users a month around the world, and assess more than 1,000 products a year.
Editorial independence means being able to give an unbiased verdict about a product or company, with the avoidance of conflicts of interest. To ensure this is possible, every member of the editorial staff follows a clear code of conduct.
We also expect our journalists to follow clear ethical standards in their work. Our staff members must strive for honesty and accuracy in everything they do. We follow the IPSO Editors' code of practice to underpin these standards.
Products tested and reviewed since 2004