It looks like Windows 11 is happening. Microsoft will unveil what it's been calling "the next generation of Windows" at a virtual event on Thursday, despite past promises that Windows 10 would be the final version of the operating system. Leaked images of the new version of Windows show off a total redesign, featuring a new Start menu, home screen and startup sound, and a more modern, Mac-like aesthetic.
Outside of the aesthetics, CNET editors, including Jason Hiner, Stephen Shankland, Lori Grunin and me, have high hopes for what the latest version of Windows could include in terms of performance, productivity and other features. Here's what we're hoping to see in Windows 11 (or whatever the new version of Windows ends up being called). 
Stay current on the latest Microsoft news, plus reviews and advice on Windows PCs.
A big complaint among Windows 10 users is the confusing split between the Control Panel and the Settings app. A single control panel interface would be a welcome improvement in Windows 11. 
With many people shifting to remote or hybrid work, the need for a solid webcam experience is imperative for all of those Zoom and Teams calls. The iPhone 12 Pro and recent Google Pixel phones already include computational image processing to improve quality. We'd love to see this feature in Windows 11 for webcams, which could also give PCs an edge over the new M1 Macs. 
Macs have a great feature known as Spaces that let you easily create multiple virtual desktops to keep your screen more orderly. In Windows, doing so takes a few more steps. We'd like to see easier virtual desktop creation and management in Windows 11. 
Virtual desktops help you spread your apps across several workspaces.
Microsoft's Chromium-based Edge browser is the default in Windows 10. Of course, you can change it to the browser of your choice, like Chrome, Firefox or Brave. But some users have reported an issue with Microsoft resetting the default back to Edge. We hope it's easier to set and keep defaults in Windows 11. 
Windows 10 represented Microsoft's move to deliver Windows as a service, with continuous updates -- which is great for keeping machines secure. However, these updates can be slow. In Windows 11, we'd like to see an approach more similar to Google's with Chrome OS, where the upgrade occurs in a second partition so it's done in the background. 
PCs running Windows 10 can face slower shutdown, restart and wake-from-sleep times, sometimes due to the need to close apps like the Task Manager. We'd like to see those options sped up in the next version. 
We'd like to see faster start up, shut down and wake from sleep times in Windows 11.
MacOS offers the option to use three fingers on the trackpad to drag and drop items. But Windows machines currently make you double click to do this. 
Again, MacOS makes it easy to reverse the direction of your mouse scroll if you want to from System Preferences. But in Windows 10, you have to go into the Registry, and it's a more complicated process. 
In Windows 10, you need to log in to create a new user account, and Microsoft recommends that the new account is also attached to a Microsoft account. We'd like to see easier user account creation without logging in or being pressured to create or connect a Microsoft account.
We hope setting up user accounts gets a bit easier in Windows 11. 
With the rise of work from home, more people are improving their computer setups with multiple webcams, mics and headsets. However, Windows 10 makes it tricky to choose the device you want to use, and sometimes requires you to disable one of the others. We'd like to see better options for swapping between multiple devices in Windows 11. 
What other features do you want to see in Windows 11? Sound off in the comments below. 
For more, check out everything we know so far about Windows 11 and how to download Windows 10 for free if you haven't already. 
Read full article at CNET
Forbes 22 June, 2021 - 05:06am
Windows 11 has leaked onto the internet and one thing is very clear after you've spent just a few hours playing with it - Microsoft has 'borrowed' a lot of ideas from macOS.
Let's start with the most obvious change from the Windows 10 design - the new-look Taskbar.
The Taskbar icons are now centered in the middle of the screen, instead of sprouting from the left by default. This can be changed in Windows settings, if you absolutely must have everything as it was, but there's no doubt that the Taskbar looks and behaves much more like the Mac's Dock. It even has the little marker to show when you've got an application window open for a pinned app.
The most obvious difference between the Taskbar and the Dock is the presence of the Windows Start button, but the differences start to fade when you actually enact that re-designed Start menu.
Here, instead of the tiles of the Windows 8 and Windows 10 era, you get a more simplified icon for each of the pinned apps, as well as a series of Microsoft's recommended apps (we can hear you groaning at the back).
This isn't entirely dissimilar to the macOS Launchpad, which sits on the left-hand side of the Dock by default, giving each installed app its own icon.
The Windows 11 Start Menu scrolls vertically through installed apps, while the macOS Launchpad scrolls horizontally and takes over the entire screen, but the two are much closer in design than they were previously.
Then we come to a feature that Apple brought to the Mac with macOS 11 and which Microsoft has now re-introduced to Windows: widgets.
Microsoft first dallied with widgets back in the Windows Vista days, letting you plonk Desktop Gadgets in the Sidebar.
It's brought the idea out of retirement for Windows 11, with the widgets getting their own button on the Taskbar and emerging from the left-hand side of the screen to take up almost half the desktop.
At the moment the widget selection is limited to Microsoft's own, but it will hopefully open this area up to third-party developers in the fullness of time.
Again, though, this treatment is pretty close to what Apple does with widgets in macOS, albeit they emerge from the right-hand side of the screen, not the left, and don't take up quite as much space.
If all this sounds like a criticism of Windows 11, it's not. I've only been using it for a day or so, and we have to remember this is a leaked build, not the final polish, but I think the desktop design of Windows 11 is smarter and cleaner than that of Windows 10.
If the two operating systems are growing closer to one another in terms of usability and design, that's not a bad thing, especially for those of us who spend their time flicking between the two...
Hit me up if you've got a tech story that needs breaking at barry@mediabc.co.uk.
Pocketnow 22 June, 2021 - 04:00am
Microsoft will be announcing its next Windows update on June 24. The upcoming OS is tipped to be called Windows 11. Ahead of the launch, the first Windows 11 build has already leaked online, showing the first look of the upcoming operating system. The taskbar is now centered. However, there is an option to move them all back to the left-hand side. It also has the fly-out Start Menu, just like we've seen with the now-defunct Windows 10X. More features of the upcoming OS are being discovered from the leaked build as we head towards the official launch.
According to a report from Windows Latest, Microsoft is improving the experience of using two or more monitors/displays. In multiple displays on Windows 10, the open programs or tabs get moved to a different location of the monitor or crammed onto a single display when you leave the device untouched some time, and it goes to sleep. This problem is now being solved. Microsoft is introducing a new feature that will allow the operating system to remember window locations based on monitor connection. Windows 11 will have new display controls.
Further, Microsoft is aiming to introduce a new snapping experience on Windows 11. Windows is capable is automatically sizing the windows when you drag the windows to different areas of the screen. However, the new OS will allow you to access a new snapping experience when you hover over the maximize button of an app window. The new experience will offer six layouts (depending on the screen resolution).
Microsoft has already said that it will be taking some parts of Windows 10X and putting them in Windows. This updated new Start menu is a simplified version of the one that currently exists on Windows 10. Moreover, it includes pinned apps, recent files, and the ability to quickly shut down or restart your device, which is a lot simpler than what exists right now.
I've been associated with the tech industry since 2014 when I built my first blog. I've worked with Digit, one of India's largest tech publications. As of now, I'm working as a News Editor at Pocketnow, where I get paid to use and write about cutting-edge tech. You can reach out to me at [email protected]
Get the freshest Pocketnow updates to your mailbox.
Enter21st 21 June, 2021 - 10:50pm
Do you keep in mind the desktop devices that got here with Windows 7 and Vista? If you get pleasure from having the information, climate, clock and different third-party devices on the desktop, we've excellent news for you: Windows 11 will allow help for third-party devices in future, presumably in 2022.
Gadgets had been launched with Windows Vista and dropped in 2012 due to a number of causes. With Windows 8, Microsoft launched reside tiles on the Start display screen and desktop devices help was fully faraway from the desktop in favour of a clear expertise and higher safety.
With Windows 11, Microsoft desires to surrender on reside tiles fully and the corporate is planning to carry again devices help with "Windows widgets". The construct that bought leaked to the net allows help for a brand new characteristic referred to as "Widgets", that are just like Windows Vista gadget.
In Windows 11, the "widgets" icon will nestle within the taskbar subsequent to the Start Menu and Windows Search icon by default. If you click on on the widget, it should show the present climate to your space and in-depth breakdown information tales, and the newest on visitors circumstances, shares and extra.
Currently, Windows widgets within the leaked construct is a redesigned model of "News and Interests", which was launched for Windows 10 with June 2021 cumulative updates.
However, Microsoft is contemplating help for third-party widgets that can enable customers to customise their desktop with their very own widgets.
Initially, Windows 11 APIs shall be restricted to first-party widgets solely, however help for third-party devices shall be added later this yr or subsequent yr.
The broader concept is that whenever you set up your personal widgets/devices, you'll be able to rapidly entry that characteristic/software with out having to open apps manually.
In principle, this looks like a good suggestion and an addition that some people will discover helpful, particularly should you wished to see reside tiles in your desktop. Although should you really feel that it'll muddle your desktop or taskbar, Windows 11 permits you to flip off the widget help by right-clicking on the icon.
In addition to widgets help, Windows 11 can also be rumoured to ship with a redesigned quantity flyout, improved multi-monitor options, new controls for touchscreen gestures and extra.
The publish Windows 11 may mark the return of third-party desktop widgets appeared first on Windows Latest
This site uses Akismet to reduce spam. Learn how your comment data is processed.
Tech News Vision 21 June, 2021 - 09:29am
Windows isn't especially notable for managing connecting and disconnecting extra monitors, and specifically, having to re-arrange your application windows once more when you interface your laptop to your desktop monitors.
Microsoft plans to fix that in Windows 11, for certain new options in the display management settings appearing.
The OS will presently remember where you left your window last time you associated with an external monitor, and take it back to a similar position when you reconnect once more.
Furthermore, it will minimise those windows when the external monitor is disconnected, which means you will not unexpectedly need to battle to discover the apps on your main monitor due to being covered by apps that were on your external monitor.
The enhancements ought to be especially welcome as laptops with external monitors progressively supplant desktops both at work and home.
Microsoft is relied upon to uncover everything new in Windows 11 on the 24th of June, which is presently a few days away.
Tech News Vision Media Inc. (www.technewsvision.com) is an Independent Online News Portal intended to deliver news related to Apps, Technology, Startups, and Gadgets. It is operated by expert writers and editors living in different parts of the world. We aim to create high-quality content for our readers who like to read business and technology news & updates. At Tech News Vision, we offer the latest news, breakthroughs, and analysis with emphasis on expert opinion and commentary from the Technology and Startups community.
© Copyright 2021 Tech News Vision by Vehement Media.
WinBuzzer 21 June, 2021 - 08:45am
Despite seemingly having no API for widgets, Windows 11 may introduce third-party widgets after it is introduced this week.
We are just days from Microsoft's What's Next for Windows event, which is now all but guaranteed to see the company launch Windows 11. Thanks to a leaked ISO build last week, we have been playing with a version of Windows 11. That early build does not have widgets, which were expected to be part of the experience.
It seems Microsoft has not decided to ditch the idea of resurrecting widgets from the days of Windows Vista, and they will return on the full Windows 11 build. The widgets are similar to the Floating Gadgets Microsoft used on its poorly-received Windows Vista.
In the early ISO build, the only widget is Microsoft's recently launched News/Weather pop-out, which is already available on Windows 10. It was thought the company would develop more widgets and also ask developers to create third-party options.
When the News/Weather pop-out was the sole widget on the ISO, many people assumed Microsoft had ditched the idea. This was backed up by a lack of an API to develop widgets. However, WalkingCat reports while third-party widgets will not be available at first, they will be in the future.
One possible scenario is Windows 11 will be announced with just the New/Weather widget. Let's remember that this week's reveal will be an introduction to the platform. Windows 11 is not expected to launch until at least later this year.
With that in mind, it is possible Microsoft will work on adding the API for developing widgets. The company is holding a developer event straight after the Windows 11 introducton. We hope to hear more during that meeting.
Last week, we broke down the leaked Windows 11 build and made a list of all the exciting features coming to the platform.
Tip of the day: Did you know you can use Windows 10´s built in antivirus Microsoft Defender also with scheduled scans? In our tutorial we give you step-by-step instructions on how to program your personal scan-schedule to keep your free of malware
The Verge 21 June, 2021 - 08:00am
A new version of Windows is on the way
Microsoft is widely expected to announce a new version of Windows, named Windows 11. Microsoft has been teasing "a new version of Windows" recently and has dropped a number of hints that it's likely to be Windows 11. This special Windows event starts at 11AM ET, and the invite includes a window that creates a shadow with an outline that looks like the number 11. Microsoft execs have also been teasing a "next generation of Windows" announcement for months, and an 11-minute video has teased a new Windows 11 startup sound.
We're expecting Windows 11 to include a new user interface, new Windows store, and much more. We'll be covering the whole event live at The Verge, but here's a rundown of what we expect to see.
The new Start menu in Windows 11 acts as more of a launcher in the leaked copy, allowing you to find recently used documents or favorite apps quickly. The Live Tiles that originally appeared in Windows 8 are now gone, but you can still move the Start menu to the left-hand side of the screen.
There are other subtle UI improvements beyond just the Start menu and button. We're expecting to see a big focus on rounded corners with Windows 11 and new improvements to multitasking across tablets, laptops, and desktop PCs. The leaked copy doesn't have every UI change, and we're expecting additional changes to the taskbar, notification center, and general parts of Windows like the volume pop-up and more.
We also anticipate Microsoft will spend time talking about its new store approach in Windows 11. Microsoft CEO Satya Nadella teased "significant updates" for Windows that will focus on the economic opportunity for developers and creators. "We will create more opportunity for every Windows developer today and welcome every creator who is looking for the most innovative, new, open platform to build and distribute and monetize applications," said Nadella last month.
Enabling third-party commerce platforms across apps found in the Windows store would allow developers to bypass the 15 percent cut that Microsoft takes from developers who use in-app payments. That would be a significant change, during a time when Microsoft, Epic Games, and others are piling on the pressure for Apple to make changes to its App Store policies.
Microsoft recently announced a reduction to the 30 percent cut it takes from PC games on the Windows store, too. This has dropped to just 12 percent, below the 15 percent cut it takes on apps. It matches what Epic Games offers in its own store, and the move will likely put more pressure on Valve's Steam store.
Microsoft was surprised to see Windows usage explode during the pandemic, and it feels like Windows 11 is the chance to prove the company has invested more in the overall health of its decades-old operating system. We're hoping to see a bigger focus on productivity and even some power user features, alongside the usual improvements to security that Microsoft typically delivers with new Windows versions.
We've seen hints at improving the multitasking interface across desktop PCs and even tablets in the leaked version of Windows 11, with a new UI that lets you easily snap apps. Microsoft is also improving how it handles multiple monitor support in Windows 11, bringing an end to the frustrations that power users have experienced for years.
There's also an opportunity for Microsoft to focus more on gaming with Windows 11. It's been a big area of focus on the Xbox side recently, and Microsoft admitted years ago that it has a lot of work to do on Windows PC gaming. Some of that has already started with a new Xbox app we expect to see bundled in Windows 11, and the impressive Xbox Game Bar. But there are some underlying changes Microsoft can make to Windows to improve PC gaming and performance.
We're expecting to hear more about the Auto HDR feature from Xbox that's coming to Windows, alongside improvements like DirectStorage that will speed up game load times. We'd also love to see some improvements around game security, to prevent aimbots and wallhacks in games, but we're not expecting Windows 11 to solve this complicated problem alone. Microsoft does have a chance to prove it's more committed to PC gaming with Windows 11, particularly as it's the platform of choice for PC gamers.
We're expecting Windows 11 to be a free upgrade for any PC running Windows 10 right now. Microsoft focused heavily on free upgrades to Windows 10 during its launch period, and it wouldn't make sense to suddenly start charging for Windows 11. Microsoft makes most of its Windows revenue through OEM or commercial licenses, so a free upgrade to Windows 11 for consumers seems like a no-brainer.
Optocrypto 21 June, 2021 - 04:35am
Microsoft's new operating system could be unveiled on June 24, where the Redmond-based company should offer us many more details about the new features beyond those we've already tested with the circulating ISO.
One of the new features in Windows 11 is support for WDDM 3.0, which was first introduced in the Windows 10 Insider Preview "Cobalt". In addition, updates have also been spotted in the Microsoft Store. However, the operating system seems to have a number of optimizations that are not visible to the naked eye and are related to performance on certain processors that use a non-traditional design or better known as heterogeneous CPUs.
We're talking about optimizations for processors like the upcoming 12th generation Intel Core Alder Lake and Lakefield chips, which use a hybrid design that combines high-performance and high-efficiency cores.
As performance tests show, Windows 11 offers performance optimization for Intel Lakefield processors. These are low-power CPU series with one large core and 4 "small" cores. Intel Core Alder Lake processors will improve on this type of design by offering more cores.
We are talking about an increase of 5.8% in Geekbench 5 in multithreading and 2% in single-threading. In Cinebench R23, the increase in single-thread performance reaches 8.2%. We also see a performance increase in PC Mark 10.
Overall, Microsoft seems to be tightening the screws to make Windows 11 take better advantage of heterogeneous CPUs. We'll have to wait until June 24 to see if we get more details on these improvements.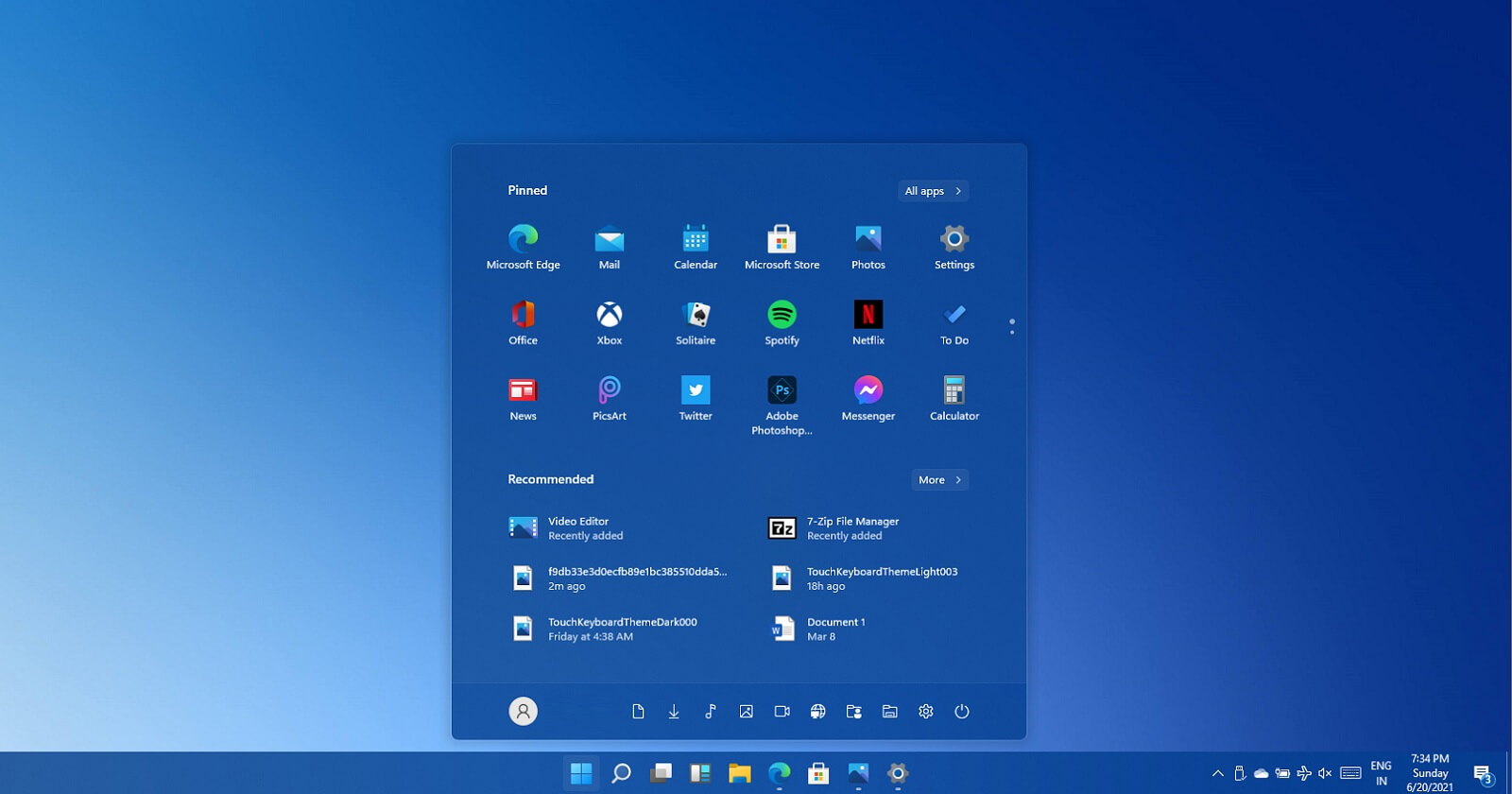 WindowsLatest 20 June, 2021 - 09:12am
We know Microsoft is poised to unveil a whole host of Windows features over the next few days. Windows 11 has already leaked online, but there's more to the show, as suggested by the company's Twitter handle. According to updated documentation and job listings spotted by us, Microsoft is working on new gesture controls for the OS.
Microsoft is planning to "innovate and develop exciting sensor technologies" for future releases of Windows. As part of Windows 11 or upcoming Windows updates, popular features like "user presence detection", gesture detections, and ambient light will be improved to "enable a dazzling user experience on Windows".
The tablet experience is one of Windows 10's weaker points, especially when compared to Windows 8. With Windows 11, Microsoft is also rethinking Windows 10's tablet interface for 2-in-1s and tablets. The next-gen OS includes various changes to how the user interface is displayed when using a 2-in-1 in tablet mode.
Microsoft is apparently working on a new default gesture experience that would sit on top of the user interface (and your apps) to allow trackpad-like gestures on a touchscreen, according to sources familiar with the company's plan and a document published in September 2020.
"Microsoft is considering introducing additional touch-based gestures in Windows to make it easier for users to complete a variety of tasks using touch," Microsoft's Azure program manager Pranav Hippargi wrote in a support document.
Microsoft apparently wants the OS to control touch-screen gesture that consists of more than two fingers even when apps are open on the screen.
As part of this proposal, three-or-more finger gestures will be routed to the OS by default and apps that have their own gesture controls will not receive input in the default configuration because the gesture will be routed to the OS itself.
Microsoft officials believe this would be the default behaviour for Windows devices and it will ship as "on". However, users will be able to turn off system-wide gesture controls and restore the current behaviour. When the feature is disabled, apps that use more than two fingers for a gesture will be able to get the input.
"The introduction of a variety of new touch gestures into Windows would be intended to accelerate common & important tasks for customers," the company noted in the documentation.
Since the company wants to maintain app compatibility, Microsoft is working with the developer community and exploring "different pathways" like allowing users to switch between multiple configurations if they use more than two fingers to trigger a gesture on a touch device.
"One example is to provide applications with the ability to query for the setting and prompt the user to navigate to settings and change it," Microsoft explained.
The rumoured 'gesture layer' that would ship with Windows 11 will also allow trackpad-like gestures on a touchscreen.
In addition to tablet improvements, we're expecting new gesture controls for touchpad/trackpad too, but details are scarce at the moment and we don't know if all of these changes are planned for Windows 11 / Sun Valley.