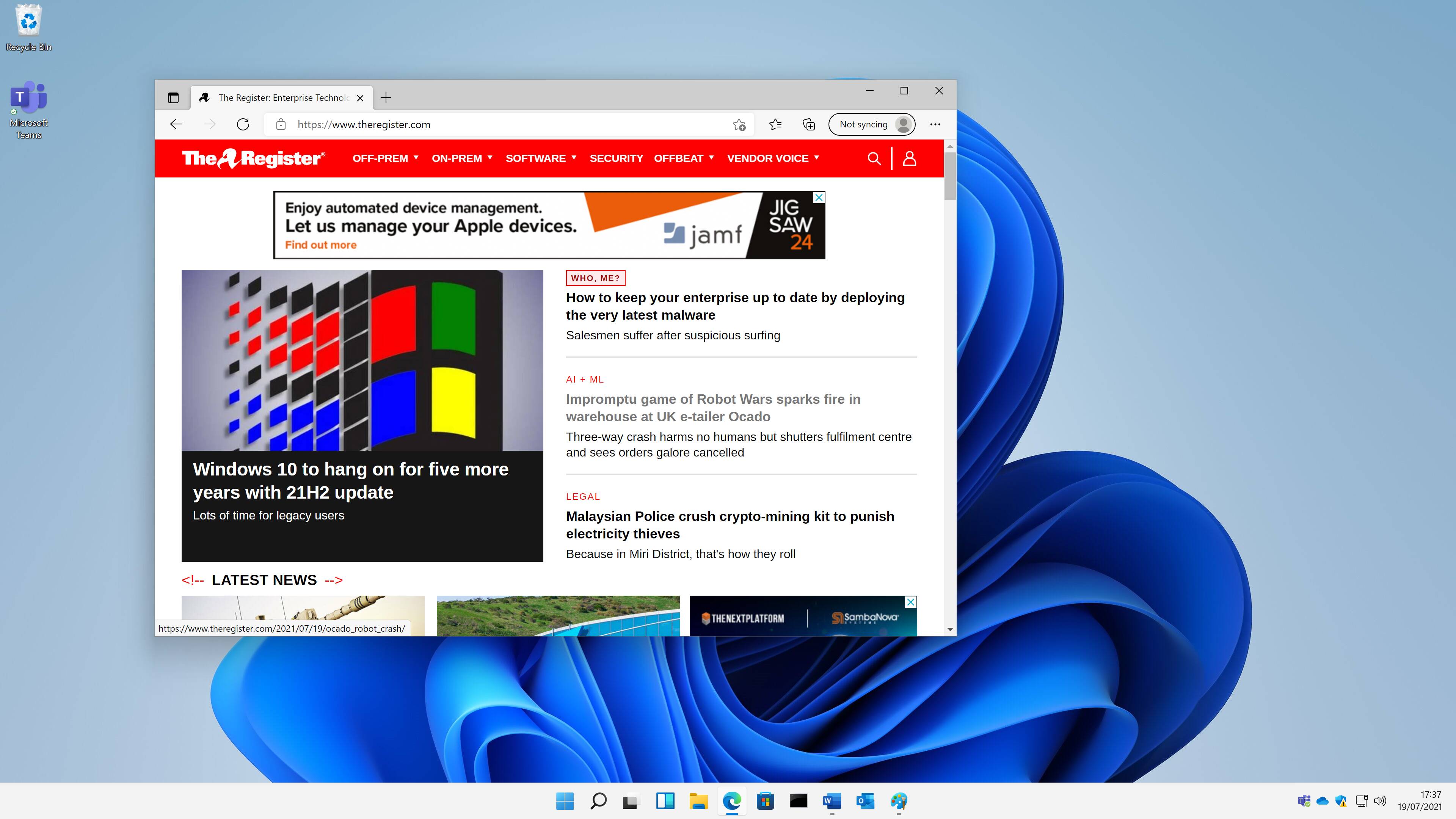 Hands On In its publicity for Windows 11, Microsoft has focused on the "simplified design and user experience" of the operating system along with a few headline features: a centered Start menu that looks more like a dock from other OSes, Android apps in the Microsoft Store, Teams Chat in the taskbar, Widgets, and more.
Android software support aside, these are relatively superficial features, and Microsoft will not dare to introduce changes that might break application compatibility with Windows 10. The IT titan already sparked a backlash by stating that 7th-generation Intel Core processors will not be sufficient to run the new Windows, though there are signs the company is open to "adjustments we should make to our minimum system requirements," subject to feedback from its Insider's preview scheme.
El Reg living on the Edge in a Windows 11 desktop ... Click to enlarge
We have been running the latest insider preview of Windows 11 (21H2 Pro, OS build 22000.71) together with the refreshed Office insider build, and while it is generally not unpleasant, there are small changes which we think could prove annoying – though note that everything here is subject to change as this is just a preview build. A full official release is due to land by the end of this year.
For example, it is second nature for some to right-click the taskbar to summon the Task Manager, perhaps in the hope of discovering why a supposedly fast PC is acting like it's wading through glue. But the equivalent pop-up menu in Windows 11 has just two entries, Adjust date and time, and Notification Settings. Task Manager? We may need to get used to typing Windows + X, which brings up what is sometimes called the Power Menu, with quick access to a bunch of apps and settings including Task Manager.
Right-click the taskbar and this puny menu is all you get
We have not yet discovered though how to access one of our favorite settings, which is "Always show all icons in the notification area." The notification area is the bottom right corner of the screen, where background applications often show an icon with a right-click menu.
Showing these icons gives insight into what is running; but the default is to hide them behind a pop-up menu. In Windows 11, this area seems to be renamed the "taskbar corner," and the pop-up menu the "taskbar corner overflow," and while you can still select which icons appear, there is no option we can see to show them all by default.
Options for the 'taskbar corner overflow'
If the centered Start menu and taskbar icons aren't to your liking, you can shove them to the left, as on Windows 10, in Windows 11's personalization settings.
The curious can find the official list of removed and deprecated features here. Removed features include Quick Status on the lockscreen, S Mode (except in Home edition), Tablet Mode, and the ability to align the taskbar other than to the bottom of the screen.
Tablet Mode is a sad story. Although Windows 8 failed to convince users for all sorts of reasons, it was cleverly designed for touch users, more so than any version of Windows before or since (excepting perhaps Windows Phone). Tablet Mode was meant to restore a touch-friendly experience in Windows 10, but never worked right and caused confusion.
That said, Redmond appears to have a replacement in the form of "new functionality and capability for keyboard attach and detach," as this Microsoft representative notes. These include spaced-out icons and new gestures, and possibly a new touch keyboard. Microsoft will have optimizing this in mind for its new and recent Surface devices.
The Windows 11 Start menu is not necessarily an improvement. The Start menu was brilliant in Windows 95, brutally transformed in Windows 8, and reinvented in Windows 10 as an application menu with an optional resizable and customizable panel on one side, to retain some compatibility with Windows 8 Live Tiles.
Out of the box, the Windows 10 Start panel is an annoyance, but with a bit of effort can be made into a useful application launcher, with named groups and icons that in some cases come in four sizes: small, medium, wide or large. The Photo app is an example, which can not only be set large but will also cycle through recently added photos and images.
In Windows 11, Live Tiles, named groups, and resizable panels have been swept away. The new Start menu has little to customize, though users can still pin apps to a fixed space in its top half, which scrolls when full (a grid of 6 x 3 icons on our system). Plenty of room is given to a "Recommended" panel of doubtful value. There is also a small "All apps" button, which is similar to the classic pop-up Start menu of yore, and "Type here to search," which searches across applications, documents, web, settings and more, giving the user a perplexity of results.
One thing at least is better in Windows 11. The design is much cleaner, for those parts of the software that use the modern user interface, such as the system's Settings application; it makes Windows 10 look homemade by comparison.
The Settings applet looks much better in Windows 11 than on Windows 10
This Settings applet is supposed to be more friendly than the classic Control Panel, which on Windows 11 looks almost identical to the Windows 10 Control Panel, save for a few icon changes that are neither better nor worse. For some network settings, it is still necessary to go to the Control Panel's "Network connections," though the Windows 11 modern Settings applet provides some network configuration options not found in the Windows 10 Settings, including adapter options like DHCP, DNS, interface enable and disable, and more.
This is the kind of anomaly that keeps Microsoft partners in business. Note also that although this type of full backup is deprecated, users who install the presumably hot and current Azure Backup software will find that it looks remarkably similar, though it targets Azure storage instead of a local drive.
Another thing to mention is the Snap navigator. Hover the mouse over a window's maximize button, and a Snap window appears, which lets users resize and reposition the window in one of several positions. Useful? Some may love it though we did not find much value in this. For those who work with a huge display, it could be handy.
Hover over a maximize button and this Snap navigator appears
Windows File Explorer has been redesigned in Windows 11. This is where some users spend a lot of time while others hardly know what it is. It packs in a lot of functions: file management (copy, paste and move), file security, document preview, document search, and more.
This horrible cascading menu is a feature of the new File Explorer
The new design no longer has a ribbon menu, and at first glance seems less functional: there are just a few icons across the top. That said, several of the buttons have drop down menus, such as for sorting and grouping, layout, and selection.
It seems that everything is still there; the ribbon is no longer in fashion, and rather than go back to old-style drop-down menus, Microsofties have chosen a hybrid in which the menus drop down from buttons. Improvement? One can see that the designers are aiming for a simple, clean appearance; but what is lost is discoverability, something the ribbon design was good at surfacing. The new File Explorer is not altogether a success.
Will Windows 11 always be a free upgrade from Windows 10? According to an official document available from some OEMs, and declaring itself "CELA [Corporate External and Legal Affairs] approved," the "free upgrade offer does not have a specific end date for eligible systems. However, Microsoft reserves the right to eventually end support for the free offer. This end date will be no sooner than one year from general availability."
The document also states that: "You do not have to upgrade to Windows 11. We will continue to support Windows 10 until October 14, 2025." To grab a copy of a preview build, follow these instructions. ®
GlobalFoundries will build a second chip fabrication plant by its Fab 8 facility in Malta, New York, where it is now headquartered, and pledged to invest $1bn to increase that latter factory's output.
CEO Tom Caulfield announced the construction plan with Senator Chuck Schumer (D-NY) and US Secretary of Commerce Gina Raimondo on Monday. The goal is to crank out another 150,000 wafers every year from Fab 8, its most advanced facility, and employ thousands of employees at the new plant at the site. This is all amid a semiconductor shortage, in which suppliers can't keep up with global demand.
"Our industry is expected to grow more in the next decade than it did in the past 50 years and GF is stepping up to do its part as we work together to address the growing demand for technology innovation for the betterment of humanity," Caulfield said in a canned statement.
In Brief Cloud-based IT provider Cloudstar has been hit by ransomware, taking down its systems. It said it is currently negotiating with the crooks that infected its computers.
"On Friday, July 16, Cloudstar discovered it was the victim of a highly sophisticated ransomware attack," the Florida-based biz warned its customers over the weekend.
"Due to the nature of this attack, at this time our systems are currently inaccessible, and although we are working around the clock, we do not have a definitive restoration timeline. Our Office 365 mail services, email encryption offering and some support services are still fully operational.
A British Airways Boeing 787's landing gear collapsed during a botched test after a short mechanic asked a taller co-worker to insert a lock-out pin into a hole he couldn't reach – only for the second mechanic to put it in the wrong place.
The Laurel and Hardy-style failure was detailed in a bulletin from Britain's Air Accidents Investigation Branch (AAIB), explaining why the 787's nose landing gear (NLG) was accidentally retracted during maintenance at Heathrow Airport in June.
"To prevent the landing gear from retracting, the procedure required pins to be inserted in the nose and main landing gear downlocks. However, the NLG downlock pin was installed in the NLG downlock apex pin bore which was adjacent to the correct location to install the downlock pin," said the AAIB in its report.
Visual Studio 2022 has a new designer for Web Forms, the original web application framework that goes back to the first release of .NET.
The IDE, currently available as Preview 2.0, embeds a feature called Web Live Preview into the designer for ASP.NET Web Forms. The name Live Preview, however, does not do it justice as it is also possible to edit the text in the visual designer.
The previous visual designer for web forms offered only a rough idea of what the final page would look like, whereas the new one is actually rendered by a web browser.
Hungary-based game developer Gaijin Entertainment found themselves in a tactically difficult position last week when a user of their combat simulator War Thunder tried to win an online argument by sharing classified documents in the company's game forums.
The unfortunate security breach came during an online debate over the game's representation of the British Challenger 2 main battle tank, with different factions of users debating the various merits of the version in the game compared with its real-life equipment and record.
A user named _Fear_Naught_ then decided to end the debate around the War Thunder Challenger 2's armour and its relative vulnerability to being hit around the turret ring, or the point where a tank's turret is mounted to its hull.
SAP is going to new heights to raise its profile in UK business. A year and a half after Britain's formal departure from the EU, Europe's biggest software biz is unleashing €250m of investment in the next five years, including a new London office in The Scalpel, a 38-storey skyscraper at 52 Lime Street in the City of London.
While dishing out for office space in the heart of London's financial district may be against the prevailing wind of the pandemic-hit economy, the German software giant said the flashy new skyscraper was necessary to "provide state-of-the-art facilities for customers and partners to identify and pursue co-innovation opportunities with SAP."
Presumably, a soul-destroying business park in Maidenhead, where SAP maintains its current UK HQ, wasn't going to impress prospects in quite the same way.
Lloyds Banking Group – which includes Halifax and Bank of Scotland among its stable of financial operators – is back up and running after online and mobile banking services took a tumble earlier today.
Customers started reporting problems at around 9am UTC on Monday after being unable to log into their accounts via website or phone app.
A notice on the Lloyds Bank website said: "We know some customers are having issues with Internet and/or Mobile Banking. We're sorry for this. We're working to get it back to normal soon."
The Microsoft Exchange Server attacks earlier this year were "systemic cyber sabotage" carried out by Chinese state hacking crews including private contractors working for a spy agency, the British government has said.
Foreign Secretary Dominic Raab said this morning in a statement: "The cyber attack on Microsoft Exchange Server by Chinese state-backed groups was a reckless but familiar pattern of behaviour. The Chinese Government must end this systematic cyber sabotage and can expect to be held to account if it does not."
Through using four zero-day vulns in Exchange Server, the attackers were able to conduct an espionage campaign against western governments, defence and aerospace firms, education institutions and more. Immediate patches were issued within a week, with long-term fixes deployed as part of April's Patch Tuesday run.
Police and anti-lockdown protesters are clashing outside the Houses of Parliament with tempers boiling over in Westminster just as "Freedom Day" in England hits the half-day mark. And according to the ONS, their concerns seem to be shared by those less likely to chuck a bottle too.
The Reg has seen reports of a road being blocked as glass-flinging demonstrators took to the streets today, when many Covid restrictions are due to be relaxed as a precursor to life returning back to normal. The snag is, for many people, it simply doesn't feel like it.
The official line is that across the country – to a greater or lesser extent depending on where you live, work or travel – many restrictions are being lifted with a shift of emphasis onto greater personal judgement and responsibility.
Zoom is making a full-blown entry into the cloudy Unified Comms business by hoovering up Contact-Centre-as-a-Service (CCaaS) outfit Five9 in an all-share transaction valued at a whopping $14.7bn.
Five9 produces cloud-based contact centre software: a suite of applications built to manage customer interactions across multiple channels. The company is a relative minnow, but – according to analysts, at least – the deal has "strategic merit" for Zoom by making it less dependent on the crowded videoconferencing market.
The purchase would see Zoom combining its broader comms platform with Five9's CCaaS product. Zoom also mentioned in its press materials the opportunity for both companies to cross-sell to their existing clients.
Japanese researchers have broken the world record for the fastest internet speed by transmitting data at 319 terabits per second (Tbps) using modern day compatible fibre optical cable, according to the country's primary comms research institute.
The 3,001km (1,864 miles) optical fibre was designed by engineers at the National Institute of Information and Communications Technology (NICT) Network Research Institute.
The boffins used 4 cores within the fibre to transmit the data, and applied wavelength-division multiplexing (WDM), allowing multiple wavelengths to be sent simultaneously over a single strand of fibre. The individual WDM channels, numbering 552 in this case, were then modulated to form multiple signal sequences at alternate intervals.
The Register - Independent news and views for the tech community. Part of Situation Publishing
Biting the hand that feeds IT © 1998–2021
Read full article at The Register

Ars Technica 19 July, 2021 - 06:02pm
Sign up or login to join the discussions!
Biometric authentication is a key piece of the tech industry's plans to make the world password-less. But a new method for duping Microsoft's Windows Hello facial-recognition system shows that a little hardware fiddling can trick the system into unlocking when it shouldn't.
That's because you can't trust any old webcam to offer robust protections in how it collects and transmits data. Windows Hello facial recognition works only with webcams that have an infrared sensor in addition to the regular RGB sensor. But the system, it turns out, doesn't even look at RGB data. Which means that with one straight-on infrared image of a target's face and one black frame, the researchers found that they could unlock the victim's Windows Hello–protected device.
By manipulating a USB webcam to deliver an attacker-chosen image, the researchers could trick Windows Hello into thinking the device owner's face was present and unlocking.
"We tried to find the weakest point in the facial recognition and what would be the most interesting from the attacker's perspective, the most approachable option," says Omer Tsarfati, a researcher at the security firm CyberArk. "We created a full map of the Windows Hello facial-recognition flow and saw that the most convenient for an attacker would be to pretend to be the camera, because the whole system is relying on this input."
Microsoft calls the finding a "Windows Hello security feature bypass vulnerability" and released patches on Tuesday to address the issue. In addition, the company suggests that users enable "Windows Hello enhanced sign-in security," which uses Microsoft's "virtualization-based security" to encrypt Windows Hello face data and process it in a protected area of memory where it can't be tampered with. The company did not respond to a request for comment from WIRED about the CyberArk findings.
Tsarfati, who will present the findings next month at the Black Hat security conference in Las Vegas, says that the CyberArk team chose to look at Windows Hello's facial-recognition authentication, in particular, because there has already been a lot of research industrywide into PIN cracking and fingerprint-sensor spoofing. He adds that the team was drawn by the sizable Windows Hello user base. In May 2020, Microsoft said that the service had more than 150 million users. In December, the company added that 84.7 percent of Windows 10 users sign in with Windows Hello.
While it sounds simple—show the system two photos and you're in—these Windows Hello bypasses wouldn't be easy to carry out in practice. The hack requires that attackers have a good-quality infrared image of the target's face and have physical access to their device. But the concept is significant as Microsoft continues to push Hello adoption with Windows 11. Hardware diversity among Windows devices and the sorry state of IoT security could combine to create other vulnerabilities in how Windows Hello accepts face data.
"A really motivated attacker could do those things," says Tsarfati. "Microsoft was great to work with and produced mitigations, but the deeper problem itself about trust between the computer and the camera stays there."
There are different ways to take and process images for facial recognition. Apple's FaceID, for example, only works with the company's proprietary TrueDepth camera arrays, an infrared camera combined with a number of other sensors. But Apple is in a position to control both hardware and software on its devices in a way that Microsoft is not for the Windows ecosystem. The Windows Hello Face setup information simply says "Sign-in with your PC's infrared camera or an external infrared camera."
Marc Rogers, a longtime biometric-sensor security researcher and vice president of cybersecurity at the digital identity management company Okta, says that Microsoft should make it very clear to users which third-party webcams are certified as offering robust protections for Windows Hello. Users can still decide whether they want to buy one of these products versus any old infrared webcam, but specific guidelines and recommendations would help people understand the options.
The CyberArk research fits into a broader category of hacks known as "downgrade attacks," in which a device is tricked into relying on a less secure mode—like a malicious cell phone tower that forces your phone to use 3G mobile data, with its weaker defenses, instead of 4G. An attack that gets Windows Hello to accept static, prerecorded face data uses the same premise, and researchers have defeated Windows Hello's facial recognition before getting the system to accept photos using different techniques. Rogers says it's surprising that Microsoft didn't anticipate the possibility of attacks against third-party cameras like the one CyberArk devised.
"Really, Microsoft should know better," he says. "This attack pathway in general is one that we have known for a long time. I'm a bit disappointed that they aren't more strict about what cameras they will trust."
You must login or create an account to comment.
Join the Ars Orbital Transmission mailing list to get weekly updates delivered to your inbox.
MSPoweruser 19 July, 2021 - 06:02pm
We have already been expecting that Microsoft will release Windows 11 in October after the date appeared on some of Microsoft's promotional screenshots.
Now Intel has added some more support to the rumour, with the company calling Windows 11 the October 2021 Update in its driver documentation.
The entry appears in the release notes of DCH GPU driver 30.0.100.9684.
Releasing the OS in October, only three and a half months from now may seem somewhat premature for a newly unveiled OS, but Windows 11 users report the OS is surprisingly stable and unproblematic, though of course it very much depends on what else Microsoft adds to the operating system between now and then.
via WindowsLatest
Razer BlackWidow TE Chroma TKL Mechanical Keyboard is now selling at a discounted price at Amazon. The keyboard is now selling at a price point of $69.99, down from $139.99 — that's ...
Amazon is offering a $380 discount on Surface Pro 6. The Surface Pro 6(i5 processor, 8GB RAM, 256GB storage) is now available only at a price point of $819, down from $1,199 — that's...
If you like to hear music on a smart speaker, then the ones from Amazon are definitely worth looking at, even more so because they're now selling at a discounted price at Woot. You can...
OnePlus 8 is now selling at a discounted price at the official OnePlus Store. The smartphone offers flagship-tier hardware at an affordable price, and a $220 discount has made it even more a...
Amazon is offering a handsome discount of $30.80 on the purchase of the Razer Ornata Chroma Gaming Keyboard. The gaming keyboard is now available at a price point of $69.19, down from $99.99...
You can now get a 15-month Microsoft 365 Family subscription for just $75 from Newegg. In addition to the discount, you will also get Norton 360 Standard antivirus 15-month subscription for ...
The Samsung Galaxy Buds Pro is now available for just $119.99 from Amazon's Woot, you can find the deal here. The Galaxy Buds Pro is compatible with all Bluetooth devices and can last ...
The Pixel 3a(renewed) is now available at a price point of $109, down from $139 at Amazon. Google Pixel 3a is a mid-range smartphone powered by Qualcomm Snapdragon 670 processor, 4GB RAM, an...
Microsoft Surface Pro 7(8GB/256GB) is now available at a discounted price. The Surface Pro 7 with an i5 processor, 8GB RAM, and 256GB storage is now available at a price point of $941.25, do...
OnePlus 8(renewed) is now available at a discounted price at Amazon. The smartphone offers flagship-tier hardware at an affordable price and is now selling at $332, down from $545. You can b...