Microsoft's preview for Windows 11 is already live for Insiders. The final release of the OS is expected to ship with new systems later this year when it will become available as a free upgrade for existing PC owners, although automated updates won't be pushed until 2022.
That's certainly long enough to see how the new OS turns out if you're not an early adopter, but there may be things that you'll only be able to appreciate once you check it out yourself. In the past, once you upgraded to a newer Windows version you were stuck there, but according to a Windows 11 FAQ Microsoft has provided to manufacturers, they say that reverting back to Windows 10 will be possible.
Buried in the layers of questions about the controversial system hardware requirements for the upgrade -- or even what the difference is between an "update" and an "upgrade" -- the document states:
After you have installed the Windows 11 upgrade there is a 10 day period where you can move back to Windows 10 while keeping files and data that you brought along with you. After the 10 days you will need to back up your data and do a "clean install" to move back to Windows 10.
That's certainly 10 days more than you got with an upgrade from Windows 7 or 8.x to 10, but giving users less than a fortnight to try out such a major revamp to what might be a daily driver computer still seems like Microsoft are trying to rush a decision out of users.
If you do find the centered taskbar unbearable, it's mercifully easily to revert to the older OS; the Update & Security menu in Windows Settings allows you to recover your system to the previous Windows 10 build, complete with all the apps and data that you had.
The document also states that Windows 10 will be supported with updates through October 2025, and possibly beyond that depending on how uptake of Windows 11 goes. The Start menu as you've known it (for the last five years at least) should be sticking around a while longer.
TechSpot is a registered trademark. About Us Ethics Statement Terms of Use Privacy Policy Change Ad Consent Advertise
© 2021 TechSpot, Inc. All Rights Reserved.
Read full article at TechSpot
Brad Sams 12 July, 2021 - 03:37am

BetaNews 12 July, 2021 - 03:37am
When the first build of Windows 11 appeared, the new Start menu was loved by some and hated by others. Those that didn't like it fell into two camps. Those who were unhappy with the centring of the Start menu could move it to the of the screen; those unhappy with the updated look could revert to the look of Windows 10.
But when the second Insider build emerged, there were changes. Yes, it's still possible to move the Start menu to the left of the taskbar, but the registry hack that could be used to show the classic Start menu has now been blocked.
Previously, it was possible to head to HKCU \ Software \ Microsoft \ Windows \ CurrentVersion \ Explorer \ Advanced in the registry, and create a DWORD (32-bit) value named Start_ShowClassicMode with a value of 1 and the "old" Start menu would be reinstated. But with the release of Windows 11 Build 22000.65, this registry key now serves no function.
If you have already tweaked the registry, your hack will be ignored after updating Windows 11 to the latest build. Equally, if you have already updated and try to implement the hack, you'll find it does not work.
For anyone who is not enamoured with the new look of Windows 11's Start menu, this is bad news. It also means that the Live Tiles that were available in the Windows 10 Start menu have now effectively been killed off.
Of course, we are only on the second Dev build of Windows 11, and there's a long way to go before ethe official launch of the operating system, so there's plenty of time for things to change. And with Microsoft seeking feedback via a Bug Bash, it's possible that the company will get feedback that ultimately forces its hand into bringing back the ability to switch.
© 1998-2021 BetaNews, Inc. All Rights Reserved. Privacy Policy - Cookie Policy.
SlashGear 12 July, 2021 - 03:37am
The Motley Fool 12 July, 2021 - 03:37am
Founded in 1993 by brothers Tom and David Gardner, The Motley Fool helps millions of people attain financial freedom through our website, podcasts, books, newspaper column, radio show, and premium investing services.
Microsoft (NASDAQ:MSFT) is a $2 trillion market cap company, but it isn't showing signs of slowing down anytime soon. Revenue keeps growing at an astonishing rate for a company this big, and it keeps on innovating. Recently the software giant announced a brand-new version of its dominant PC operating system. On a Fool Live episode recorded on June 16, Fool contributors Toby Bordelon and Brian Withers discuss the upcoming Windows 11 and the potential it has to push Microsoft's revenue even higher.
Toby Bordelon: Well, speaking of cash, let's move into a company that has a lot of it and makes a lot of it, Microsoft. What I want to talk about here is something very interesting that's happened in the last couple of weeks. Some news about a new version of Windows. Not just an update on Windows 10 -- what we've seen over the past few years is that there's two big updates every year on Windows 10. But this looks like a brand new version of Windows, and there are signs that suggest we are going to actually have something called Windows 11. We didn't expect this. Microsoft has made past comments that suggest Windows 10 was going to be the last version of Windows, and it would just be updates from there. This is really interesting to see. We don't really have much info yet on how it's going to be marketed, how it's going to be sold. If I were to take a wild guess, I think they're going to do what they did with Windows 10 which is it's going to be a free update to users, and then maybe licensing fees for PC and enterprise if you buy a new computer that will be built into the cost, that sort of thing.
But one very interesting possibility that I wonder if we're going to get here is if we'll finally see Windows as a subscription for consumers, or at least some features of Windows. Maybe rolled into Office 365, which is their Office subscription suite, both for businesses and consumers. That'll be really interesting. They have been going that way in a lot of their services. Office -- available as a subscription, Xbox -- available as a subscription, both for the online version, Xbox Live Gold and Xbox Game Pass, which gives you access to games. Will we see that with Windows? I don't know, but it will be interesting if they make that last leap to full into the subscription services for Microsoft. We've got some screenshots that are out there on the web. You can take a look at it. It looks more modern, more sleek from what we've seen, but nothing official yet. There is a Windows event coming up on June 24. I hope all of our questions will be answered then, but we shall see. Interesting news here.
Brian Withers: Yeah. That's really cool, Toby, to go back to their 11th version of their original business that started the company, it's pretty exciting. As I look at Microsoft, it's one of the trillion-dollar darlings, and when we did the deep dive, I was really surprised that Microsoft's addressable market is in the trillions of dollars. Even as big as Microsoft is, their market that they're addressing is significantly bigger. What are Mr. Softy's biggest growth engines that investors should be watching?
Bordelon: Well, I think the big one you have to look at is cloud computing and Azure specifically. You look at the last quarter server and cloud products were up 26% year over year, Azure, 50%. Which is astonishing. That's really what's driving [the business] right now, the cloud, and that's why I think you could maybe see some of this trying to move Windows into a subscription and make it part of the cloud, build that into the cloud offering somehow with maybe some premium options in the OS. Overall revenue from Microsoft was up 90% last quarter, and again, a $2 trillion company giving us 90% year-over-year revenue growth. Is hard to find any issue with that. Every part of their business seems just to be doing well right now, so it's the fantastic company, and as big as it is, I think there's still some opportunity here.
Withers: That's just mind-blowing. That's awesome, Toby, thanks for the update.
Discounted offers are only available to new members. Stock Advisor will renew at the then current list price. Stock Advisor list price is $199 per year.
Stock Advisor launched in February of 2002. Returns as of 07/12/2021.
TrustedReviews 12 July, 2021 - 03:37am
Before I get into my thoughts on the Windows 11 update, it's probably best to start by saying I have barely ever used a Windows PC in my life.
I grew up with an iMac at home, Macs at school and have always used a Mac for work. Windows feels alien to me and I'm completely out of my comfort zone whenever a Windows laptop replaces a MacBook or Chromebook on my desk.
And yet, after spending a few weeks with the new software running on a Huawei MateBook X Pro I feel right at home. There's a pretty big reason for this in my opinion – Windows 11 has been designed to feel like a smartphone.
Take the new centrally-located Start menu for instance. Pop this open and it's basically just an app launcher, one that wouldn't look out of place on any number of the best Android phones around. You've got your app icons, recommended content brought to the front and a search bar all in one handy spot.
What feels even more like it has been plucked directly from a phone is the new widget view, which comes in from the side and highlights other handy information like sport scores, weather and news. This extra homescreen has become commonplace on both iOS and Android as a panel to aggregate tidbits from apps without getting in the way on the main homescreen.
Bringing this to Windows makes complete sense and even though we're still a few months away from a full launch, it has become a place a tend to check whenever I boot the laptop up.
Then, of course, there's the big one. Windows 11 supports actual Android apps downloaded and installed through the Amazon App Store. Microsoft has integrated this into the main Windows Store and even though the functionality is not live yet, it looks pretty slick from the demos I have seen.
Now, I am not completely sold that Android apps will be a revelation for Windows 11, especially if they're as bad as iOS apps on Mac – but it will certainly help in some situations.
Some apps and services, often those around home automation, are just not available on Windows or anywhere either than on a phone. Having these easily accessible on my laptop that I can use without reaching for my phone will be very welcome.
I also feel Windows 11 looks a little more like a phone operating system. Buttons are a little bigger and everything is a little more rounded.
Windows 11 has come at the end of a very odd 18 month period and Microsoft themselves said years ago there would never be a new version of Windows after 10. But the pandemic has changed how we use tech, how much we rely on it and what we want from it. Windows 11 has been born out of this new working from home period.
With phones becoming the main piece of tech most of us use every day it only makes sense to take some inspiration from how they work when building software for other devices – and that feels like exactly what Microsoft has done here.
Editorial independence means being able to give an unbiased verdict about a product or company, with the avoidance of conflicts of interest. To ensure this is possible, every member of the editorial staff follows a clear code of conduct.
We also expect our journalists to follow clear ethical standards in their work. Our staff members must strive for honesty and accuracy in everything they do. We follow the IPSO Editors' code of practice to underpin these standards.
Founded in 2004, Trusted Reviews exists to give our readers thorough, unbiased and independent advice on what to buy.
Today, we have 9 million users a month around the world, and assess more than 1,000 products a year.
Editorial independence means being able to give an unbiased verdict about a product or company, with the avoidance of conflicts of interest. To ensure this is possible, every member of the editorial staff follows a clear code of conduct.
We also expect our journalists to follow clear ethical standards in their work. Our staff members must strive for honesty and accuracy in everything they do. We follow the IPSO Editors' code of practice to underpin these standards.
Products tested and reviewed since 2004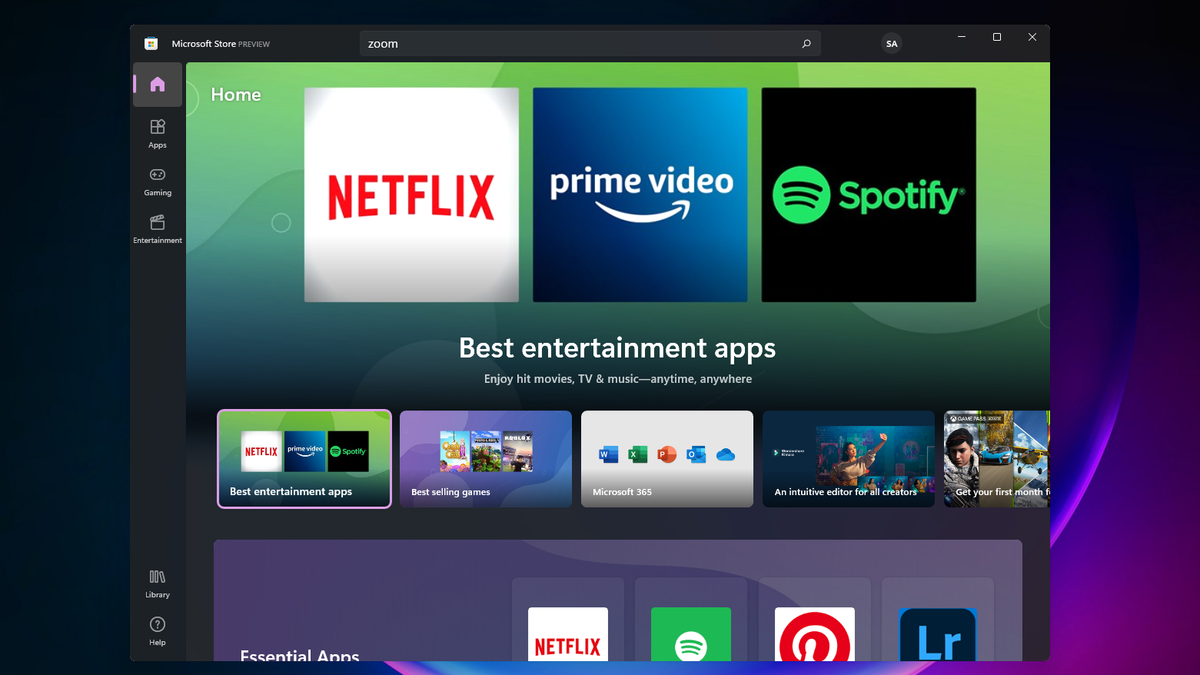 Laptop Mag 12 July, 2021 - 03:37am
Here's why Windows 11's new Microsoft Store is its most groundbreaking feature
Windows 11 is, first and foremost, a visual upgrade. On the initial boot, you'd be hard-pressed to tell if its most vital new feature has nothing to do with how the OS looks. However, Microsoft's digital storefront is where you'll find updates that can truly make a difference in people's Windows experience. 
On top of that, Microsoft is letting developers keep all the revenue their apps earn as long as they use their own commerce services. Usually, on an OS such as macOS and Android, developers are restricted to the host company's payment gateway and are required to pay them a cut of their profits. On Windows 11, even if they go with Microsoft's payment tech, they can keep 85% (88% in case it's a game) of their earnings compared to Apple's 30% tax. 
Windows users, though, are accustomed to Googling an installation file instead of heading to the app store. To make the transition easier for both developers and their customers, Microsoft has a new mini pop-up store. Developers can replace the link to their installation file on their website with a "Get it from Microsoft." When anyone clicks this, they'll get a floating prompt with the app's details and a download button that automatically fetches and installs it on your computer from the Microsoft Store. 
In addition to a visual refresh, the Microsoft Store now performs better and no longer leaves you hanging around for hours for updates and downloads. 
The new Microsoft Store has a long way to go, but after weeks of testing, it's shaping up to be promising. When I wanted to set up Adobe Reader, I simply popped into the store and with a click, the desktop app was available on my PC instead of its awfully lacking touch counterpart. 
The new Windows Store, however, could use a cleanup. Despite these advancements, it's still littered with endless counterfeit clones of well-known software making it hard to tell which one's authentic.  
The rest of Windows 11 is a refreshing step forward. The redesign, while still leaving out legacy tools including the task manager, feels both modern and practical, especially in the way it tries to cut down on the overwhelming options for new users with a simplified right-click and top menu. Microsoft further extends its multitasking lead with shortcuts to snap layouts and virtual desktops. It remains to be seen how strict Microsoft will be on Windows 11's hardware requirements, but one thing's for sure: I'm not leaving Windows again any time soon.
Thank you for signing up to Laptop Mag. You will receive a verification email shortly.
There was a problem. Please refresh the page and try again.
© Future US, Inc. 11 West 42nd Street, 15th Floor, New York, NY 10036.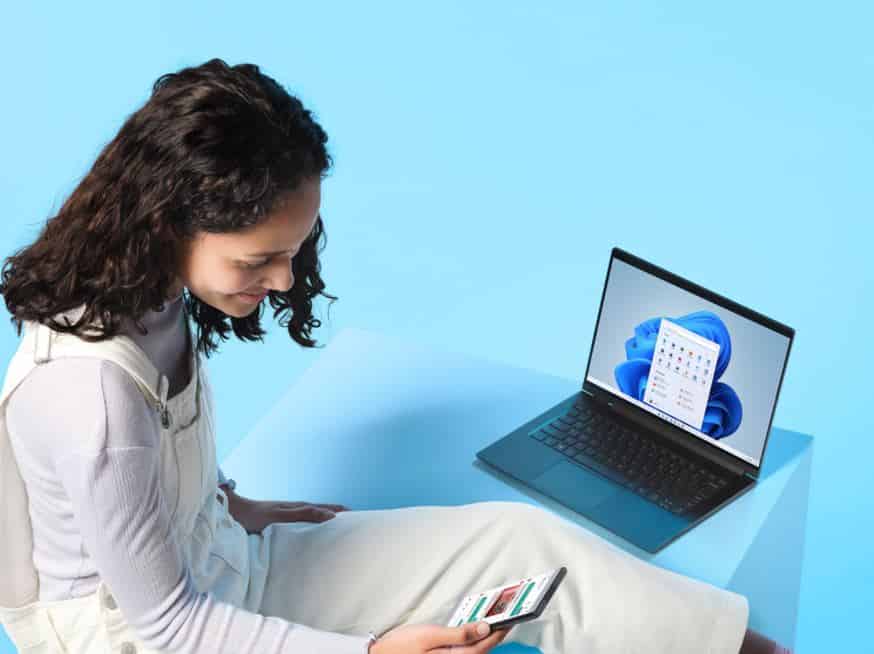 MSPoweruser 12 July, 2021 - 03:37am
Windows 11 is a big change from Windows 10, particularly in terms of the user interface, which some may love and some may hate.
Starting either late this year or early next, Microsoft will be offering the free Windows 11 upgrade to existing Windows 10 users, and according to a recently released FAQ by MSI, new Windows 11 users will only have 10 days to decide if they like it or not, before the ability to easily roll back to Windows 10 will be removed.
Yes. After you have installed the Windows 11 upgrade there is a 10 day period where you can move back to Windows 10 while keeping files and data that you brought along with you. After the 10 days you will need to back up your data and do a "clean install" to move back to Windows 10.
This presumably means the windows.old folder will be automatically deleted after 10 days.
The 10 day grace period is down from 30 days for the upgrade from Windows 8 to Windows 10, which in some ways was a smaller visual change.
Do our readers think 10 days is long enough? Let us know below.
via Hothardware
The Pixel 3a(renewed) is now available at a price point of $109, down from $139 at Amazon. Google Pixel 3a is a mid-range smartphone powered by Qualcomm Snapdragon 670 processor, 4GB RAM, an...
Microsoft Surface Pro 7(8GB/256GB) is now available at a discounted price. The Surface Pro 7 with an i5 processor, 8GB RAM, and 256GB storage is now available at a price point of $941.25, do...
OnePlus 8(renewed) is now available at a discounted price at Amazon. The smartphone offers flagship-tier hardware at an affordable price and is now selling at $332, down from $545. You can b...
Ultimate Ears Megaboom 3 is now available at $140, down from $200. So, if you do the math, that's a straight $60 discount! Ultimate Ears Megaboom 3 is a small, portable, waterproof Blu...
Microsoft Surface Duo features an iconic super-thin design with dual screens designed for effortless multitasking and productivity. Amazon's Woot now has a great deal on Surface Duo AT...
The Samsung Galaxy Buds Plus truly wireless earbuds are now available at discounted price at Amazon. You can now buy the product at a price point of $99.99, down from $149.99. So, the truly ...
Amazon is offering a $260 discount on the Pixel 4(renewed) smartphone. The smartphone is now available at a price point of $235, down from $495 — $260 cheaper than the original price. You ...
Amazon is offering a decent $55 discount on Logitech G613 Wireless Mechanical Gaming Keyboard. It's now available at $75, down from $130 — that's a straight $55 discount if you...
The i7 variant of the Dell XPS 13(9310) is now selling at a discounted price at Amazon. The laptop that has 11th gen processor, 16GB of RAM, 512GB of SSD is now available at a price point of...
Amazon is offering a handsome $200 discount on Microsoft Surface Book 3. The i5 variant of the Book 3(8GB+512GB) is now available at a price point of $1,399.00, down from $1,599.99. If you d...