Stewart Mandel
slmandel
NEWS: The Big Ten, ACC and Pac-12 will announce their alliance tomorrow, sources tell @TheAthletic. Will include non-conference football scheduling. Details from @NicoleAuerbach. theathletic.com/news/big-ten-pac-12-acc-expected-to-formally-announce-alliance-on-tuesday-sources/kCDEJFjp3qdu

Bruce Feldman
BruceFeldmanCFB
New Audible: EVERYTHING you need to kick off the college football season as we get ready for Week 0. Former #OhioState star-turned @BigTenNetwork whiz @RIP_JEP joins me and @slmandel with all the insight from his B1G camp tour & more: theathletic.com/podcast/97-the-audible-with-bruce-and-stew/
Dirk Chatelain
dirkchatelain
The SEC wants to play 9 or 10 league games after arguing for years that 8 was enough. The Big Ten wants to reduce its number of league games from 9 to 8...after years of blasting the SEC for only playing 8. College football is stupid.

Zach Osterman
ZachOsterman
Big Ten football teams looking for an edge this year? Get vaccinated. Insider: www.indystar.com/story/sports/college/indiana/2021/08/23/big-ten-football-covid-19-game-cancellation-policy-includes-forfeits/8242844002/ via @indystar
Dan Wetzel, Pat Forde, Pete Thamel
Andy Behrens, Dalton Del Don, Matt Harmon, Liz Loza, Scott Pianowski
You Pod to Win the Game
The Alliance will center on a shared vision for the future governance of college athletics. For now, the Alliance will mean the three leagues can, among other things, form a voting block that will blunt the growing influence of an expanded SEC. It also allows three leagues that consider themselves like-minded to gain voting power on issues as the NCAA's influence diminishes.
Discussions at the university presidential level have been significant and give the alliance the potential to be much more meaningful. Those talks have included both regular-season scheduling and how an expanded College Football Playoff would operate, sources told Yahoo Sports.
With 40 different schools, three league offices and multiple television partners stretching from coast to coast, a consensus on significant issues may be difficult to reach. But as the leagues dive further into discussions, the Alliance's most ambitious reaches could include the following:
The new scheduling should create additional marquee games and perhaps increased television money, while potentially squeezing the SEC in non-conference scheduling.
Four ACC teams have annual games with in-state SEC rivals — Clemson-South Carolina, Georgia Tech-Georgia, Florida State-Florida and Louisville-Kentucky. Those games would continue, but there would be a decided lack of available non-conference dates for other SEC teams seeking major opponents.
In terms of the College Football Playoff, the leagues appear to prefer a 12-team field like the one that has been proposed, but the Alliance wants more of a say in how that model unfolds. That current plan, which has not been agreed upon, was devised over a two-year period by a four-person group consisting of SEC commissioner Greg Sankey, Big 12 commissioner Bob Bowlsby, Mountain West commissioner Craig Thompson and Notre Dame athletic director Jack Swarbrick. The ACC/Big Ten/Pac-12 now want more of a voice in how a 12-team playoff is built.
A possible wrinkle the group could propose would be a push for some playoff games to be controlled by conferences, not necessarily bowl games.
That would allow, say, the Big Ten to stage a playoff game at a neutral site within its footprint. That could happen inside the domed stadiums of Indianapolis and Detroit, or maybe outdoors in Cleveland or Chicago. This would replace using only traditional bowl games, which are located in the South or West.
How the playoff's television rights would be put out for bid, how many networks would be allowed to carry the games and how the teams are selected could also be addressed. The Alliance is wary of ESPN, who has exclusive rights to all SEC games starting in 2024, also having full control of the playoff. ESPN has rights to the playoff through 2025 and an exclusive negotiating window. There has long been a strong feeling within the sport that multiple networks broadcasting the playoff would be better financially and for exposure.
Exactly how much of the above becomes the official position of the Alliance remains to be seen. With this many teams and this many opinions, any plan is likely to be altered.
However, just over a month after word broke in the Houston Chronicle of Oklahoma and Texas seeking to join the SEC, the three remaining major conferences are working together and thinking boldly about what they can do going forward.
The NFL's unvaccinated players are a competitive weakness. With Pfizer's FDA approval, they should be treated like it.
While vaccination rates vary by program, there's still an aura of caution and fluidity surrounding off-field rules for teams and players. Some schools are essentially still operating in a bubble.
The full kickoff to the college football season is less than two weeks away. A look at all the Bowl Subdivision teams ranked from 1-130.
By aligning with the Big Ten and the Pac-12, the ACC could be in awkward opposition to ESPN and Notre Dame, major players in the college football landscape.
Sometimes when you make the smart play from a clock management perspective, not everyone watching is smart enough to understand why you did it. Chiefs running back Derrick Gore found that out in front of a national television audience. The Chiefs had the ball and the lead with 1:51 remaining when Gore got the ball [more]
From Miami, Oklahoma, to Miami, Florida …
The pair had been married since 1988.
ESPN announces broadcast team for Alabama vs. Miami
Some teams would kill to have a 26-year old player who's been to the Pro Bowl in the last three seasons being challenged for his role. But this is Dallas. | From @KDDrummondNFL
When was the last time that you ran? The fastest you possibly can? All out? No stopping? Been a while? […] The post Sha'Carri Richardson responds to Twitter jokes about last-place finish appeared first on TheGrio.
Taco Charlton's time in Kansas City is up. The Chiefs announced five cuts on Monday that dropped the team's roster to 80 players ahead of Tuesday's deadline to get to that number and Charlton was on the list. The Chiefs also released defensive back Will Parks and guard Bryan Witzmann and placed linebacker Riley Cole [more]
The College Football Playoff has been dominated by four schools, but a new team could make the field this year. Here are the eight best candidates.
Tom Brady wants to be on the same page as all of his receivers, and this year, he is working particularly close with rookie receiver Jaelon Darden.
The Steelers have a new offense. But they have an old quarterback. With an old tell. During the three drives led by Ben Roethlisberger on Saturday night against the Lions, the Steelers lined up in shotgun formation 11 of 16 times. Twice, they ran. Nine times, they threw. Roethlisberger still has a very different pre-snap [more]
In late July, at a time when Packers linebacker Za'Darius Smith was believed to be upset with his restructured contract, the Packers addressed his concerns by restructuring it again. Per a source with knowledge of the situation, the Packers accelerated $10 million in payments to Smith that applied to the prior conversion of most of [more]
The San Francisco 49ers lost two depth players on defense to injuries that could impact their decisions as they prepare to cut down the roster before the regular season. Defensive tackle Maurice Hurst suffered a high ankle sprain and linebacker Mychal Kendricks came down with turf toe during an exhibition victory over the Los Angeles Chargers on Sunday. Neither player is expected back until after the start of the regular season on Sept. 12 at Detroit, leaving the Niners with some questions about whether to keep them on the active roster until the cut-down day next week.
College Football Daily Cavalcade: What's the big chip an ACC, Big Ten, and Pac-12 alliance could play to beat the SEC? Media Markets.
Get all your fantasy football draft sleepers right here!
The Houston Texans have executed a trade with the Green Bay Packers for the playing rights to cornerback Ka'Dar Hollman.
Several Power Five football teams have embraced the challenge of facing two or more high-profile opponents outside of conference play.
Read full article at Yahoo Sports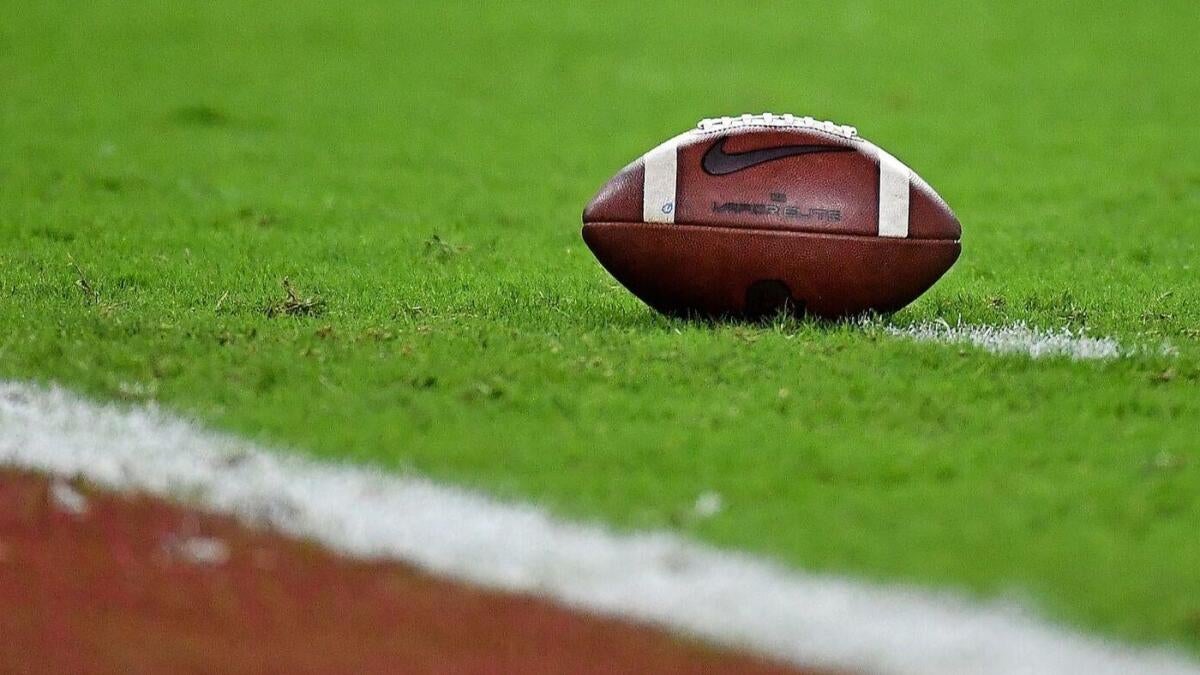 CBS Sports 23 August, 2021 - 11:10pm
The Power Five conferences have made it clear: If you can't play due to COVID-19, you will take a loss. The Big Ten was the last conference to announce its cancellation policy, doing so Monday with a forfeit mandate similar to the rest of the Power Five.
Any Big Ten team that is unable to play due to COVID-19-related issues will receive a loss in the conference standings, and its opponent will be given a win. In the event that both teams can't field a team on its scheduled day, the game will be deemed a "no contest." The SEC, Big 12 and Pac-12 have similar policies with no specific information on what happens if both teams can't play on the scheduled date of a contest. According to The Athletic, the SEC is also considering financial penalties for teams that have COVID-19 issues if it costs conference television money.
The ACC's rule is a bit different, and it could drastically change its standings. If two ACC teams can't play each other on a scheduled date due to COVID-19 issues, both teams will receive a forfeited loss instead of the game being declared a no-contest.
"The ACC's Medical Advisory Group continues its tireless efforts to deliver meaningful protocols that will provide a healthy and safe environment for our student-athletes and teams," said ACC commissioner Jim Phillips in a statement last week. "As a conference, we are extremely proud of the significant progress and overall high rates of vaccination among student-athletes, coaches and staff. The continued resilience, commitment and sacrifice by our student-athletes is inspiring, and we look forward to watching them compete at the highest level."
This general forfeiture policy, adopted by all Power Five conferences, is a stark contrast to the one they had in place last year that efforted postponements rather than forfeitures. Multiple games across all conferences were canceled last season, including the Michigan-Ohio State rivalry and the Clemson-Florida State game.
© 2004-2021 CBS Interactive. All Rights Reserved.
CBS Sports is a registered trademark of CBS Broadcasting Inc. Commissioner.com is a registered trademark of CBS Interactive Inc.
Images by Getty Images and US Presswire
These cookies are essential for the proper functioning of our Services. Essential cookies cannot be switched off in our systems. You can set your device to block or alert you about these cookies, but some parts of the Service will not work.
These Cookies allow us to collect information about how visitors use our properties. Some examples include counting visits and traffic sources, so we can measure and improve the performance of our services. If you do not allow these Cookies we will not know when users have visited our properties and will not be able to monitor performance.
These Cookies enable the services to provide enhanced functionality and personalization. They may be set by us or by third party providers whose services we have added to our services. If you do not allow these Cookies then some or all of these services may not function properly.
These Cookies may be set by us or through our services by our advertising partners. They may be used by those companies to build a profile of your interests and show you relevant advertising on this and on other properties. If you do not allow these Cookies, you will still see ads, but you will experience less relevant advertising.
These Cookies are set by a range of social media services that we have added to the services to enable you to share our content with your friends and networks. They are capable of tracking your browser across other sites, building up a profile of your interests to show you relevant content and advertisements on the relevant social networks. If you do not allow these Cookies you may not be able to use or see these sharing tools.
ESPN College Football 23 August, 2021 - 11:10pm
The Athletic 23 August, 2021 - 12:44pm
Even before the last week's harrowing scenes at the Kabul airport, thousands of Afghans were fleeing over land through Iran to Turkey. But they are being pushed back.
VAN, Turkey — In the days before the Taliban took Kabul, an Afghan woman was doubled over sobbing on a bench in a bus station in eastern Turkey, her children wailing at her feet.
Fourteen Turkish security and migration officials swooped down on her and other Afghan asylum seekers as our reporting team was interviewing them, part of an intensive crackdown by Turkey to apprehend Afghans crossing from Iran by the thousands and to prevent journalists from reporting on their plight. As her husband tried to gather their belongings, the woman clutched her stomach and retched. After prolonged questioning, they were escorted to a police vehicle.
"We came out of despair," another Afghan, Gul Ahmad, 17, said. "We knew if the Taliban had taken over they would kill us — either in fighting or they would recruit us. So this was the better option for the family."
Even before the past week's harrowing scenes of Afghans thronging the Kabul airport to escape the Taliban, many thousands had been steadily fleeing their country over land, making their way some 1,400 miles across the length of Iran to the Turkish border. Their own desperate efforts to escape the Taliban have played out in quieter, though no less painful, tableaus at remote border crossings like the one in the eastern city of Van.
In recent months, as the NATO-led mission in Afghanistan was collapsing, 30,000 Afghans were leaving Afghanistan every week, not all but many across the Iranian border, according to the International Organization for Migration. They have moved to the top of the list of asylum seekers trying to make their way to Turkey, and then to Europe, supplanting Syrians as the largest group of new migrants arriving, even as overall migration numbers have dropped since the high of 2015.
Now that the Taliban are in power, there is every indication that those numbers will swell still further, as people have started selling property and talking about permanent exile.
Many Afghans interviewed in recent weeks said that they had crossed in large groups — sometimes hundreds strong — but that only a small number had succeeded in evading Turkish border guards. Thousands of Afghans were massed in the border region in Iran, they said.
As the globe's recent violent upheavals have displaced millions, whether from Iraq, Syria or parts of Africa, the timing of the final chapter of the war in Afghanistan has left Afghans at the end of the line, and very likely with no recourse.
As in Europe, the public mood in Turkey has turned against immigrants and refugees, sometimes resulting in violence, such as knife fights and a recent attack on Syrians' homes in the capital, Ankara. The scale of the pushback by Turkey has increased dramatically since last month, said Afghans, human rights monitors and even government officials.
For President Recep Tayyip Erdogan of Turkey, the burden of hosting so many refugees — 3.6 million Syrians and more than 300,000 Afghans, among others — has become a burning political issue, especially as the Turkish economy has worsened. He has made clear he has no intention of opening the door to more Afghans.
When photographs emerged on social media of columns of Afghan migrants walking through Iran toward Turkey in recent weeks, opposition politicians accused Mr. Erdogan of negotiating a deal with the European Union, as he had done for Syrian refugees, to host the growing number of Afghans who are arriving.
Mr. Erdogan has often used the migrant threat as leverage in negotiations with the European Union, while his police have long conducted ruthless operations to control the numbers of migrants and perceptions at home. But he has also railed against Western nations for expecting less developed countries to bear the migrant crisis.
"Europe, which has become a center of attraction for millions of people, cannot stay out of this problem by firmly closing its borders in order to protect the safety and prosperity of its citizens," he said in a televised speech last week. "Turkey has no duty, responsibility or obligation to be Europe's refugee depot."
Mr. Erdogan warned Chancellor Angela Merkel of Germany by telephone Sunday that his country "will not be able to shoulder the additional burden" in the event of a fresh wave of migration from Afghanistan. Turkey, he reminded Ms. Merkel, "has already taken in five million refugees."
Afghans interviewed in Van said Turkey had tightened security along its border with a widespread and often violent police operation in recent weeks, turning away Afghans regardless of their requests for asylum.
In a single operation in July, more than 1,400 Afghans who had crossed into Turkey were rounded up and pushed back by Turkish border guards and military police, according to a statement from the office of the governor of Van.
Hundreds more, including women and children, have been detained in towns across eastern Turkey as they have tried to make their way deeper into the country.
Such expulsions are against the international convention on refugees, said Mahmut Kacan, a lawyer in Van who specializes in refugee and asylum cases.
Few Afghans know their rights under international law, he said, but Turkey does not abide even by its own laws, since migrants should be entitled to an appeal process before being deported.
The Afghan family detained recently in the Van bus station was sent to a migrant facility and then was expelled back to Iran within days without due process, according to another Afghan, Abdul Wahid, who was detained at the same time.
In an interview before they were apprehended, the husband, Najibullah, 30, said they had made the arduous three-day trek with their 1-year-old twins into Turkey three times in recent weeks, only to be pushed back each time. The children had dramatically lost weight, he said.
His wife, Zeineb, 20, seemed badly shaken by the experience. "It would have been better to stay and die in Afghanistan than make this journey," she said. They only gave their first names out of fear because of their undocumented status in Turkey.
The family, ethnic Uzbeks, had left home two months ago partly because the Taliban had seized control of their district in northern Afghanistan. "We had nothing," Najibullah said. "They would order us to prepare them food. We could barely feed ourselves."
Mr. Wahid was deported after spending four days in a migrant center, and sent a telephone message from Iran about what had happened.
Mr. Wahid had been living in Turkey and had come to Van to help his wife and two children try to enter the country from Iran. They had crossed the border 10 times in recent weeks to try to join him in Istanbul, where he was working in a textile factory, he said, but each time they entered Turkey, police caught them and sent them back. Once they were detained in Tatvan, a town more than a hundred miles from the border, he said.
"My wife asked them for asylum," he said. "She said she wanted to send her children to school. Initially they said OK, then they deported her."
Many of the Afghans interviewed said that they were looking for economic opportunity but that the Taliban advances and killings had pushed them to leave. Two out of a dozen interviewed over two days recently said they had family members who had been killed by the Taliban.
A teenager, Ilias, 15, wearing a bright yellow T-shirt and black jacket, said he had fled with three friends from his home village in Daikundi in central Afghanistan after his father was killed by advancing Taliban forces three or four months ago.
"The Taliban started to attack our area and people started to defend my village, and that's when my father was killed," he said. "We three are from the same area and we managed to get out," he said, gesturing to his companions.
They were stopped by the Taliban on the way and questioned, robbed by human traffickers in Iran, and arrived in Turkey without food or money to continue their journey.
Atlanta Journal Constitution 23 August, 2021 - 11:15am
The ACC, Big Ten and Pac-12 are set to announce an alliance. Still unclear is what such an alliance would do, other than differentiate those conferences from the gargantuan SEC and leave the poor Big 12 standing alone. Or, to be more precise, crumbling alone.
By 2025 if not sooner, the SEC will welcome Texas and Oklahoma. Neither are in the Southeast. Both share the SEC's worldview, which is, "Get out of our way as we seek to snag every single dollar in this billion-dollar industry."
That the Big Ten and Pac-12, longtime partners in the Rose Bowl, would forge an alliance isn't exactly news. Those two have moved in lockstep for decades. (Both canceled their 2020 football seasons this time a year ago. Both wound up playing a semblance of a 2020 season because nobody followed their lead.) Now as then, world waited with bated breath to see which way the ACC would move.
A year ago, the ACC was left to play a schedule that included no games against Georgia, Florida, South Carolina and Kentucky. (Example No. 759 of the SEC showing how little it cares about anyone or anything else.) This time the ACC is moving toward some manner of affiliation with the Big Ten and Pac-12, which doesn't make geographic sense — who among us can wait for to see Virginia Tech take on Washington State? — but college football failed Geometry 101 a while ago.
The other Power 5 conferences have long looked with scorn on the SEC, of which four current members belong to the academically prestigious Association of American Universities, an AAU not to be confused with the AAU (Amateur Athletic Union) that serves as a feeder program for college basketball. The four: Florida and Vanderbilt, plus relative newbies Missouri and Texas A&M. Texas will make a fifth. The ACC, Big Ten and Pac-12 constitute a rounded-up 40 percent of the AAU's 66-school membership.
The ACC's move toward the Big Ten and Pac-12 was a process of elimination. The ACC surely saw no point in an alliance with the sinking Big 12. With Texas and OU, the SEC needs no more allies. We're not sure exactly how, or even if, the three leagues will present themselves as an entity, but the belief is that they'll become a single voting bloc — not to be confused with a single 41-team conference — for the sake of, you guessed it, TV.
Let's say those leagues agree to adopt an eight-team in-conference schedule. Each could also agree to playing three games per season against teams from the other two leagues. Clemson playing Ohio State seems a no-brainer, although no network figures to be salivating over the notion of Rutgers teeing it up against Washington State.
As for the high-minded bit of AAU schools clustering into a Mensa super-conference: TV doesn't give a hoot about that. (Smart folks already have a daily Super Bowl. It's called "Jeopardy!") TV is concerned, first and last and always, with ratings, which mean money. The bigger and presumably better SEC will have seven schools — Alabama, Auburn, Florida, LSU, Oklahoma, Tennessee and Texas — that have taken national titles since the BCS came into being in 1998. The ACC/Big Ten/Pac-12 will have five: Clemson, Florida State, Miami, Ohio State and USC.
The SEC's annexation of Texas/OU was done so quietly that some of the league's higher-ups didn't know it was coming. A year ago, commissioner Greg Sankey all but willed the 2020 football season into being. Had his league folded in the wake of the Big Ten's and Pac-12′s pullouts, toe wouldn't have met leather last fall. Forget the NCAA, which has washed its hands of college football at the highest level. Sankey and his SEC call the tune for every program with a set of goalposts. Put it this way: The SEC, which has its own ESPN-affiliated network, is adding Texas, which has its own ESPN-affiliated channel.
Without Texas and Oklahoma, the SEC might have sought to align itself with the ACC, although those neighboring leagues don't much like one another. With Texas and OU, the SEC has all it needs, maybe all it will ever need. The issue became which way the ACC, which is working under a new commissioner, would jump. (The Big Ten and Pac-12 also have newish commissioners.) Even the giants lost money in the shortened COVID season of 2020, money that's gone forever. Anything to enhance a conference's revenue stream is fair game.
Thus did the SEC poach Texas and Oklahoma, leaving the Big-12 in ruins. Thus has the ACC found solidarity with the Big Ten and Pac-12. In the realm of college athletics, the greatest fear is in not having a seat at the table when network contracts are being negotiated.
With money being available for NIL rights and a new collegiate home only a transfer portal away, the players have more leverage than they've ever known. The greatest power, though, remains with the bigger conferences. They're the ones who can give TV what it wants, be it marquee regular-season games or a 12-team playoff.
Not so long ago, there were five big conferences. Now there are essentially two. There's the SEC, and there's the ACC/Big Ten/Pac-12 grouping, and then there's everybody else. In college football, everybody else means nobody else.
Mark Bradley is a sports columnist and blogger for The Atlanta Journal-Constitution. He has been with the AJC since 1984.