The seven-match card features two of the titular Money in the Bank ladder matches, with a wide variety of potential outcomes for both the eight men and eight women involved. If history is any indication, the currently announced field might not even be the lineup we ultimately see once the bell rings.
There's also three world title matches, as Rhea Ripley and Charlotte Flair renew tensions over the Raw women's championship, Roman Reigns and Edge go one-on-one for the Universal title and former WWE champion Kofi Kingston challenges current champ Bobby Lashley.
Finally, both the Raw and SmackDown men's tag team championships will be on the line, with the SmackDown version set for the kickoff show. Follow along live throughout the night as we break everything down match by match.
She was seemingly sidelined into a comic relief superhero character as "Nikki A.S.H." (Almost a Superhero) in recent weeks, but embraced the silliness. Now she's Ms. Money in the Bank.
Cross took advantage of the chaos of six other competitors fighting atop three ladders, climbed over them and snatched the briefcase before anyone else could realize what had happened.
The highlight reel packages for the Money in the Bank and title wins for Bliss and Asuka, and the SmackDown women's title victory of Naomi, was a great way to set the stakes and label the clear favorites in the match. It also took the spotlight off of the other five competitors and made the surprise ending all the more impactful.
The match was seemingly framed around Bliss from the start. She stood motionless -- and emotionless -- on top of the second rope as everyone else entered the match. As the rest of the competitors in the match scrambled outside to grab ladders, Bliss skipped around the ring, paused directly underneath it and motioned her hand upwards, as if to summon it to herself. But that was quickly forgotten as Asuka attacked her.
Liv Morgan made the first move towards the ladder as Tamina and Zelina Vega briefly held it, unfolded and aloft, until they realized what happened and let the ladder (and Morgan) fall.
Bliss seemingly utilized her spooky powers as Vega climbed a ladder and reached for the briefcase. Bliss climbed the other side, did mirrored hand movements and led Vega down the ladder without touching her. That spell was broken when Natalya powerbombed Bliss into the side of the ladder and then to the ground.
Naomi continued on that theme as she powerbombed Morgan into Vega, who was laid over a flat ladder sitting on the middle rope.
As Natalya climbed to the top of a ladder in the middle of the ring, Vega locked in a sleeper hold at the top of the ladder and then reached up, but could only get her fingertips on the briefcase. Morgan broke up the effort, and the ladder slowly tilted towards the ground.
It erupted into chaos in the middle of the ring. And Cross, who climbed a ladder on the outside, flew over the top rope and onto the other seven competitors.
UP, UP AND AWAYYYYYYYYY!#MITB #NikkiASH @NikkiCrossWWE pic.twitter.com/FNhtOqh796
Bliss locked in a Sister Abigail set-up for her DDT on Cross, but Natalya and Tamina, collectively the women's tag team champions, worked together to stop Bliss and then took her out of commission with ladder shots. They then buried Bliss under a pile of ladders, and the rest of the participants joined in and built the pile higher.
Morgan tried to take advantage of the chaos. Tamina interrupted, then Morgan did a spinning head scissors to Tamina. Morgan hit a suspended Flatliner on Asuka to put her alone in the ring once more, but by the time she realized it, she and Naomi climbed the middle ladder.
Tamina and Asuka climbed a second ladder off to one side. Natalya and Vega scaled a ladder on the other side. Cross joined the middle ladder in the midst of it all, climbed over Morgan to the top and then unlatched the briefcase, becoming Ms. Money in the Bank.
What's next: The women's Money in the Bank briefcase has been cashed in quickly on a number of occasions, and a surprise win like this would seemingly carry more benefit if Cross continued to build tension over a long stretch. She might get more serious. She might get even sillier. But it will undoubtedly be a more compelling story than it would have been had any of the favorites won the match.
Bobby Lashley spent exactly zero time in peril in his WWE championship defense against Kofi Kingston.
In a match eerily reminiscent of the one-sided match in which Kingston lost the WWE championship to Brock Lesnar, Lashley thrashed Kingston from bell to bell in a clear indication that any distractions were in the rear-view mirror.
Gone was any sign of the man who lost clean to Xavier Woods just a few days ago on Monday Night Raw. Even though the match was seemingly setting up for tomfoolery, as MVP tried to grab Kingston's feet at the start of the match, it was all Lashley, all the time.
Kingston got his only real offense in as he barely got out of the way as Lashley charged in, with a double stomp that didn't fully connect. Lashley tossed Kingston all over the ring and ringside, getting particularly brutal when he winged Kingston into the ringpost on the outside at full speed.
There were elevated Flatliners, Dominators and multiple attempts at The Hurt Lock. Try as he might, Kingston couldn't offer a sufficient defense. Lashley went so far as to let Kingston up and let him out from The Hurt Lock, only to inflict more damage.
Once, twice ... three times a DOMINATOR.#MITB #WWEChampionship @fightbobby pic.twitter.com/WPANVz2pAB
After an uncomfortably long stretch, during which Lashley put his finger to his mouth to quiet the crowd as well as a chunk of the audience that was cheering for more, he slapped the Hurt Lock on once more. Kingston was on his knees and couldn't even stand, but tapped out to end his suffering.
What's next: Lashley has been built up once again as an unbeatable champion. As we look forward towards SummerSlam, there are two paths: He could face the Money in the Bank winner, especially if there's a built-in story for someone like Drew McIntyre or Big E, or he could try to topple a returning legend in a showcase match. The latter option seems likelier.
The now seven-time tag team champions defeated Rey Mysterio and Dominik Mysterio to win the SmackDown tag team titles with a little bit of creativity and a lot of rule bending.
It took the crowd a while to fire up, and they struggled at times to get behind Rey and Dominik, who have largely had this run inside the Thunderdome without live fans in attendance. But the collective performances of all four participants slowly brought the crowd energy up throughout the match.
They came alive and exploded into "this is awesome" chants in the closing minutes. Jimmy Uso absorbed a 619 for his brother Jey and saved the match for his team. Then Jey superkicked and top-rope splashed Rey, which the audience thought was the end. When Rey kicked out, the energy spiked again.
Finally, in a chaotic ending, Jimmy dropped Rey face-first onto the top turnbuckle, rolled Rey up for a pinfall, and Jey added illegal leverage to Jimmy's back by sticking his legs under the bottom rope to get the three-count.
What's next: With the cheating finish, there's likely to be a rematch in the short term. But for now, pending Roman Reigns' Universal championship defense against Edge later in the night, Reigns and his family have increased their power and influence over the rest of the SmackDown roster.
AJ Styles and Omos successfully retained the Raw tag team championships, following the most complete match of Omos' career thus far.
Omos picked up the pinfall victory after delivering a standing choke-bomb to Erik, and then, rather than his customary one-foot cover, put all of his weight onto Erik to secure the win.
Generally, it doesn't seem right for Styles to play the fool, even to an established tag team like The Viking Raiders. He's a two-time WWE champion and still one of the best wrestlers in the world, with the swagger and charisma to match. That was clear as the now-returned WWE fandom largely cheered for Styles over the course of this tag title match.
Styles did take the majority of the damage in this match, bumping around like crazy as Erik and Ivar put on a strong performance of there on. But there was one particularly impressive moment when Omos threw Styles feet first over the ring, and into a hurricanrana on the outside to Erik.
Omos is still clearly raw and inexperienced, but his moveset is expanding and his presence is undeniable. He effectively hit a scoop slam and a military press over the course of the match and then closed out strong. After a Styles Clash was stifled, and the Viking Raiders hit a Viking Experience on Styles, Omos broke it up by grabbing Erik by the throat and tossing him backwards into Ivar to stop the count.
HOW?!?!#MITB @TheGiantOmos pic.twitter.com/ef2DZUq8Vy
Then Omos ended the match, quickly and effectively.
What's next: If Styles and Omos are indeed the long-term plan, start building some of the other teams up to benefit both the champions and their challengers.
Universal championship: Roman Reigns (c) vs. Edge
Read full article at ESPN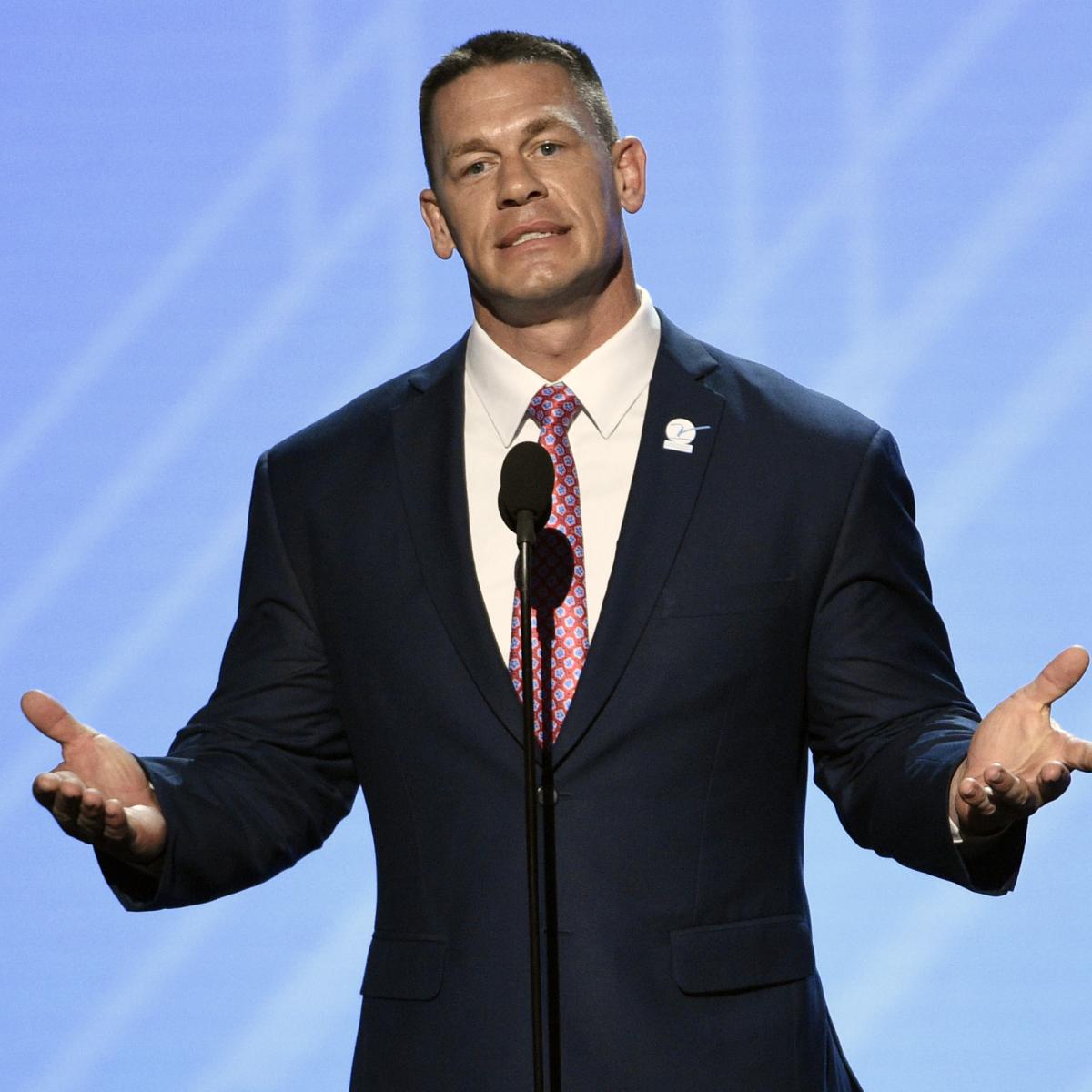 Bleacher Report 18 July, 2021 - 09:00pm
Once the rumored match against universal champion Roman Reigns is completed, the WWE Universe is wondering who John Cena could fight next if he does make his triumphant return to Raw or SmackDown.
While Reigns is the top star in the company, Cena should be back on WWE programming to put over the talented Superstars the company is looking to establish or cement as top stars, including Bobby Lashley, Sheamus and Apollo Crews.
Here are the top options for Cena after his rumored feud with Reigns is over.
After Reigns banishes Cena from SmackDown, the leader of the Cenation should tuck his tail between his legs and make his way to the red brand as part of an effort to challenge Bobby Lashley for the WWE Championship.
Just as Reigns will likely beat Cena to cement his status as a top star, Lashley should do the same and send the former face of the company back to Hollywood.
Lashley has been arguably the most entertaining part of Raw on a weekly basis thanks to his dominant in-ring performances and the elite mic work of MVP. With Cena and MVP going toe-to-toe on promos and the WWE champion carrying the former world champion in the ring, the result would be instant gold.
If Cena does return for a long-term run, he should be there to put over stars to build their credibility, thus helping the company sustain its momentum when he does leave again.
The United States champion Sheamus has been one of the top performers inside the ThunderDome, but the return of live audiences will help his credibility even more, especially if he were to challenge Cena.
Cena's United States Championship open challenges are just a part of his long history with the secondary title, and a feud against old foe Sheamus would make for an ideal midcard storyline. He doesn't have to be in pay-per-view main events to put over Superstars like the Celtic Warrior.
Instead, the former world champion and Hollywood star should be looking to help WWE's creative team put over its top names to wrestling fans as they start returning to the stands this summer.
One of Cena's best runs from his past several years with WWE revolved around his aforementioned United States Championship open challenges. This time around, he should help make another secondary title feel important.
Apollo Crews and the Intercontinental Championship should be on notice.
Crews has been one of the most dominant champions in WWE in recent months, but he has already run through most of the top face challengers on SmackDown. After losing to Reigns at SummerSlam, Cena should turn his attention to the IC champion.
Add in the fact that Cena would also have to go through a monster heel like Commander Azeez, and the stage is set for Cena to put over a fresh face and make the intercontinental title feel important again.
Enjoy our content? Join our newsletter to get the latest in sports news delivered straight to your inbox!
eWrestlingNews 18 July, 2021 - 07:34pm
During Sunday night's WWE Money in the Bank pay-per-view event, Nikki A.S.H. defeated Tamina, Natalya, Alexa Bliss, Zelina Vega, Asuka, Liv Morgan and Naomi to capture the Women's Money in the Bank contract.
You can check out some highlights from the match below:
WWE #MITB is LIVE in front of the @WWEUniverse and streaming live exclusively on @peacockTV in the U.S. and @WWENetwork everywhere else! pic.twitter.com/yYhFhPYuPz
— WWE (@WWE) July 19, 2021
Don't be afraid…@AlexaBliss_WWE has ARRIVED to get the #MITB festivities underway LIVE on @peacockTV and @WWENetwork! pic.twitter.com/iDS9OoiWUs
— WWE Network (@WWENetwork) July 19, 2021
It's time to LIV.#MITB @YaOnlyLivvOnce pic.twitter.com/bI9CQyneGt
— WWE Universe (@WWEUniverse) July 19, 2021
Can #NikkiASH @NikkiCrossWWE take home the #MITB contract tonight?! pic.twitter.com/Uck9cUqVLF
— WWE (@WWE) July 19, 2021
Is @WWEAsuka about to go BACK-TO-BACK?
The Women's #MITB Ladder Match is just about ready to get underway! pic.twitter.com/ItK97gpnRI
— WWE (@WWE) July 19, 2021
FORT WORTH IS FEELIN' THE GLOW.#MITB @NaomiWWE pic.twitter.com/Kwi5wvQtre
— WWE Universe (@WWEUniverse) July 19, 2021
Is #ZelinaVega @TheaTrinidad the next Ms. #MITB? pic.twitter.com/EZLkyZbLaq
— WWE Universe (@WWEUniverse) July 19, 2021
Yes, the WWE Women's #TagTeamChampions might be just a little weirded out by @AlexaBliss_WWE…#MITB @NatbyNature @TaminaSnuka pic.twitter.com/ElN9iLvo1W
— WWE Universe (@WWEUniverse) July 19, 2021
OK, but did @AlexaBliss_WWE just try to SUMMON the #MITB contract right into her hands?!@WWEAsuka doesn't care for it. pic.twitter.com/uJ3Biia06V
— WWE Universe (@WWEUniverse) July 19, 2021
Not so fast, @TaminaSnuka…#MITB @YaOnlyLivvOnce pic.twitter.com/XzuxS6Y2kt
— WWE Universe (@WWEUniverse) July 19, 2021
SHE'S GOT HER HOOKS IN ZELINA VEGA. 😈#MITB @AlexaBliss_WWE pic.twitter.com/YxGRGyfpHm
— WWE (@WWE) July 19, 2021
.@NaomiWWE is ON A MISSION. #MITB pic.twitter.com/44VFFeJRBT
— WWE Universe (@WWEUniverse) July 19, 2021
UP, UP AND AWAYYYYYYYYY!#MITB #NikkiASH @NikkiCrossWWE pic.twitter.com/FNhtOqh796
— WWE (@WWE) July 19, 2021
It seems they finally found a way to slow down @AlexaBliss_WWE…
She's BURIED under a pile of ladders! #MITB pic.twitter.com/Crze9ZjMm8
— WWE Universe (@WWEUniverse) July 19, 2021
THIS CONTRACT IS ANYBODY'S. #MITB pic.twitter.com/5OsJvvJ13Y
— WWE Universe (@WWEUniverse) July 19, 2021
NIKKI A.S.H. JUST DID THAT.#NikkiASH @NikkiCrossWWE has won the #MITB contract! pic.twitter.com/sUT7FTyqgR
— WWE (@WWE) July 19, 2021
She is signed to WWE, where she performs on the Raw brand under the ring name Liv Morgan and is a member of the group ...
Wrestling Inc. 18 July, 2021 - 06:02pm
Becky Lynch has confirmed that she is at the Dickies Arena in Fort Worth, Texas for tonight's WWE Money In the Bank pay-per-view.
It was reported earlier in the week that Lynch was scheduled to be backstage for the show, which led to speculation that she may be returning. Lynch took to Instagram this afternoon and teased fans ahead of the first WWE pay-per-view on the road since the return to touring.
"Beautiful day in Fort Worth Texas. I really hope no one gets taken out of this ladder match. #mitb," she wrote.
Lynch gave birth to her first daughter, with Seth Rollins, back in December. She has been out of action since WrestleMania 36, where she retained the RAW Women's Title over Shayna Baszler. She then relinquished that title to Asuka a few weeks later, announcing her pregnancy.
Stay tuned for more from tonight's pay-per-view. You can see Becky's full post below:
Big Title Change At WWE Money In The Bank
WWE Money In The Bank: Charlotte Flair Vs. Rhea Ripley (RAW Women's Title Match)
WINC Podcast (7/18): WWE Money In The Bank Review, Impact Slammiversary
WWE Money In The Bank: Kofi Kingston Vs. Bobby Lashley (WWE Title Match)
WWE Money In The Bank: The Viking Raiders Vs. AJ Styles And Omos (RAW Tag Team Titles)
Spoiler: Former WWE Star To Receive A Push In Impact
Nikki A.S.H. Wins Women's Briefcase At WWE Money In The Bank
WWE Money In The Bank: Women's MITB Ladder Match
» WWE Money In The Bank Live Coverage In Progress
GIVEMESPORT 18 July, 2021 - 05:20am
After 17 long months, WWE finally hosted a live show in front of a packed house on Friday night.
A whopping 15,000 fans poured into Houston's Toyota Center to see chairman Vince McMahon welcome the WWE Universe home with a single line: "Where the hell have you been?!"
It was a watershed moment for the pro wrestling juggernaut, who introduced the 'Thunderdome' - large LED screens that allowed fans to attend fights virtually - following the start of the pandemic last March.
While WrestleMania took place in front of a reduced capacity crowd in Orlando earlier this year, Friday night's episode of SmackDown produced the spine-tingling moments wrestling fans have been waiting for. And none were bigger than the crowd's rapturous response to Edge and Roman Reigns... for opposite reasons.
The former WWE Champion teamed up with Dominik and Rey Mysterio to go head-to-head with Universal Champion Roman Reigns and his cousins Jimmy & Jey Uso in a six-man tag-team match that served as a prelude to Edge and Reigns' forthcoming battle for the Universal title.
Although Reigns and Usos were ultimately victorious, Edge had the last laugh, grabbing a chair leg and trapping Reigns in a devastating Crossface during a hugely entertaining post-match assault. After Reigns tapped, Edge grabbed the Universal Championship belt and hoisted it in the air, driving the crowd wild.
In a backstage interview after the match, Edge said that he's going to have to do things that he hasn't done before if he's going to beat Reigns on Sunday.
"I have to beat Roman Reigns at his own game this Sunday. The last thing I have to do in this industry is win the Universal Championship."
The bout is going to be a huge main event in which Reigns is expected to beat Edge, but the WWE legend will be hoping to cause an upset, which, although unlikely, would drastically change the SmackDown landscape.
Friday's homecoming also saw Finn Balor return to SmackDown, launching an attack on Sami Zayn, while Shotzi and Nox defeated WWE Women's Tag Team Champions Natalya and Tamina, and Bianca Belair beat Carmella in a SmackDown Women's Championship Match.
SmackDown was just the beginning, though, as a capacity crowd will witness Money in the Bank on Sunday plus the post-MITB edition of Monday Night RAW on Monday as WWE looks to get back to normal.
Cageside Seats 18 July, 2021 - 12:00am
Kick your off your shoes, relax, and enjoy all the action with your favorite pro wrestling website. And remember to keep refreshing! Note: To get in on the conversation on this show, visit our open thread here.
I need a shot of gasoline, I'm hittin' one sixteen. I get so hot I see steam, forget the day 'cause we're gonna scream, and I'm gonna liveblog this here pro wrestling show for you folks.
The pre-show opens iwth Kayla Braxton introducing our panel. Joining her tonight are Jerry "the King" Lawler, Booker T, John "Bradshaw" Layfield, & Peter Rosenberg, and they toss to video packages and break down the matches as per usual.
Dominik and Jimmy to start, Mysterio in control early with arm drags aplenty, tagging his dad in. Jey tags in and Rey nails him with a dropkick to the mush! Off the ropes, drop down, Mysterio trips to the floor! Back inside, Uso grinds him down in a rear chinlock, back suplex, land on his feet, slide under, tag to Dom!
Cutting Jey off with a forearm, springboard lariat, only two! Jumping neckbreaker, drag him over, head up, triangle quebrada... NOPE! Mysterio knocks both Usos to the floor in turn, but Jey swings him into the barricade with his brother's assistance! Taking him inside, Jimmy picks Dominik apart, grinding him down with a reverse chinlock.
Jockeying for position in the corner, Mysterio knocks Jimmy to the floor and has a chance to right himself! Tags made, Rey comes in hot with a tijeras, back body drop puts him on the apron, big right hand, up top, diving seated senton for two! Electric chair, tag made, Rey reverses to a Frankensteiner but Jimmy comes in with a superkick!
Samoan Drop.. STILL NO! Mysterio gets Jey set up for the 619 but Jimmy puts his head in the way! Jey plus Rey out of midair with a superkick, diving splash... REY MYSTERIO KICKS OUT! Back and forth, the Usos work together and stack Mysterio up in a schoolboy...
We go back to the panel to preview the last couple matches.
The main show kicks off with a video package themed around the excitement and opportunity of cashing in.
Alexa Bliss standing on the turnbuckles and staying out of it while everybody else does a feeding frenzy over the ladders. She hops down on the mat and skips around a bit before trying to simply call the briefcase down with a wave of her hand. Asuka cuts her off with a German suplex, Liv and Nattie get into it, Nikki with a tornado DDT!
Naomi hits Rear View, Tamina takes her out with a superkick and stands tall but Bliss slides back inside and gets on her back with a sleeper hold! Slung off, back elbow, Snuka sets a ladder up but Morgan climbs it before she unfolds it and gets knocked down with it! Tamina and Asuka slug it out, palm strikes into the uraken, another uraken, missile dropkick!
Smashing Tamina with the ladder, trapping her under it, climbing, Snuka tries to push it off but Liv comes over and uses her weight to push her down! Dropkick takes Asuka off the ladder and Neidhart knocks it over, sending Morgan crashing to the floor! Nattie lifts the ladder up, Liv grabs the other end, tug of war, ASH back in the ring, roll under the ladder but they deck her with it!
Naomi in, smashing Tamina into the ladder, roundhouse kick over the ladder, she jumps on it but Snuka plucks her down into a Samoan drop! Vega and Asuka drag Snuka to the floor, tijeras into a hip attack into the barricade and she's down! Trapping Liv in the corner, Alexa takes Natalya out and climbs up the ladder towards a trapped Morgan!
Neidhart plucks her off the ladder, slingshot Atomic Drop but Bliss laughs it off! Drop toehold puts Nattie into the ladder, Alexa hits Sister Abigal on Morgan and follows it with a standing senton atomico! Alexa and Zelina climb the ladder, Bliss does the hypnodomme act and walks Vega down the ladder! Alexa climbs back up, Natalya pulls her down... SLINGSHOT POWERBOMB OFF THE ROPES AND A LADDER BEFORE PUTTING HER INTO THE MAT!
Zelina snaps out of it, corner knees, la casadora into a facebuster on Asuka! Kicks to Morgan in the corner, the tag champs end up on Naomi but she takes them both out with a springboard roundhouse and then a double Stunner! World's Strongest Slam puts Nikki into a ladder and then she drops the splits! Naomi climbing, Neidhart pulls her off, climbs, but Vega gets on her with a sleeper hold!
Neidhart still climbing, hands on the case, Zelina wrenches it in, Nattie fades, Vega has hands on the case but Morgan pulls her off! The match breaks down into a brawl, ASH climbs a ladder that's set up on the floor and flies... CROSSBODY INTO THE BRAWL! Nikki sets up a new ladder and climbs but Bliss cuts her off! Big right hand, ASH shoves her off but gets caught... SQUARE COMPASS DDT!
Alexa climbing, Natalya cuts her off, Tamina helps her dump Bliss to the floor! On the floor, they bury Alexa in ladders to keep her down! Back inside, Liv climbs, Tamina pulls her off but Morgan counters with a Frankensteiner into the corner and puts boots to Snuka! Neidhart lays her out with a forearm, multiple ladders set up, chaos reigns!
Liv and Naomi climb the middle ladder, Tamina and Natalya on either side, Vega and Asuka join in, six-way fray at the top and Nikki ASH climbs up behidn Morgan! Nikki perches...
Commentary recaps the Usos winning the tag titles on the pre-show.
The Usos celebrate backstage with Roman Reigns and Paul Heyman.
Roman tells them he's happy for them and they say they won the titles for him. He asks them to hold onto them and says it's been a long journey, and they took all the pressure, but don't get it confused. Winning the tag titles was the easy part, and he did all the heavy lifting. And now that he's given them what they want, it's time to get what he wants.
Jey tells him he's the head of the table and the tribal chief, and Jimmy agrees, acknowledging him. Again Reigns says he's proud of them and brings them in for a hug.
Erik and Styles to start, but AJ immediately tags out to Omos! Erik is game but keeps his distance before tagging out to Ivar. Omos wants Warbeard but gets double-teamed! He fights the vikings off with shoves and shoulder blocks and informs them that this is his house! Styles back in, shoulder blocks, knee drop, only one!
Warbeard gets AJ in the corner, shoulder blocks, tag to Erik, knee lifts! Continuing to work Styles over, quick tags, they put Erik on the floor and Omos hurls Styles to the floor where he hits a Frankensteiner on Erik! Warbeard tags in, big slam on AJ, crossbody, fired up! Styles gets away, tag to Omos, Warbeard with the cartwheel lariat and then off the second... CAUGHT IN THE GOOZLE!
Omos scoops him up and slams him with ease! Trapezius claw applied, AJ back in, trading strikes with Ivar! Float over Styles' back, tag to Erik, he lights Styles up with a strike rush but the Styles Rush comes right back at him! Whip reversed, up and over, shotgun knees wipe AJ out! Waistlock turned into a fallaway slam, tag to Ivar!
Putting AJ in the corner, assisted hip attack, clear the apron, tag back to Erik. Popping Styles up into his grip... SPRINGBOARD HART ATTACK CAN'T KEEP AJ DOWN! Styles fights them off two for one in the corner, Pele kick staggers Warbeard, Erik to the floor, tag to Omos! Big man plucks Ivar out of the turnbuckles, military press drop!
One foot cover... IVAR KICKS OUT! Omos kicks at him and demands he get up, whip to the corner, Banzai Drop takes Styles out, double-teaming Omos. Big knees, fading to one knee, clothesline sends the big man to the floor and Erik dives on him! Styles from behind, schoolboy for two! Enzuigiri staggers Ivar and puts him in the corner, forearm staggers him, nobody home!
Popping AJ up, Viking Experience... OMOS SHOVES ERIK INTO THE PIN AND BREAKS IT UP! Tags made, the match breaks down, everybody trading strikes, Omos gets Erik up for a chokebomb...
He asks Ft. Worth for some noise and says it's not that he wants to win Money in the Bank, but rather he needs to win, and he's proud of flying the flag for WWE during the ThunderDome but if he never hears the words "ThunderDome" ever again he'll be happy. He does Drew McIntyre storytime, but instead of an inane history lesson, it's how he's gonna win the briefcase.
Montel Vontavious Porter runs interference at the bell but Kofi gets away and ducks the charge, schoolboy, no good! Off the top, Lashley shrugs him off and back body drops him! Right hands, shoulder thrusts in the corner, leaving Kingston gasping for air! Kick staggers Bob, springboard, gets caught, big slam! Military press over the ropes and to the floor!
Following after him, Lashley puts him face-first into the ringpost and leaves him lying! Again Bob rams him into the post! Back inside, choking Kofi in the corner, back elbows, lying in wait, drawing Kingston up, lifting reverse STO! Pulling him up, the Hurt Lock is applied, Kofi flagging but not falling and Bob shifts gears to fallaway slam him!
Another vicious reverse STO, grounded punches, drawing him up while MVP eggs him on. Canadian backbreaker... DOMINATOR! Bob fired up, he lifts him up for a second Dominator! A third Dominator! Back up in the Hurt Lock, Kofi goes limp and referee Chad Patton calls it...
Collar and elbow, stalemate, Charlotte flips the crowd the bird so bad that the camera cuts out for a beat! Ripley with a waistlock, Flair breaks out of it, headbutt for a palm strike, right hand right back! Rhea blocks a boot into a back heel trip, thumbing her nose at her, off the ropes, dropkick takes the Queen off-balance!
Back body drop to the apron, slugging it out, Ripley stomps her and baseball slides her to the floor! Charlotte sidesteps a cannonball and changes the momentum! Shotgun dropkick into the barricade, back inside, cover for one! Pressing the attack, reverse chinlock applied, swinging Rhea around in it. Flair with an exploder attempt, Ripley lands on her feet and gets chopped into the corner!
Charlotte catches a boot, but gets back body dropped to the floor! Action to the floor, champion in control and letting loose a primal scream, back inside, short-arm lariats take Flair off her feet again and again! Ripcord denied, headbutt into a snapmare, dropkick, cravate knees, crescent kick, northern lights suplex into the bridge... STILL NO!
O'Connor roll blocked, back suplex floated over, she pastes Charlotte with a German suplex! Flair pops up with a Boston Crab, reversed into a pin, Charlotte kicks out, spinning toehold reversed into a pin! Charlotte pops up, big boot... NOT ENOUGH! Flair drags her into position and goes up top, Rhea cuts her off and gets under her, electric chair, wrists clutched, Charlotte slips out but Rhea gets her... DOUBLE PUMPHANDLE INTO A SUPLEX CAN'T KEEP HER DOWN!
Ripley with overhand chops, whip reversed, she goes hard into the turnbuckles and clatters to the floor! A big boot puts the champ off the apron, Flair goes up top... MOONSAULT TO THE FLOOR! Back inside, Natural Selection blocked, inverted cloverleaf applied! Charlotte staying posted, rolling through, victory roll for two!
Roundhouse kick lands true, pumphandle... RIPTIDE REVERSED INTO A DDT! RIPLEY KICKS OUT! Charlotte crying, trying to figure out what's next, lying in wait, they start trading forearms, Flair shifts to chops but Rhea nails her with a back elbow! Flair with an elbow of her own, feet on the ropes... REFEREE ROD ZAPATA SEES HER SKULDUGGERY AND CEASES HIS COUNT!
Headed up top, jockeying for position... AVALANCHE NATURAL SELECTION BUT RIPLEY KICKS OUT! Charlotte picks the leg, reversed into a short suplex into the turnbuckles! Drawing Flair up, but she pulls the champion head-first into the ringpost! Trapping her leg between the ring and the steps... CHARLOTTE STOMPS THE STEPS AND BREAKS RHEA'S GODDAMN LEG!
Spinning toehold, figure four leglock, bridging back...
In Gorilla, Matt Riddle and Rick Boogz and Shinsuke Nakamura have some kind of talking segment, but Peacock is on the fritz and I miss most of it, but it eventually becomes clear that he was asking for Rick to play Randy Orton's theme.