Outside of Aaron Judge, the Yankees have seen little outfield production. It's time to change that.
Judge has, so far, remained healthy, but literally nothing else has gone well. Hicks struggled to the tune of a 74 OPS+ before undergoing season-ending surgery in May to repair a torn tendon sheath in his left wrist. Frazier similarly struggled, lost the starting left field job to Miguel Andújar, and then hit the injured list with possible vertigo and vision issues. Vertigo was at least ruled out recently, but given his concussion history, it's not far-fetched to wonder if his season, and even his career, could be in jeopardy.
Andújar, for his part, has put together some good stretches, but the lows have put him at a .667 OPS (83 OPS+) for the year, he's been a bit of an adventure in left field — and did I mention he's on the injured list, too? Brett Gardner, re-signed to be a fourth outfielder, looks lost at the plate half the time, and the recently-acquired Tim Locastro's career 78 OPS+ is probably not the answer, either.
Enter Joey Gallo. The two-time All-Star outfielder is the biggest piece of trade bait that the last-place Texas Rangers have available to cast, and boy, would he look good in pinstripes.
The biggest knock against Gallo is that he strikes out too much. Frankly, I don't care — when you're pace for 40 homers and are working walks slightly more than 20 percent of the time (the most in the league), even a 30-percent strikeout rate won't matter. How do I know that? Because that's exactly what Gallo is doing this year, and he's slashing .239/.402/.522, good for a 153 wRC+. That figure ranks eighth-best in baseball and better than anybody on the Yankees — even Judge!
But let's pretend for a second that I did care about the punchouts. Well, as Josh noted in his breakdown of the Rangers as a potential trade partner, Gallo is walking at a career-high rate and striking out at a career-low rate. Even better, he's chasing only 19.8 percent of the time, in the league's 91st percentile. In short, his plate discipline — which has typically been a point of Gallo criticism — has been an immense strength for him this season.
Even better, Gallo has absolutely exploded since the first foreign substance memo went out on June 3rd. Before that date, he posted a .208/.358/.383 slash (111 wRC+) with a 34.1-percent strikeout rate and 17.7-percent walk rate, in addition to mashing only nine long balls and accruing 1.1 WAR. Since that date? Gallo has slashed .301/.480/.796 (231 wRC+) while homered once every other game; moreover, his strikeout percentage dropped to 24.8 percent and his walk rate increased to 25.6 percent — in other words, in the last month, this strikeout-prone batter has walked more than he's struck out!
Defensively, the 2020 Gold Glove winner is one of the best in the league, and his 5 Outs Above Average this season are tied with seven others for sixth in the rankings. He's exclusively played right field this season, but he not only has experience in both left and center, he's succeeded there — he's been about league-average at both positions according to OAA, Defensive Runs Saved, and UZR/150. And the Yankees could conceivably use him at either position — like I mentioned above, the team has glaring holes at both spots.
As Gallo is under contract for the 2022 season, Gallo is going to cost a lot — probably more than Brian Cashman is willing to part with, if we're being honest. It's also worth noting that there's no guarantee that Texas is even going to want to trade him; they may instead lock him up for a long time. If he is truly available, however, then the Yankees need to go all-in. Whether or not he'd be enough to propel the Yankees to a playoff spot this year is up for debate, but as a move with 2022 in mind, there's arguably no one better on the market this July.
Read full article at Yanks Go Yard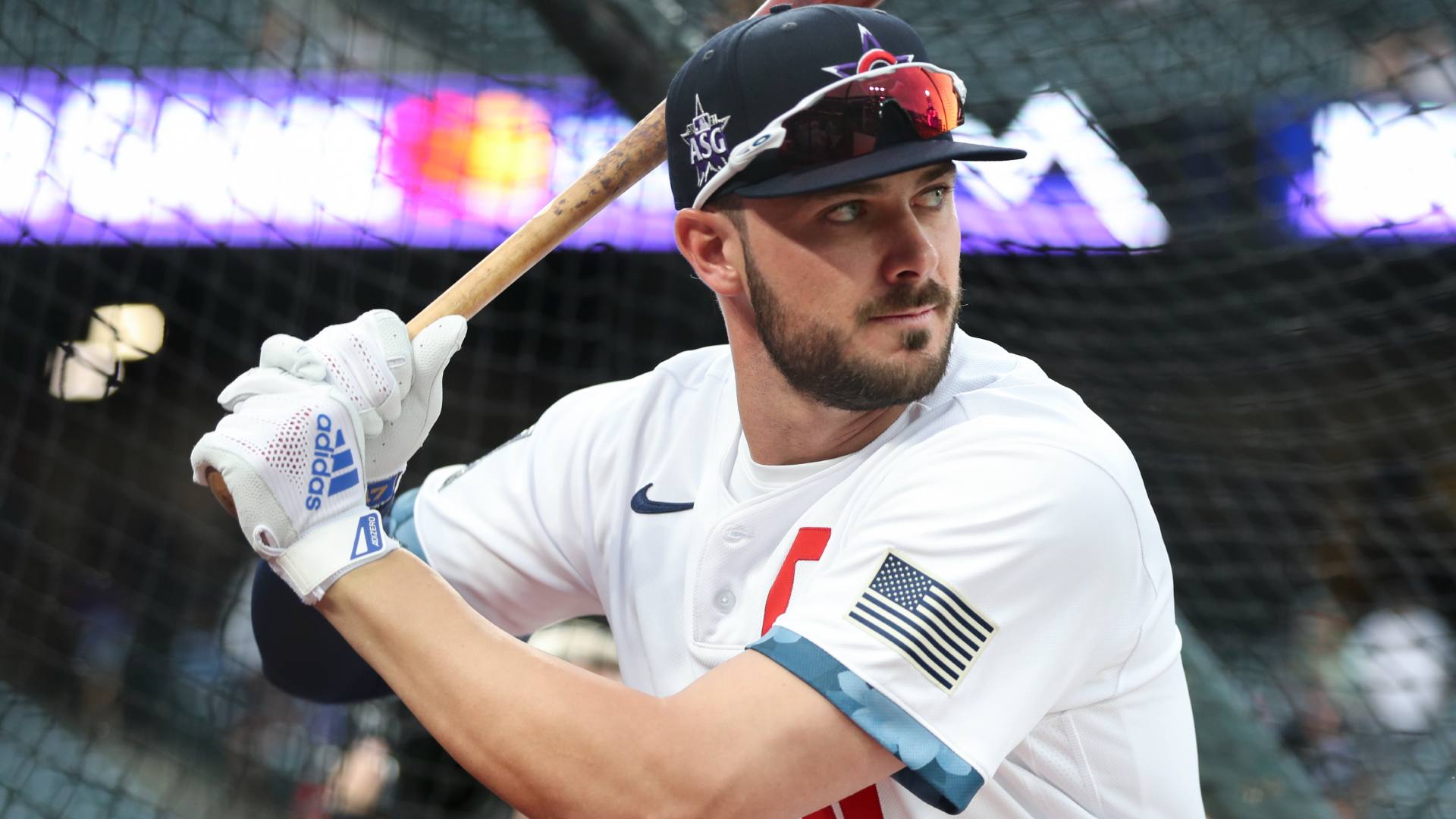 Sporting News 15 July, 2021 - 09:13am
Some of them are almost certain to be traded — hi, Kris Bryant! — and some others might be dealt, too. It's a strange situation to be in, representing one team in this showcase event, while knowing you could soon be wearing the uniform of another team.
Joey Gallo is one of those players, and he was asked about the possibility at media day.
"At the end of the day, in my head and my heart, I feel like I'll be a Ranger," Gallo said. "It's all I've ever been my whole life, so I can't really think about ever not being a Texas Ranger. But at the end of the day, it's a business. If the team feels moving me might fit them better, then I understand that. But you still try to play hard every day and win games.
"I'm not really too worried about what's happening outside of what I can control."
That feeling, of course, is common. Let's take a look at which players might be dealt before the July 30 deadline.
Contract status: Free agent after 2021
Thoughts: After what was essentially a lost 2020 season, Bryant was back to his old self in April and May, with an average north of .300, an on-base percentage above .400 and a slugging percentage topping .600. His June was a disaster, though; he hit .114 in 23 games, and the Cubs plummeted along with him.
July's small sample size has been good, though, and his versatility will be seen as a huge plus for the team that acquires him. He could be a full-time starter at third base or at either corner outfield spot, and he can fill in as the center fielder, too, all while producing at an MVP level at the plate. Yes, please.
Kris Bryant, slo-mo BP home run pic.twitter.com/whdVWa6EKP
Potential destination: Mets. No contender needs an offensive kick in the pants more than the Mets. Sure, a big problem is that they just need their established guys to hit better — hi, Jeff McNeil, Michael Conforto and Francisco Lindor — but adding a versatile bat such as Bryant's to the lineup is kind of a dream solution.
Contract status: One more arbitration year; free agent after 2022
Thoughts: Forget about his slow start and first-round exit in the Home Run Derby. Gallo is one of the best power hitters in the game; he has 24 homers already this season, including 11 in his final 12 games heading into the All-Star break. And he leads the AL with 72 walks, a big reason for his .402 on-base percentage in 2021.
He's a big dude (6-5, 250 pounds), but he can play all three outfield positions, though he's probably not a full-time option in center. He did start 25 games there as recently as 2019. And he has 72 career starts at first base, so there is a little more flexibility.
The Rangers don't have to trade him, of course, and it's worth mentioning they didn't deal Lance Lynn last season when he was in a similar "one year left" situation. 
Potential destination: Padres. Hey, the goal in San Diego is to win a World Series. The Padres are really good as they are currently constructed, but they're motivated and have the farm system to deal for Gallo. They'd love to put a lefty power bat in the lineup with Fernando Tatis Jr., Manny Machado, Tommy Pham and Co. 
Contract status: Free agent after 2021
Need to know: He's a DH only, of course — he just turned 41 and hasn't played in the field since 2018 — which limits his suitors to American League teams. But that's the only downside to Cruz, who is as consistent of a hitter and power source as there is in the game. He's right around a .300 batting average again, with 18 homers and a 162 OPS+.
Potential destination: A's. The A's need a little more pop in their lineup, and Cruz comes with no money attached beyond 2021. Don't completely rule out the White Sox, though, if either Eloy Jimenez or Luis Robert has a setback on the road back from the IL. 
Contract status: One year, $7 million remaining
Thoughts: This is Gibson's ninth year in the bigs, and he's never been better. Gibson, a right-hander who played his college ball at Mizzou, has a stellar 2.29 ERA. In a season in which starting pitchers are regularly checking out after five innings, Gibson has lasted at least six full frames in 13 of his 17 starts. He's the prize of the starting pitching market at the moment, and someone will have to overpay to get him.
Remember the Lynn thing we mentioned with Gallo? Yep, just because the Rangers can trade Gibson doesn't mean they necessarily will. 
Potential destination: Cardinals. Yeah, the Cardinals are long shots to make the postseason this year, but they fully intend to contend in 2022. Making the move to get Gibson now could make sense. 
Contract status: One more arbitration year; free agent after 2022
Thoughts: How many teams could use a second baseman who's batting .330 this year? Pretty much every contender could find a spot in the field for him. Remember, Frazier's a full-time second baseman now, but he's played 156 games in the outfield in his career, mostly on the corners. 
Potential destination: Yankees. If the Yankees decide to make a run, he's perfect. He's a lefty bat in a right-heavy lineup. He could pop a few more homers with that short porch in right field. And, mostly, the Yankees really need the consistency of a guy batting .330 to get on in front of all those sluggers. 
Contract status: Two years, $32 million with $20 million mutual option for 2023; opt out after 2021 season
Thoughts: This one probably isn't likely, but the opt-out is the big thing. If the Reds fall too far behind the Brewers in the NL Central — basically, what happened to the Cubs and Cardinals in June — it's possible they could decide to move Castellanos.
He's proven his worth as a hitter, and with teams going back to full attendance capacities, there could be a good market for Castellanos' services in the upcoming offseason. If the Reds feel he might opt out, they could move him. 
Potential destination: Braves. Atlanta already needed a big outfield bat, even before Ronald Acuna's awful injury. Now, if the Braves feel like they're contenders, they pretty much have to make some sort of move to upgrade the offense. 
Contract status: $16 million club option for 2022; $1 million buyout
Thoughts: Has any player revived his trade value more than Kimbrel in 2021? He had been mostly a disaster for the Cubs in his first two seasons with the team, rolling up a 6.00 ERA in 41 appearances. But he's back to vintage Kimbrel this season, posting a 0.59 ERA with 53 strikeouts and only 10 hits allowed in 30 2/3 innings pitched.
He's the back-of-the-bullpen piece pretty much every contender craves.
Potential destination: Astros. Ryan Pressly has been very good as the club's closer (1.50 ERA, 9.2 K/BB, 15 saves in 16 opportunities), but the rest of the bullpen has been . . . well, let's just say it has not been a strength. This is a club that is motivated to win it all in 2021, in an effort to show that previous success — including the 2017 World Series title — wasn't just about the cheating. Even though, y'know, the Astros definitely cheated. 
Sports Illustrated 15 July, 2021 - 09:13am
From the New York Post: "The athletic Gallo is among the best position players mentioned regularly as available in this trade market as the last-place Rangers try to rebuild. Gallo can be a free agent after next season. Padres general manager A.J. Preller was with Texas when Gallo was drafted, and opposing executives expect San Diego to be interested. The Yankees also have consistently had eyes for Gallo.''
Gallo himself has made his position clear,
"I haven't heard anything,'' he said, via 105.3 The Fan. "Obviously, I would love to stay. I love Texas. I love playing for the Rangers. Hopefully, I'll be here a lot longer, but you'll have to get the more important, front office guys on the phone for an interview to ask them to see what they have to say. Unfortunately, it's not up to me, but obviously, I'd love to play in Texas for a long time."
His defense has improved dramatically throughout his time in the big leagues, so much so, he was awarded last year's American League Gold Glove for his performance in right field. 
READ MORE: Rangers Pitch In As Ohtani Leads AL To All-Star Game Win
Recently, he has become known for his defensive prowess in the outfield just as a much as hitting home runs. But are his days with the Texas Rangers numbered?  
According to Jessica Kleinschmidt of NBC Sports Bay Area, ESPN insider Jeff Passan reports that Gallo is 'very likely' to be traded by the Rangers at the upcoming July 30 trade deadline.
But if you ask Gallo where he wants to be long-term, it's with the Rangers.
Gallo, who was selected 39th overall in the 2012 MLB Draft, is on a tremendous hot streak right now a the plate, hitting .301 with 15 home runs and 27 RBI in just his last 30 games. The Rangers are the owners of MLB's fourth-worst record right now at 35-55, and could be looking to add more controllable assets as part of their rebuild on July 30. 
Gallo is only due $6.2 million this season and is among their most valuable trade assets. That salary will certainly help. He still has one year left of arbitration eligibility before becoming a free agent after the 2022 season.
It's still too early to predict where Gallo might end up, but former MLB'er Gary Sheffield Jr things he'd be a good fit for the New York Yankees, who, outside of Aaron Judge, have a struggling outfield this year.
Sports Illustrated 15 July, 2021 - 09:13am
But for a few days, there were plenty of reasons to forget about it.
As soon as the final out was recorded in the club's 55th loss of the season on Sunday, all attention turned to the MLB Draft. The Rangers had the No. 2 pick — a spot the franchise hasn't been since 1974. 
With that pick, the Rangers got the guy that virtually everybody wanted. Fans clamored for it. The Rangers wanted him. And now, while we are still waiting for pen and paper to meet, Jack Leiter will be a Texas Ranger.
The next day had us all waiting in anticipation to see just how far Joey Gallo would hit some baseballs in the Home Run Derby at Coors Field. After all, the air is thin and the balls were juiced. Not only was it a surefire bet that Gallo was going to hit at least one 500-foot bomb, but win the whole thing.
Of course we know by now that Joey accomplished neither. He made it interesting by getting into a groove in the final minute of bonus time, but fell one homer short against Colorado Rockies slugger Trevor Story in the first round. But, since the Rangers have been reported to pursue the DFW native, seeing Gallo and Story facing off against each other had fans salivating at the potential that the two could be teammates in 2022 and beyond.
Then came the crown jewel: the All-Star Game. And the three Rangers representatives did not disappoint. Kyle Gibson and Adolis García were there for the first time. And if you couldn't tell, the Rangers ace was as giddy as a kid on Christmas morning after pitching a scoreless inning in the Midsummer Classic.
In addition, García and Gallo both took the field as replacements later in the game. It was the first time the Rangers have ever had two outfielders appear in the same All-Star Game. While Josh Hamilton and Nelson Cruz were both All-Stars in 2009, Cruz did not play in the game.
Three days of enjoyment. Three great days for baseball, even with those awful uniforms. Even in a losing season, three Rangers represented the American League as they won their eighth straight All-Star Game over the National League.
But these three days, as fun as they were, may have just been a temporary escape from reality.
Now it's back to business. As important as this year's draft was for the Rangers, this trade deadline may be just as important. There are a lot of variables to consider. Most importantly, the Rangers are in a rebuild and need to cash in on everything they have to acquire more controllable assets.
That means potentially two of the team's three representatives in the All-Star Game might not be wearing a Rangers uniform come July 31.
Just to get it out of the way, Adolis García isn't going anywhere. He's breaking out in his first full season in the big leagues and the Rangers have control over him through 2026. He's not going anywhere.
As for Kyle Gibson, while nothing is guaranteed, it would be quite a shock if he remains in Texas. He is 33 years old and only has one more year left on his team-friendly contract. Gibson is also having a career year and is on pace to be one of the finalists for the AL Cy Young award. The Rangers would be foolish to not make every effort to capitalize on Gibson's increased value.
The real question comes down to Joey Gallo. While he's a polarizing player to those who still value batting average above all other stats, Gallo might be the most sought after player in this year's trade deadline. He's an impact bat that gets on base at a very high clip coupled with Gold Glove defense in right field and can play all three outfield positions if needed.
In addition, Gallo is as hot as he's ever been before. Since June 1, Gallo is slashing .280/.459/.740/1.199 with 15 homers and 27 RBI. His 33 walks and 35 strikeouts are also a much better ratio than over his career averages. Same as with Gibson, the Rangers would be remiss to not try and squeeze every valuable prospect they can out of potential suitors for Gallo — in a seller's market to boot.
However, it could be a PR nightmare if the Rangers trade away such a valuable piece. If the Rangers truly believe they can compete in 2023, Gallo is an established player that could be a key part of the core the club builds around. With his club control up after the 2022 season, a contract extension would be required. And Gallo's agent is Scott Boras, which means the Rangers will have to overpay to keep him in a Rangers uniform if they stand pat over the next 16 days.
In reality, clubs have to overpay for free agents anyway. With Gallo, he's fervently expressed a desire to remain a Texas Ranger. Not that a hometown discount would be expected, but Gallo might be willing to take a few bucks less to stay where he truly wants to be. So, why not keep an established guy that might not cost as much as another free agent, who also exemplifies what the franchise stands for and is proud to put on the Rangers uniform.
Yes, All-Star week was a wonderful escape. But the next couple of weeks could drastically alter the way fans remember it.
The Athletic 15 July, 2021 - 09:13am
Texas Rangers trade deadline primer: Is it 'all or nothing' time?
Sports Illustrated 15 July, 2021 - 09:13am
The AL won its eighth consecutive All-Star Game in large part due to Toronto Blue Jays slugger Vladimir Guerrero Jr., who had a two-run homer in the third inning and was named the All-Star Game MVP. 
At 22 years old, Guerrero is the youngest player to win the award.
Los Angeles Angels superstar Shohei Ohtani batted leadoff for the AL and also was the starting pitcher, registering the win.
Rangers pitcher Gibson also participated as he allowed one hit in a scoreless third inning in which he threw 12 pitches.
Gallo, who made his second All-Star Game appearance, has been a fan favorite almost since arriving in Arlington.His defense has improved dramatically throughout his time in the big leagues. So much so, he was awarded last year's American League Gold Glove for his performance in right field. 
Recently, he has become known for his defensive prowess in the outfield just as a much as hitting home runs. But there are reports that Gallo is 'very likely' to be traded by the Rangers at the upcoming July 30 trade deadline.
Trade rumors are no stranger to Gallo, however, as his name has been linked to trades all season long. Some may think Gallo would want to play for a club that offers a better chance at a World Series opportunity.
But if you ask Gallo where he wants to be long-term, it's with the Rangers:
"I haven't heard anything. Obviously, I would love to stay. I love Texas. I love playing for the Rangers. Hopefully, I'll be here a lot longer, but you'll have to get the more important, front office guys on the phone for an interview to ask them to see what they have to say. Unfortunately, it's not up to me, but obviously, I'd love to play in Texas for a long time." - Joey Gallo on 105.3 The Fan
Sports Illustrated 15 July, 2021 - 05:21am
The Bronx Bombers finished the first half of the season with a record of 46-43 and in fourth place in the AL East at eight games back.
However, the belief around the industry is that they are going to be active in making moves to improve their roster in an attempt to propel the team into the postseason.
One interesting name, who appears to be a perfect fit, is Texas Rangers left-handed hitting outfielder Joey Gallo. As Joel Sherman of The New York Post reported, the Yankees have "had eyes" on Gallo.
With the last-place Rangers destined to be sellers, New York would be wise to pursue Gallo, who shouldn't cost too much given the fact that he is set to hit the free-agent market next year.
Gallo, who received the second All-Star selection of his career in 2021, is enduring a stellar season, slashing .239/.402/.502 with an .841 OPS, to go along with 24 home runs and 52 RBIs. His left-handed bat makes him a match made in heaven with the short porch at Yankee Stadium.
If Gallo is indeed available, the Yankees must pounce on him, which could once again solidify their lineup as a force in the American League. 
Dallas Sports Fanatic 14 July, 2021 - 06:38am
Before you express a pure sense of negativity, remember the initial question, "What's the goal of 2021?"
The Rangers wanted to develop their youth within the organization while getting some of their young big leaguers experience. When you deep dive into Texas' 2021 season, it's moving in the right direction.
"Internally, yes," Rangers manager Chris Woodward told me in asking if the club met Spring Training expectations. "Record-wise, I'd love to have won more games. We were in position to win more games than we have, and that's something we're going to have to learn how to do." Woodward talked about the no-quit attitude and the receptiveness among the players, staff, and everyone within the organization. "Players have accepted all of the criticism. They've accepted the feedback we've given them. We've seen improvement even in dire circumstances at times where we got overwhelmed by trying to win a game. Their commitment every day, their attitude every day, we're going to be better for it."
Yes, the win/loss expectation bar is set low, and the team heads to Buffalo twenty games under .500. There's no sugar-coating it. Fans want to see production through victories. "We do have to improve," Woodward told me. "There are a lot of things that we have to improve on, and [the players] know that."
The Rangers drafted well, including securing their coveted top pick in Jack Leiter on Sunday (hoping to sign him soon). Unfortunately, consistency is what hurt the Rangers in 2021. There were two significant bumps in the road (no pun intended) where the club hadn't recovered. The question now is what the players have learned from the first ninety games of the season.
I could get used to this. #StraightUpTX #MLBDraft pic.twitter.com/3fuuAmPM1v
— Alex Plinck🏳️‍🌈 (@aplinckTX) July 11, 2021
The deadline is approaching fast and furious while two prominent names pop up. It's apparent Kyle Gibson will wear another uniform on July 31st, especially posting up one of the better pre-All-Star break performances in the American League. Ian Kennedy is a hot target knocking fifteen saves in sixteen opportunities. Any suitor club in baseball covets a veteran relief pitcher who has both starting and closing experience. Therefore, I expect the Rangers to get multiple small offers for Kennedy.
Joey Gallo is the hot topic of the deadline, again. As of now, no extension talks have surfaced between the Rangers and Gallo, and I'm not sure if that's due to the Rangers already knowing what they want to do or if they are scouting how the deadline is going to shape up. A criticism of last year's deadline was the Rangers asked too much for Lance Lynn and Joey Gallo; thus, both Gallo and Lynn stayed in Texas. However, do the Rangers up that value due to Gallo's 2021 success? Joey made it clear to the media, fans, organization, and even his agent Scott Boras that he wants to stay with the Rangers. That's rare to witness considering other gifts Boras has produced for his clients in free agency.
Star-studded trio. 🤩 pic.twitter.com/c2wlXyrkc8
— Texas Rangers (@Rangers) July 12, 2021
With all of that said, how do the Rangers play this? Will Texas set the opening bid for Joey Gallo and not go lower? Are they adamant about trading Joey? The consensus from the outside appears that Gallo doesn't make it to August with Texas, but then again, we all said Lance Lynn wouldn't make it to September 2020 with the Rangers. I can assure you that by four o'clock central time on July 30th, if Joey Gallo is still a Texas Ranger, an extension will happen. That's the only guarantee I have.
The Rangers have decisions to look at for other young players. For example, they try to find out what they have in guys like Andy Ibáñez, Jason Martin and even give current AAA first baseman Curtis Terry a shot. That means expect someone like Brock Holt or a Charlie Culberson to ship away in a package. Culberson signed on a minor league deal while Holt signed on a one-year contract. It'll be a small trade, but the Rangers will at least get something out of respectable production from two utility veterans.
Credentialed Media Staff Writer covering the Texas Rangers for Dallas Sports Fanatic | 2014 University of North Texas graduate with a Bachelor's in Radio, Television, and Film. I talk about things. Find me on the tweeter @aplinckTX
©2021 Dallas Sports Fanatic, LLC. All Rights Reserved.Website Credits Terms of Service Privacy Policy