The New York Yankees and Boston Red Sox will return to action Friday night after positive COVID-19 tests for Yankees players caused Thursday's game to be postponed.
Including rapid testing conducted Friday afternoon, there have been no new positive cases, the Yankees announced.
All six of the Yankees' cases from Thursday have now been confirmed, with Aaron Judge, Gio Urshela and Kyle Higashioka officially joining Jonathan Loaisiga, Nestor Cortes Jr. and Wandy Peralta on the COVID-19 injured list.
Manager Aaron Boone said he expects the players who have tested positive to miss at least 10 days. Some of the players have shown symptoms, though Boone said nothing was severe.
First baseman Chris Gittens and outfielder Trey Amburgey are in the Yankees' lineup for Friday's game, while catcher Rob Brantly, outfielder Greg Allen and infielder Hoy Jun Park will be on the bench.
In an unrelated move, New York placed Luke Voit on the injured list with a bone bruise in his left knee.
Thursday's game will be made up as part of a split doubleheader on Aug. 17.
While the rash of positives threw into flux the immediate future of a Yankees team still trying to determine how it will approach the July 30 trade deadline, Judge's inclusion rippled across the league, with players who participated in Tuesday's All-Star Game flying across the country to play a full slate of games Friday.
Unvaccinated All-Stars were tested for COVID-19 while in Denver for the game, and all of the tests came back negative, sources said.
The Yankees, who are in fourth place in the American League East at 46-43, are hoping to put a dent in Boston's eight-game advantage. The Red Sox swept both three-game series against New York in the season's first half, and the teams were scheduled to play eight games over the next week and a half as the trade deadline approaches and the Yankees figure out whether to contend for a playoff spot, punt on the season or hold as is.
This is the second COVID outbreak on the Yankees this year despite the team exceeding the 85% vaccination threshold that allows teams to enjoy relaxed protocols. In May, more than a half-dozen Yankees coaches, including pitching coach Matt Blake, third-base coach Phil Nevin and first-base coach Reggie Willits, tested positive. Nevin spent three weeks in the hospital but credited being vaccinated with saving him from a worse outcome.
Among the six Yankees players currently with positive tests, the majority had received a COVID-19 vaccine and were asymptomatic, general manager Brian Cashman said. Loaisiga went on the COVID-19 injured list Saturday, when the Yankees were in Houston, and did not travel home with the team Sunday.
Thursday's postponement was the eighth related to COVID-19 this season but the first in nearly three months. Also delayed were a three-game series between the New York Mets and Washington Nationals on April 1-4 and Atlanta's game at the Nationals on April 5, two Minnesota Twins-Los Angeles Angels games on April 17-18 and a Twins-Oakland Athletics game on April 19.
There were 45 regular-season games postponed for virus-related reasons last year with two not made up.
Read full article at NJ.com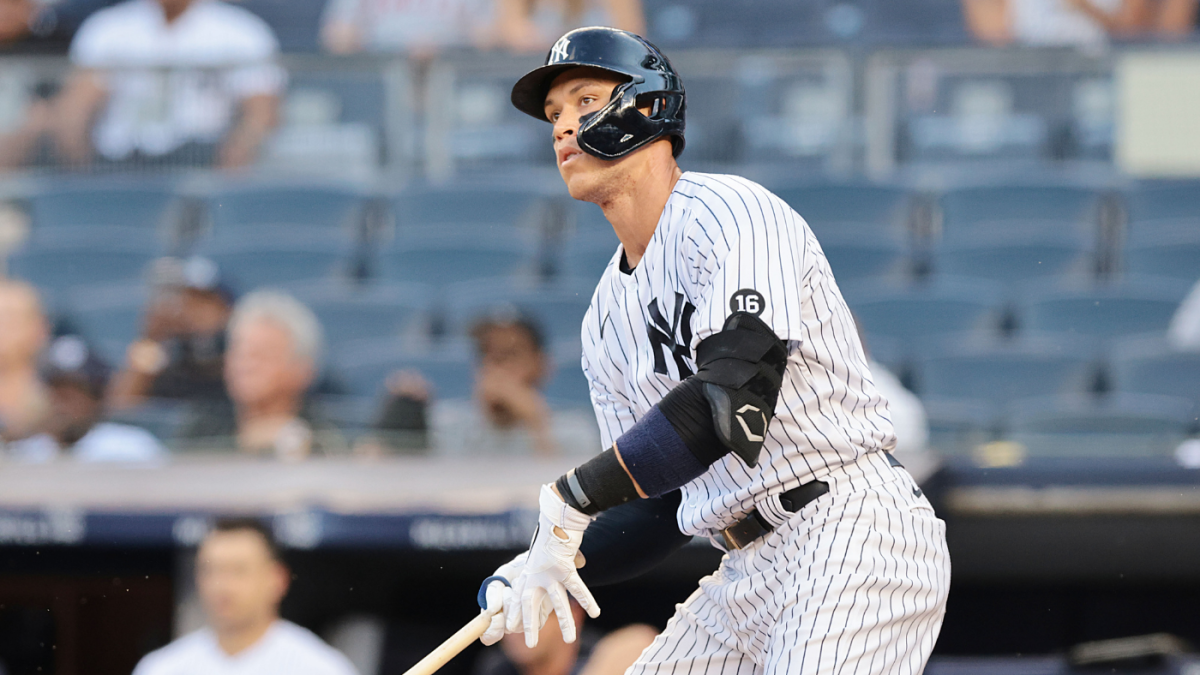 CBS Sports 17 July, 2021 - 09:10am
The New York Yankees will host the Boston Red Sox to kick off the second half of Major League Baseball's regular season Friday night following the postponement of Thursday's game due to positive COVID-19 tests for six Yankees players. The postponed game will be made up as part of a doubleheader on Aug. 17 at Yankee Stadium.
"After conducting testing and contact tracing involving members of the New York Yankees' organization, the Club's home game tonight vs. the Boston Red Sox at Yankee Stadium will proceed as scheduled," the Yankees said in a statement Friday afternoon.
On Thursday, general manager Brian Cashman told reporters that the Yankees had three positive cases and three that were pending. All six were later confirmed to be positive, according to ESPN's Jeff Passan. The six players -- Jonathan Loaisiga, Nestor Cortes Jr., Wandy Peralta, Aaron Judge, Kyle Higashioka and Gio Urshela -- were placed on the COVID-19 list.
During his Friday press conference, Yankees manager Aaron Boone said that some of the players were experiencing symptoms, but there was nothing severe. The symptoms some players are feeling are like they have a cold or just generally don't feel well. 
All five Red Sox All-Stars Rafael Devers, Matt Barnes, Xander Bogaerts, Nathan Eovaldi, JD Martinez) were told to take social distancing precautions since Judge was at the All-Star Game, reports Pete Abraham of the Boston Globe. "I was a little worried, and obviously I'm worried now," Cora said of his team's five All-Stars (via sny.tv). "Some of them are vaccinated and some of them are not."
Cashman told reporters  "most" of the six players were previously vaccinated. Urshela was vaccinated earlier this season (he spent one day on the COVID list with vaccine side effects in May).  The Yankees were reportedly one of the first teams to clear the vaccine threshold (85 percent of tier-1 individuals) that allows for looser adherence to MLB's protocols.
This is their second instance of positive tests since, with several coaches having to miss time in May following so-called "breakthrough infections." As experts have since explained, the purpose of a vaccination is to reduce the severity of the infection rather than eliminate the possibility altogether; from that perspective, the COVID-19 vaccines worked as intended, with nearly all of those cases being asymptomatic in nature.
Thursday was supposed to mark the beginning of a pivotal stretch for the Yankees, who entered the second half stationed in fourth place in the American League East, some eight games behind the Red Sox. The Yankees are slated to play the Red Sox and the second-place Tampa Bay Rays a combined 11 times ahead of MLB's July 30 trade deadline. The results of those contests -- and keep in mind, the Yankees are 5-14 against those teams so far this season -- will likely dictate whether New York is aggressive at the deadline.
© 2004-2021 CBS Interactive. All Rights Reserved.
CBS Sports is a registered trademark of CBS Broadcasting Inc. Commissioner.com is a registered trademark of CBS Interactive Inc.
Images by Getty Images and US Presswire
Boston.com 17 July, 2021 - 09:10am
By Conor Roche
Eduardo Rodriguez is sporting a different look to start the second half of the season.
In the Red Sox' first game since the All-Star break, Rodriguez took the mound for Friday's start with a clean-shaven face.
The southpaw, who has rocked a beard for much of his career, had a reason why he shaved it off. Rodgriguez's daughter, Anne, wanted her dad to ditch the beard.
"She's been on top of me all the time, I would say for the last two years," Rodgriguez told reporters after Friday's game. "Every time I hug her, she just goes 'Daddy, I don't want that. Shave it, please. Shave it please.' And I was at home during the All-Star Break and she kept doing it. I went to my restroom and I see the razor there. It was (like) 'OK, I'll do it for her.'"
Rodriguez's first game with the new look went well. He threw 5.2 scoreless innings, stuck out eight, and allowed two hits in the Red Sox' 4-0 win over the Yankees.
The start marks the second time this season – and the second time in three starts – that Rodriguez hasn't allowed a run, possibly showing a turn in performance for the second half of the season.
"The last couple starts have been really good for me, so I just have to keep going with that. Keep pitching the way I've been pitching in the last couple of starts," Rodriguez said.
Alex Cora has liked what he's seen from Rodriguez over the last month. He believes we're starting to see Rodriguez pitch like the ace the Red Sox hoped he would be at the start of the season.
"Eduardo, he's been throwing the ball well. He's done a job for us in the last few [starts]," Cora said. "It actually started right after the bad Houston [start on June 10. ] He's been making adjustments. Little by little, he keeps putting his pieces together. Now, he's the guy we saw in 2019, the guy we saw in the playoffs in 2018."
Rodriguez improved to 7-5 on the year and dropped his ERA from 5.52 to 5.19.
Receive updates on your favorite Boston teams, straight from our newsroom to your inbox.
©2021 Boston Globe Media Partners, LLC
Stay up to date with everything Boston. Receive the latest news and breaking updates, straight from our newsroom to your inbox.