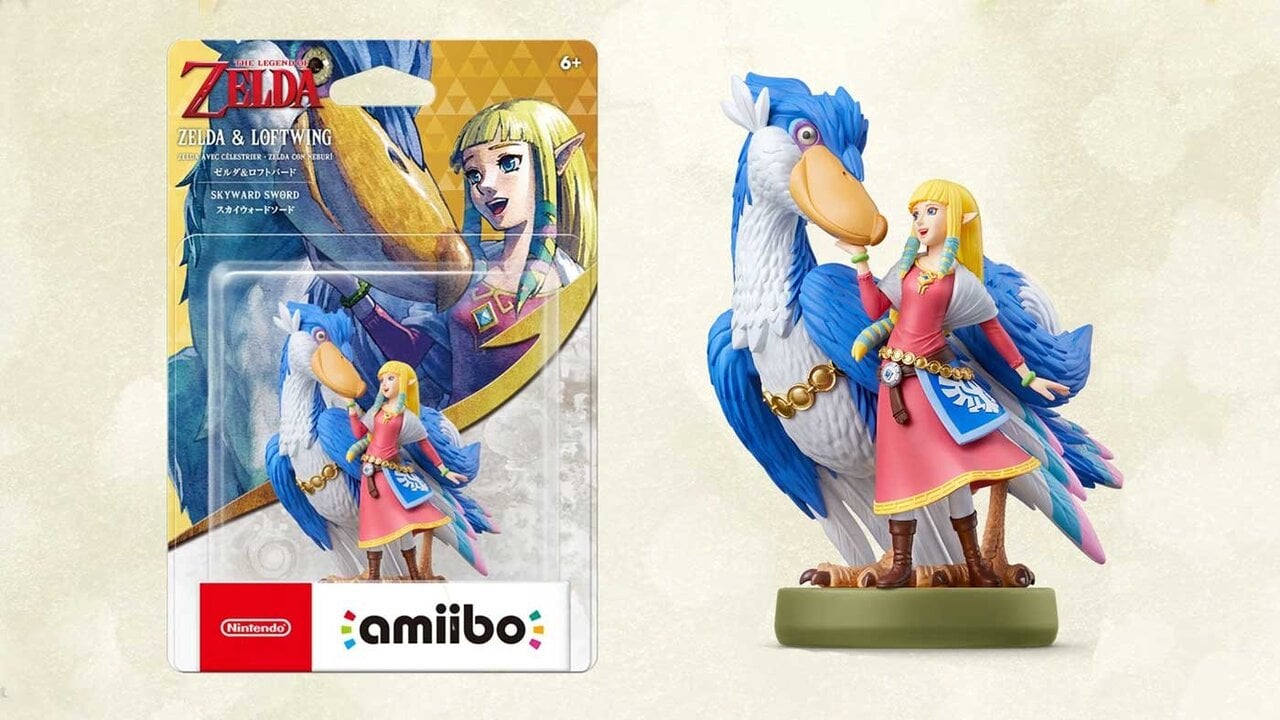 Additional shipments will arrive next month
Today marks the arrival of The Legend of Zelda: Skyward Sword HD on the Nintendo Switch. Alongside it, Nintendo has released a special Zelda & Loftwing amiibo, which allows you to fast travel between land and sky.
If you haven't already got hold of this amiibo, and happen to be located in the US, you may have some trouble acquiring it. Nintendo of America has provided a statement to IGN explaining how the Zelda & Lotfwing amiibo has been impacted by "unforeseen" shipping delays. This means there'll only be a "handful" of the amiibo orders available on release and the additional shipments won't show up until next month.
"The Zelda & Loftwing amiibo figure is currently impacted by unforeseen shipping delays. As a result, only a small portion of the Zelda & Loftwing will be available on its scheduled July 16 launch date. Additional shipments are delayed until August. We will ship additional amiibo to retailers as soon as they arrive."
Nintendo does not expect this delay to impact other amiibo figures. You can see what this amiibo does in our previous post.
[source ign.com]
About Liam Doolan
When he's not paying off a loan to Tom Nook, Liam likes to report on the latest Nintendo news and admire his library of video games. His favourite Nintendo character used to be a guitar-playing dog, but nowadays he prefers to hang out with Judd the cat.
Comments (25)
Well that sucks. What's a few more weeks right? We have been waiting for this game since February
What a joke. I know the shipping delays aren't Nintendo's fault, but locking gameplay functionality behind a product they now can't launch with the game sure was. I was gonna pick one up tomorrow solely for fast travel, but I'll have the game finished by the time they actually arrive in store. Oh well, saves me $25.
Is there any way they can just "fast travel" the shipments?
Eventually I hope to get one. My son has become a huge Zelda fan ( just beat OoT 3DS today) and I was hoping to get one to add to his Zelda amiibo collection. Good news for scalpers I guess…..
Dear Hylia, this drama just writes itself.
Did someone steal the amiibo truck like when they stole the Wii U truck
Mine shipped. Amazon UK with DHL
Amiibo is crucial for QOL changes in the game. Until Nintendo offers a non-amiibo fix (as amiibos are out of stock until who knows when), I won't purchase this game.
Looks like mine is slated to arrive this weekend, even though I haven't gotten around to getting the actual game yet.
Glad I got my hands on it, but honestly its the Metroid Dread amiibo I really want
Imagine having to wait for a QOL change to ship.
Pretty neat tactic, Nintendo. Now you're delaying micro transactions too!
EDIT: I also think, because of "unforeseen" *****, fast travel should be patched in the game in a future update. You can't pay wall a quality of life feature, then the day before release say, "Remember when we told you it was coming out.. just kidding!" I'm sure it'll show up once everyone has either beaten it or been too frustrated to finish it.
Just got mine today here in Mexico. It's a pretty amiibo. Looks great among my collection of amiibos.
Also, tbh, to everyone who makes such a fuzz about fast travel being locked behind this amiibo. The game worked perfectly before without fast travel…. The game works perfectly today without fast travel.
By the time this thing is finally delivered to your doorstep, you would have been finished with the game already. Hahaha, good job, Nintendo.
At least I have two of them preordered....
Locking a QOL upgrade behind a $25 piece of plastic that they didn't didn't produce enough of is trash.
Note to Nintendo: This is just one tiny case in point as to why you DON'T lock in-game features behind separate, physical purchases (entire volumes could be written regarding online business models in general). It already wasn't a good look, and now the spotlight just gets shone in that ugly detail even more.
So even I was fortunate enough to beat off scalpers and their bots and procure one of these Amiibos for myself, I still wouldn't get one. By the time the majority of us receive these (or have the option to actually order one, which I doubt we ever will unless for a triple figure sum on eBay) - we probably will have beaten the game without one of the major updates they've given us in this HD release.
I can only pray Nintendo'll respect their fanbase and revert locking a core gameplay feature behind an unobtainable product. Got more chance of winning the lottery haven't I?
Because the Wii release came with a soundtrack CD and a golden Wiimote... for 60 bucks... and the new version for 60 bucks comes with nothing, this really should have been included in the physical release. At the very least, a coupon for picking one up half off or something
Picked up my pre ordered amiibo today.. omg it's fantastic.
@scannerdarkly7 Mine should be here this afternoon. I had quite enough time to pre-order it. And yes, I did. I think this Amiibo looks awesome for my collection and ofcourse I am going to use it in-game as well (which should be arriving at the same time)
For those that aren't in the know about these sorts of things, logistics, from anywhere to anywhere else pretty much at the moment, are an absolute nightmare.
The price of booking a container on a ship has increased tenfold China to Europe, in the space of about six months. I know it's the US in question, but they are seeing the same increases. It's not just related to Ever Rise (the freighter that got trapped in the Suez Canal) either, it's all related to movement of containers and the current cross-sector shortage or materials (plastics, steels as well as semiconductors) that are driving the insanity.
Full sympathy with Nintendo on this issue, as I can guarantee they aren't the only ones fighting against the tide when it comes to product availability.
Mines coming today so I will have it ready if I ever decide to buy the game.
Hold on there, you need to login to post a comment...
"Realistically, he'd be on a toilet"
Experience Link's classic adventures while you wait
Title:
Publisher:
Developer:
Genre:
Players:
Release Date:
Series:
Reviews:
Guide:
Where to buy:
Join 1,188,168 people following Nintendo Life:
© 2021 Nlife Media, partner of ReedPop. Hosted by 44 Bytes.
Read full article at Nintendo Life
Nintendo World Report TV 16 July, 2021 - 03:01am
IGN 16 July, 2021 - 03:01am
GameSpot Trailers 16 July, 2021 - 03:01am
Yahoo! Voices 16 July, 2021 - 03:01am
"The Zelda & Loftwing amiibo figure is currently impacted by unforeseen shipping delays," a spokesperson for Nintendo told IGN. "As a result, only a small portion of the Zelda & Loftwing will be available on its scheduled July 16 launch date. Additional shipments are delayed until August. We will ship additional amiibo to retailers as soon as they arrive."
The company didn't say what the cause of the delays was, but it apparently won't affect supplies of other amiibo figures.
There's been a ton of controversy around the Zelda & Loftwing amiibo in particular because of the special features it unlocks for players in the Skyward Sword HD remaster. Instead of having to arduously backtrack, as in the Wii version, touching the Zelda & Loftwing amiibo to the Switch teleports players back and forth between the sky and land (Loftwing is a giant blue bird). It even works inside dungeons, letting players return to the Bazaar in Skyloft to replenish supplies whenever they need.
It's a big quality-of-life improvement, something Skyward Sword HD has a lot of, but for some reason this particular one was locked behind the $25 collectible. Now it seems like many players willing to pay extra to unlock it will have to wait a while anyway. Maybe out of the goodness of their hearts, Nintendo's developers will just go ahead and add proper fast travel in a future update.
Rockley Photonics, an Apple Inc (NASDAQ: AAPL) supplier, unveiled an advanced digital sensor system likely to come to the Apple Watch to enable a wide range of new health-tracking features. The company revealed a full-stack, "clinic-on-the-wrist" digital health sensor system, enabling wearable devices to monitor multiple biomarkers, including core body temperature, blood pressure, body hydration, alcohol, lactate, and glucose trends, and more. The technology uses a miniaturized chip solution wit
Brooklyn Nine-Nine is gearing up for its eighth and final season with key art celebrating the NBC sitcom. On Wednesday, the show's official Twitter account dropped an image touting the entire Brooklyn Nine-Nine family, from Andy Samberg's Jake Peralta to Andre Braugher's Captain Holt and his beloved corgi, Cheddar. "Hop in. Season 8 is going […]
The multiplayer freebie for 'Resident Evil Village' owners was supposed to be out this month.
Netflix's new Italian horror movie A Classic Horror Story boasts exactly that: a classic horror trope of strangers being stranded in the middle of nowhere with serial murderers lurking around. But by the end, viewers realize it's a bait and switch for something far more sinister, and it may remind you of American Horror Story and 1BR.
Save up to nearly 60 percent on an award-winning video games, Beats headphones and more.
Hendricks had formed a company called Hendricks Aviation LLC. He and his partner are in custody on sex crime charges.
After spending several generations as separate entities with their own unique releases, handheld and home consoles merged into something completely new when the Nintendo Switch came out in 2017. Universally popular series like Mario and The Legend of Zelda got to shine in never-before-seen ways, while Fire Emblem and other underappreciated franchises were finally paid their due. With such a cool console concept …
"She's exhausting. I don't know when we're next going to see her," Margot Robbie said of her character Harley Quinn
(Bloomberg) -- Record high-tide flooding washed over U.S. coasts in the past year, and rising sea levels are expected to send the deluges into streets, homes and businesses even more frequently over the next decade, the National Oceanic and Atmospheric Administration said.The surges, sometimes referred to as "sunny day" or "nuisance" floods, are becoming increasingly common as the increase in sea levels continues, the agency said in an annual report. Damaging floods that used to happen mainly du
The updated version of Nintendo's hybrid handheld console will be available on October 8 for $349, but you can preorder it today
Yes, all life has value. That means a lot more than banning abortion at eight weeks. | Opinion
Saints LB Zack Baun training with fellow Badgers J.J. Watt, T.J. Watt
The characters from Jeffrey Pierce, Murray Bartlett, and Con O'Neill offer more clues as to how the show is adapting the games.
The battle between Activision Blizzard (NASDAQ: ATVI) and Zynga (NASDAQ: ZNGA) is a story of an established player facing a competitive threat from an up-and-coming challenger. Activision Blizzard pioneered the gaming industry after its founders left Atari to become a separate game-oriented company.
Netflix will be moving into the gaming sector with the hire of a 30-year gaming industry veteran — former EA and Oculus executive Mike Verdu. An expert believes that this may be an opportunity for Netflix to differentiate its content offerings as well as boost subscriber engagement.
News of the video streaming giant entering the gaming scene is not good news for the struggling video game retailer.
The last decade saw the emergence of mobile gaming and cloud gaming subscription services, and these channels have made playing games more accessible. Two top video game companies that often get overlooked by investors in the U.S. are France-based Ubisoft Entertainment (OTC: UBSFF) (OTC: UBSFY) and the classic Japanese gaming brand Nintendo (OTC: NTDOY). Ubisoft makes some of the biggest franchises in gaming, including Assassin's Creed, Tom Clancy's Rainbow Six, and Far Cry.
IGN India 14 July, 2021 - 08:00am
Because this is a big Zelda game with dozens of hours of stuff to do and we only received review code late last week, I'm going to hold off on a final review until I've completed the main story later this week. Until then, I wanted to focus on some of the biggest lingering questions around this version: its controls (new and old) and its graphical facelift.
When it debuted in 2011, there was a lot of discussion around Skyward Sword's heavy use of motion controls – and now, with the remaster offering both motion-based and thumbstick control options, that debate seems primed to reignite. Even with motion controls disabled, nearly every battle and puzzle incorporates the direction in which you swing Link's trusty blade and you're often asked to draw a symbol on a wall or some other task that was clearly built with the Wii Remote in mind. Using motion controls on the Switch, Skyward Sword feels very much on par with the original version, both good and bad. Swinging your detached Joy-con around at an enemy can be a lot of fun, but flapping your arms like a bird to get your Loftwing to fly higher is pretty annoying. And, naturally, when it occasionally doesn't detect your movement correctly it's just frustrating and not fun.
For those who typically aren't into motion controls – a category in which I include myself – there's an option to disable them altogether. Unfortunately, the replacement is every bit as much of a pain in the neck and doesn't really solve the problem I have with the motion controls. It's not that I hate exercise or swinging my arm around – it's that I hate how unreliable they are. But the motion-free answer to this, which is the only way to play in handheld mode or on a Switch Lite (unless you buy another controller) is that the right joystick serves as a directional pointer that you flick around in place of swinging your arm, and there are just as many issues with that.
For one, you actually have to flick the stick around for a swing to register, not move it slowly. If you do, Link merely draws back his sword in preparation for an attack – he'll only swing it once you rapidly flick the stick in a direction. Because you can't take your time to line up those inputs, this means you end up with the exact same issues of inaccuracy as you'd get from motion controls. 
On top of that, the way the stick has to be moved makes sense on paper but can be a little counterintuitive in practice. For example, if an enemy is guarding to your right, my instincts tell me to input toward the left to hit his unguarded side. But flicking the stick to the left swings my sword from right to left and immediately gets blocked. Like playing with an inverted camera, in order to hit the enemy I have to do the opposite of what my instinct naturally wants to and move the joystick to the right so that Link will swing his sword from left to right and hit the enemy's unguarded side. I might've chalked this up to a problem unique to my broken brain, but another IGN staffer had the exact same issue trying to swing the sword in the intended direction. At the very least it takes a few hours for the unintuitively strange controls to start feeling natural.
In fact, I ultimately ended up switching back to motion controls because at least then I knew which way to swing the controller to get the desired result more naturally. That's a huge miss for people like me who were hoping for a more reliable option, or for people who pick up Skyward Sword for the first time only to be presented with two less-than-ideal options. To be fair, motion controls are so baked into Skyward Sword's DNA that there might well be no good way to get around the problem no matter what, but either way the route Nintendo landed on is disappointing.
On the bright side, Skyward Sword HD adds the ability to fully control the camera, which was absent in the Wii version, but the caveat here is that it uses the same joystick as your sword in motion-free mode. Since you use the right thumbstick to control the camera normally, when that stick is occupied serving as your sword arm, you instead need to hold down L to move the camera then release it to regain control of your sword, which can be a bit clunky. Still, it's a welcome addition, and if you're playing with motion controls (as I ended up doing most of the time) then it's a huge improvement over the Wii version.
The other major change in Skyward Sword HD is its improved appearance which, in contrast to the controls, Nintendo has completely nailed. I've always considered the visual style of Skyward Sword to be one of the best in the series, and the 1080p/60 FPS upgrade when playing docked makes the already lovable world of giant birds and creepy mole people all the more beautiful. It's still not as detailed or smooth as Breath of the Wild, but it's a massive improvement over the 480p/30 FPS (!) Wii version.
Aside from these major changes, there's also a bunch of little quality-of-life stuff that wasn't in the original, like skippable dialogue and cutscenes, autosaves, tutorials at the beginning that are now optional, and no more repeated item explanations every single time you pick something up. These are great changes that genuinely add up to make a noticeably smoother experience – although, there is one bizarre one in their midst: the not-insignificant new ability to instantly return to the sky at any time is inexplicably locked behind owning a specific Amiibo. Why? Because Nintendo, that's why!
I still have a ways to go before I'm done, but so far Skyward Sword remains as charming as ever, even if it's also still dominated by clunky controls and odd gimmicks that are exactly as weird as you remember them. Unsolved control issues aside, this airborne adventure is everything you might expect it to be, for better or worse.
Witness the origins of the Master Sword in The Legend of Zelda: Skyward Sword HD for Nintendo Switch. Depicting the earliest story in The Legend of Zelda timeline, Link must travel between a world above the clouds and the great unknown below in search of his childhood friend, Zelda. Armed with his trusty sword and shield, Link will face off against powerful foes, solve tricky puzzles and soar through the skies atop a huge bird called a Loftwing on this epic adventure. Explore a massive, multilayered world that seamlessly blends soaring exploration in a sea of clouds with intense ground-based adventuring that blurs the line between the main world and traditional Zelda dungeons. Link soars through the skies on the back of a noble bird and dives beneath the clouds to the continent below in this epic quest. Exploration of the forests, volcanoes and deserts requires players to think on their feet as they solve puzzles, overcome obstacles and escape deadly traps. Once they find their way to each dungeon, they are confronted by even more puzzles guarded by fiendish enemies. Along the way, Link gathers a massive inventory of peculiar items and resources that can be used to upgrade many of his weapons and equipment. <p> The Legend of Zelda: Skyward Sword was originally released on Wii in 2011, and now this classic quest has been optimised for Nintendo Switch with smoother motion controls, as well as newly-added button controls. When playing with two Joy-Con controllers, these become your sword and shield. Swing the right Joy-Con to have Link swing his sword in-game and use the left Joy-Con to raise his shield to block enemy attacks. Physical movements like these can also be used to make use of different tools and items, such as wielding a bow and arrow or throwing bombs. For the first time, you can also play this adventure using button controls, allowing the game to be played in handheld mode or on Nintendo Switch Lite. When using this control scheme, you can control Link's sword by simply tilting the right control stick in a chosen direction.