By CAPosts 01 December, 2020 - 05:30pm 108 views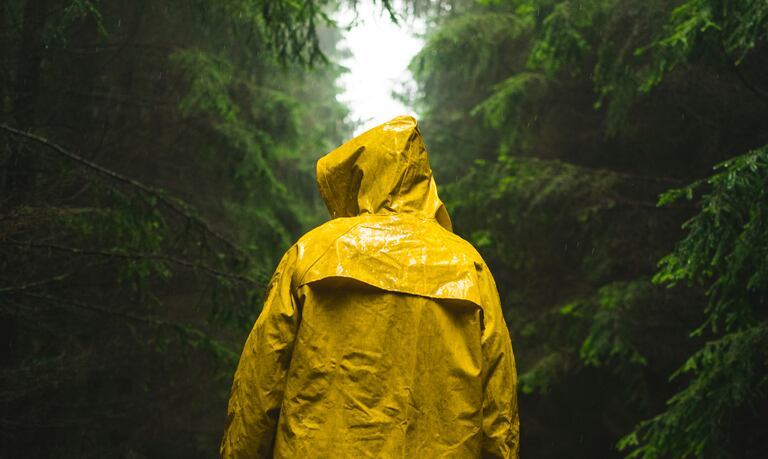 There are fabrics that have a specific treatment to accelerate the death of the virus Rastko Belic / EyeEm / Getty Images / EyeEm
The Spanish fashion firm Javier Simorra has designed a winter collection that, according to it, "protects against harmful germs". "Agent tested against Covid-19", it indicates on its website. It is not the only company that has launched garments and fabrics of this type during the pandemic. For example, the Italian Albini claims to have created a fabric that can kill SARS-CoV-2 in a few minutes. But, to what extent can clothing protect us from the coronavirus? And does it make sense to do so?
Sonia Zúñiga, a coronavirus researcher at the National Center for Biotechnology, believes that this type of clothing in general "makes very little sense." "At least for clothes that are worn normally," he adds. As he explains, different studies indicate that the survival of the coronavirus in tissue is, at most, between three and six hours. "Personally I do not see much sense to spend more than 300 euros on a garment of these", indicates Zúñiga, who considers that the usefulness of these fabrics in personal protective equipment should be explored.
"Let's not lose sight in this debate that what causes the infection is the inhalation of the virus and its contact with mucous membranes ", says Dolo Vidal, professor at the Faculty of Medicine at the University of Castilla-La Mancha in Ciudad Real and member of the Spanish Society of Microbiology (SEM). The World Health Organization (WHO) notes that COVID-19 spreads mainly from person to person through droplets that are thrown from the nose or mouth of an infected person when coughing, sneezing or talking. "A person can contract COVID-19 if they inhale these droplets from a person infected with the virus," according to the WHO.
But these droplets can also fall on objects and surfaces that surround the person. Others could become infected if they touch those objects or surfaces and then touch their eyes, nose or mouth, according to the WHO. Hence, the importance of washing your hands with soap and water or hydroalcoholic gel. The Centers for Disease Control and Prevention (CDC) of the United States maintain that, although contagion by contact with surfaces can occur, it is not believed to be a common way of spreading covid-19. PPV Vidal explains that clothing can only contain the virus "if we are with people who excrete viruses, go without masks and do not keep safety distances". In that case, it is true that some of the exhaled particles could remain on our garments. But " washing it is 100% effective in reducing viral load." The microbiologist also considers it important to avoid contact of clothing that could be infected with the nose and mouth. The SEM differentiates between those garments for a general public and the materials used in health products that have the validation of the Spanish Agency for Medicines and Health Products (Aemps).
The virus without a living organism in which to reproduce dies, as and as explained by the pharmacist Gemma del Caño , specialist in food safety. But depending on the virus, it may take more or less time. For this reason, according to account, there are tissues that are used in specific centers that have a specific treatment to make this happen earlier. Some fabric manufacturers are trying to create garments against covid-19 for a general public, something that for Del Caño is not necessary, since catching it through clothing "seems unlikely": "It is more a marketing issue than need". "Sometimes we forget the clarity of preventive measures and try to take advantage of people's fear to sell something unnecessary," says
Magdalena Martínez Cañamero, a microbiologist at the University of Jaén and a member of the Spanish Society of Microbiology, believes that these types of clothing can contribute to a false sense of security that could make the situation worse. For her, this is a secondary debate and the important thing is to follow the established measures: "Soap, distance and approved masks."
99% of viruses inactivated in five minutes
Javier Simorra's jackets and trench coats use a combination of fibers and fabrics called Nakeba VirProtect +. "Nakeba VirProtect + is a recent technological innovation developed on the occasion of the health crisis of COVID-19," says Nakeba , a brand belonging to the Textil Dimas company. Eduardo Dimas, CEO of the company, affirms that the result is that in about five minutes 99% of the viruses in the tissue are inactivated.
The development of specially designed tissues with antiviral treatments is not something new. "It is something that exists, it is effective and it is developed for 'high competition' or for risky environments. Does this mean that we shouldn't use it for normal life? That we shouldn't democratize it? That we can't protect ourselves a little more? Why not have and wear a garment that, in addition to the virtues that are supposed to be of design and comfort, can discreetly and invisibly incorporate added protection? ", He adds. PP Dimas explains that in real life you often have to live together" with situations that make pandemic uncomfortable ". "The list would be endless, but because it is short, it is enough to access public transport at rush hour, have to move through sensitive environments, whether they are hospital, with risk groups or simply facing the public in a market, store or service in general, "says Dimas. For him, it is each user who must decide whether to wear these clothes, which in no case replace other measures such as social distance.
Nakeba claims to have manufactured the fabric by the hand of the Japanese chemical multinational Teijin and the Swiss HeiQ. That garments destroy the coronavirus, according to the company, has been proven in two independent laboratories in Japan and China specialized in antiviral tests. Maria José Valderrama, a microbiologist at the Complutense University of Madrid (UCM) and a member of the SEM, considers that the company's website "leaves many gaps in the scientific-technical aspect, with empty sections or texts written in Latin with phrases without any relationship. "
The technology of the Swiss company HeiQ is also the one used by the Albini group to develop its Viroformula fabrics. "During the pandemic we worked intensively trying to create a new type of tissue capable of inactivating the virus, offering a concrete response to the immediate need of consumers," says Albini by email, which has referred this newspaper to this website. In it, it is explained that Viroformula fabrics have been created for all types of clothing, "making them ideal for the production of shirts, jackets and pants, as well as for masks, gowns and any other garment". In addition, it is ensured that the fabrics have been tested by some research centers.
Meanwhile, some companies like Vollebak are exploring the potential of smart clothing. The company has created a jacket made of 65% copper. "Its [copper's] ability to conduct heat and energy while killing bacteria and viruses makes it a possible first component for the future of clothing," he says. This jacket has not been designed to protect against SARS-CoV-2 nor has it been tested for the virus. But Steve Tidball, CEO and co-founder of the company, explains that it was designed with "the role clothing can play in protecting against diseases and viruses in remote environments on Earth and in space." "Now, of course, everyone faces these kinds of risks and not just people who seek adventures for fun," he says.
The challenge of discerning whether a garment is effective against the coronavirus
Maria José Valderrama, a microbiologist at the Complutense University de Madrid (UCM) and member of the SEM, explains that apparently certain tissues carry a polymer (a chemical compound) to which particles adhere: "Bacteria, fungi and viruses, according to the manufacturers." Discerning whether these types of garments are effective or approved can be difficult, especially for the general public. To this is added that most companies do not have the possibility of cultivating the virus, according to Víctor Jiménez Cid. He is a professor of microbiology and also a member of the SEM and emphasizes that this would be "the most rigorous way to check its half-life". "Therefore, they base their theses on reasonable hypotheses that support their marketing, but mostly not supported by experimental data that pass rigorous control," he indicates.
You can follow EL PAÍS TECNOLOGÍA RETINA at Facebook , Twitter , Instagram or subscribe here to our Newsletter .
Source: Elpais
Related News